Pearl meatball is a very popular Chinese dish that you can often find at dim sum restaurants, Chinese pot lucks or the dinner table of a Chinese New Year celebration. It's a bit like dumplings, but instead of wrapping in the dumpling wrap, it's covered with a layer of sweet (glutinous) rice. The translucent white sweet rice looks like little pearls decorating the meatball. This is why it's called pearl meatballs. When the meatball and the rice steam together, the rice absorbs the meaty flavor from the meatball; and when you bite into it, you get chewy sweet rice and flavorful meatball all in one bite. Once you start eating it, it's hard to stop. In addition to being delicious, these look fun and are very easy to eat. This dish is definitely very popular with kids. Maybe it's because of this that many people who grew up in Taiwan remember these pearl meatballs with a nostalgic fondness.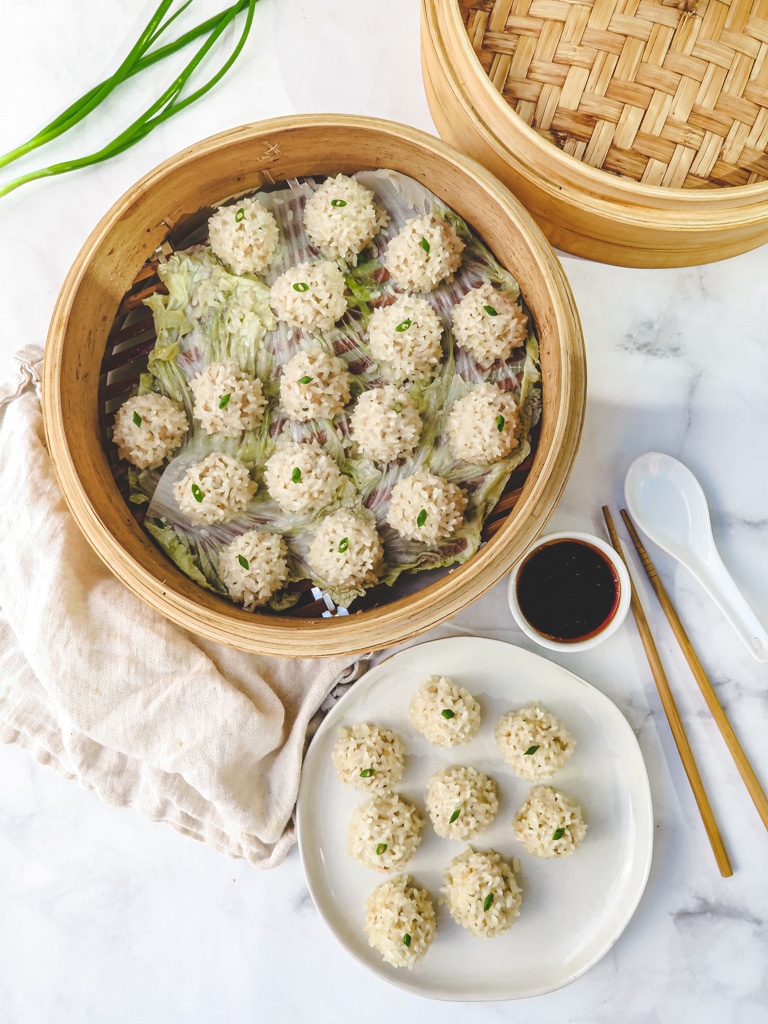 I learned how to make Pearl meatball from my grandma before I came to Michigan for my grad school. It's actually pretty easy to make -- all you need to do is to mix all the ingredients for the meatball together, coat each meatball with a layer of glutinous rice and steam it. If you want to try making some dim sum at home, this is a good one to start with. However, in order to make a presentable pearl meatball that remains round, yet still has all the rice sticking to it, you'll want to have these tips that will help you to succeed:
Pre-soak the glutinous rice
Since we are steaming the rice instead of cooking it in water, we pre-soak the glutinous rice to allow it to absorb the water first to ensure that the rice will cook through while steaming. You don't need to soak it very long, 1.5 -3 hours is good enough.
Stir the ground meat until sticky
Unlike making American/Italian meatballs where we don't want to over work it, we need to mix and stir these meatballs until they're firm and sticky. Apart from stirring, my grandma even taught me to throw the meat from into the bowl several times to eliminate all the air in the meat mixture. This process will ensure that the meat mixture is sticky enough to stick to the rice and maintain its shape after steaming.
Things that go into the meatball
In this recipe I add tofu and shrimp with some other vegetables in the meatball to improve the texture and flavor. Since the meatball is on the dense side, many people like to add some crunchy chopped water chestnut to introduce variation to the texture and make the eating experience more interesting. However, I personally don't like water chestnuts, so I usually add some tofu, which also helps improve the texture and makes these meatballs a bit healthier. Basically, you can add whatever you want in the meatball, I know some moms like to hide some veggies in the meatballs and their kids will just eat it happily without realizing there's veggies in it. If you don't like pork, you can use ground turkey or other meat of your choice.
Cooking method
There are many different ways to cook the meatballs. Apart from cooking in a bamboo steamer, you can also place them on a vegetable steamer basket and cook it in the instant pot or any other pots and pans you have.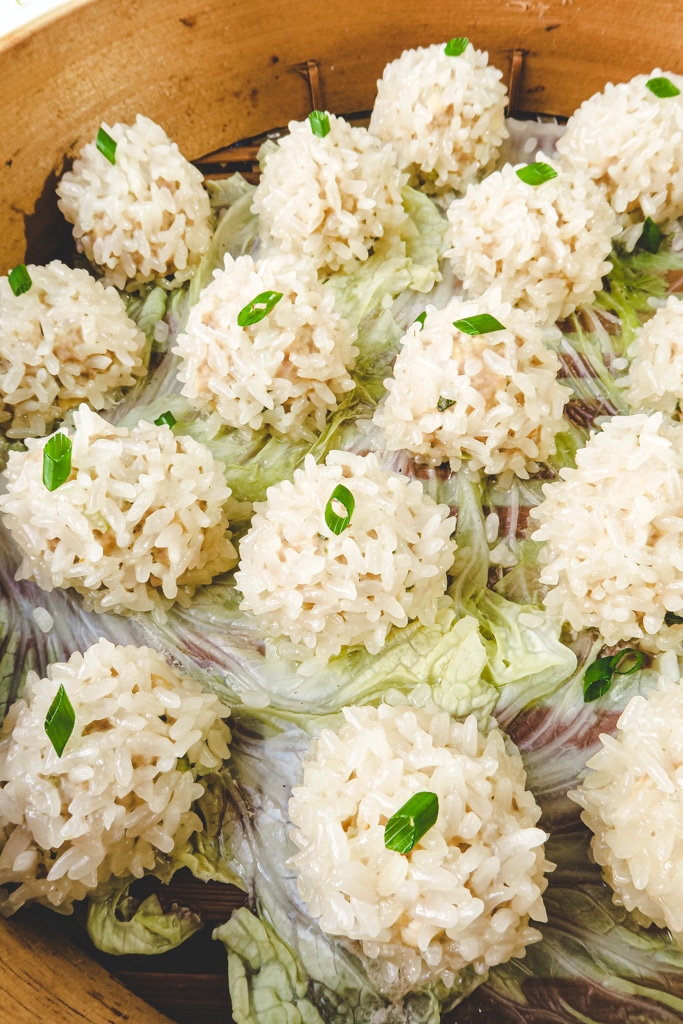 When I'm making pearl meatballs, I like to set up a station to make the assembling process easier. I scoop the meat with an ice cream scoop (easier to control the size of each meatball ), roll it into ball and place it in a tray with the sweet rice before rolling the meatballs to coat with rice.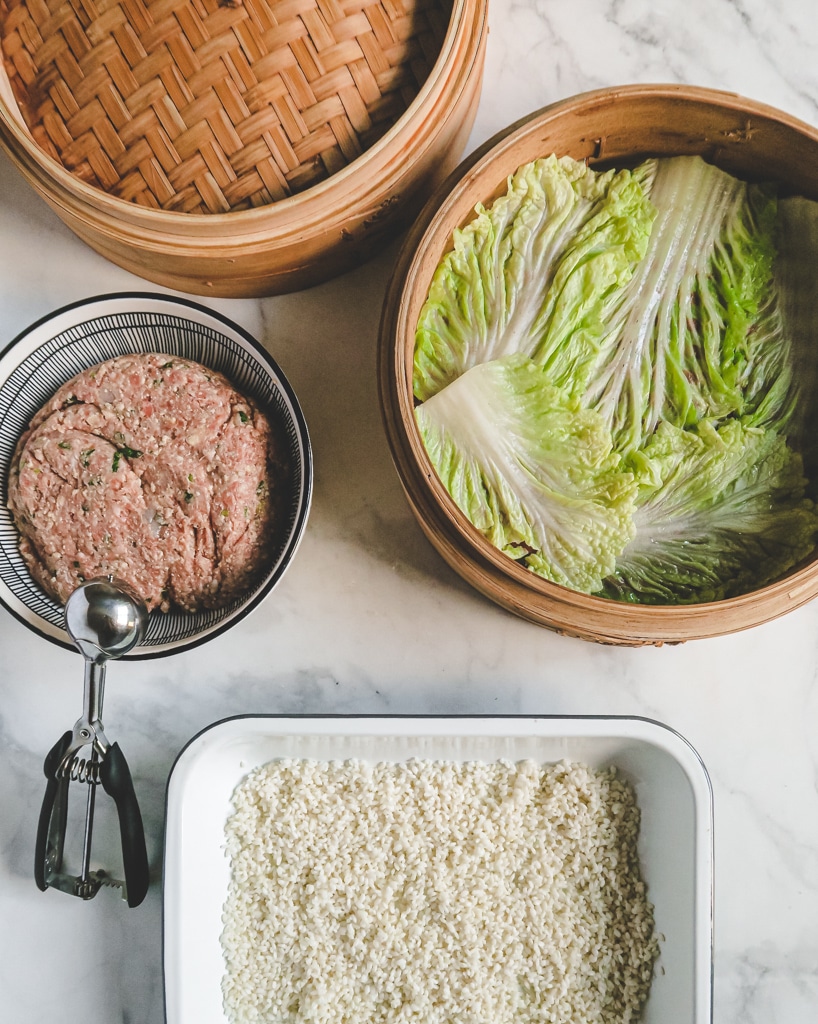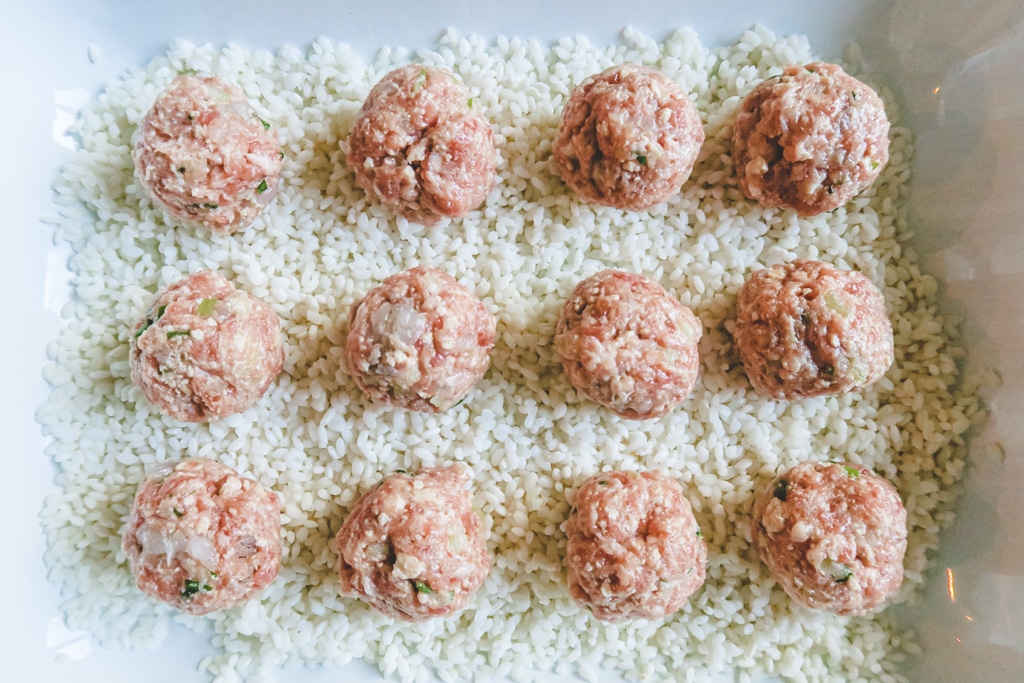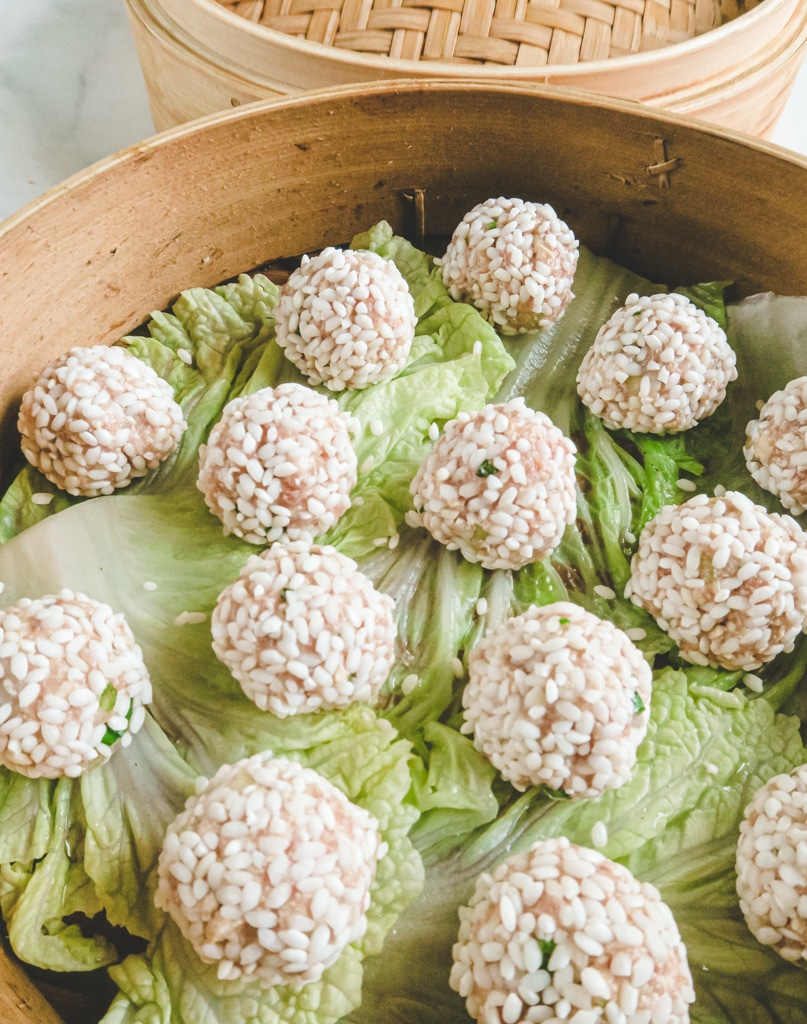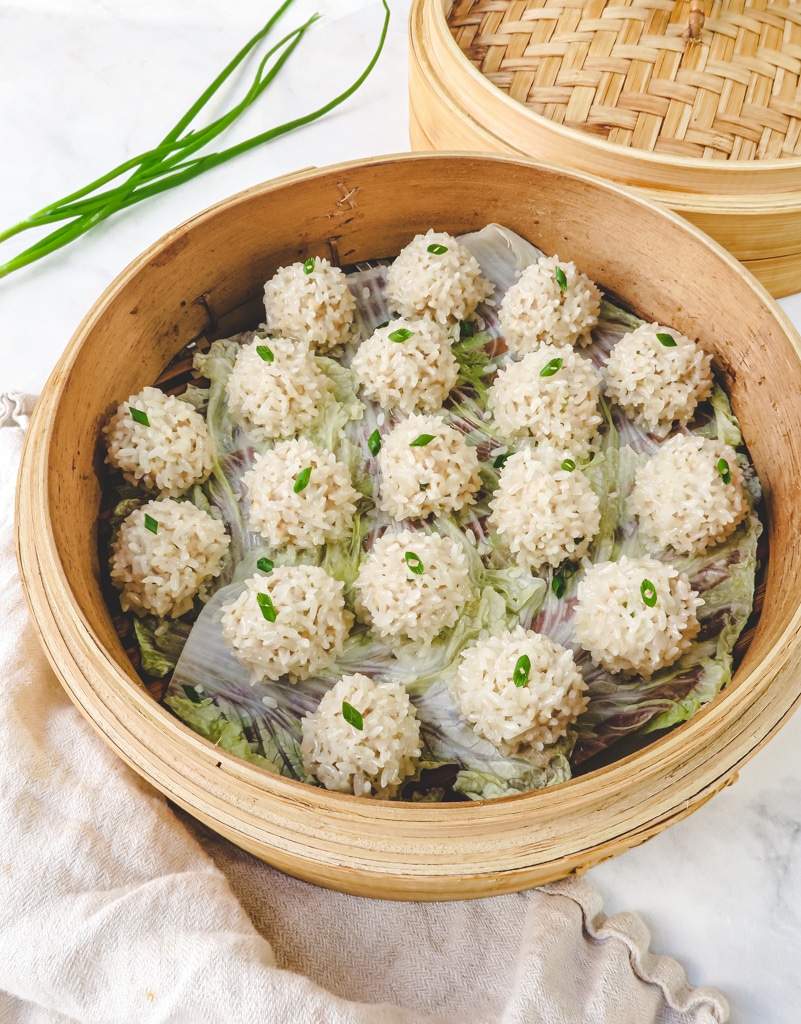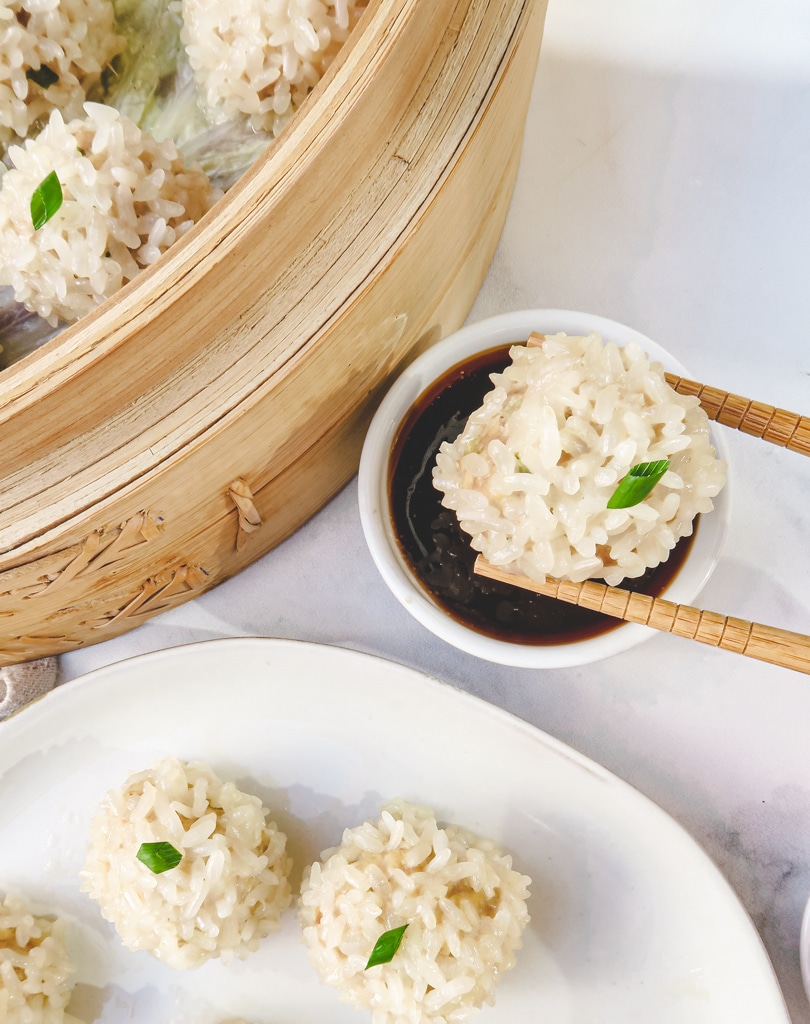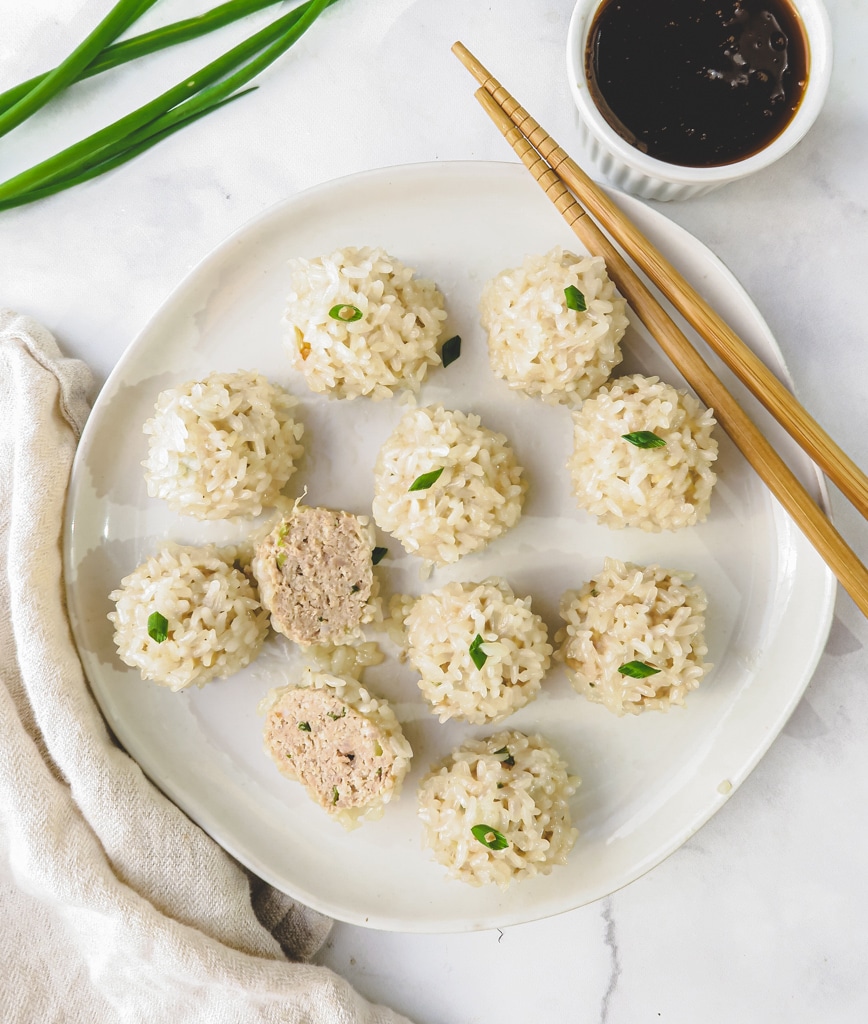 These pearl meatballs are so tasty that they're a family favorite. I remember one time my 3-year-old daughter was telling me that the meatballs were so yummy that even though she's full, she can't stop eating it. This was especially impressive, since she usually doesn't eat that much during meals hoping that she could get some snacks or goodies later. This is also a wonderful dish to bring for a dinner party or potluck, it's not only delicious, but also very easy to serve.
Hope you can give it a try!
Pearl Meatball with Tofu and Shrimp
Ingredients
¾

cup

short grain sweet (glutinous) rice
Meatball
4

oz

extra firm tofu

,

about ¼ pack

1

lb

ground pork

,

20% fat

1

teaspoon

oyster sauce

2

cloves

garlic

,

minced

½

teaspoon

minced ginger

1

tablespoon

soy sauce

1

scallion

,

thinly sliced

4~6

pieces

frozen shrimp

,

thaw and roughly chopped

1

stalk

celery

,

finely chopped

½

tsp

sea salt

,

or to taste

1

pinch

five spice or thirteen spice powder

,

optional

¼

teaspoon

sugar

2

tsp

sesame oil
Other
4

leaves

nappa or green cabbage

,

or any other kind of steamer liner
Instructions
Prepare the rice
Soak glutinous rice in 2 cups of water for about 1.5 hour to 3 hours.
Making meatball mixture
Use a piece of paper towel to press and squeeze out the excess water of the tofu and then crush it with a fork or by hand.

Mix tofu with all other ingredients and stir with a pair of chopsticks or by hand in a circular motion until the mixture becomes very sticky and sticks together into a lump.

Scoop a little bit of the mixture into a bowl, microwave for about 15 seconds and sample to see if the mixture needs more salt.

Store the meat mixture in the fridge for 30 minutes or until you are ready to assemble.
Assembling
Blanch the cabbage leaves until it's softened and line the steamer with them. Remove the thicker stem so that the surface will be even.

After the rice is done soaking, drain and pour it in a tray and pat with paper towel to absorb the extra water.

Scoop the the meat mixture with a ice scream scoop, toss the meat between two hands several times to eliminate the air in the mixture before forming it into a ball with around 1½ inch (3½ cm) diameter. Place the meatball on the tray with rice.

Roll the meatball in the tray to coat with as much rice as possible. Gently toss the meatball between two hands 2 - 3 times again to prevent the rice from falling off the meatball and place it on the steamer.

Repeat the same thing for the rest of the ingredients.
Cooking
If using a bamboo steamer, place the steamer on top of a pot filled with about 1½ inch (3 cm) of water. Cook it on medium heat. Once the water boils, continue to cook for another 15 minutes. Serve when it's still warm.

If using an instant pot, add half a cup of water in the instant pot before placing a vegetable steamer basket in the pot. Line the basket with blanched cabbage or a few small pieces of parchment paper before placing the meatballs on top. Use the steaming function for 15 minutes. When it's done cooking, release the pressure after 5 minutes.
Notes
These pearl meatballs are often eaten with various dipping sauces.  In Taiwan, we usually enjoy it with Taiwanese sweet chili or thick soy sauce.  If you prefer to go without sauce, I'd recommend adding more salt to the meat mixture.