These colorful baked mochi balls made with sweet potato are healthy, cute, easy to make and very addicting. It's also a fun cooking activity not only for kids but also with friends.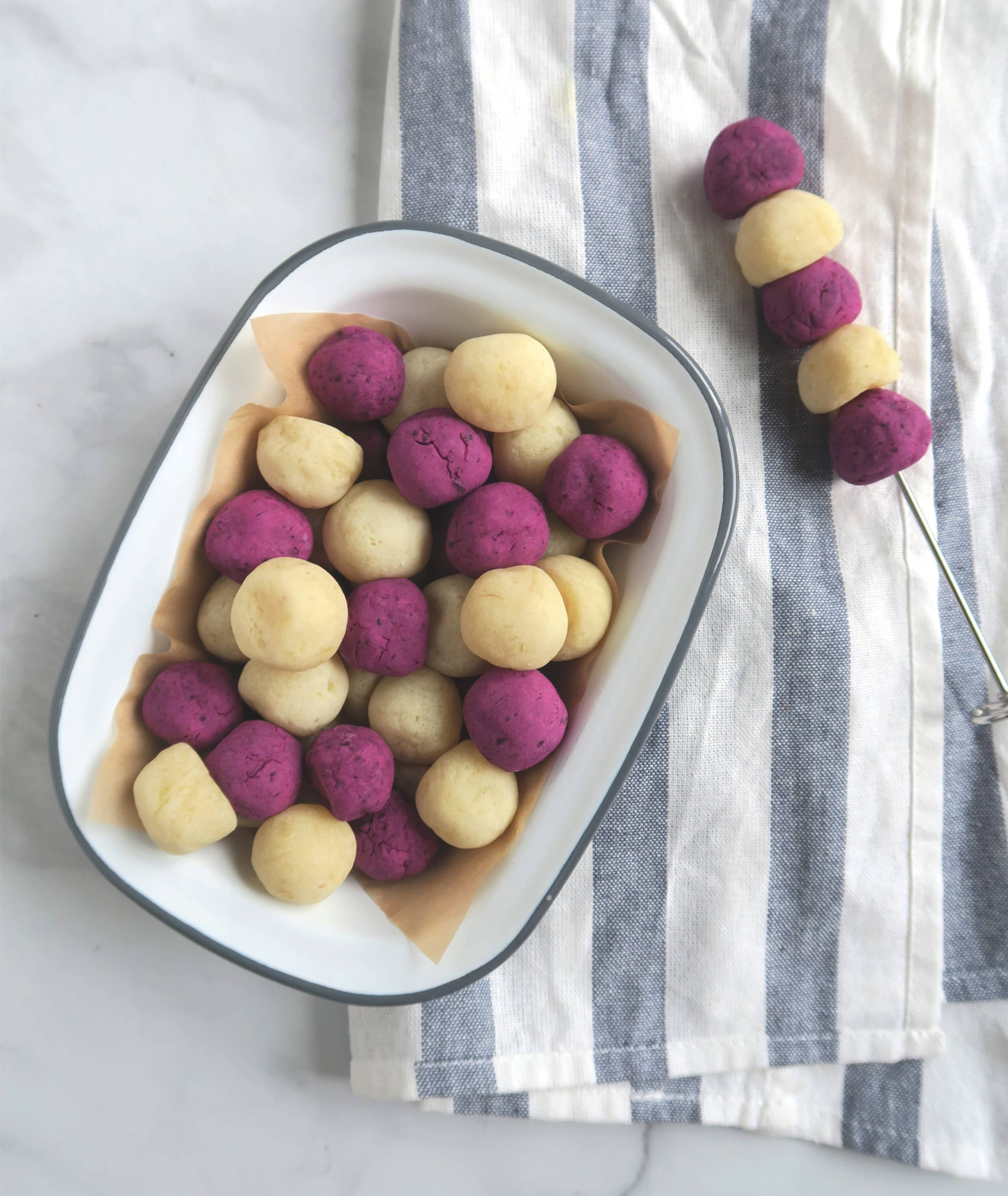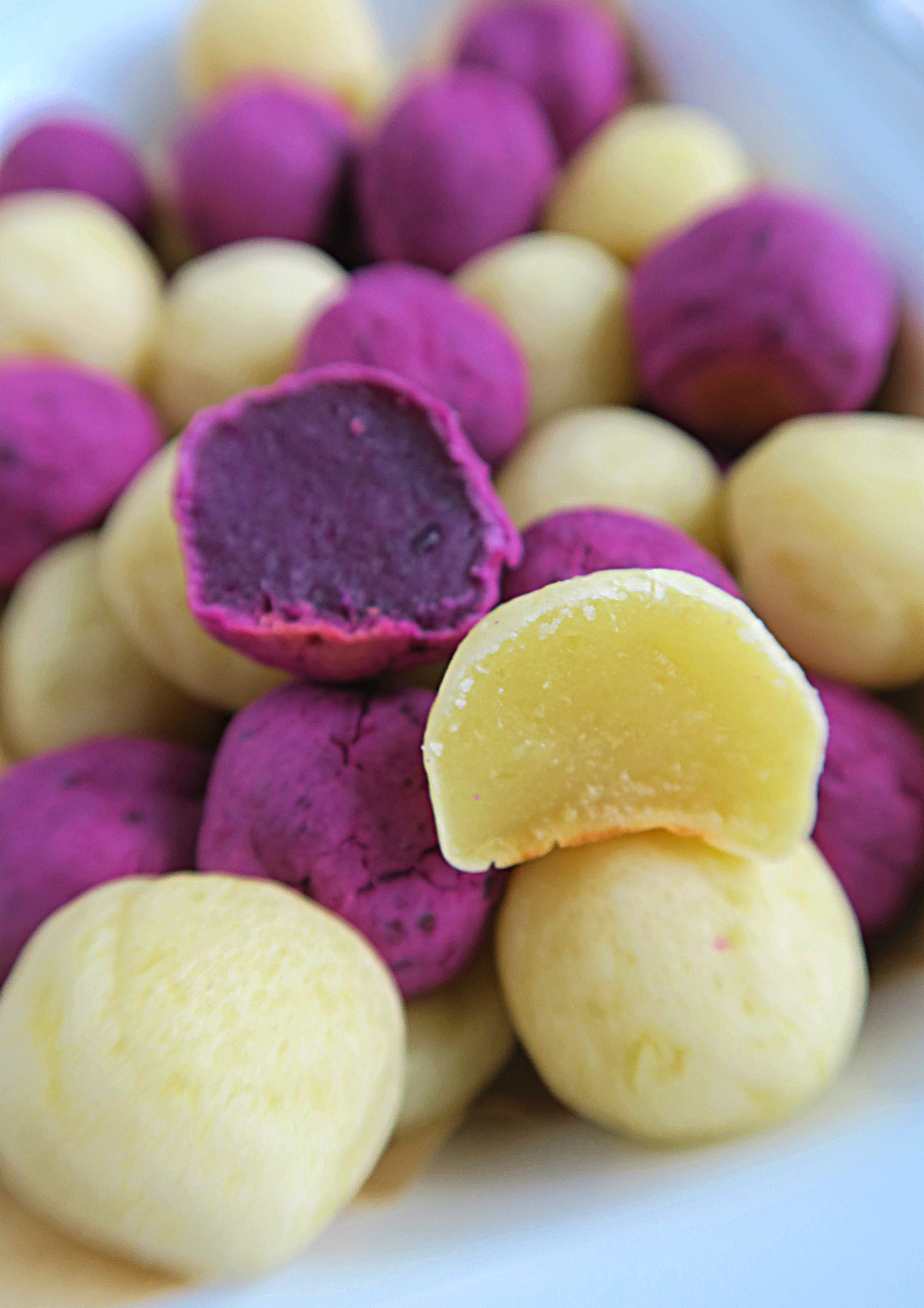 This recipe is adapted from a famous Taiwanese street food called "sweet potato balls", which can typically be found in Taiwanese night markets. The sweet potato balls that this recipe is based off of consists mainly of mashed sweet potato and tapioca flour, which are rolled into balls and deep fried. The bouncy and chewy texture plus the aroma and sweetness from sweet potato makes this a snack that you cannot stop eating once you start.
My version of this snack is actually pretty healthy, since it's baked instead of fried, and the ingredients are not that unhealthy.
To cook the sweet potato, Steam them instead of boiling, as boiling takes away some flavor and results in something rather watery. While the sweet potato is still hot, add in butter and sugar before mashing them (as if you're making mashed potato).
Next, add in tapioca flour (no, you cannot use other kinds of starch here), then mix and knead to form a ball. purple sweet potato is a lot dryer than other types of sweet potato, so you might need to add a few tablespoons of water to the mixture to make it more workable.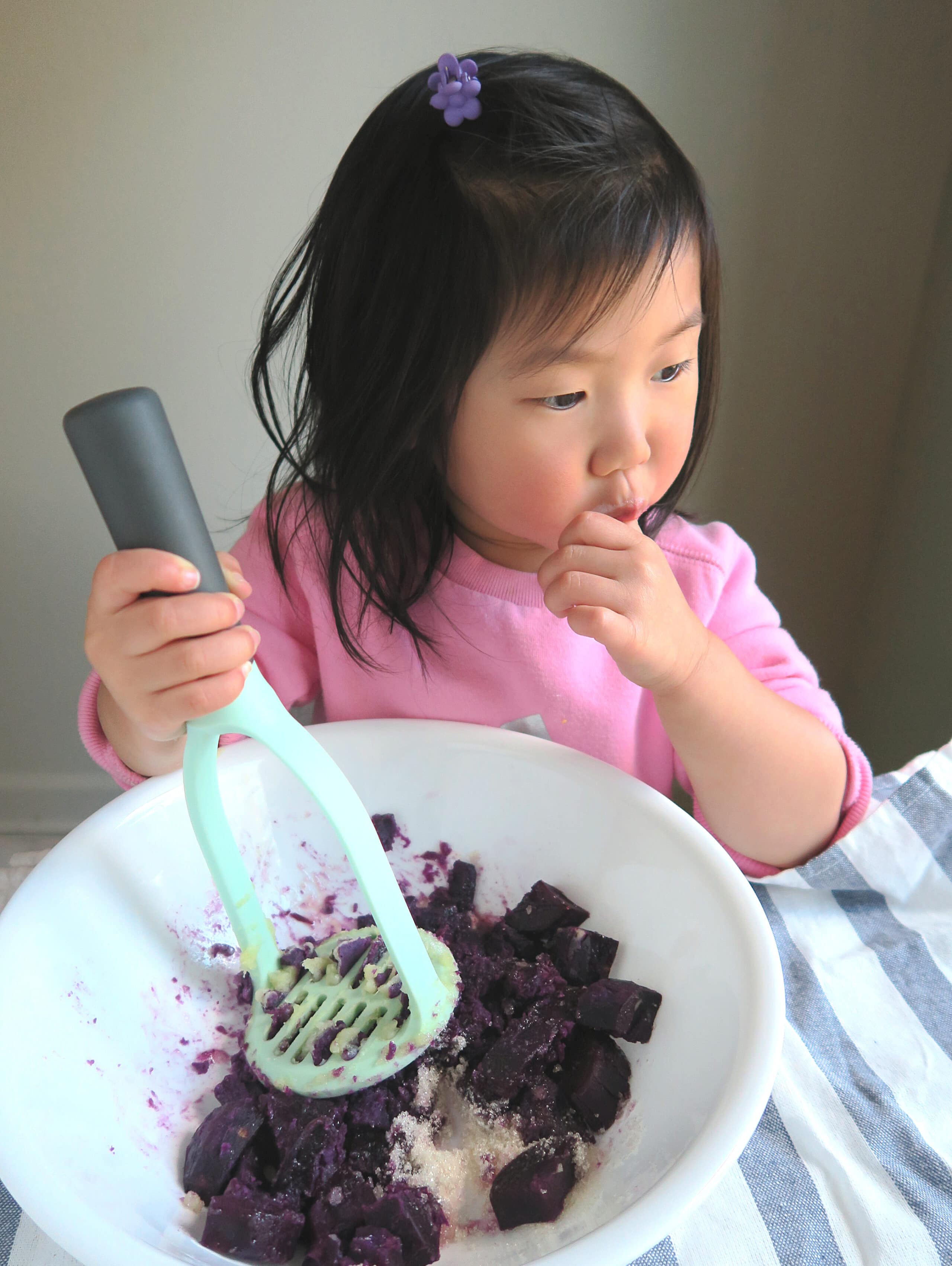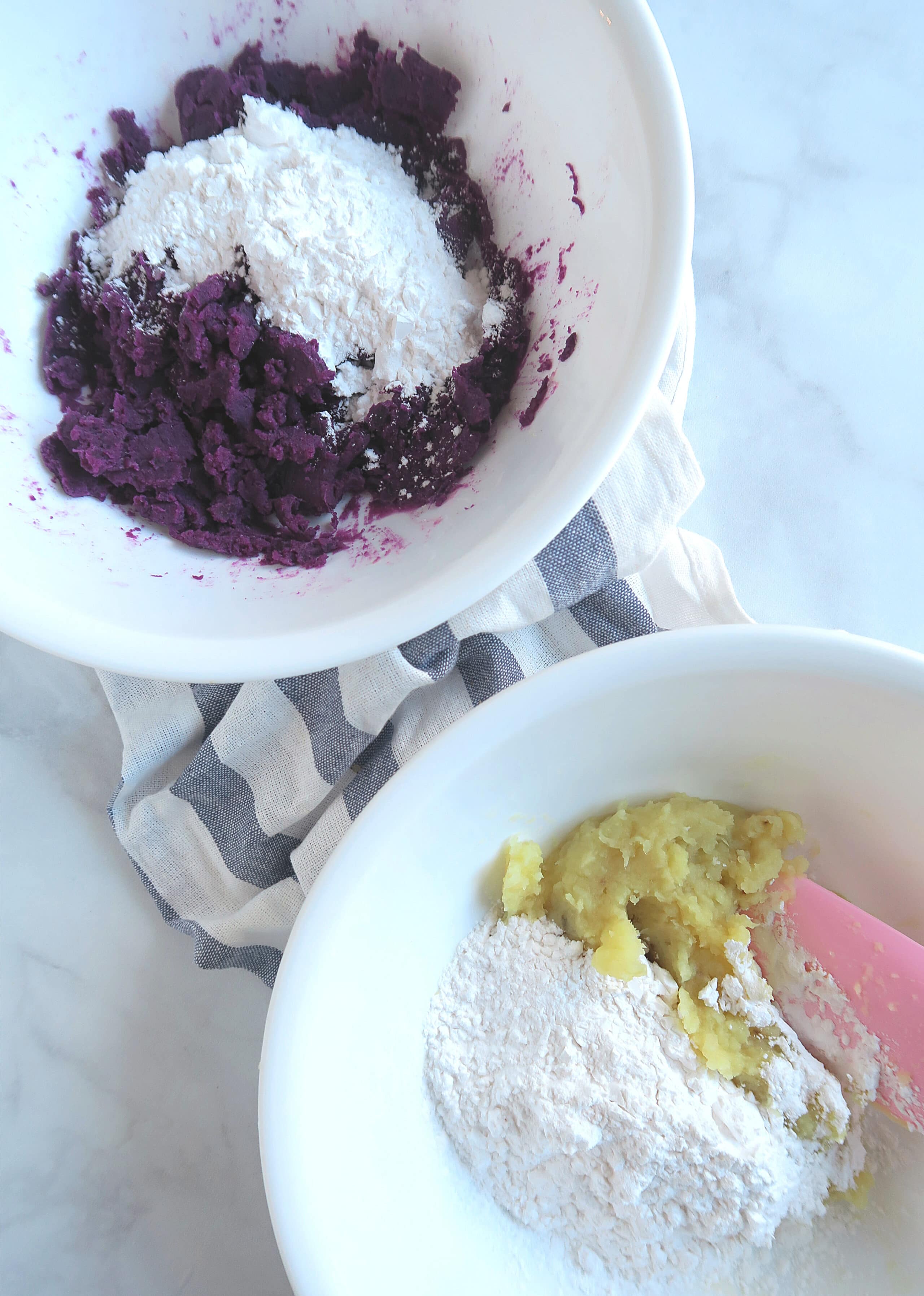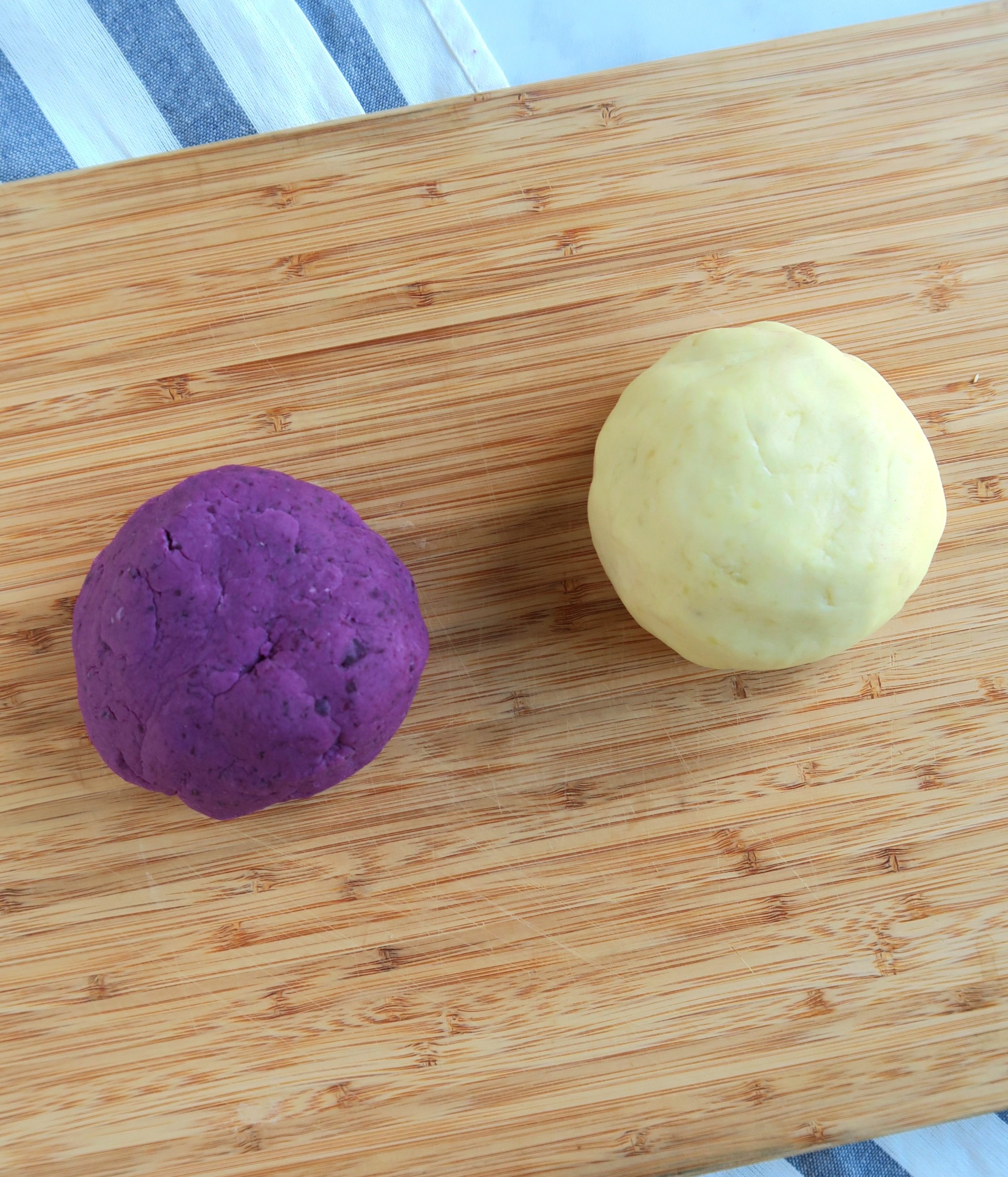 There are different ways to form the small mochi balls. You can either roll the dough into a thin log first before cutting it into small pieces to roll into balls; or you can use a melon baller to scoop out portions of dough to roll into balls. Usually, I like these mochi balls to be no more than 1 inch thick so they're easy to eat.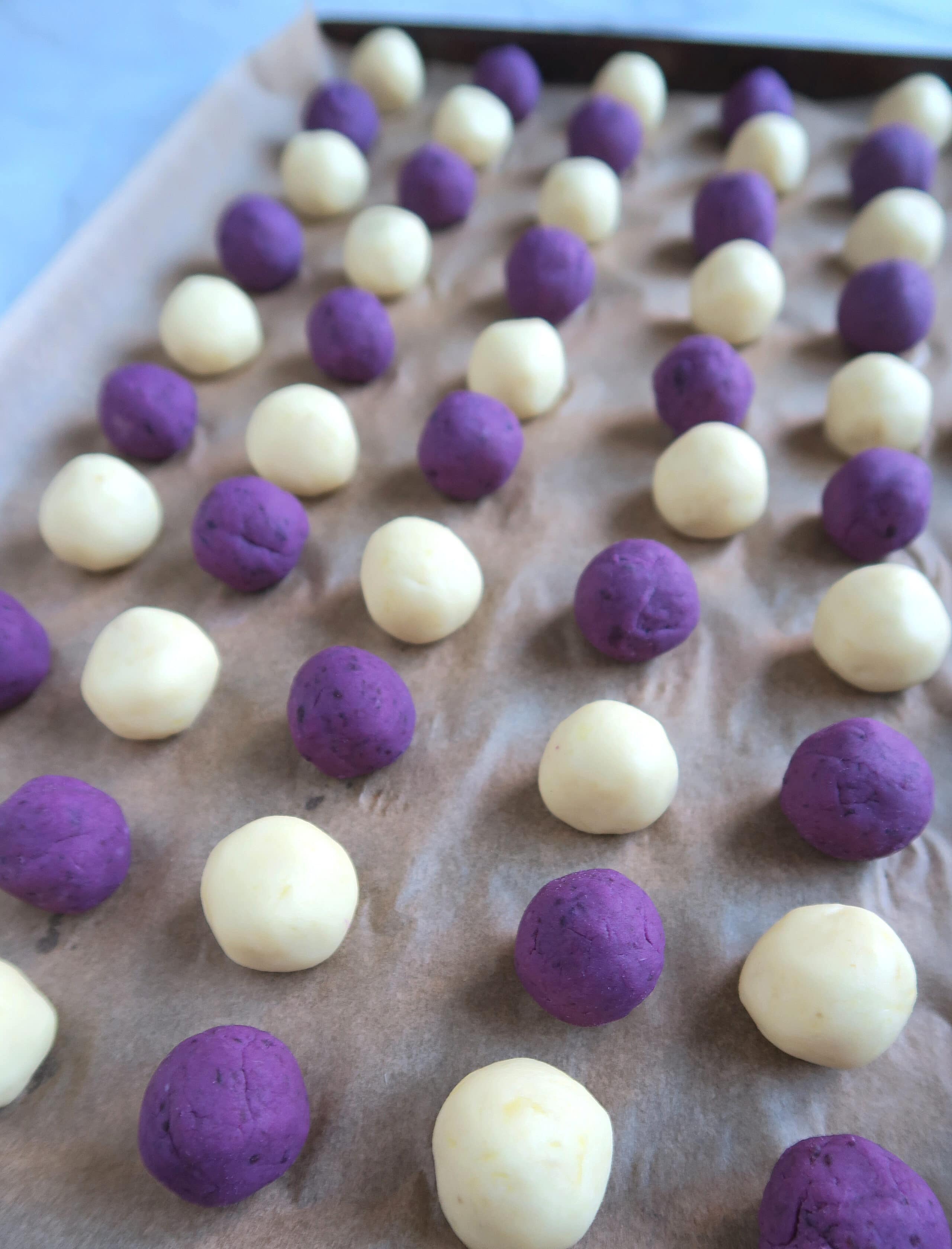 While I'm taking pictures of these cute mochi balls, I couldn't stop myself from snacking on it. My daughter also got hooked on them and stole a bunch of them away into her own bowl! They're so irresistible, I had to forced myself to save some for my husband because he also loves it.
These mochi balls taste the best when they're fresh out of the oven. The thin and slightly crispy exterior contrasts so well with the gooey and chewy inside that once you begin eating, it's very difficult to stop. We usually finish all of them within 30 minutes!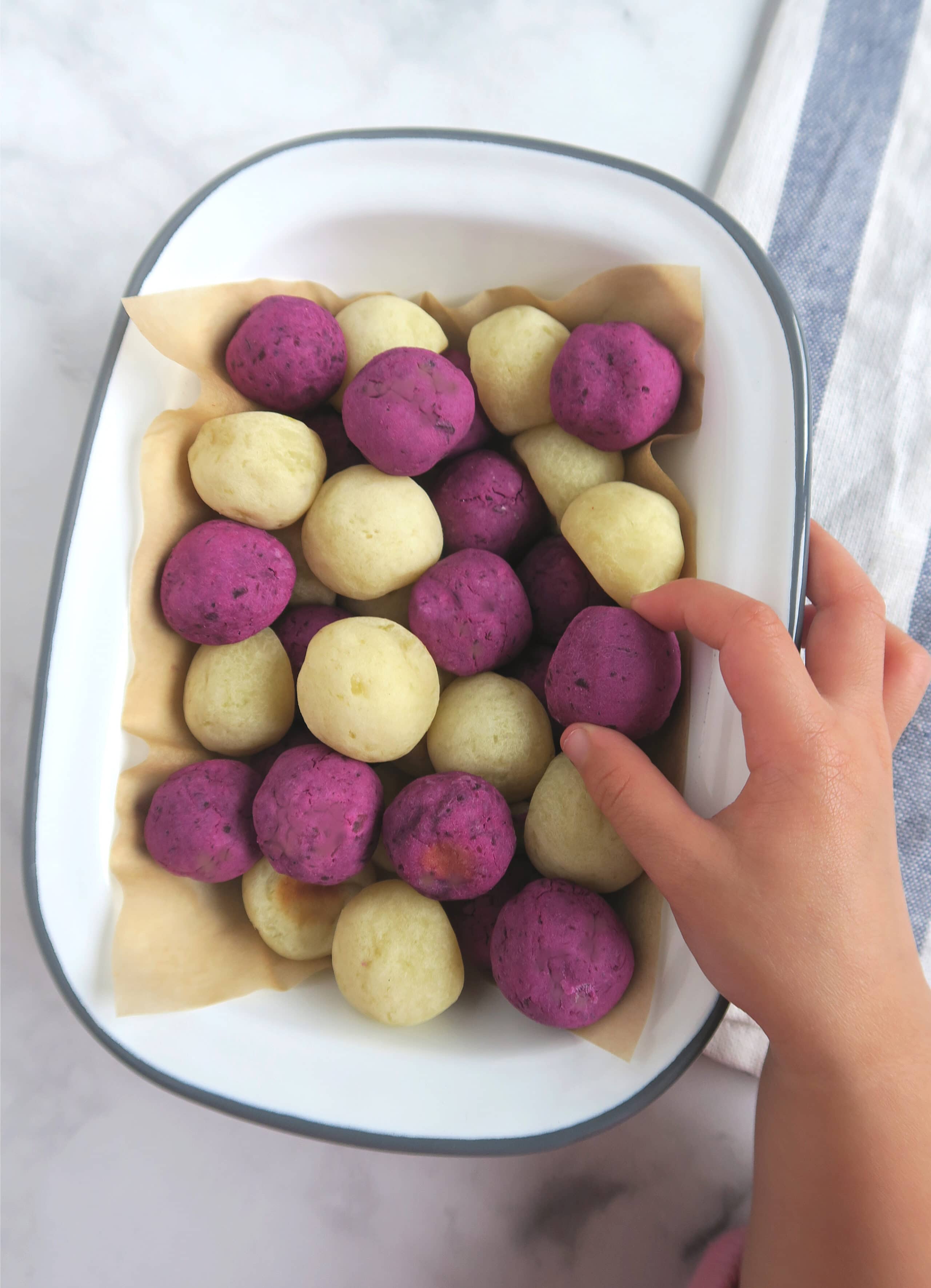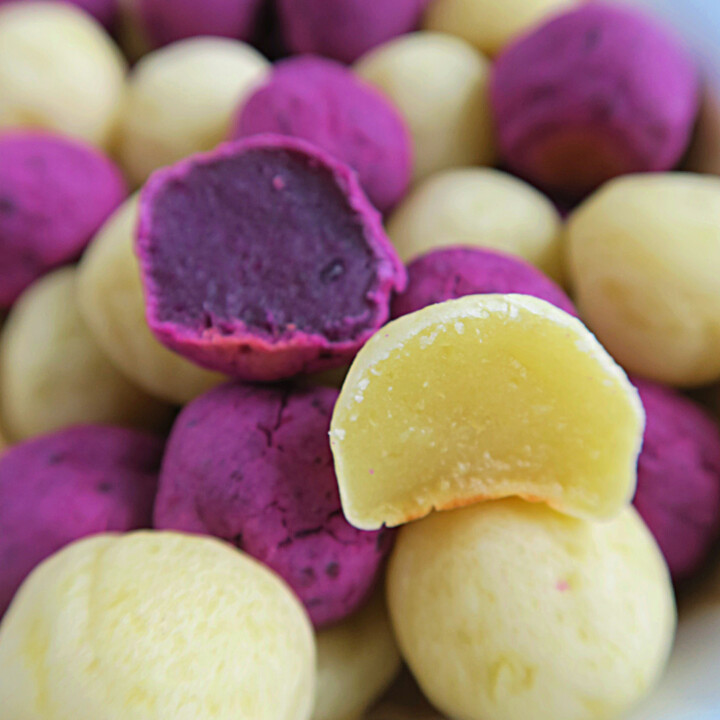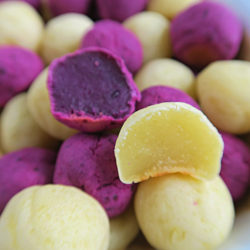 Easy Baked Mochi Balls with Sweet Potato
Ingredients
225

g

peeled sweet potato (I use Hannah sweet potato)

,

8oz

225

g

purple sweet potato

,

8oz

4

tbsps

sugar

,

divided

2

tbsps

butter

,

divided (or coconut oil for a vegan version)

140

g

tapioca flour, divided

,

1 cup + 2 tbsps

water
Instructions
Cut sweet potato into chunks, place in separate bowls and steam until they soften, about 20 minutes.

While they're still hot, transfer the both kinds of sweet potato into separate mixing bowls, then add in sugar and butter in each bowl. Use a potato masher or fork to mash until you reach the consistency of mashed potato.

Add tapioca flour in each bowl, mix and knead to form a ball. If the dough is too wet, add more tapioca flour; if it's too dry then add some water.

Preheat oven to 350°F (180°C)

Form the dough into 1 inch little balls and place them on a baking pan lined with parchment paper or silicone mat. Moistening your hands a little bit will make rolling the ball easier.

Bake for 16-18 minutes or until the bottom part is golden brown. Let cool for 5 minutes before enjoy it.