Three cup chicken is a well beloved classic Taiwanese dish because it's uniquely fragrant, savory, and delicious. This version is even better because it only needs 30 minutes using an Instant Pot (this is the model I have). Did I mention that this is a one-pot recipe? This is definitely an ideal weeknight recipe!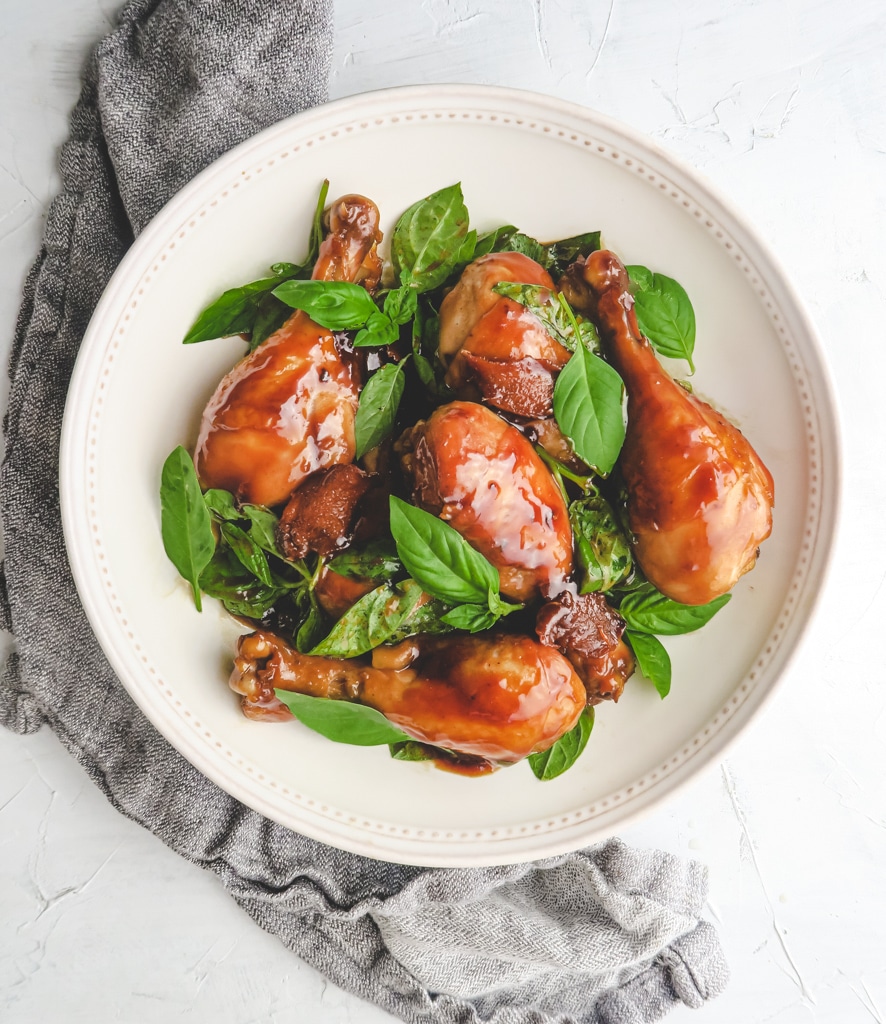 What are the "three cups"?
Traditionally, in Taiwan, this recipe calls for one cup of sesame oil, one cup of rice cooking wine (mijiu米酒) and one cup of soy sauce, meaning a 1:1:1 portion of each. However, now we usually don't cook with that much of oil, and so in this recipe I will give you a better formula with less oil but even better flavor. I also include a bit of oyster sauce, which really brings this dish to the next level.
Why using chicken drumstick?
Theoretically, you can use any part of the chicken you like to make three cup chicken, but I do believe that three cup chicken taste better when cooking with bone in skin on chicken. Actually, in Taiwan, this dish is usually made with chopped bone in skin on whole chicken legs. When you buy chicken legs or a whole chicken from the butcher at the open market (菜市場), they will offer to chop the chicken into pieces for you. But in the US, it's not as common to find this kind of service, so I usually just use chicken drumsticks for this dish, which yields the closest taste to the original thing, and all without the hassel of chopping up whole chicken legs with the bone and skin. This recipe really simplifies the preparation of this classic dish -- simply throw the drumsticks with the other ingredients into the pot and start cooking. It's so quick and easy!
Pro cooking tips
Although it's a very simple recipe, there are still some tips that's very important if you want to make the best tasting three cup chicken:
Marinated the chicken with salt and white pepper first - this will allow the chicken to have better flavor and texture. It will be best to marinate for 2 hours to overnight, but if you don't have time, even 15 minutes will help.
Use enough sliced ginger - ginger is one of the key ingredients in this recipe. The ginger needs to be cooked until golden brown so that the aroma is fully released. This is a very important step that will elevate your three cup chicken beyond that of others.
Add the seasoning while the pot is very hot - this will help bring out the aroma of the seasoning (especially soy sauce and rice cooking wine) and give the dish a deeper flavor.
Reduce the sauce - this is also an important key for making a good three cup chicken. The sauce should be thick like a glaze so that it would stick coat the chicken. Some people may thicken the sauce with starch instead of reducing the sauce, thinking that they will get more sauce to go with rice, but I've tested this before and it just doesn't taste as good. Make sure you cook until the sauce is thick and sticky. This reduction is very flavorful and goes really well with rice.
Use good amount of basil - basil in this dish is not for garnish, it's for flavor. Without basil, you cannot call this dish three cup chicken. The basil we use in Taiwan is a bit different from the basil in US, mainly in that the flavor is stronger. If you can get Thai basil, use Thai basil, but don't worry if you cannot, regular basil from the grocery store will work just fine.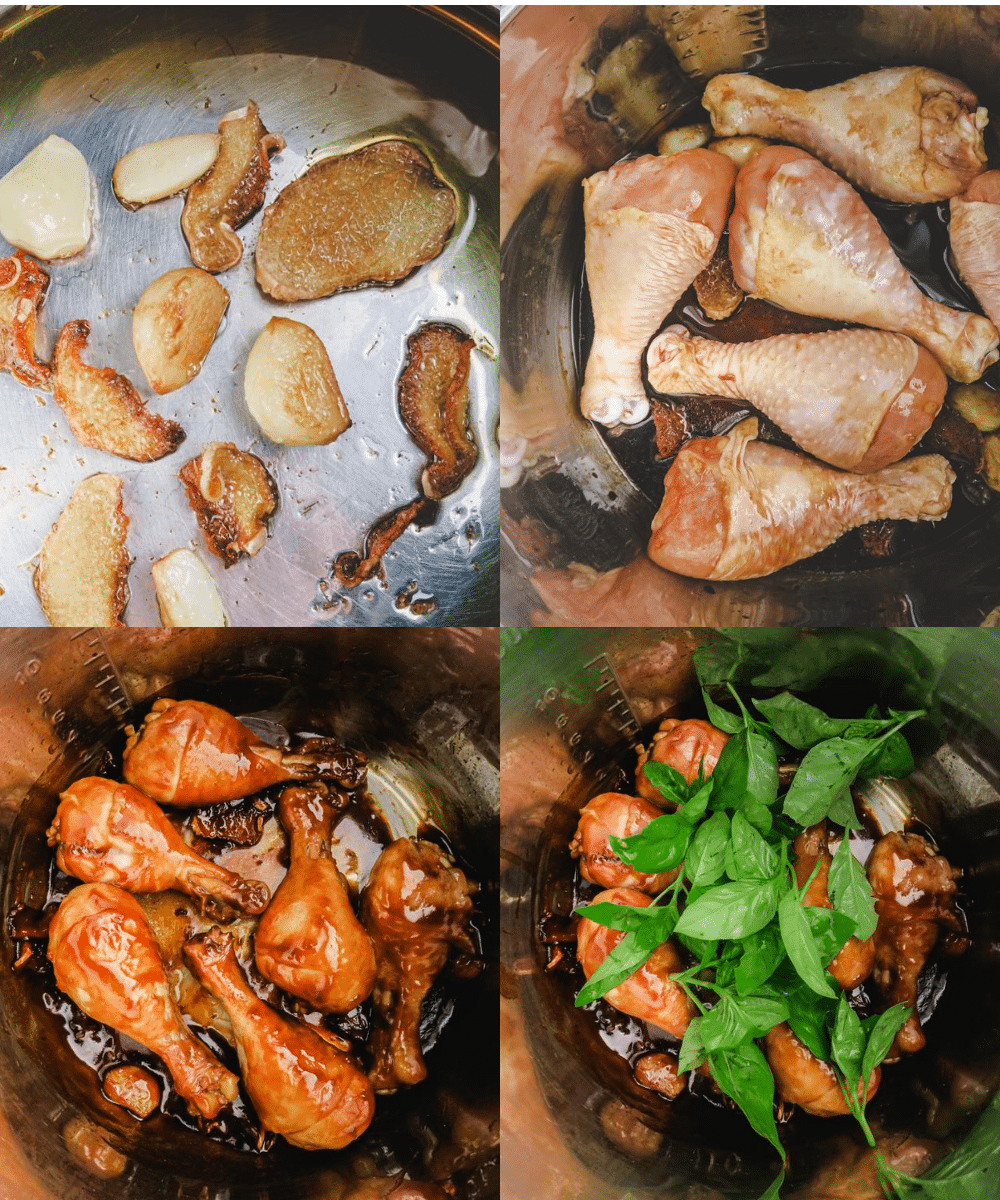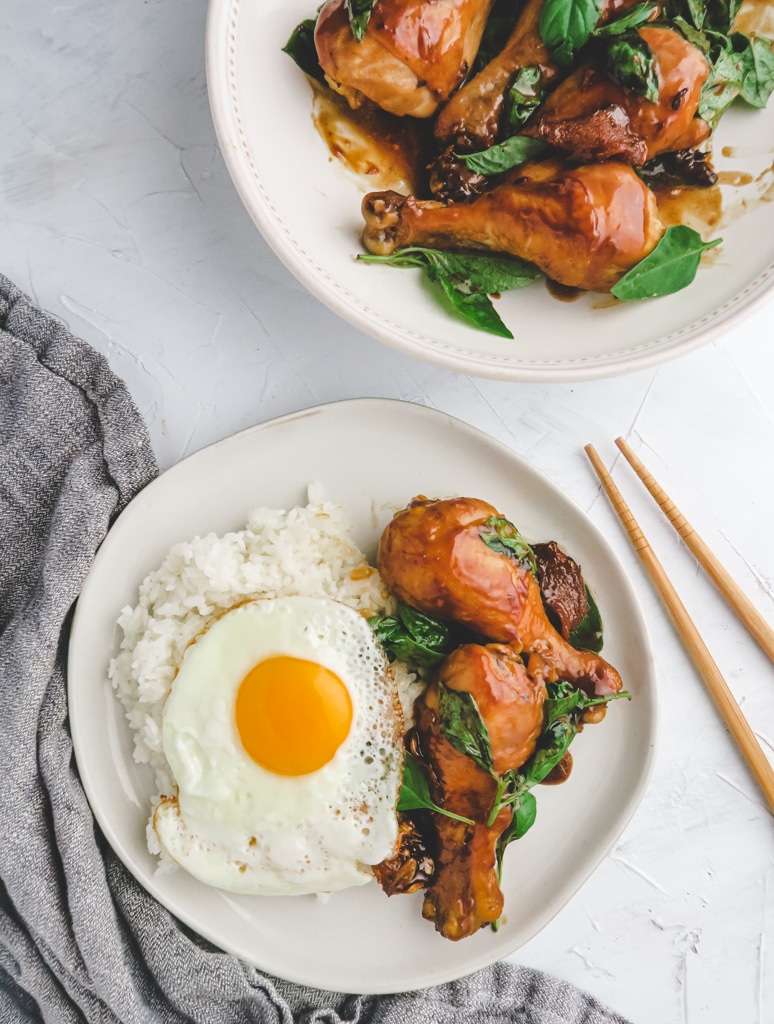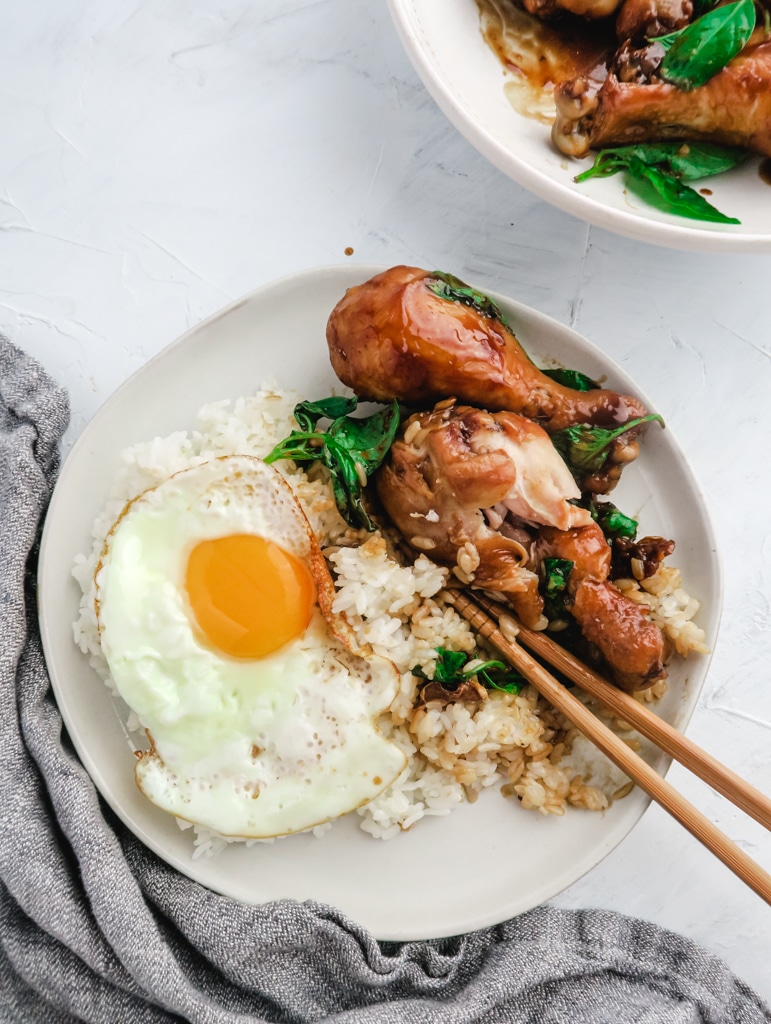 This three cup chicken drumstick is really delicious, hope you can give it a try and let me know how it turn out!
I would like to hear from you! If you make this recipe, please consider leaving a star rating and comment in the section further down the page. Stay in touch by following my Instagram and Pinterest!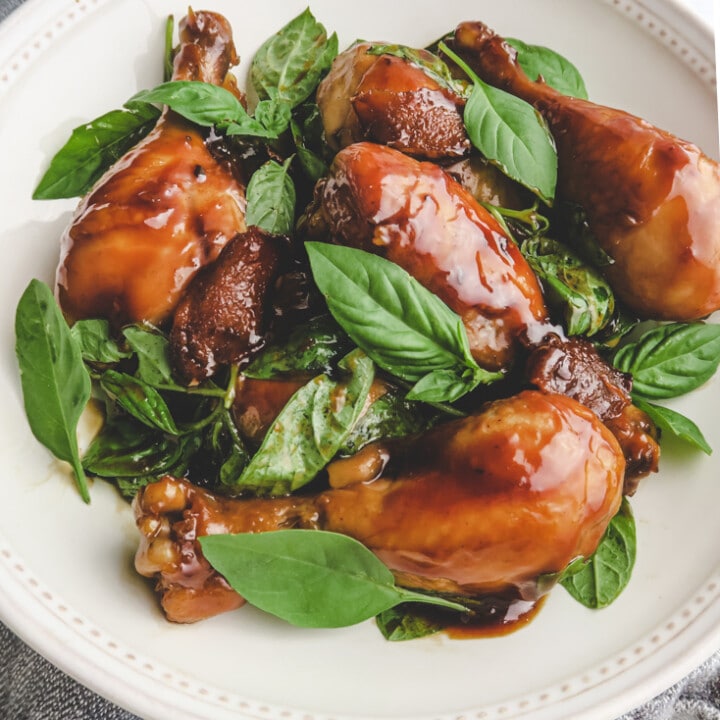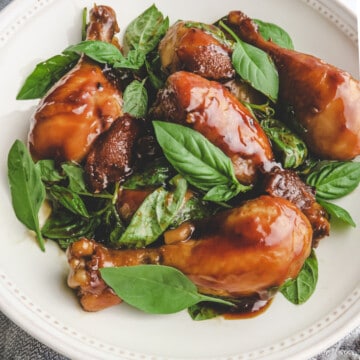 Instant Pot Three Cup Chicken (San Bei Ji)
Learn how to make this classic Taiwanese three cup chicken in your instant pot with professional tips.
Ingredients
6

chicken drumsticks

,

1½ lb

¼

tsp

sea salt

⅛

teaspoon

white pepper powder,

optional

2

tbsp

sesame oil

1

tbsp

vegetable oil

8

thinly sliced ginger

4

cloves

garlic

2½

tablespoon

soy sauce,

replace ½ tablespoon with dark soy sauce if available

1

tablespoon

oyster sauce,

can be replace with soy sauce

1

tbsp

rock sugar ,

can be replaced with regular sugar

2

tbsp

rice cooking wine (mijiu)

a big handful of basil

,

thick stem removed

warm white rice
Instructions
Marinate the chicken
Rub salt and white pepper on the chicken, set it aside for 15 minutes. It will be even better if you can do it for a few hours or overnight.
Cooking
Turn on "saute" function, add sesame oil, vegetable oil and ginger. Cook for 2 minutes before adding garlic glove. Continue to cook until ginger becomes wrinkly and golden brown, stirring occasionally. If the temperature becomes too high, turn off the saute function for about 30 seconds before turning it on again. Adding vegetable oil will prevent the sesame oil from turning bitter from cooking with high heat.

Meanwhile, mix soy sauce, oyster sauce, sugar and rice cooking wine together and set it aside.

Add chicken along and the seasoning mix. Stir to allow the seasoning to distribute evenly.

Cancel the saute function, cover the the lid and select "poultry" to start cooking.

When it's done cooking, let the pressure release naturally or manually after 10 minutes.

Open the lid, flip the chicken so the top side can touch the sauce. Choose saute function and cook until the sauce is thickened like glaze and able to coat the chicken. Rotate a few times so the chicken can be coated with sauce evenly.

Cancel the saute function, stir in basil and serve with warm rice.
Nutrition
Calories:
412
kcal
Carbohydrates:
8
g
Protein:
29
g
Fat:
28
g
Saturated Fat:
6
g
Cholesterol:
139
mg
Sodium:
1354
mg
Potassium:
386
mg
Fiber:
1
g
Sugar:
4
g
Vitamin A:
70
IU
Vitamin C:
1
mg
Calcium:
22
mg
Iron:
1
mg