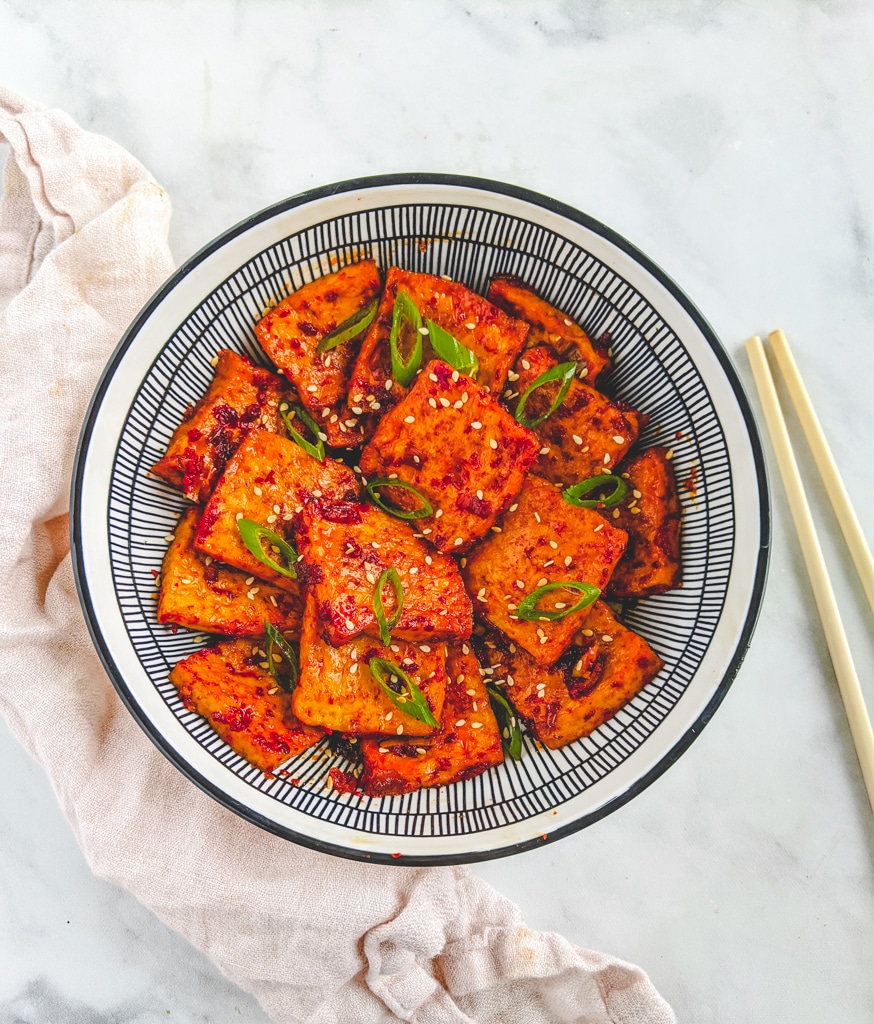 Last summer when one of my Korean friends came to stay with us for a few days, she made us some of her specialty dishes. One of these dishes was this Korean spicy braised tofu, which impressed us so much that I promptly asked her for the recipe. Since then, I make this dish often, especially since it's so quick and easy to make -- only taking less than 30 minutes, and it tastes good whether it's hot and cold. My friend said this is one of the dish that she often makes for herself, she will make a large batch during the weekend and keep it in the fridge to enjoy through the week as a side dish (banchan) to go with her meal.
This dish has so much flavor that it actually goes well with rice. If you avoid or dislike tofu because you just think of it as health food that tastes "healthy" (i.e. bland), then give this dish a try and hopefully I can convince you that with the right recipe, tofu can be something you look forward to eating.
There are only few simple steps needed for this dish -- cutting the tofu and pan frying them, preparing the sauce, then adding sauce to finish cooking with the tofu. That's it! However, in order to make this dish taste really good, you need to pay attention to some of the small details.
Tips of pan frying Tofu
In order to get a crispy and golden brown surface when you pan fry your tofu, pat dry (with some paper towel) the excess water from the tofu and make sure to add enough cooking oil, otherwise your tofu will just be steaming in the pan instead of browning. To achieve a crispy outside layer with a soft and tender inside, aim for roughly ½ inch thick slices. Slice the tofu too thin and you'll end up with something more suitable for footwear than for your plate. A typical 1lb pack should end up in about 16 pieces.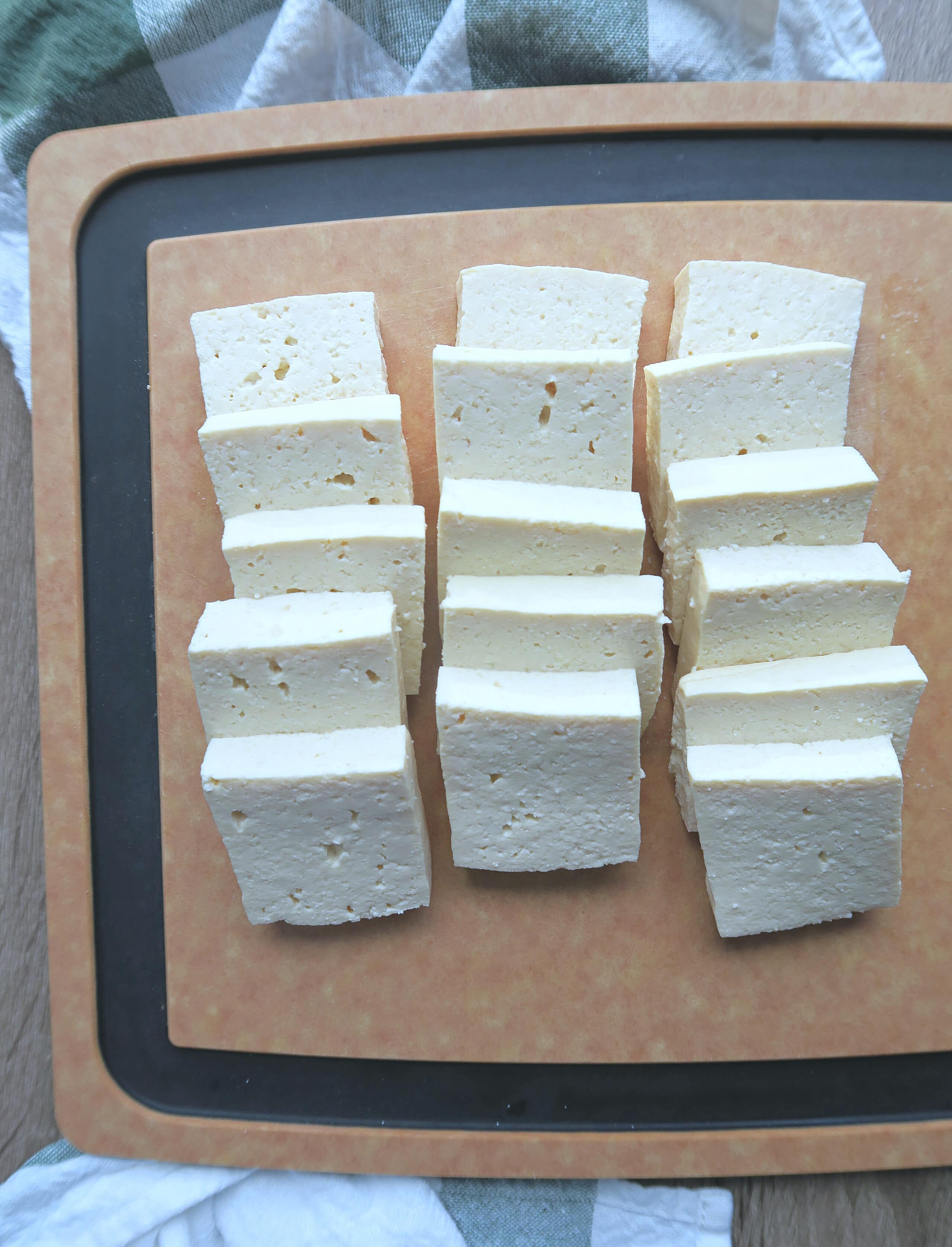 The flavor of this dish mainly comes from the sauce, which consists of soy sauce, sugar, Korean red chili pepper flakes (gochugaru), sesame oil, and also garlic and scallions (aka green/spring onions) to take the flavor to the next level.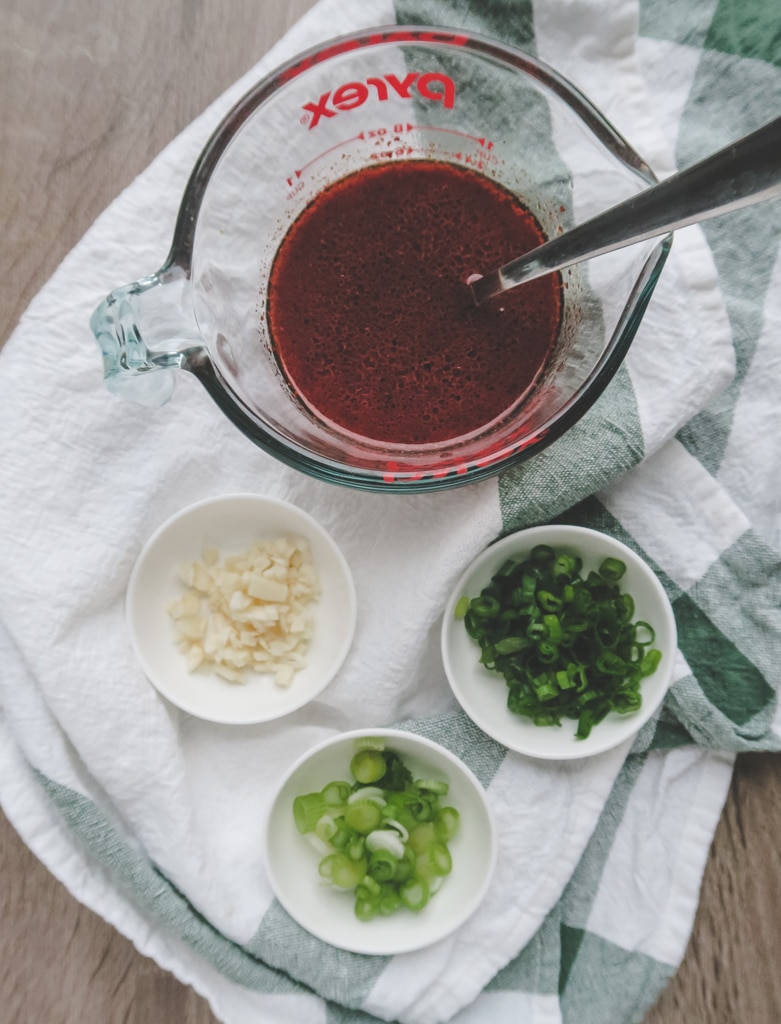 After pan frying the first side on medium heat (may take 5 to 8 minutes), I add the white and light green part of the scallions and minced garlic in the pan while I'm cooking the other side, so that the oil and heat can bring out their aroma. The original recipe is to take the tofu out after pan frying and stir-fried the scallion and garlic a bit, but I've found that this shortcut works well every time. The second side of the tofu usually browns much quicker, so keep your eyes on it.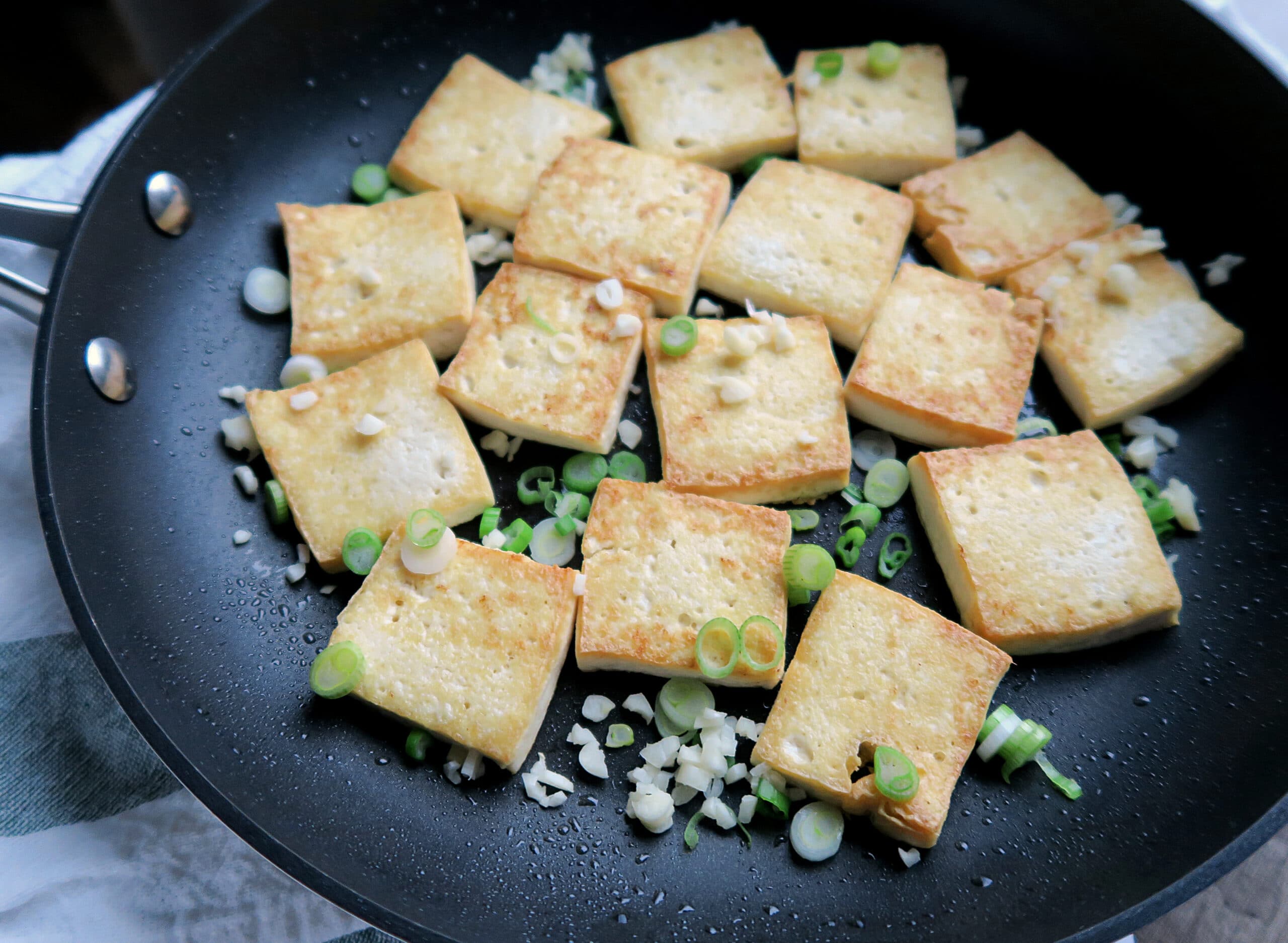 After the second side is down browning, pour the sauce into the pan, then continue cooking on medium-low heat with the lid on for another 10 minutes. uncover the lid in the last one or two minutes to reduce the sauce if needed. Finally, garnish with the green part of the scallions and that's it! Pretty simple, right?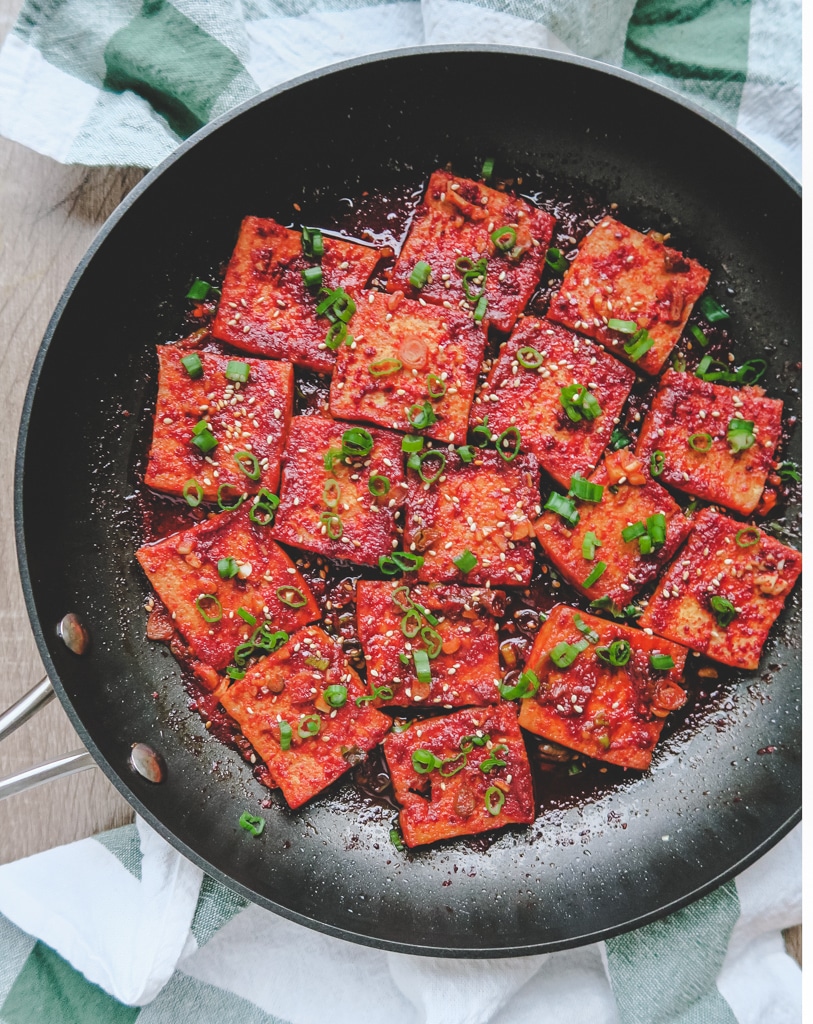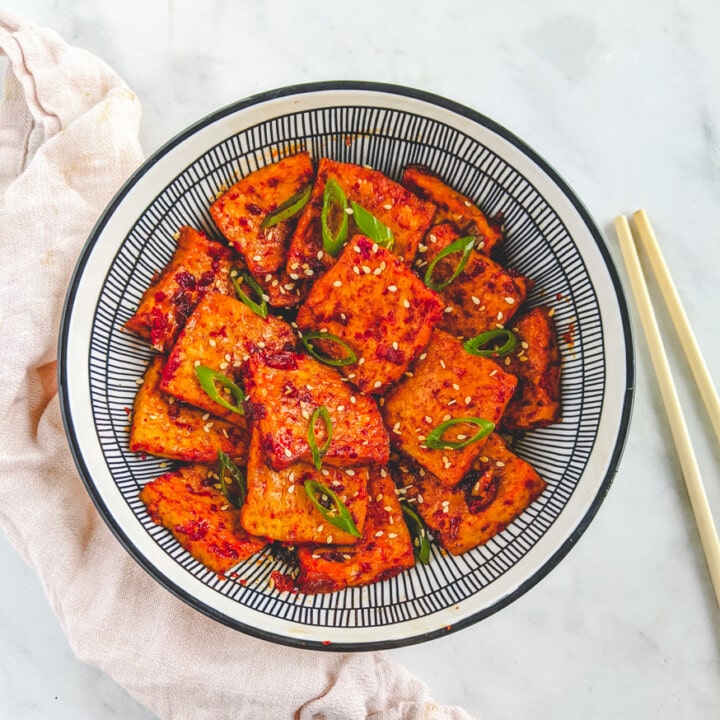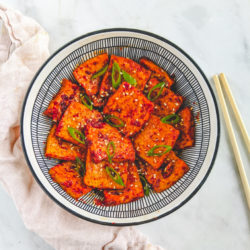 Korean Spicy Braised Tofu (두부조림)
Ingredients
1

pack extra firm tofu

3

tbsps

cooking oil

2

cloves

garlic

,

minced

1

stalk green onion

,

scallion, thinly sliced
Sauce
½

cup

water

3

tbsps

soy sauce

1

tablespoon

sugar

1½

tbsps

Korean red chili pepper flakes

,

gochugaru

½

tablespoon

sesame oil
Instructions
Whisk the sauce ingredients and set aside.

Pat dried the tofu and cut into ½ inch thick square pieces.

Heat 2 tablespoon cooking oil in a nonstick pan over medium heat, pat dry each piece of tofu again before putting into pan and cooking for 6 to 8 minutes until golden brown.

Flip the tofu carefully, add 1 tablespoon cooking oil and continue to cook for for another 2 to 3 minutes. Add garlic and the white and light green part of the green onion into the pan between the tofu slices (or saute separately from tofu for 30 seconds).

Pour the sauce into the pan, cover with a lid and cook for 10 minutes over medium low heat. Uncover the lid for the last 1 to 2 minutes to reduce the sauce.

garnish with sesame seeds and green onion, serve warm or cold.
Notes
If your pan is not big enough or you want to make more, pan frying the tofu in batches and cook all together with the sauce.