Succulent and flavorful, yet also fresh with contrasting textures -- this salmon dish can be on the table in just 20 minutes!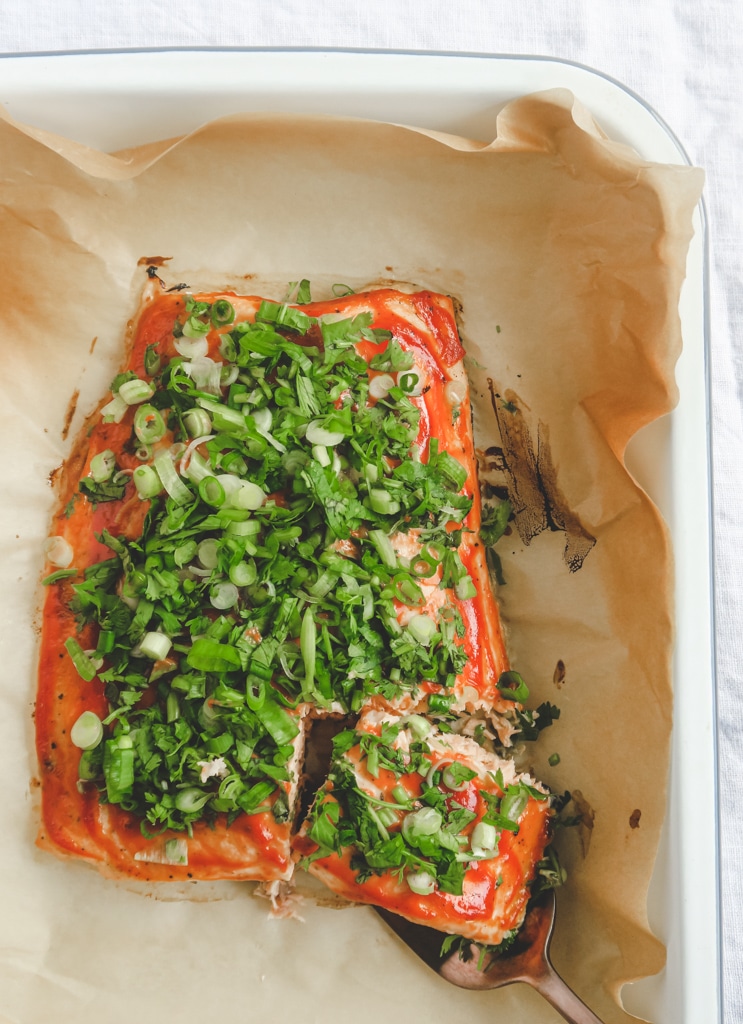 Secret for keeping the salmon moist
Some people like to bake their salmon covered with foil to prevent the salmon from drying out, some people only cover it half way so that the salmon can still get some flavor developed from the direct heat. I personally prefer baking it directly without being covered at all, as I like the edges of the salmon to brown a little through baking, which, in my opinion, gives a better flavor.
How could I keep the salmon moist, then? In this recipe, mayonnaise will do the job. Adding a thin layer of mayonnaise ensures that the salmon remains tender and succulent. I know some people don't like the "heaviness" of mayonnaise -- I'm generally that way as well. Don't worry, though, the mayonnaise in this recipe works as a single element that's balanced out by the acidic and fresh elements. Ultimately, the simple elements in this dish balance together so well that even someone who generally doesn't like mayonnaise will end up loving the moist and delicious result here.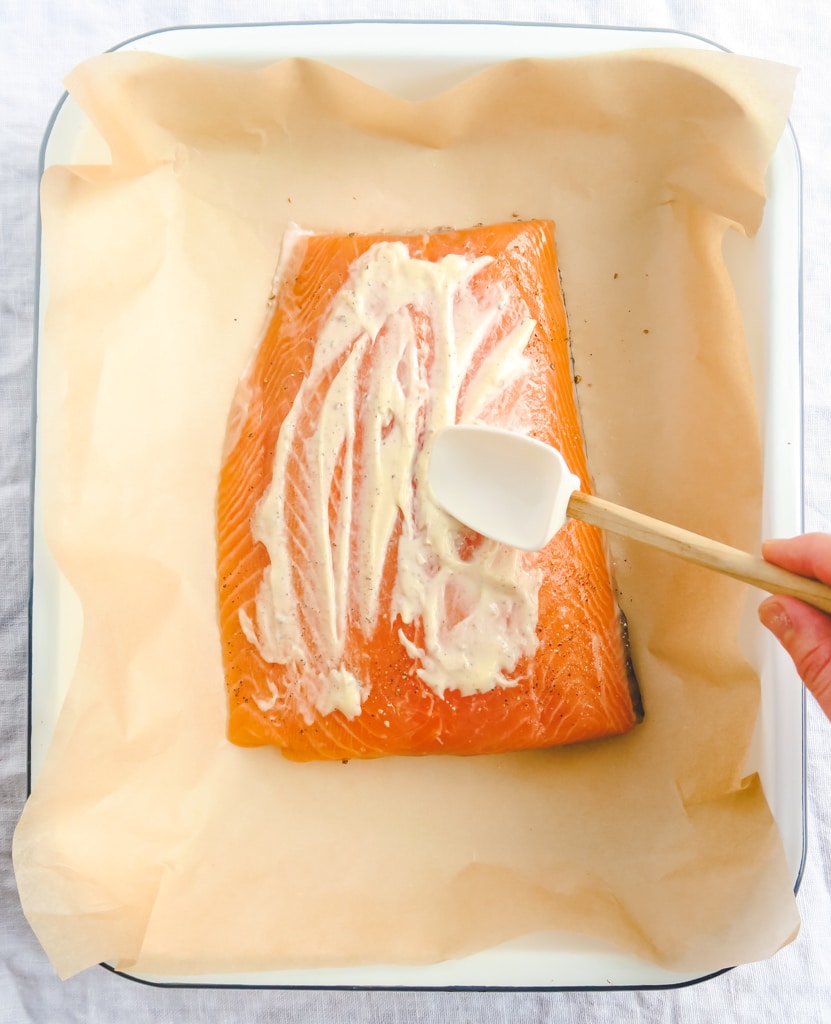 Ketchup
I know you might think about ketchup as something that only goes well with fries or hot dogs, but it actually goes surprisingly well with salmon. The sweetness and tanginess from the ketchup perfectly complements and balances the richness of the salmon and the mayonnaise. Additionally, ketchup is a quick and easy way that this dish introduces a lot flavor without a lot of time or energy. While using ketchup as a "flavor shortcut" may seem cheap and even kind of sad in applications that aren't suitable, ketchup works so well in this dish that you just may end up with a newfound respect for this condiment.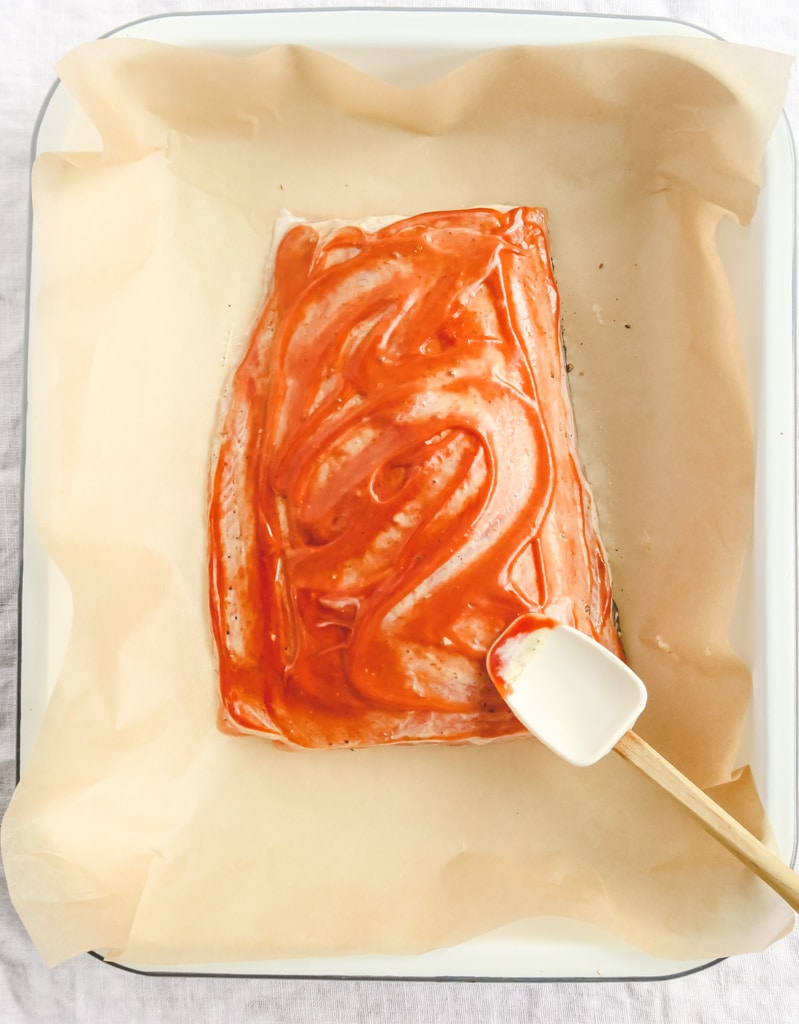 Fresh, crunchy and aromatic element
After the salmon is done baking, top it with loads of chopped cilantro and scallion to provide not only freshness and an extra dimension of flavor, but also textural contrast. While the balance of the richness and acidity of the other elements are nice, the greenery topping the salmon really takes the eating experience of this dish to the next level.
In creating recipes, one often has the dilemma of balancing simplicity (no one wants to do a recipe that requires tons of ingredients and steps) with delivering a quality result.  This recipe, while simple and easy, is able to deliver an awesome eating experience.  This can be achieved because each element is doing so much, and each element works with the others in such a way that the result is definitely much greater than the sum of its parts.
I would like to hear from you! If you make this recipe, please consider leaving a star rating and comment in the section further down the page. Stay in touch by following my Instagram and Pinterest!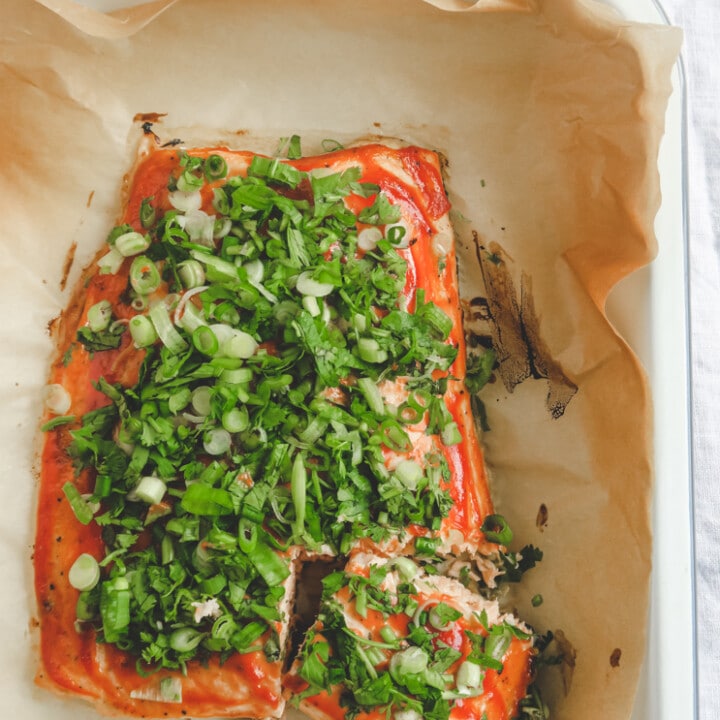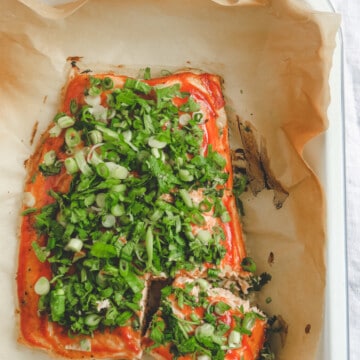 Easy Baked Salmon with Mayo and Ketchup
Moist and flavorful baked salmon ready in 20 minutes
Ingredients
1

lb

salmon fillet

½

teaspoon

sea salt

1

pinch

black pepper

1

tablespoon

mayonnaise

3

tablespoon

ketchup

¼

cup

scallion

,

thinly slice

¼

cup

cilantro

,

chopped
Instructions
Preheat the oven to 400°F.

Rub salt on both sides of the salmon and place it skin side down on a lined baking sheet. Sprinkle black pepper on the top side of the salmon.

Apply the mayonnaise on the salmon, followed by a layer of ketchup on top. Remember to apply more on the thicker side of the salmon. Let it sit for 10 minutes before baking (you can skip this step if you are in a hurry).

Bake the salmon for 15 minutes. In the meantime, mix scallion and cilantro together in a bowl.

Once baking is complete, remove the tray from the oven and immediately top with scallion and cilantro.
Nutrition
Calories:
748
kcal
Carbohydrates:
2
g
Protein:
91
g
Fat:
39
g
Saturated Fat:
6
g
Cholesterol:
255
mg
Sodium:
1457
mg
Potassium:
2292
mg
Fiber:
1
g
Sugar:
1
g
Vitamin A:
701
IU
Vitamin C:
6
mg
Calcium:
72
mg
Iron:
4
mg