This Chinese beef and egg rice bowl is one of our family's favorite dishes. It's super easy to make, taking no more than 20 minutes from preparing the ingredients to completing the dish. At the same time the flavors of this dish is simple and straight-forward yet they work so well together that the result is something deeply savory and mouth watering. This truly is a perfect weeknight dish.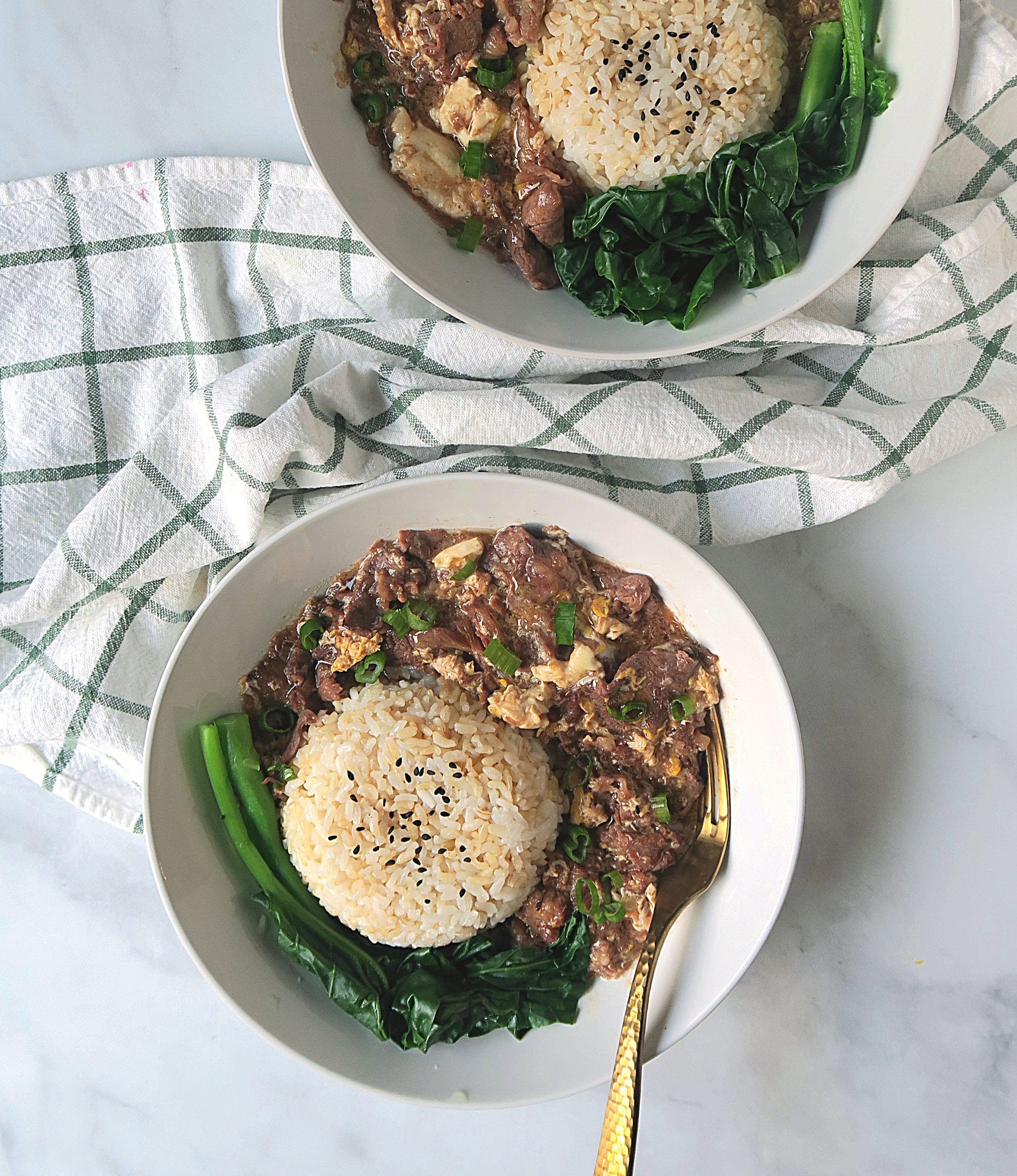 Use thinly sliced beef
For this dish, we need thinly sliced beef like the kind used in hot pot or Shabu-shabu, which you can find in most Asian grocery stores (I've also seen it at Trader Joe's.). This dish is a variation of a traditional Cantonese dish. Originally, you would have to stir-fry the marinated beef to half done, take it out and continue the rest of the steps. However, I wanted to make this as simple as possible without compromising the taste. So, I use thinly sliced beef in this recipe so that marinating and stir-frying the beef would no longer be necessary. I love cooking with thinly sliced meat because It is quick to take on flavor and quick to cook (great for a busy mom like me!). I even got an electric meat slicer to make my own sliced meat.
Thicken up the broth
Since this dish is made to go with rice, I like to thicken the broth up a little bit to make it adhere to the rice better. To thicken, simply mix some tapioca starch (or any other kind) with a little bit of cold water (never add hot water here!). After bringing the broth to a boil, add the starch mixture into the pan in the motion of drawing a circle to disperse it evenly, then stir the broth right away to prevent lumps from forming.
Get everything ready before you start cooking
This dish cooks so fast that I'd recommend that you prepare everything you need before beginning to cook. Combine the sauce together, whisk the eggs, combine the starch and water and set them aside first. If you get this prep work out of the way first, you won't need to rush these things as the dish is cooking and you're much less likely to make a mistake.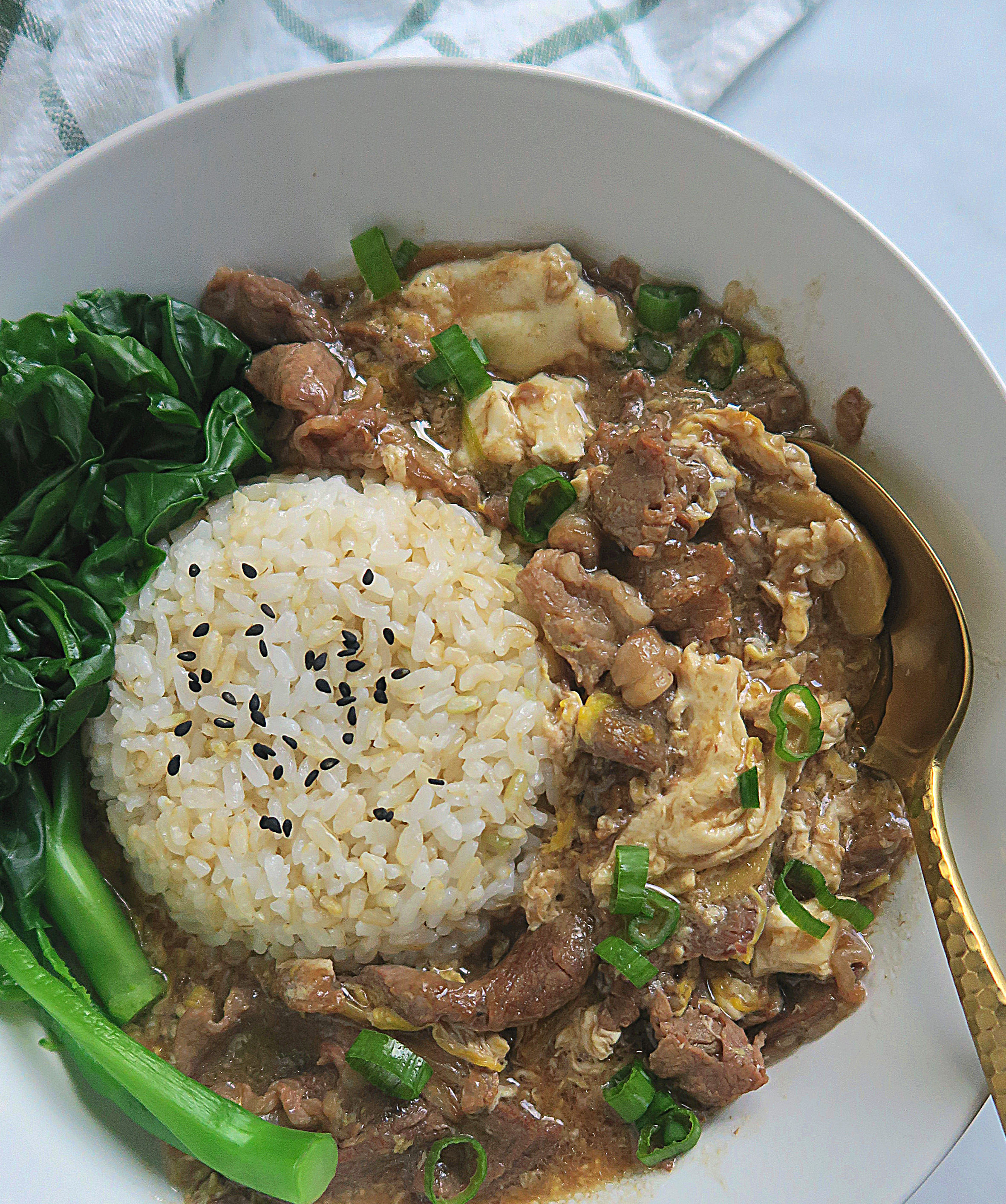 Don't forget the aromatic toppings
This is something I learned from some Taiwanese street vendors. After the cooking complete, top with some aromatic toppings like scallion/cilantro, white pepper powder, black vinegar, and sesame oil (or chili oil if you like spicy). This quick step adds more layers of flavor and elevates this dish even further!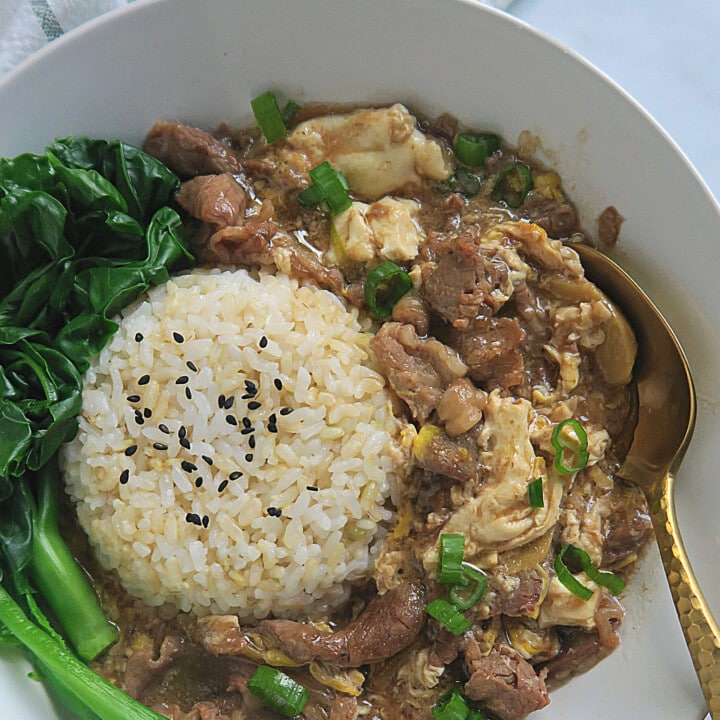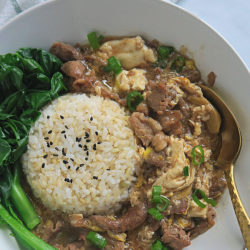 20 Minutes Chinese Beef and Rice Bowl
Ingredients
13

oz

thinly sliced beef

,

I used rib eye

4

tbsp

soy sauce

2

tbsp

mirin

½

tbsp

sugar

1½

cup

water

,

+2 tbsp for mixing with the tapioca flour

1½

tbsp

tapioca flour or corn starch

3

eggs

2

tbsp

cooking oil

3

slices

of ginger

2

scallions

,

thinly sliced, separate dark green and white/light green part

rice

Optional Toppings

1-2

tsp

black vinegar

2-3

tsp

sesame oil

cilantro

white pepper powder

toasted sesame seeds

chili oil/sauce
Instructions
Cut the beef slices in half if they are wider than 5 inches.

Mix soy sauce, mirin and sugar together and set it aside.

Mix starch and 2 tbsp of cold water together and set it aside.

Beat the eggs and set it aside.

Heat a frying pan with cooking oil on medium low heat; put in ginger slices and light green/white part of scallion and saute until the aroma is released.

Pour in the sauce, let the sauce cook for 10 seconds before pouring in the water.

Bring it to a boil before adding beef. Make sure they are not sticking together. You can use a pair of tongs to separate them.

Once it's boiling again, even if the beef is not fully cooked, stir the starch water again and pour it in slowly in a circular motion. Stir right away so that the starch would be evenly distributed.

After the contents are boiling again, pour in half of the the egg mixture, stir a bit and then pour in the rest in circular motion.

Turn off heat and cover the pan with a lid for a couple of minutes until the egg is just set.

Finish the dish off by topping with the rest of the scallions and any other optional toppings and enjoy over rice.
Notes
Personally, I like to serve this dish with short grain rice.  In this post I use half brown rice and half short grain white rice.  However, you can enjoy it with any kind of rice you like!