This orange muffin is my proudest recent creation.  Using the whole orange gives a bright and strong orange flavor that's just impossible to get from using only the inner fruit or juice of the orange.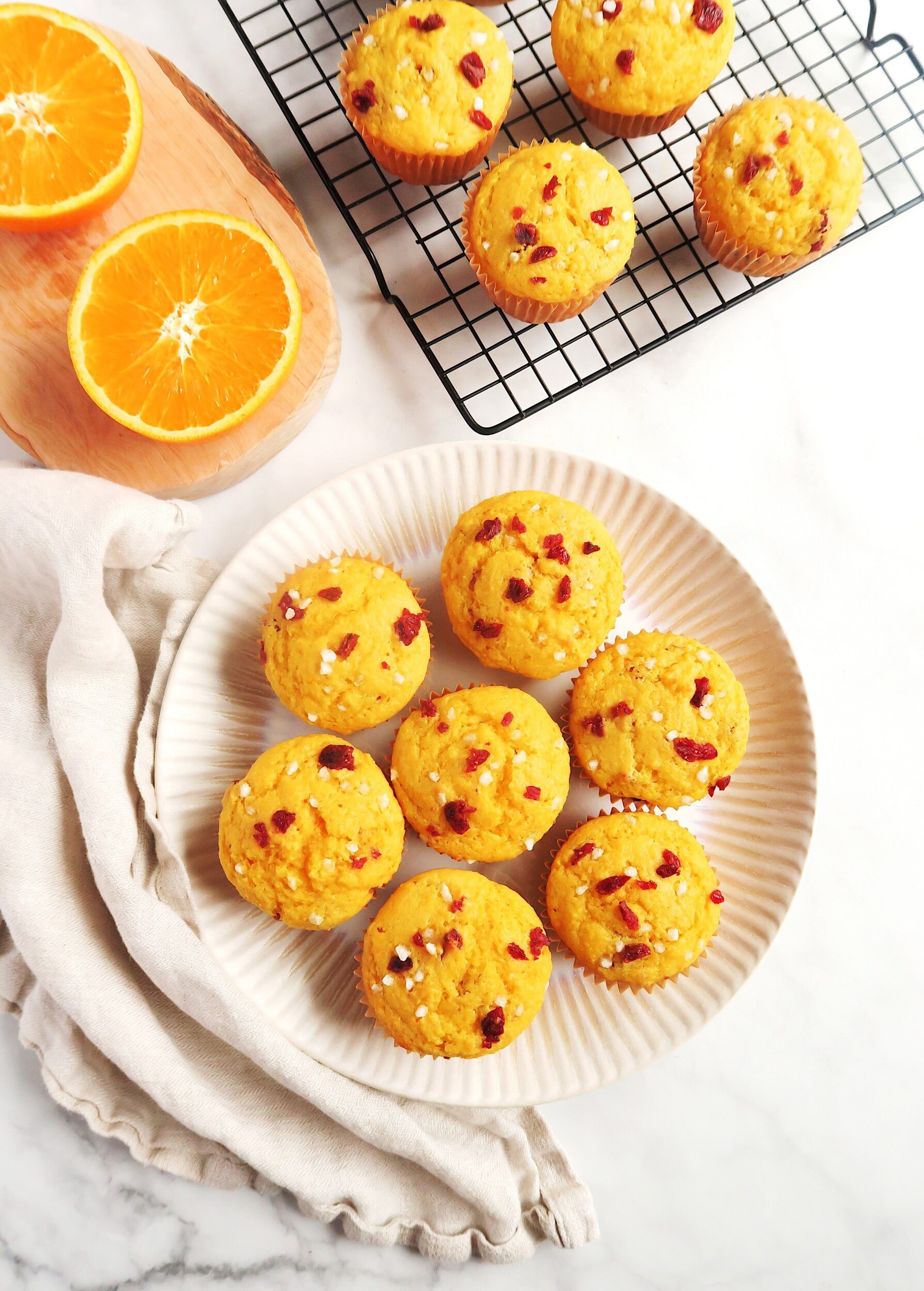 These orange muffins have a fluffy and moist texture that's embellished with bursts of tanginess from the cranberry and crunchiness from the pearl sugar topping.  It's really amazing!  I guess this is what you'd call (at least I would) a perfect muffin.  Oh, and what's more important is that this is a super quick and easy recipe. 
All you need is to blend all the wet ingredients in a blender before mixing it with the dry ingredients, filling the muffin cups and tossing them into the oven!  It's probably one of the few recipes where you can be ready to bake way before the oven is done preheating.
The secret to removing the bitterness from the orange peel
Using the whole orange (yes, including the peel and pith) gives you an intense orange flavor that cannot be replicated by just using zest and juice.  But won't there be an unpleasant bitterness from the skin?  Usually that would be an issue, but I have a secret for removing that bitterness that I haven't found anywhere else online. 
This secret is ridiculously simple: simply trim half an inch off the top and bottom ends of the orange, and boom!  No more bitterness. Yes, you don't need to boil it or fuss over it, just two quick cuts and you're good to go!
Another helpful tip for this recipe is to choose a juicy orange that has a thinner peel (these usually feel heavier), and I'd definitely recommend going organic on the orange so that you won't need to worry about pesticides on the peel. Another thing that makes this recipe even more a-peel-ing is that the orange peel is super nutritious. Apparently, the peel of the orange has three times more Vitamin C and four times more fiber than the inner fruit, as well as containing many other compounds with anti-cancer and anti-inflammatory properties. This makes sense to me, though, since orange peel is something commonly used in Chinese medicine.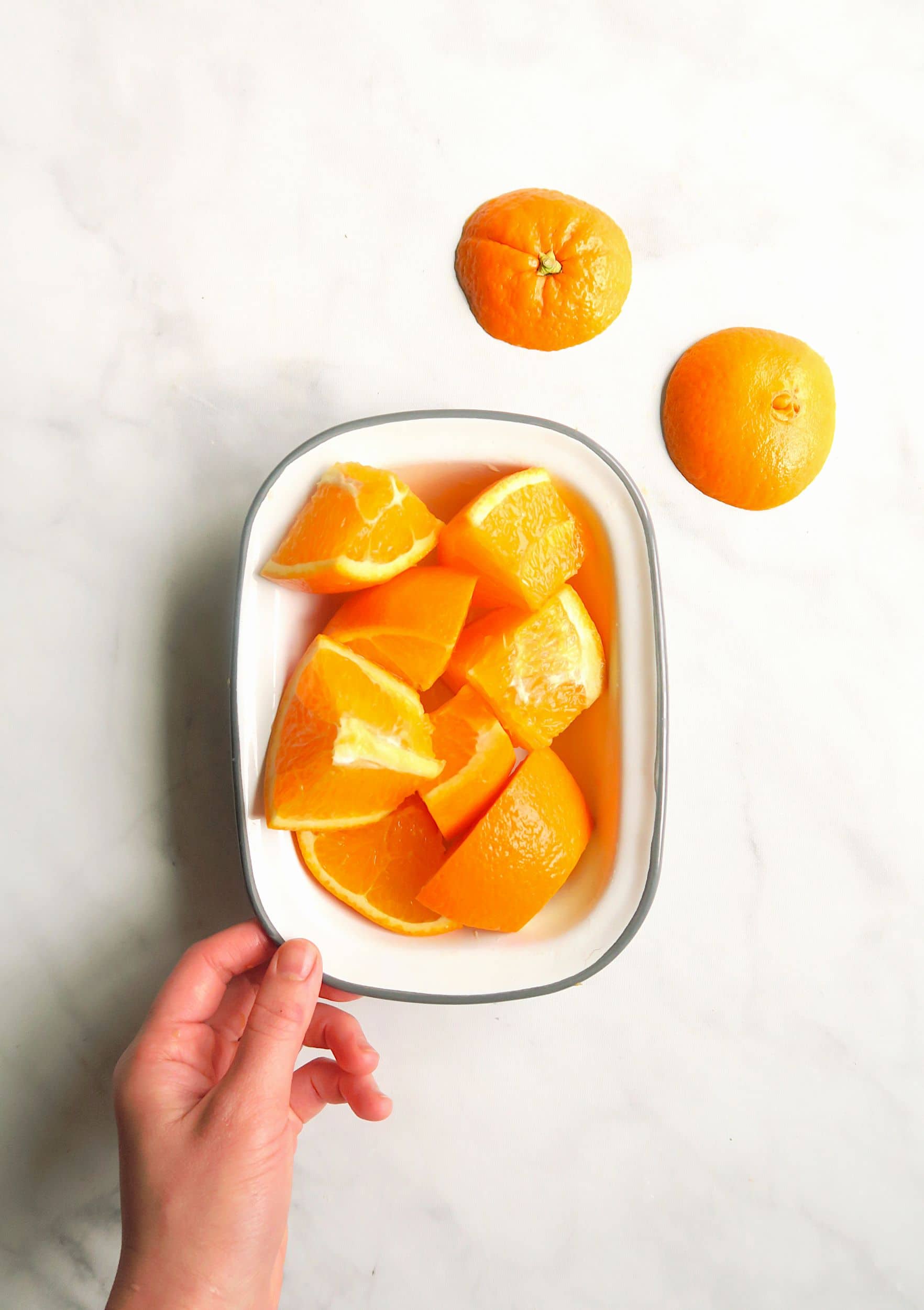 The most effective way to incorporate wet and dry ingredient
Like any other kinds of cake and muffin, over mixing results in a tough and rubbery texture.  The best way to incorporate the wet and dry ingredients is to mix them with a whisk in an N or Z shaped motion.  Only whisk in a circular motion when you need to incorporate the remaining dry flour at the edge.  This method minimizes the development of gluten.  You can incorporate wet and dry ingredients by folding them in with a spatula, but in this case, a whisk works a lot faster!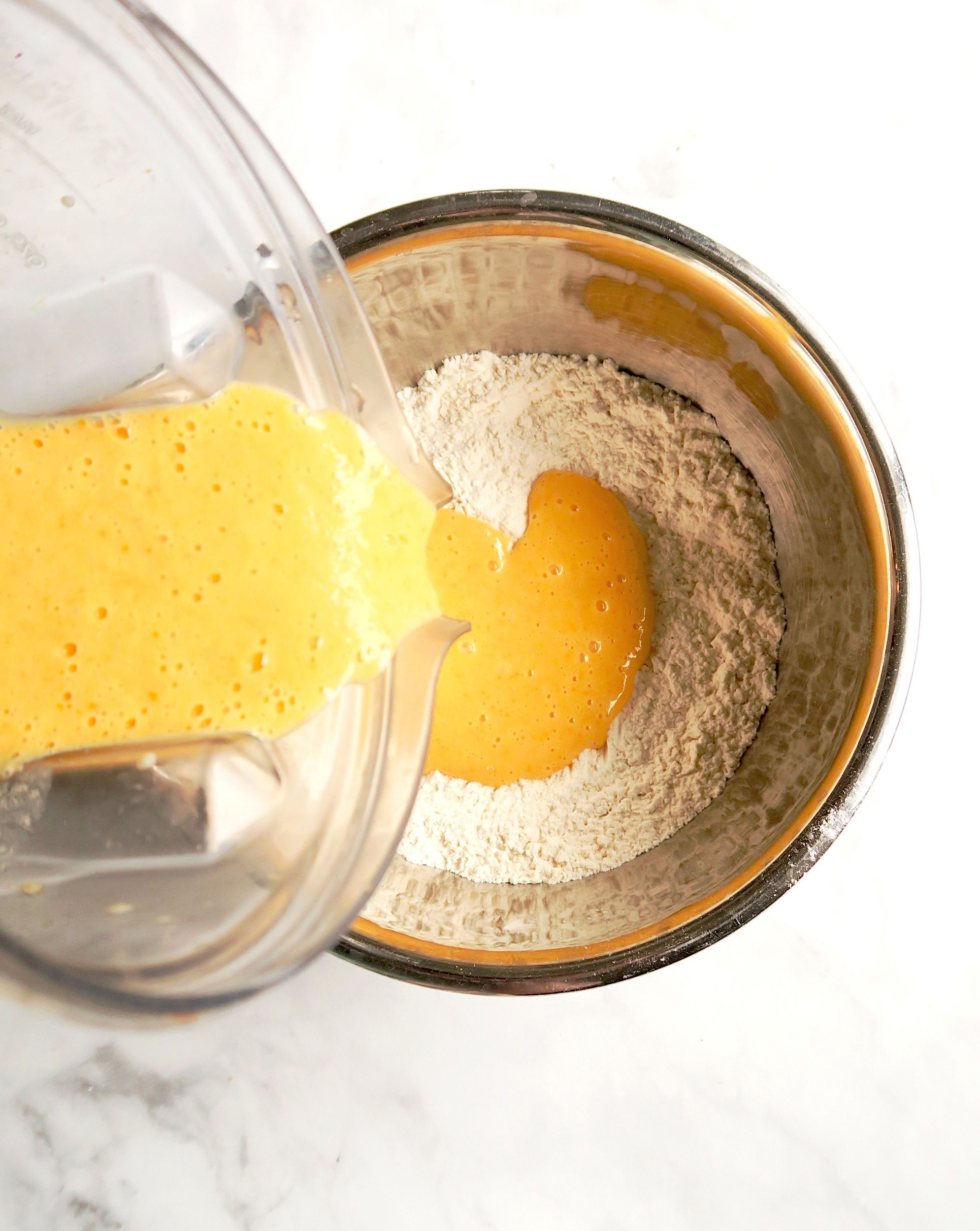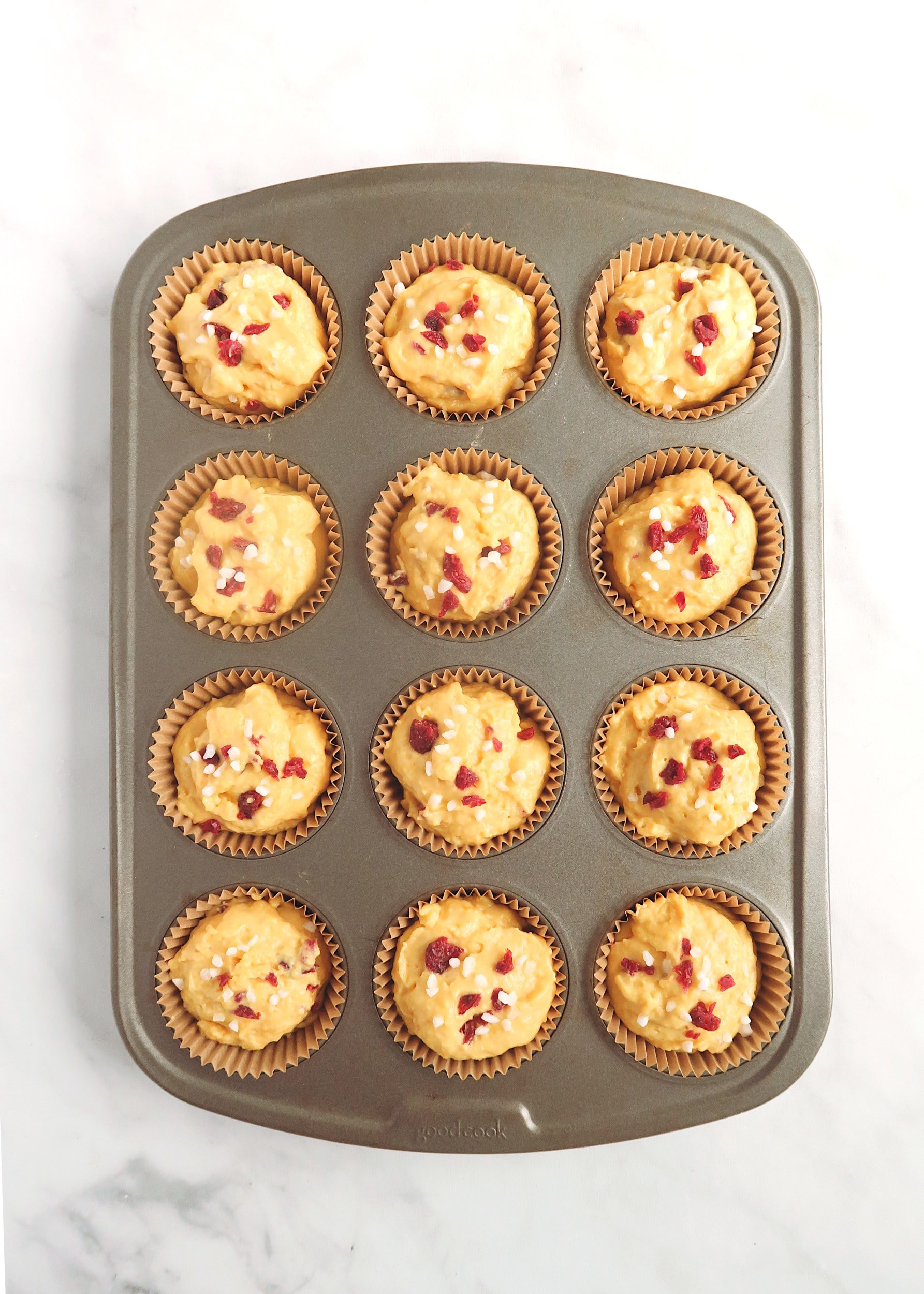 Try other combination
I use dried cranberries and a bit of pearl sugar in this recipe, but feel free to try any other combinations of toppings or mix-ins. Some other suggestions to try are dried black currents, candied ginger, chopped walnuts or chopped dates as mix-ins and demerara or turbinado sugar or toasted white sesame seeds (yes, it actually goes very well with this muffin!) as toppings. I would love to hear from you if you try some other combination that works well!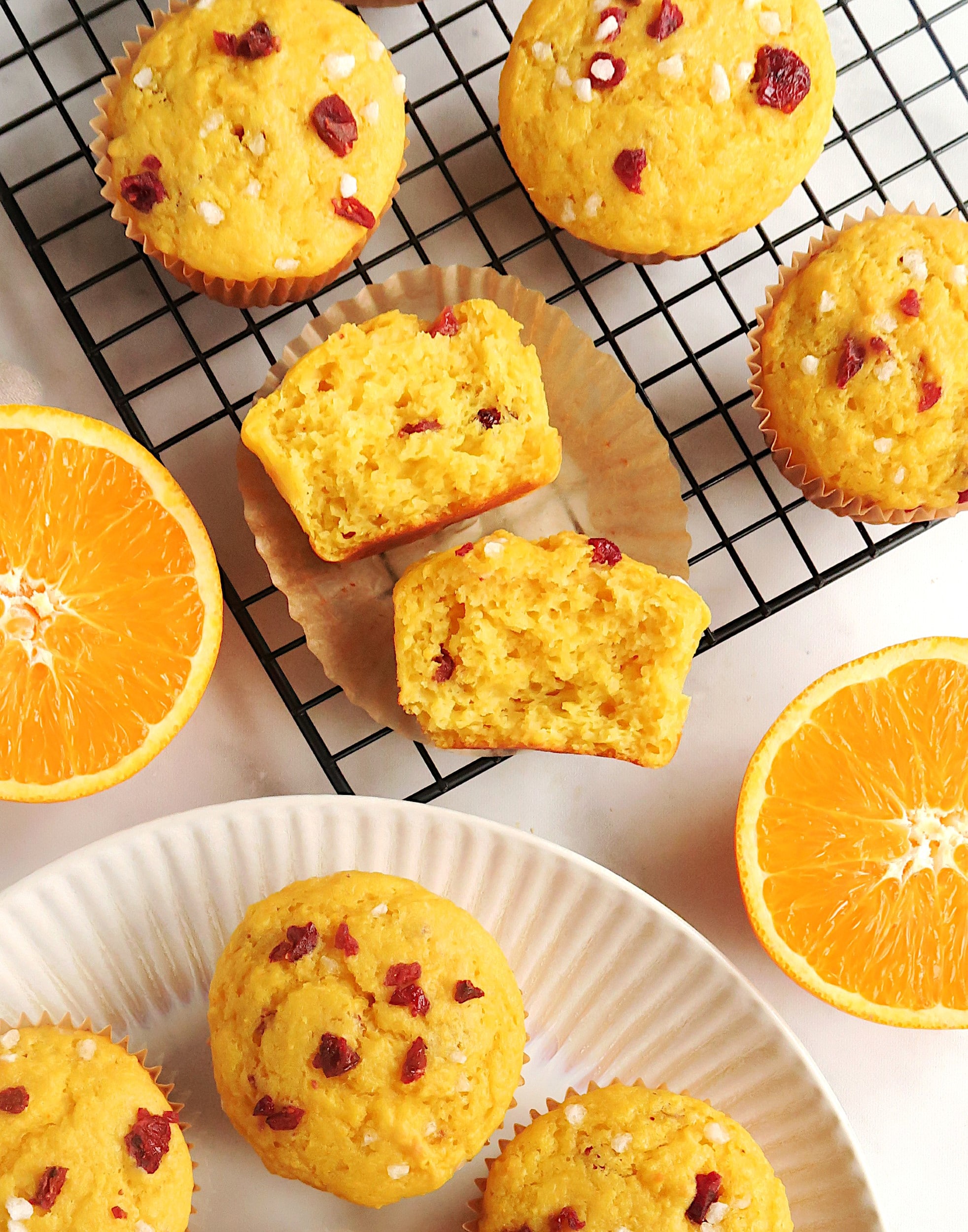 This muffin is great for breakfast, afternoon snack or in your kid's lunch box.  It's perfect for busy moms who still want to bake some healthier bake goods for the family! My family loves it, and we hope your family will love it, too!
I would like to hear from you! If you make this recipe, please consider leaving a star rating and comment in the section further down the page. Stay in touch by following my Instagram and Pinterest!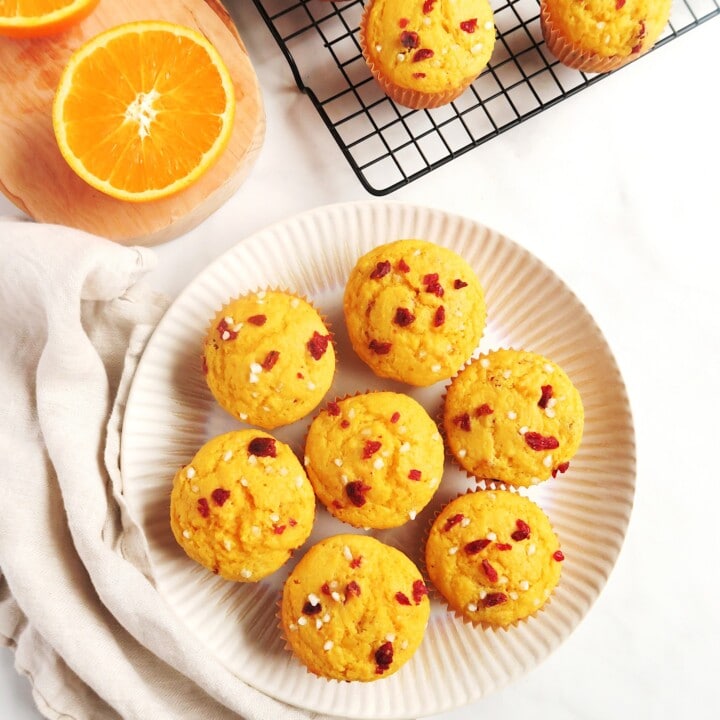 Whole Orange Greek Yogurt Muffin with Cranberry
Ingredients
1

Large navel orange

,

about 12 oz / 340 g, preferably organic

2

large eggs

½

cup

Greek yogurt

¼

cup

maple syrup

¼

cup

sugar

1

teaspoon

almond extract

1⅔

cup

all purpose flour

½

tablespoon

baking powder

½

teaspoon

baking soda

pinch

of salt

⅓

cup

dried cranberry

,

roughly chopped

4

tablespoon

unsalted butter

,

melted

1-2

tablespoon

Swedish pearl sugar/Turbinado sugar

,

Optional
Instructions
Preheat the oven to 375°F (190°C)

Wash orange and trim of about 1⁄2 inch (1.2 cm) off two ends.

Cut the orange into 8 pieces (remove any seeds) and put in the blender.

Add eggs, Greek yogurt, maple syrup, sugar and almond extract in the blender and blend until smooth.

Whisk flour, baking powder, baking soda and salt together in a mixing bowl.

Pour the wet ingredients into the dry ingredients and whisk together in an N or Z shaped motion just until the dry ingredients are incorporated.  This method minimizes the development of gluten.

Add dried cranberries (save a small handful for sprinkling on top) and melted butter in the mixing bowl and fold in with a spatula.

Divide the batter into 12 muffin cups (about 2 ice cream scoops for each), top with cranberry and Swedish pearl/turbinado sugar, bake for 18-20 minutes until a toothpick comes out clean.

Wait for 3 minutes and move the muffins to a cooling rack, let it cool for 10 minutes before eating.
Notes
It's better to weigh your orange in case the one you get is smaller that you need to use more than one orange. 
If you're saving this to eat another day, the texture will be much better if you heat it up a bit before eating.
Nutrition
Calories:
175
kcal
Carbohydrates:
28
g
Protein:
5
g
Fat:
5
g
Saturated Fat:
3
g
Trans Fat:
1
g
Cholesterol:
38
mg
Sodium:
114
mg
Potassium:
149
mg
Fiber:
2
g
Sugar:
11
g
Vitamin A:
181
IU
Vitamin C:
6
mg
Calcium:
65
mg
Iron:
1
mg