So you love Japanese ramen and want to reproduce that rich and deep flavor from ramen restaurants in a quick and easy way in your own home? Congratulations, you've come to the right place!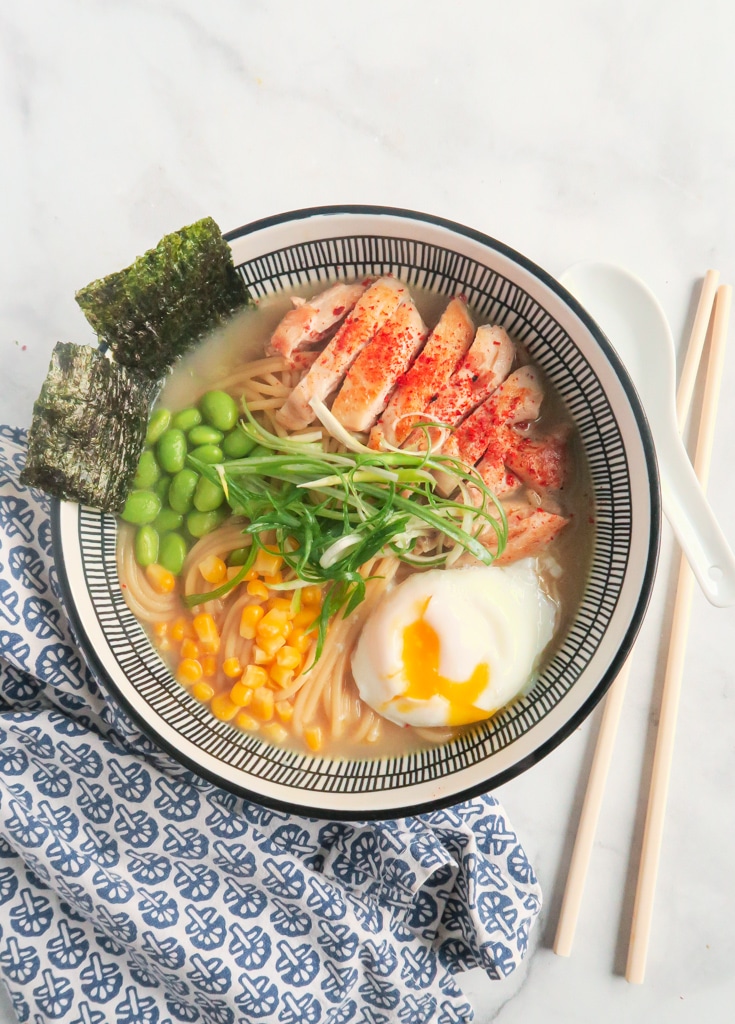 Making a good bowl of Japanese ramen is one skill that I had always hoped to learn. After trying many different recipes and spending hours in the kitchen cooking and experimenting, I still couldn't find one that produced a broth with the depth of flavor that I'm looking for. So I decided to go with another route - using "flavor short cuts" (ingredients already packed with deep flavors) to build the flavor I'm looking for, and the results were amazing! The broth tasted just like (or better than) that of ramen served in restaurants: rich, creamy, smooth and savory. Considering how quick and easy this was to make, this recipe almost seems magical!
Making Broth
Instead of just whisking all the ingredients together and bring to a boil, it's very important to saute the aromatic elements (the shallot and ginger) and the seasonings (miso and soy sauce) before adding the chicken broth, in order to allow the heat to bring out and maximize all the flavors. In addition, adding a handful of bonito flakes at the end instantly bolsters the flavor and really makes the resulting broth taste just like that of an authentic ramen broth.
Noodles
It will be best if you are able to use genuine Japanese ramen noodles, which you might be able to pick up (fresh or dried) from an Asian grocery store. However, if you don't have access to something like that, you can easily transform spaghetti into something very similar to ramen noodles by adding a bit of baking soda in the water when cooking.
Toppings
Since this is a quick and easy recipe, I opted to replace the ramen egg (a marinated soft-boiled egg) with a poached egg. For the veggie toppings, I used frozen edamame, frozen sweet corn and scallion, but feel free to replace these with whatever other kind of topping you prefer or have available.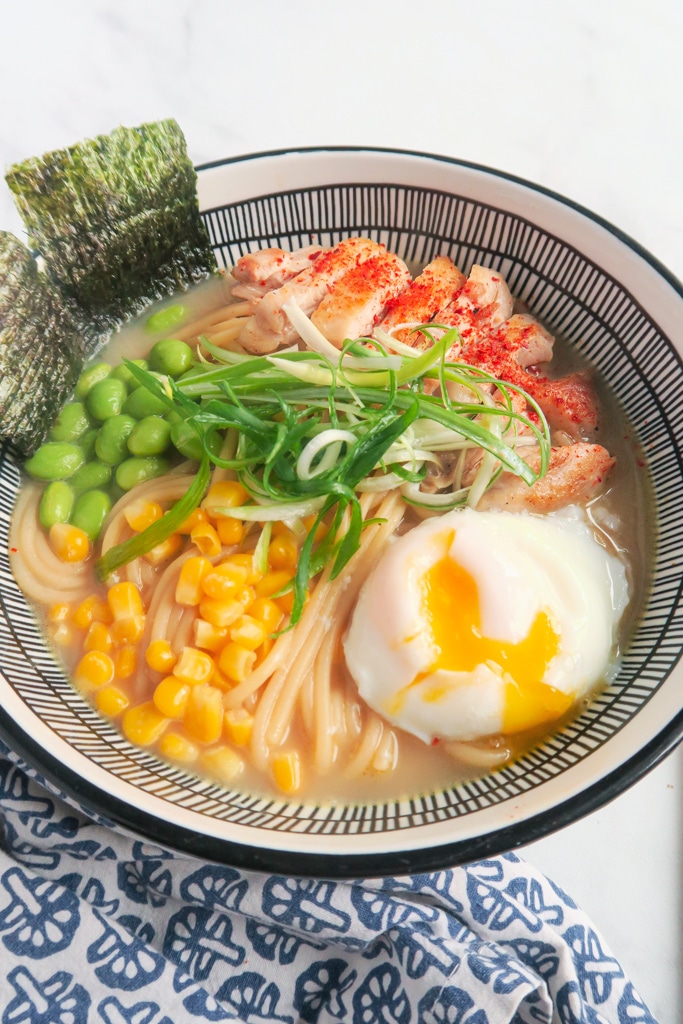 I would like to hear from you! If you make this recipe, please consider leaving a star rating and comment in the section further down the page. Stay in touch by following my Instagram and Pinterest!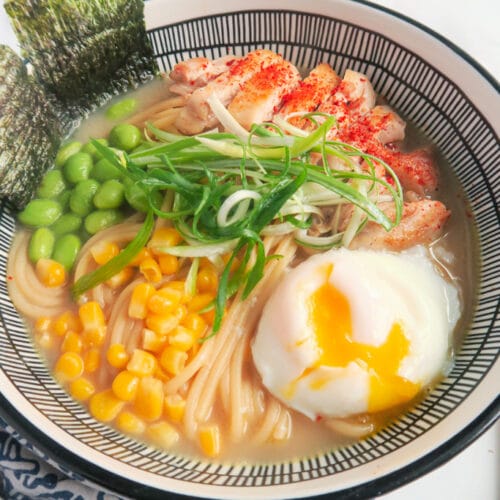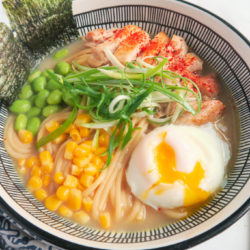 30 Minute Restaurant Style Chicken Ramen
Ingredients
2

boneless chicken thighs

salt

Noodles

2

servings of spaghetti

1

tablespoon

baking soda

1

tablespoon

salt

or 2 servings of ramen noodles

,

fresh or dry

Ramen Broth

1

tablespoon

butter

2

tablespoon

minced shallot

1

teaspoon

grated ginger

1

tablespoon

miso

2

tablespoon

soy sauce

¼

teaspoon

sugar

1

teaspoon

Chinese sesame paste

,

or 1⁄4 teaspoon sesame oil and 1 teaspoon tahini

2 ½

cup

chicken broth/stock

1

tablespoon

heavy cream

¼

cup

bonito flakes

,

lightly packed
Toppings
2

eggs

½

cup

frozen Edamame

,

thawed

½

cup

frozen corn

,

thawed

1

nori sheet

chili flakes

1

scallion

,

thinly slice vertically and soak in cold water
Instructions
Cook chicken thighs
Marinate chicken thighs with a generous pinch of salt per thigh and set it aside for 15 minutes (can be done the night before).

Heat a frying pan over medium high heat with 2 tablespoons of vegetable oil. Place chicken thighs in the pan and cook uncovered for 5-6 minutes or until golden brown. Flip the chicken thighs, reduce the heat to medium low and cook covered for another 5-6 minutes or until they're cooked through. Keep warm in the pan until it's ready to eat.
Cook noodles
Bring 2 quarts of water to a boil in a 5-6 quart pot, add salt, baking soda and spaghetti noodles and cook until it's just cooked through. Drain and soak the noodles in cold water.

If using Japanese ramen noodle, cook according to the instruction on the package.
Make the broth
Meanwhile, melt butter in a 2 quart Dutch oven or sauce pan over medium low heat, add shallots and ginger and saute for about 2 minutes until it's aromatic.

Add miso, soy sauce, sugar and Chinese sesame paste and stir/saute for another 30 seconds before adding chicken broth/stock. Bring the broth to a boil.

Turn off the heat and then add heavy cream and bonito flakes, stir a bit before letting it sit for 3 minutes.

Pour the broth through a strainer into another pot and discard the contents of the strainer.
Make poached egg
Boil water in a sauce pan.

Crack an egg in a bowl and add a 1⁄4 cup of water from the edge/sides of the bowl so that the egg is not stuck to the bowl as much.

When water is boiling, stir the water to make a swirl, add the egg, turn off the heat and cover with a lid.

Remove the egg with a ladle after 3 minutes (or until your desire texture), repeat steps for the other egg.
Assembling
Add noodles in a bowl, pour in broth, arrange the toppings and enjoy!
Notes
You can usually find the Japanese ramen noodle at your local Asian grocery store, but if it's not available to you, give the spaghetti ramen noodle hack a try!   
For the chicken broth, I use 2 1⁄2 teaspoon of  "Better than bullion chicken base" with 2 1⁄2 cups of water