Have you ever seen those amazingly thick, fluffy and jiggly Japanese soufflé pancakes? Even though they're quite a treat, cooking, timing, and flipping each one just right takes technique, energy, and time that honestly is in short supply most mornings. With this recipe, though, you can have the fluffiness and the wow factor of the typical soufflé pancake in less than 30 minutes and without having to babysit pancakes on the stove!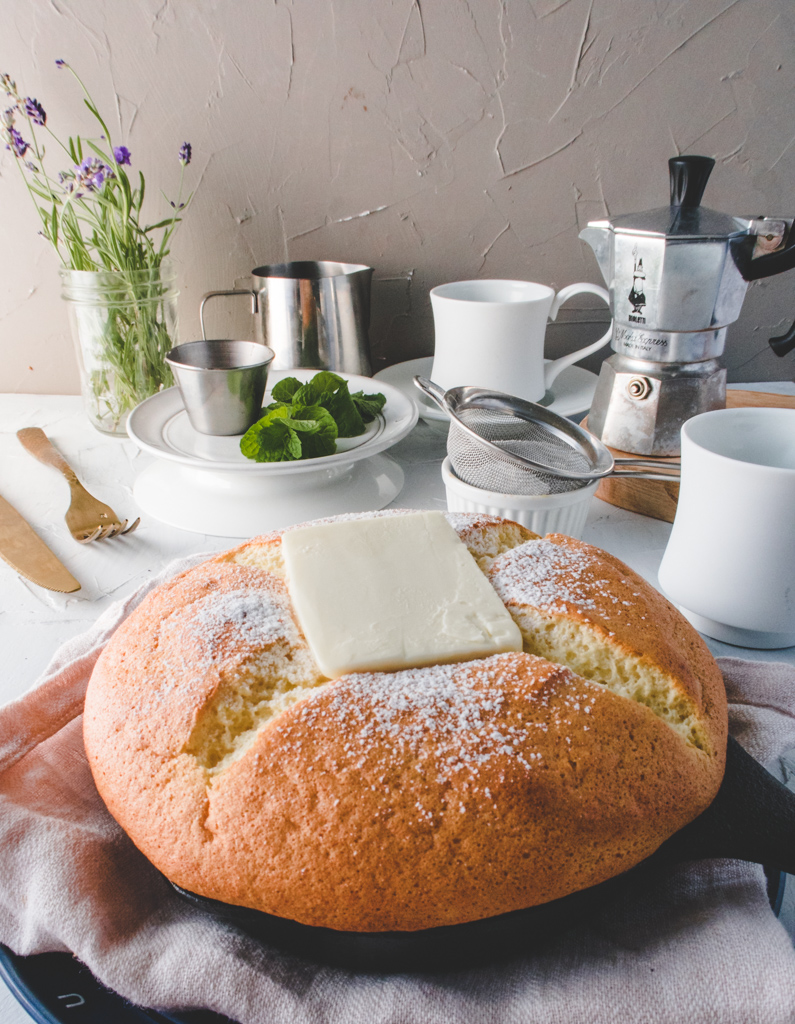 Castella pancake appeared in a Japanese drama called Kodoku No Gurume (or Solitary Gourmet), in this episode. After I saw this video and found that someone shared the recipe, I decided to give it a try. It was a hit in my family. My daughter said this is the best tasting thing in the world when she ate it! I know she's exaggerates, but this is the first time she described a dish like this. Now this pancake has become something I make regularly for our tea time, (my daughter loves having tea time these days and is insistent that we have it everyday) and we enjoy it a lot.
This fluffy pancake only requires a few ingredients that you very likely already have on hand. The process is also very easy and straightforward -- it's very similar to making chiffon cake, except we don't add oil in the batter. Here are some tips for making the pancake light and fluffy:
Beating Egg Whites
This is the key of making this fluffy pancake successfully.
Get a dry and clean mixing bowl. If the bowl is wet or has any grease in it, it will be hard (almost impossible) to beat the egg white into the consistency needed. If there's a bit of egg yolk that got into the egg white, use egg shell to fish it out, since even a tiny bit of egg yolk may hinder the whites from gaining volume correctly. Since we are beating only two egg whites, don't use a huge mixing bowl, as that will cause the process to take longer than necessary. I used my 4 cups measuring cup, which works out pretty well with a hand mixer.
Use fine sugar. I wouldn't use turbinado sugar when beating the egg white, as the bigger crystals will result in a meringue that isn't as smooth. If you only have coarse sugar, you can blend it in a food processor until it's finer before using.
Don't over beat the egg white. Beat the egg white until you can form soft peaks. If you over beat the egg white, it will be more difficult to incorporate, which means the incorporation process will require more mixing. More mixing leads to an increased the chance of the pancake deflating, which ultimately results in a denser cake.
Use medium speed and finish up with low speed. Beating the whites on high speed will result in larger air bubbles, which will also cause the batter to deflate easier when mixing the batter. One good way to eliminate big air bubbles is to use low speed (or by hand) during the last 30 seconds of whisking to eliminate all the bigger air bubbles.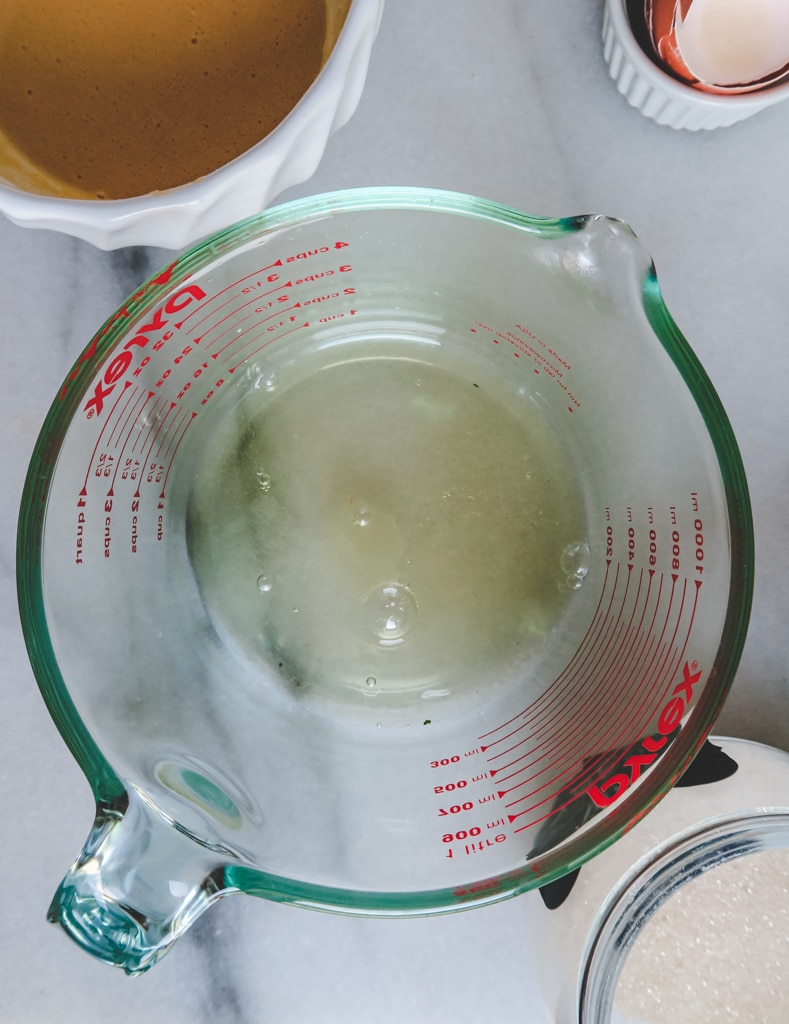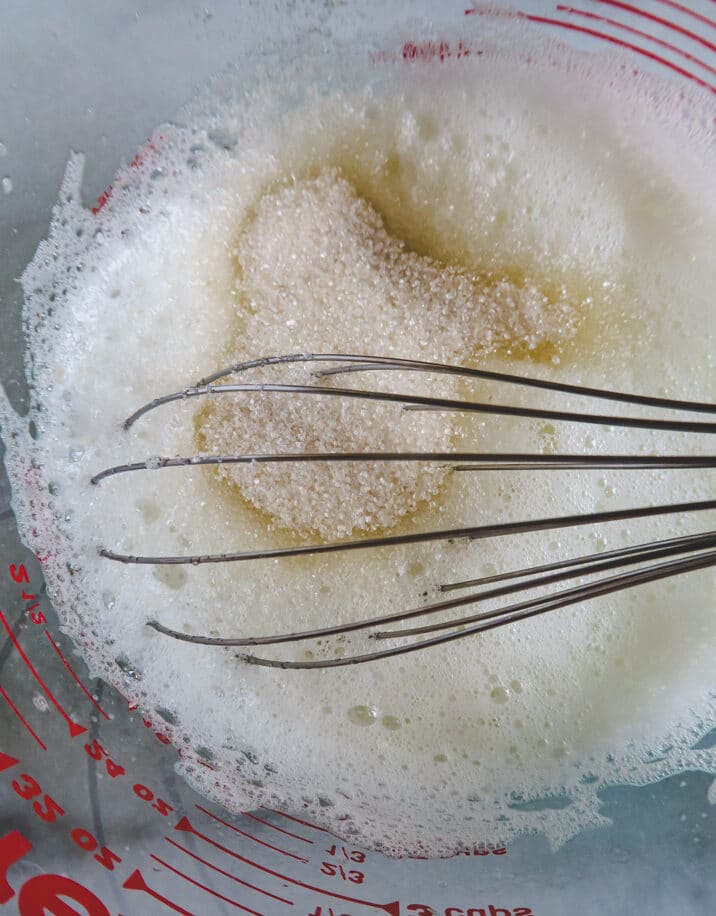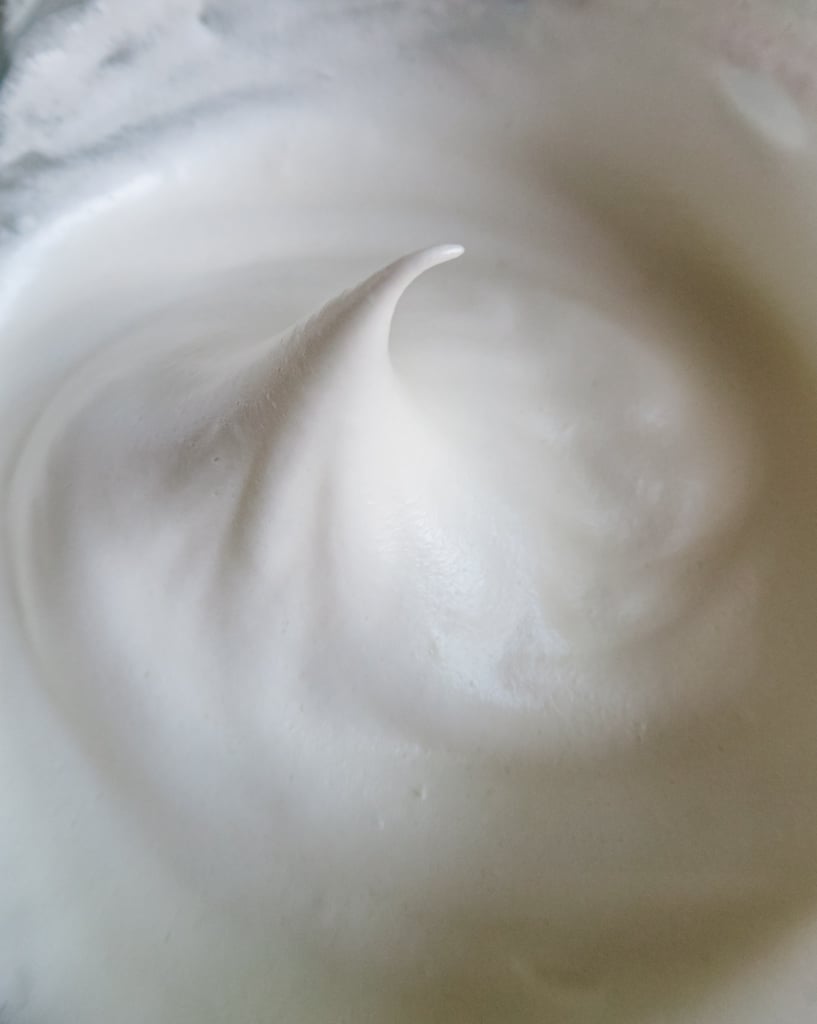 Mixing the batter
Another important step is mixing the egg yolk mixture with the meringue (egg white). If your meringue has the right consistency, it should be pretty easy to mix together.
In order to make the mixing process easier, we usually mix the egg yolk mixture with a small part of meringue first before mixing the rest of it together. When you combine both mixtures, use a spatula to mix and fold in the motion of writing "J" from bottom to top while turning the mixing bowl, so the mixture can be well combined.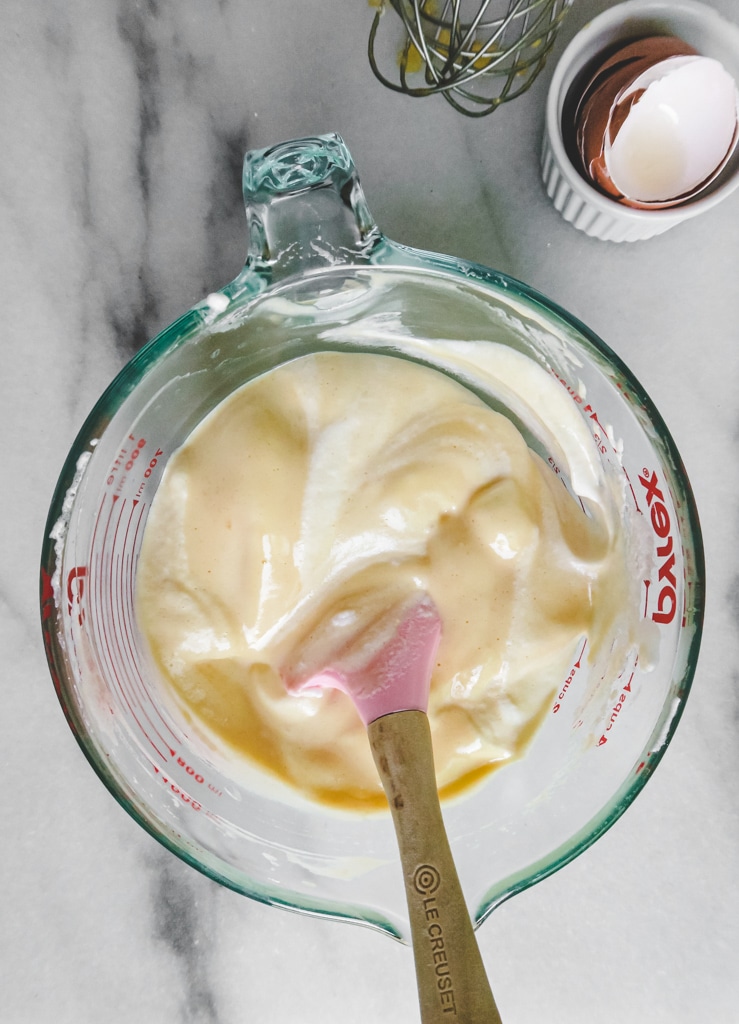 Type of skillet
This recipe is designed for a 6.5 inch cast iron skillet, which I'd highly recommend, especially since it's relatively cheap for such a useful pan. Plus, then you can make castella pancake whenever you want! However, if you prefer to use a pan or baking tray you already have at home, it's totally fine, too, though you might need to adjust the recipe based on the size of your pan/tray.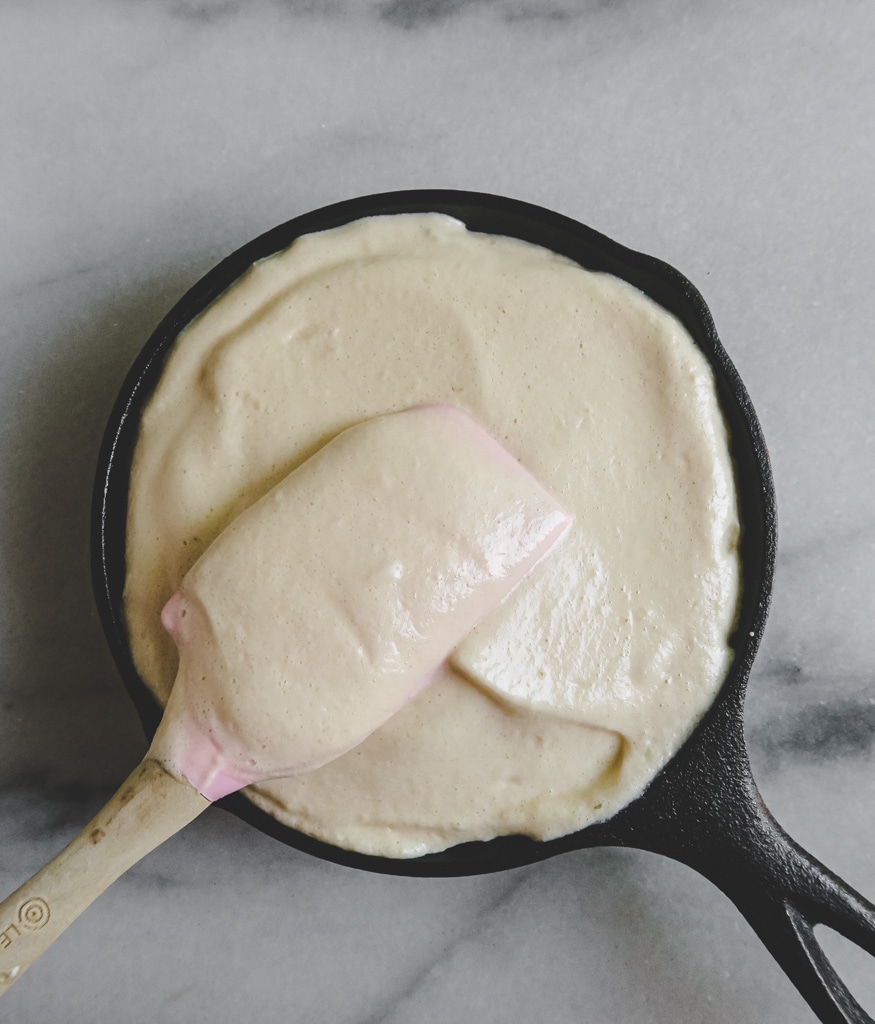 Topping
I highly recommend topping with salted butter. It just goes so well with this pancake. I personally don't like things being too sweet, so I like it with just salted butter, but you can also top with maple syrup, honey, fruit... or what ever you like.
This castella pancake is perfect for brunch or afternoon tea. With this 6.5 inch skillet, I can just bake it with my toaster oven and it comes out perfectly. This fluffy pancake has a wow factor, both in terms of taste and presentation. My family enjoys it very much. I hope that you can give this recipe a try!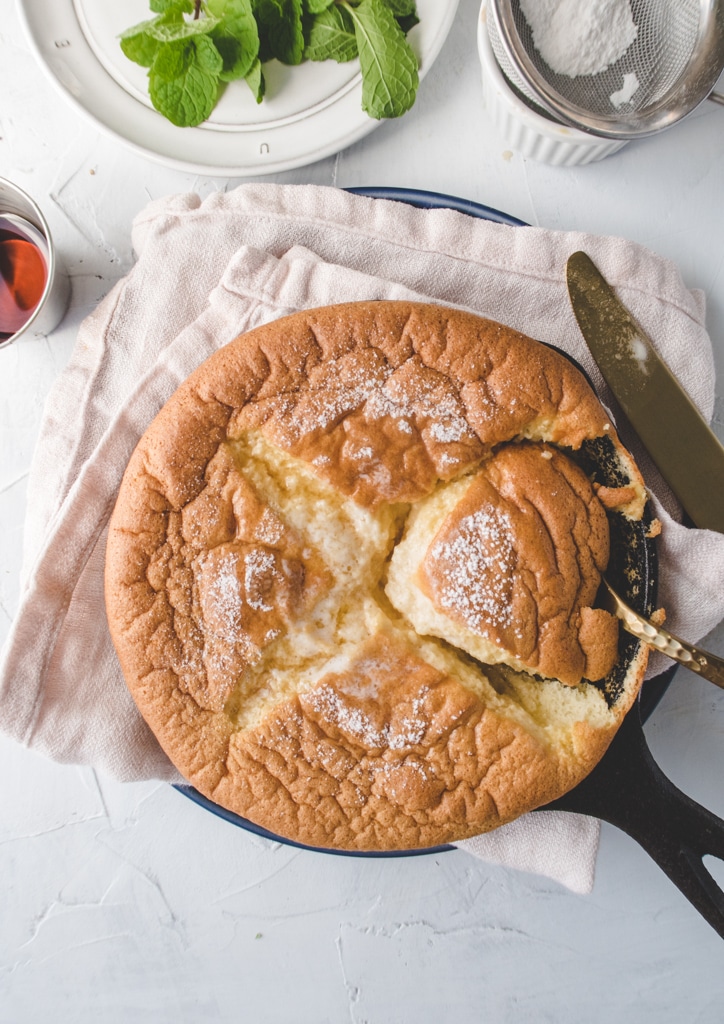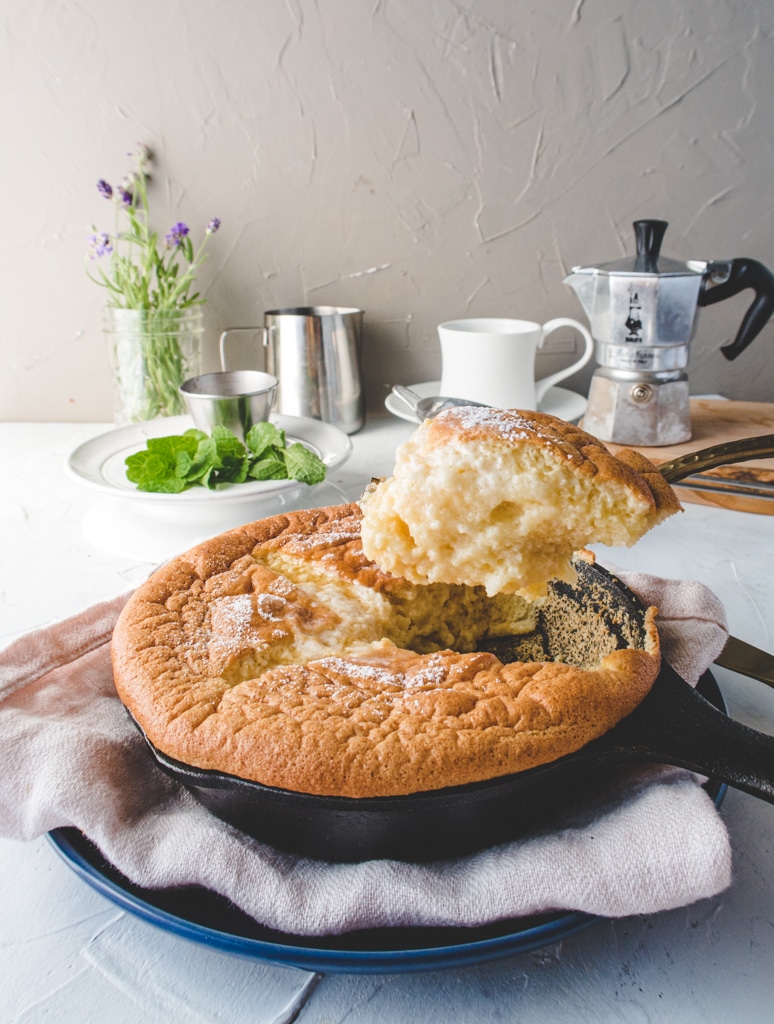 Happy baking!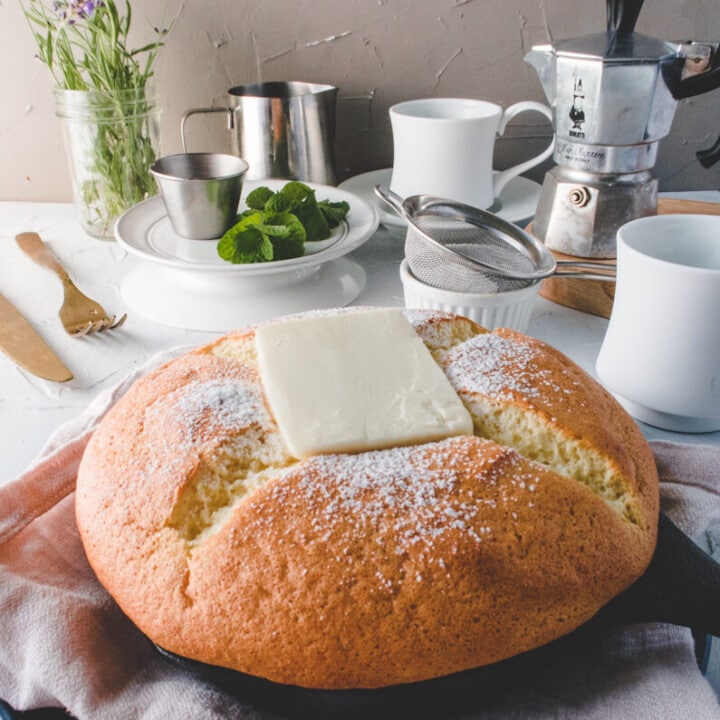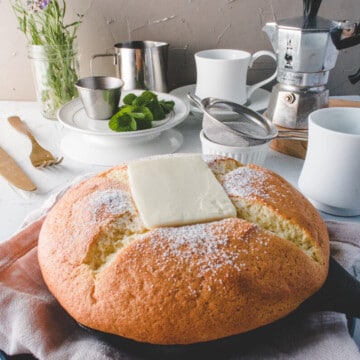 Quick and Simple Castella Pancake
A soft and fluffy pancake baked in a cast iron skillet ready in less than 30 minutes. Perfect for breakfast, brunch or afternoon tea. The recipe is designed being baked in a 6.5 inch cast iron skillet, double the recipe if using 8 inch skillet.
Ingredients
For the pancake
2

large eggs

30

g

milk

,

2 tablespoon

15

g

honey

,

1 tbsp

40

g

cake (or all purpose) flour

,

¼ cup. I personally prefer the texture of using cake flour

¼

teaspoon

white vinegar or lemon juice

30

g

fine sugar

,

2 tbsp
Other
butter

,

for greasing the pan and topping

powder sugar

maple syrup
Instructions
Prepare the skillet
Grease a 6.5 inch cast iron skillet (see note for other sizes) with a thin layer of butter and set it aside.
Make Pancake Batter
Preheat the oven to 350°F (180°C)

Separate egg yolk and egg white into two mixing bowls. Make sure the bowl for the egg white is dry and clean without any oils on the surface. If you accidentally drop some yolk in the white, fish it out with egg shell.

Mix egg yolk with milk and honey, whisk until well combined before adding the sifted flour. Mix until smooth but don't over mix. Set it aside.

Add vinegar/lemon juice in egg white, beat with an electric mixer on medium speed until foaming. Add sugar in two batches while beating and continue until soft peaks form when you remove your mixer. When the mixture starts to form ribbons in the wake of your mixer, turn the speed to low and continue to beat until egg whites can form soft peaks, that way, the larger air bubbles can be eliminated.

Scoop about half a cup of the egg white into the yolk mixture and mix with a spatula until it's well combined before pouring this mixture into the bowl with the egg white mixture.

Mix with a spatula from bottom to top in the motion of writing "J" while turning the mixing bowl, so the mixture can be well combined. Don't stir in a circular motion or over mix, as it will cause the mixture to deflate,

Pour the mixture into the skillet, and smooth out the surface with a spatula.
Baking
Bake for 8 minutes, remove skillet and cut a big "+" on the surface of the pancake and return it back to the oven for another 8 to 10 minutes until the top becomes golden brown and the middle part puffs up. If you double the recipe and make it in an 8 inch skillet, you will need to bake for 5-10 minutes longer until an inserted toothpick can come out clean.

Top the pancake with butter (I prefer to use salted butter) and any other topping of your choice and enjoy right away!
Notes
The recipe is designed being baked in a 6.5 inch cast iron skillet, which is about 2 cups in volume.  If you would like to make it in a 8 inch skillet (about 4 cups in volume), you can choose to double the recipe, or use the same amount and get a thinner pancake.  Likewise, if you would like to make it in a baking tray or a skillet of a different size, simply measure the volume and see how to adjust the recipe.  The baking time will need to be adjusted accordingly. 
If you are new to making cakes that require beating egg white and are not confident that your whites have been beaten correctly, you can add 2g (

¼ tsp) of baking powder. 
Finally, if you want to take a picture of this pancake, note that it is natural for it to deflate very quickly (within a minute).  While this won't affect the taste, it will affect your presentation, so make sure you're camera is ready to go!
Nutrition
Calories:
450
kcal
Carbohydrates:
73
g
Protein:
17
g
Fat:
10
g
Saturated Fat:
3
g
Cholesterol:
330
mg
Sodium:
140
mg
Potassium:
201
mg
Fiber:
1
g
Sugar:
44
g
Vitamin A:
475
IU
Calcium:
83
mg
Iron:
2
mg