Trying to make popcorn chicken at home could be a mess with all the deep frying, but this recipe circumvents all that to give you the popcorn chicken experience in the form to air fryer wings.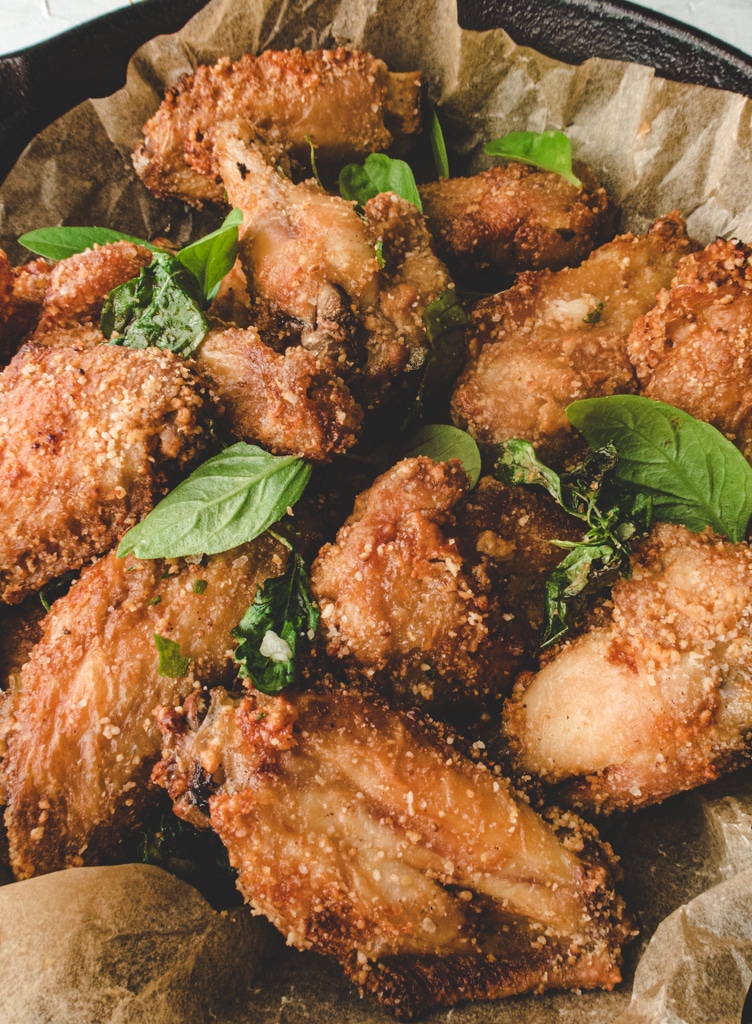 Taiwanese popcorn chicken is one of the most popular street food in Taiwan because the aroma of the Thai basil, white pepper and five spice powder and fried chicken mingle to form something unforgettable. Add a cup of bubble tea to the mix in the setting of a night market and you have a quintessentially Taiwanese experience.
Eating Taiwanese popcorn chicken as a late night snack is also one of my most precious memories with my family. Once in a while, when I was younger, my dad would go buy popcorn chicken with two or three sides, and our family will eat the popcorn chicken together and share about our day with one another.
Making popcorn chicken is not hard at all, all you need to do is to marinate the chicken, coat it with the right kind of starch and fry it. However, I usually avoid deep frying unless I really need to. So if I ever want to eat some popcorn chicken, I will make it in my air fryer.
Chicken wings works especially well in an air fryer, because the skin will release the oil needed to crisp up the chicken still keeping the chicken moist. It occurred to me one day that I could address my longing for Taiwanese popcorn chicken at home here in the states by simply combining the preparation of air fryer wings with the flavor profile of Taiwanese popcorn chicken.
The result was amazing. I got the crispy texture and the savory and aromatic flavor I was looking for. It's amazing to me that something this easy to do (without having to deal with all the hassle of deep frying), would be able to satisfy my longing for Taiwanese popcorn chicken. Here are some tips of making these awesome chicken wings:
Marinate the chicken
Marinating the chicken not only makes the chicken more flavorful but also improves the texture. I would recommend that you marinate overnight if you can, but I understand that sometimes you just can't wait that long, then at least give it 30 minutes to let the flavor penetrate a little before cooking.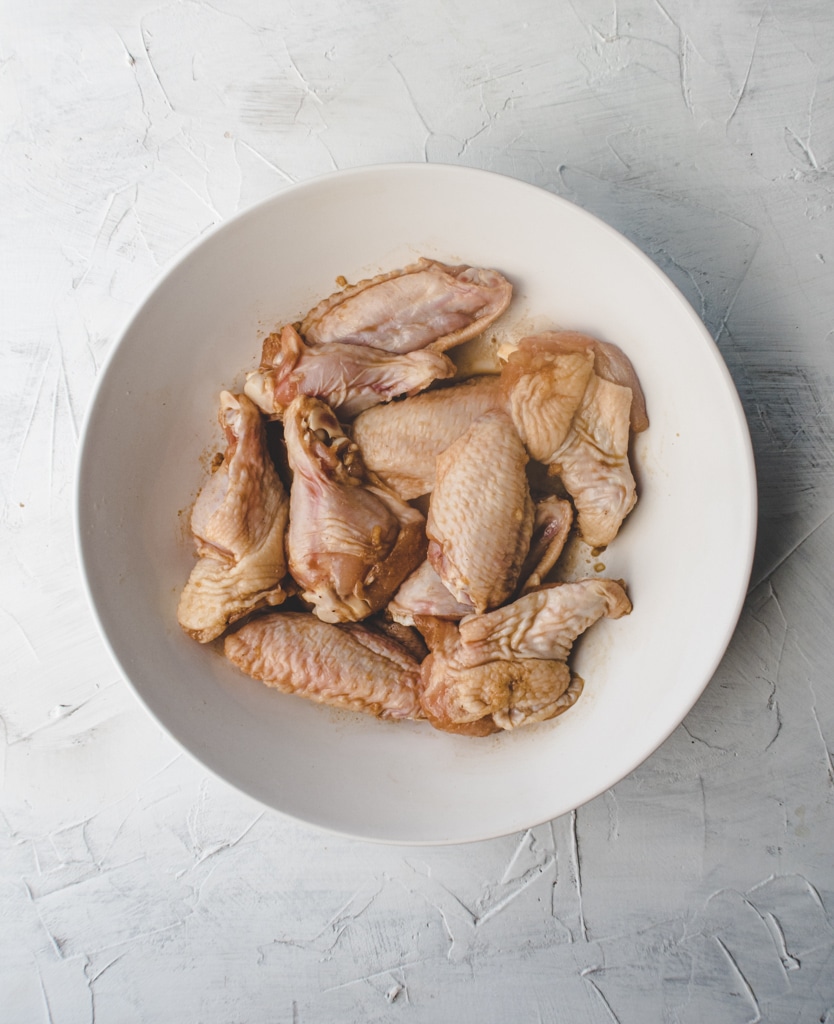 Use coarse sweet potato / tapioca starch
Traditionally in Taiwan, we use coarse sweet potato starch as a coating for many fried foods, such as Taiwanese crispy pork chop and different kinds of Taiwanese fried street food including popcorn chicken. However, these days, most of the so called "sweet potato" starch is actually tapioca starch. It would be best if you can find and use real sweet potato starch, but coarse tapioca starch will work just fine. The coarse starch is the key for getting the right kind of crispy and crunchy texture, so don't replace it with corn starch, potato starch, flour, panko... etc. Only use coarse sweet potato starch or tapioca starch. If you see any Taiwanese popcorn chicken recipes using other starch or flour, then you know it's not authentic.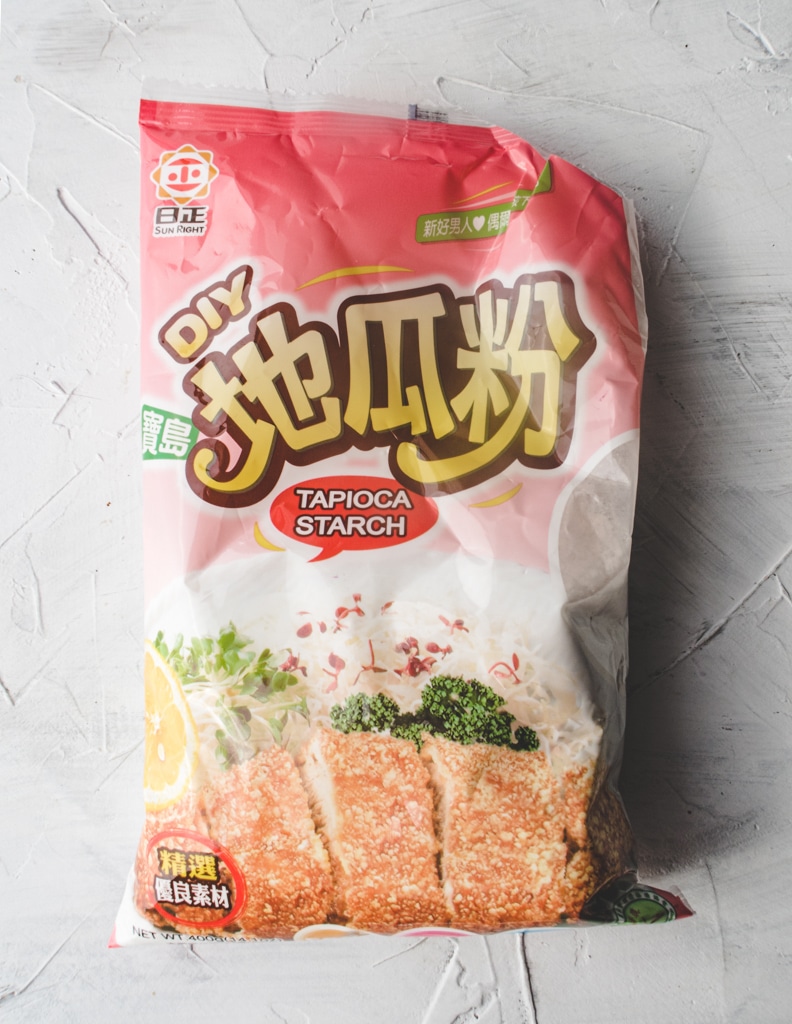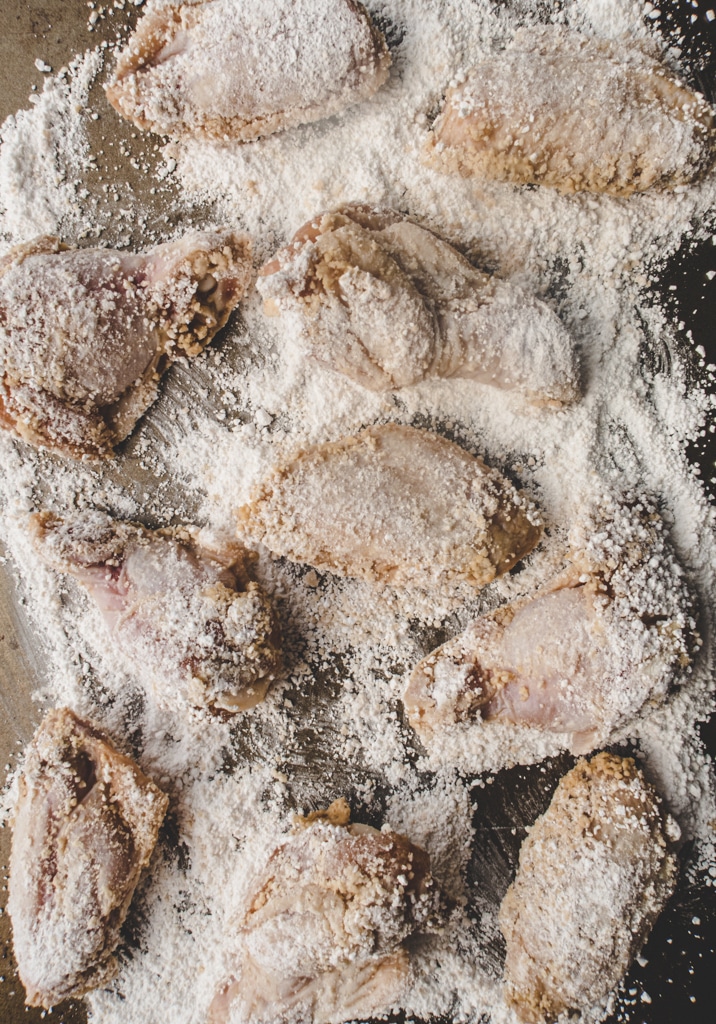 Don't crowd the air fryer
The amount of chicken wings you can fry each time depends on the capacity of your air fryer. I have a basic Philips air fryer that isn't very big (2.75 qt), so I only cook about 10 pieces (5 chicken wings) each time. I tried to cook more before, but it takes a lot longer to cook and the result is not as good, so now I will always cook the wings in separate batches if I want to make more. If you have an air fryer with a different capacity, then you can adjust the amount per batch accordingly.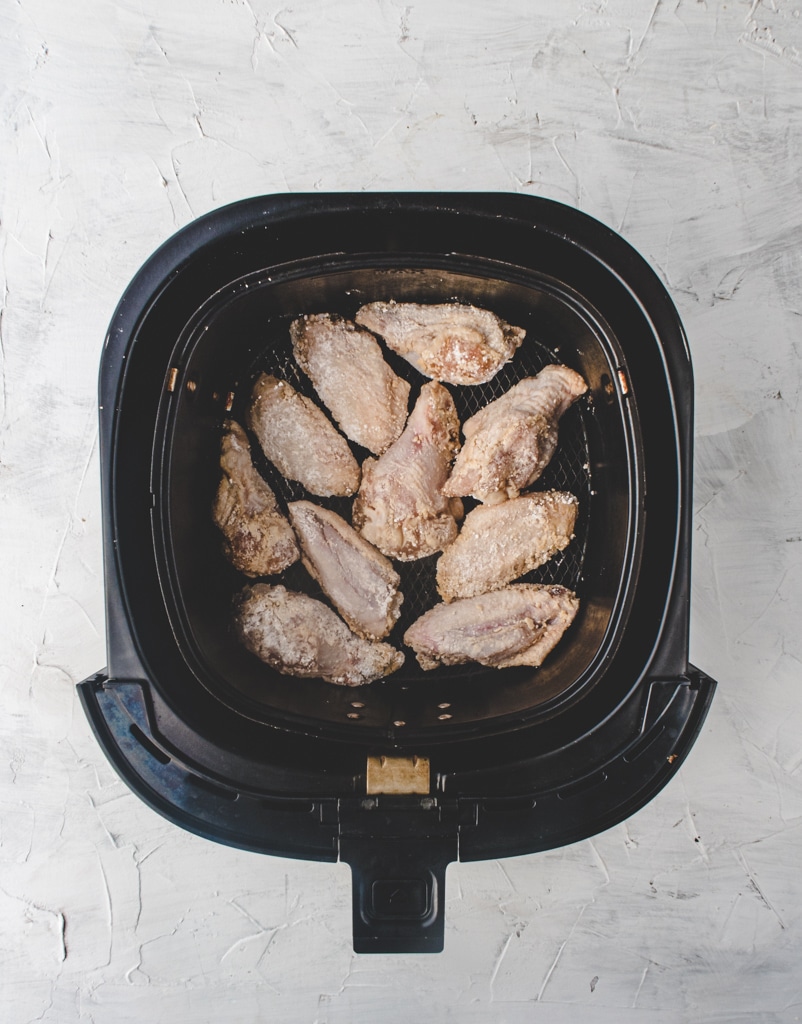 Enjoy it right away!
Unlike deep frying, the crispiness cannot last as long when you prepare this in your air fryer. Therefore, I would try to eat it as soon as possible. This isn't much of a problem for my family, anyway, since these wings smell irresistible and we can never wait to eat them!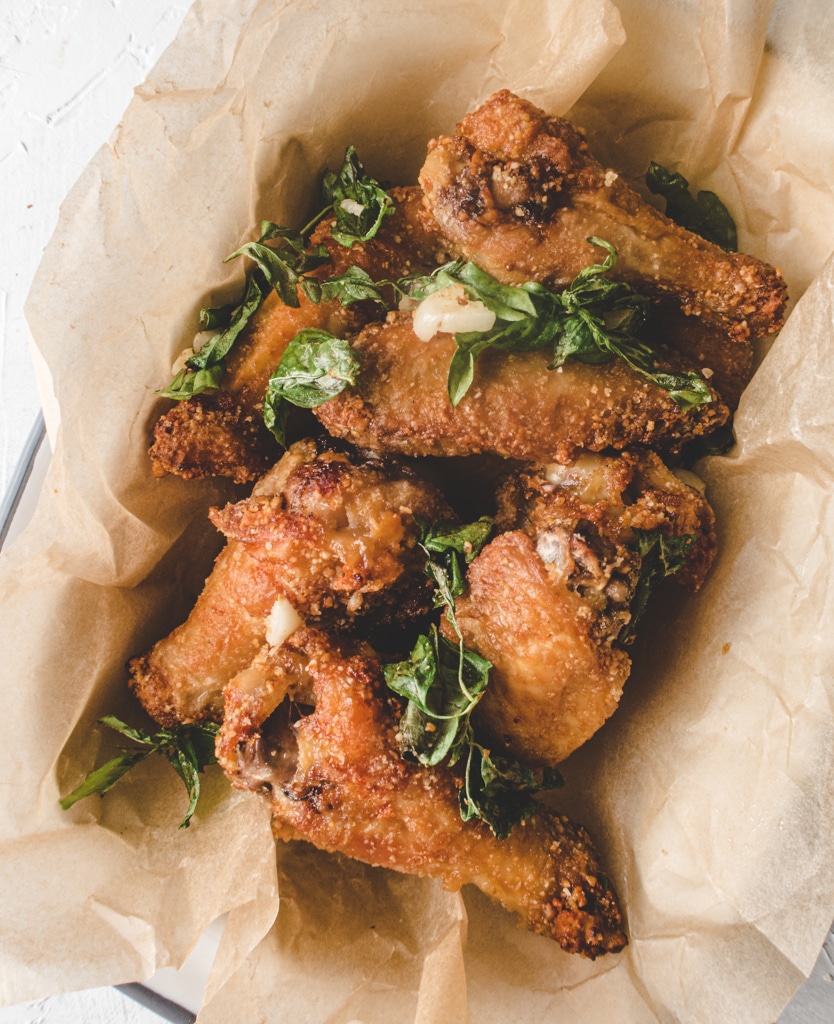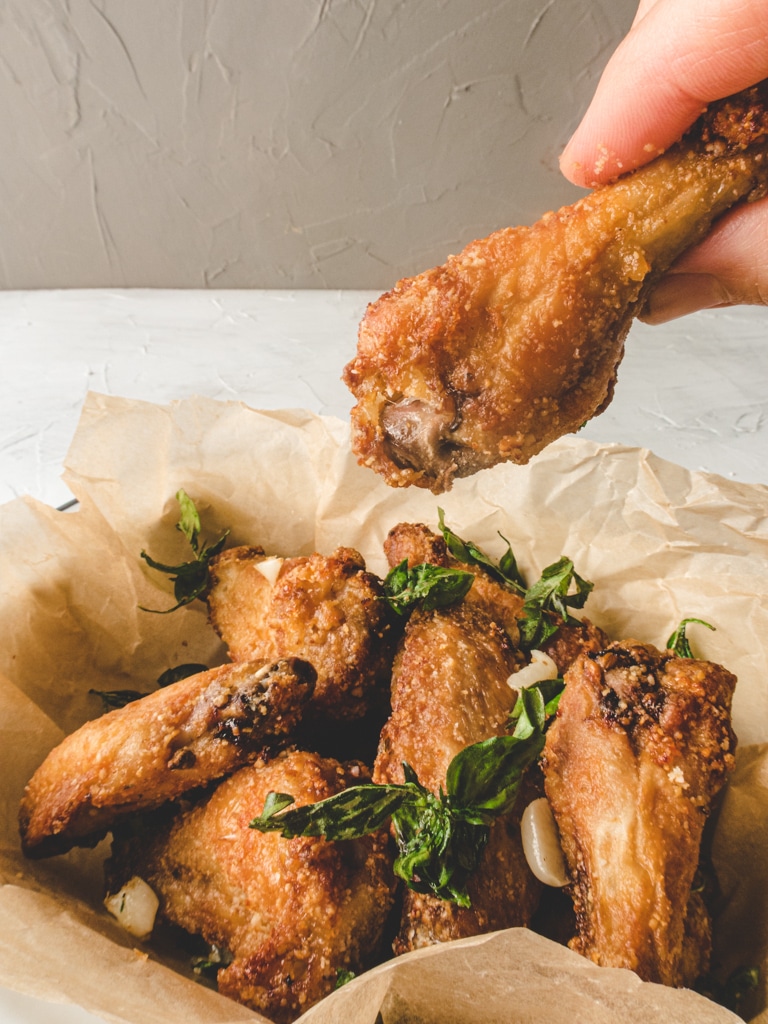 Hope you will enjoy these wings as my family does!
Don't Forget to Try
I would like to hear from you! If you make this recipe, please consider leaving a star rating and comment in the section further down the page. Stay in touch by following my Instagram and Pinterest!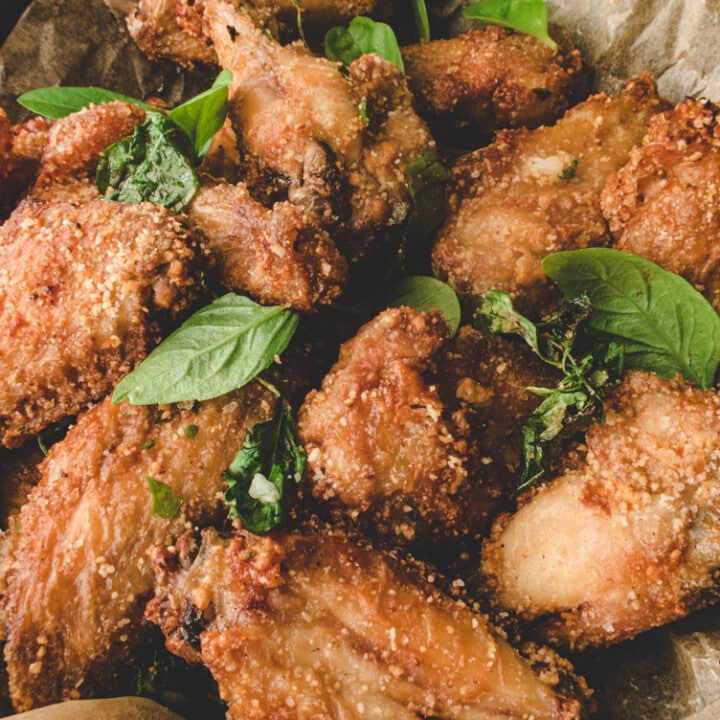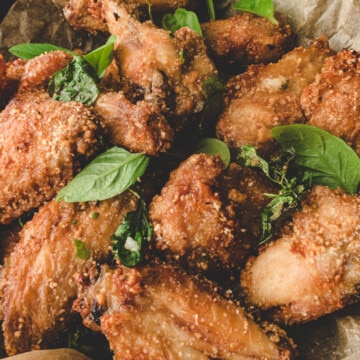 Extra Crispy Taiwanese Popcorn Chicken Air Fryer Chicken Wings
Crispy and flavorful fried chicken wings with classic Taiwanese popcorn chicken flavor cooked in an air fryer.
Ingredients
5

chicken wings

,

split into flats and drumettes (see note)

1

tablespoon

soy sauce

¼

teaspoon

sea salt

¼

teaspoon

white pepper powder

1

pinch

Chinese five spice powder

,

optional

¼

teaspoon

sugar

1-2

clove

garlic

,

minced
Coating
¼

cup

coarse sweet potato / tapioca starch

,

see note

½

tsp

baking powder
Aromatic herbs
1

hand full

Thai basil

,

can be replaced by other kinds of basil that's available to you

2

clove

garlic

,

sliced or roughly chopped

vegetable oil
Sprinkling Seasoning (optional)
sea salt

white pepper powder

chili powder
Instructions
Prepare the wings
Put chicken wings in a bowl or Ziploc bag with soy sauce, salt, white pepper powder, five spice powder, sugar and minced garlic. Marinate for at least 30 minutes, preferably over night, in the fridge.

Mix sweet potato / tapioca starch with baking powder before placing on a big plate.

Coat each wing with the starch mix and squeeze it gently to help the starch adhere to the wings better.

Let the wings sit for 3-5 minutes to allow the starch coating to absorb some moisture from the wings, which will prevent the coating from falling off during cooking process.
Cooking
Toss basil and garlic with a little bit of the oil and set it aside.

Place the wings in the air fryer, cook it for 10 minutes on 350°F, toss the wings and then turn the heat to 400°F and continue to cook for another 5-10 minutes until it's golden brown and crispy.

Mix in basil and garlic in the air fryer, and cook for 1 more minute.

Transfer the wings out from the air fryer with a pair of tongs, season with more sea salt, white pepper powder or chili powder based on your taste and enjoy!
Notes
The amount of chicken wings you can fry each time depends on the capacity of your air fryer.  Fry the wings in two batches if cooking more, as crowding the air fryer will greatly increase the cooking time and the wings will end up being less crispy. 
Coarse sweet potato starch is what's used for making Taiwanese popcorn chicken in Taiwan traditionally; however, most of the so called sweet potato starch you can find these days is actually tapioca starch, which also works very well. 
The coarse starch gives the chicken a crunchier texture, but if you really can't find the coarse sweet potato/tapioca starch, you can just use regular tapioca starch.  I wouldn't replace it with other kinds of starch like corn starch or potato starch as the texture will be different.
Nutrition
Calories:
668
kcal
Carbohydrates:
33
g
Protein:
47
g
Fat:
39
g
Saturated Fat:
11
g
Cholesterol:
185
mg
Sodium:
1976
mg
Potassium:
413
mg
Sugar:
1
g
Vitamin A:
406
IU
Vitamin C:
4
mg
Calcium:
157
mg
Iron:
4
mg