I always make sure I have a bag of silver dollar pancakes in my freezer. They can either serve as a quick breakfast or a healthier snack for my inpatient toddler who often needs to have something to eat right away when she feels hungry. I almost feel insecure if I run out of them.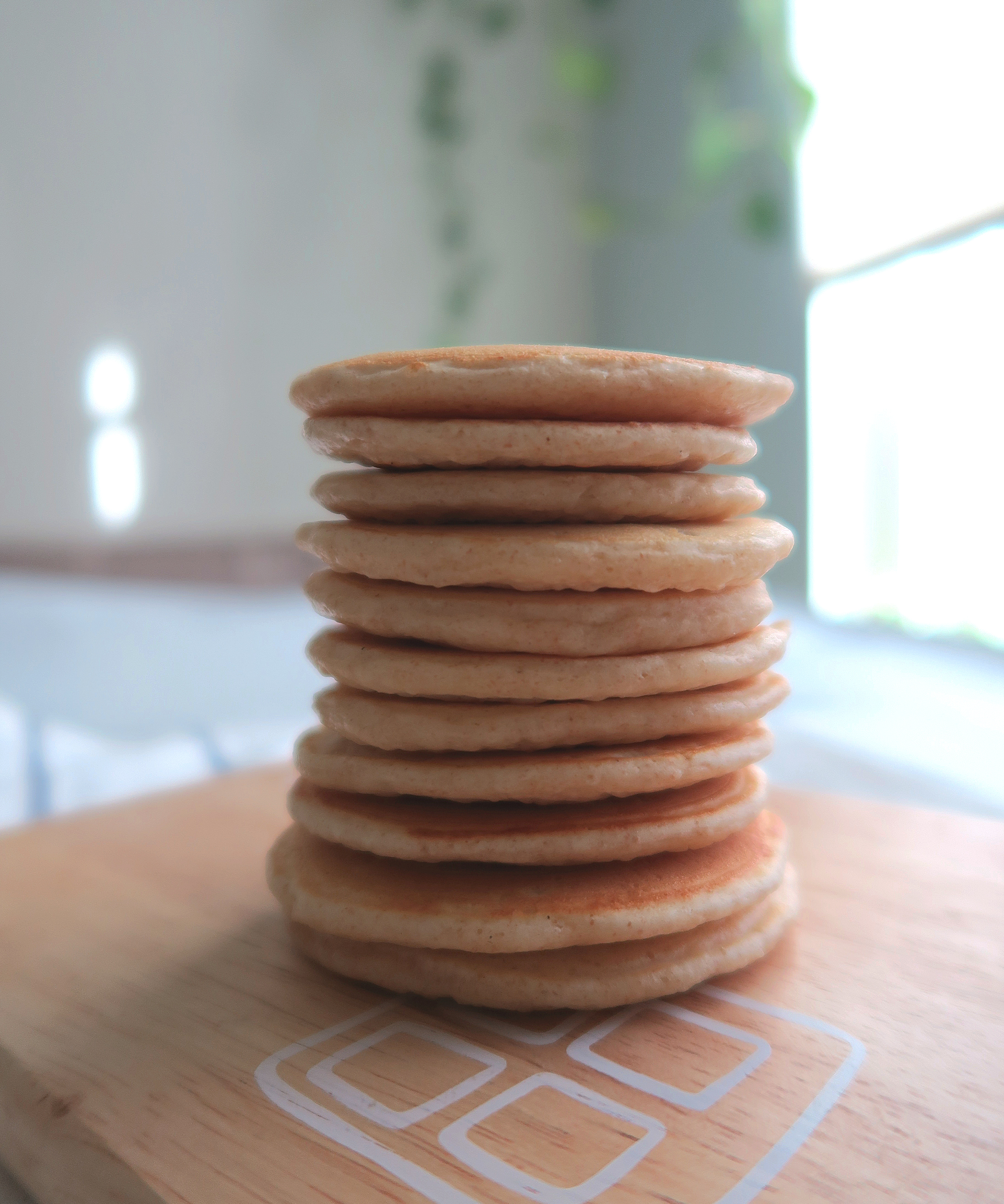 I use to buy these ready-made as a convenient snack for my toddler. When I ended up trying some myself, though, I realized that they were... kind of rubbery. I can easily make my own better tasting and healthier version. One trick to doing this is by replacing some all purpose flour with whole wheat flour. This not only makes the pancakes a bit healthier but also contributes to the flavor.
I cooked the pancakes with my Cuisinart griddler/panini press. It has a larger cooking surface and provides better control of the temperature so that I'm less likely to burn the pancakes!
When you mix the pancake batter, it's very important to not over mix it. Otherwise, once gluten develops, your pancake will begin to get rubbery and tough. The best way to incorporate the wet and dry ingredients is to mix them with a whisk in an N or Z shaped motion. Only whisk in a circular motion when you need to incorporate the remaining dry flour at the edge. This method minimizes the development of the gluten. If you've mixed away all the little lumps, then you've gone too far -- having some of these little lumps will actually make the pancakes fluffier.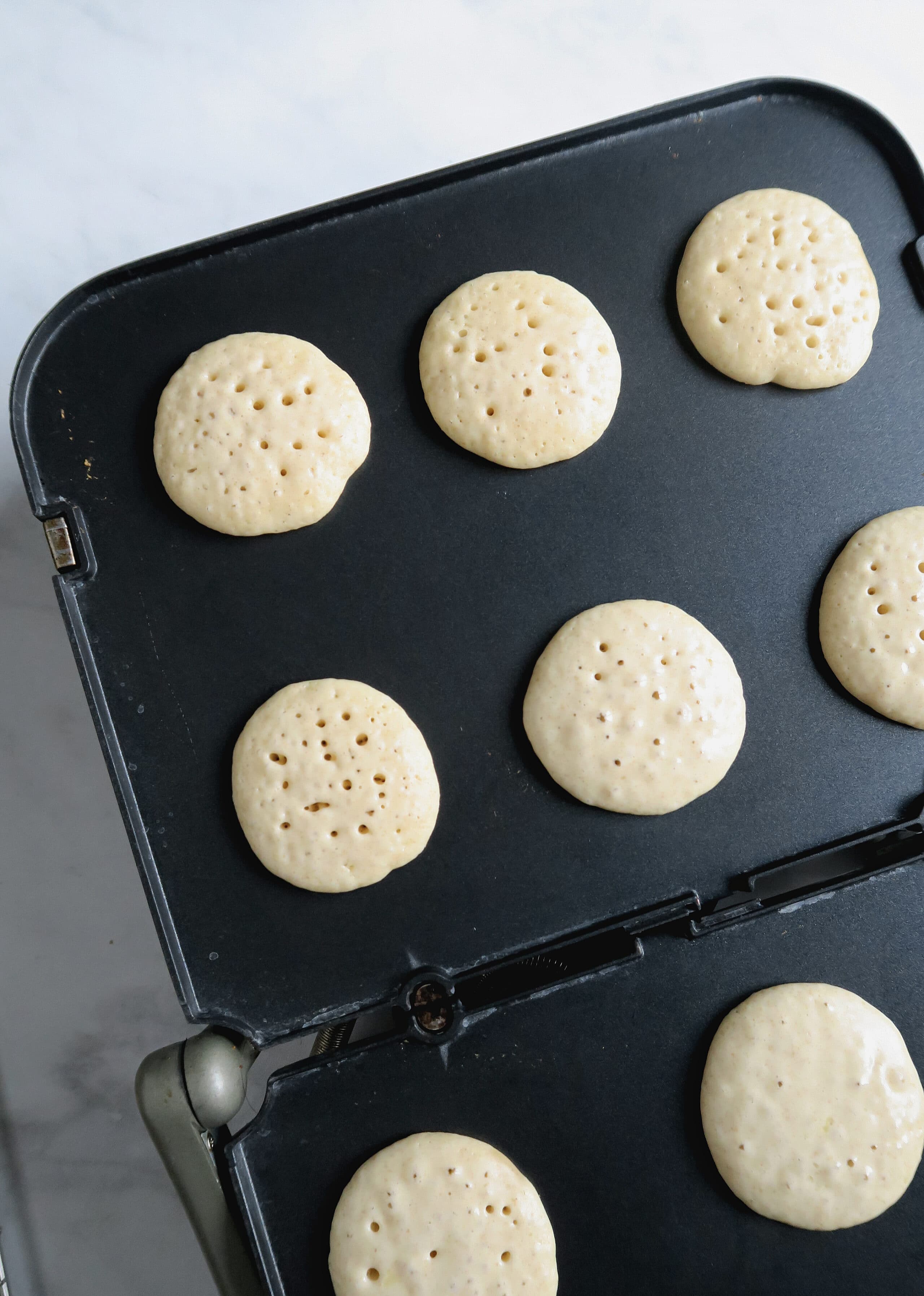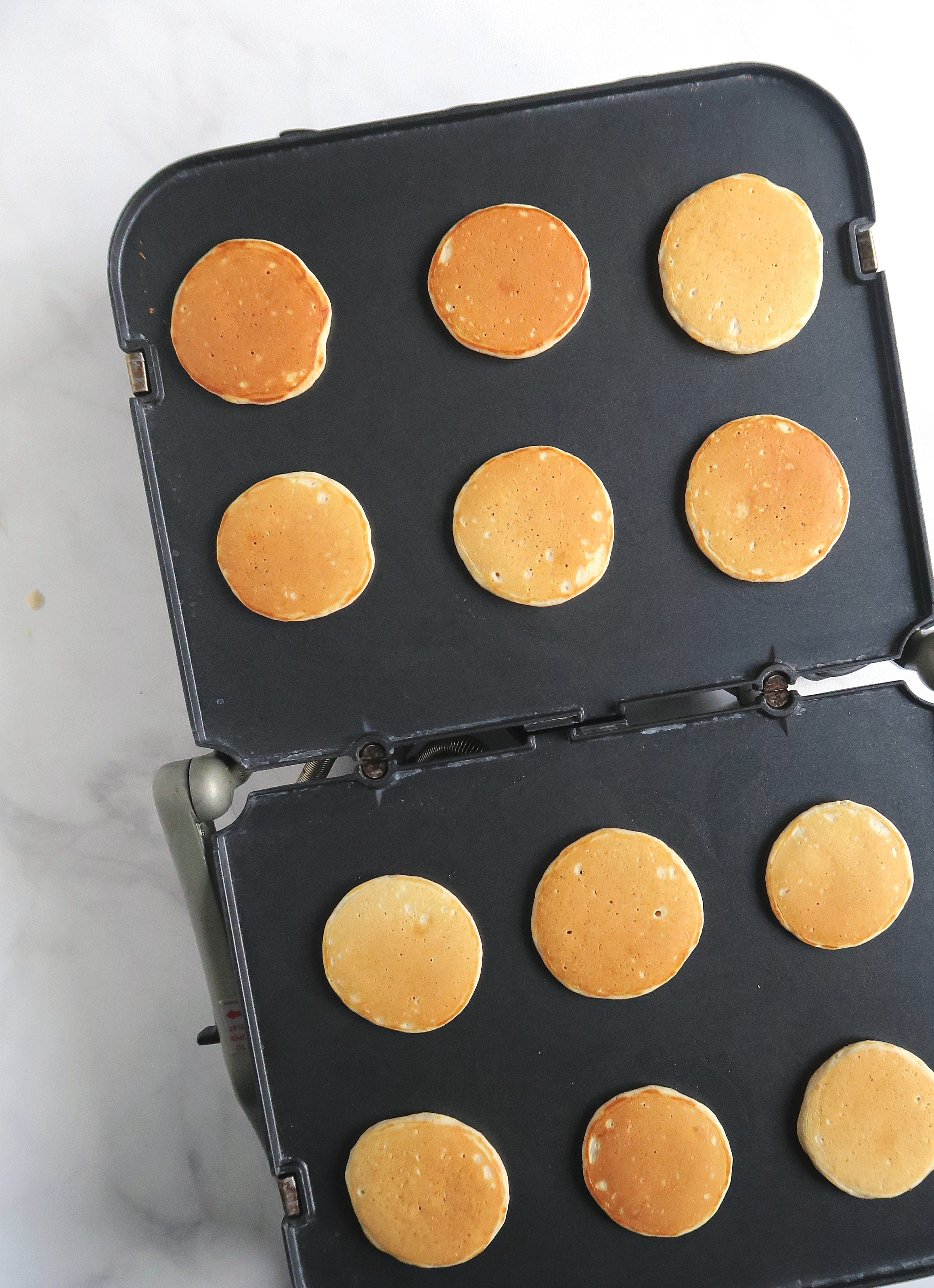 Cook these pancakes on a non-stick surface and you should have no need for extra oil. I find that adding oil actually keeps the pancakes from browning evenly. I usually use about a tablespoon of batter per pancake. Once the bubbles in your pancake pop, the pancake is ready to be flipped and cooked a bit more. In order to make a round pancake, simply aim to pour the batter on a single spot and let it spread to form a circle (my 3 year old gets upset if the pancake is not perfectly round...).
These pancakes store well in the freezer. When you want to eat them, just heat it up in a toaster oven for three minutes or so, or just let it thaw at room temperature. I usually serve these pancakes with a mix of maple syrup/honey with some flax oil (a great way to sneak some Omega 3's into picky children's diet). Otherwise, I may make them into a nut butter and jelly sandwich. Not only does my daughter like these pancakes, I enjoy them too!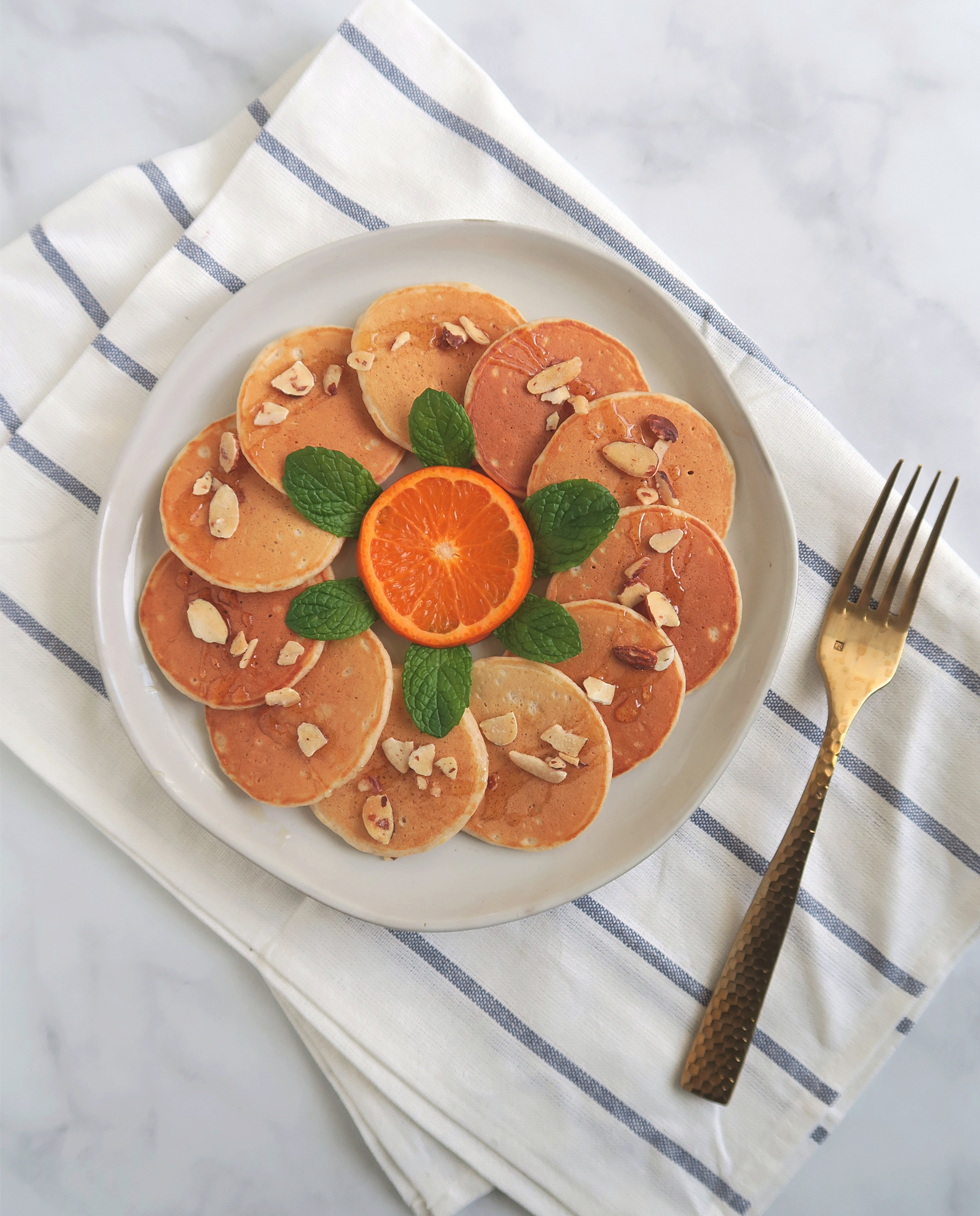 Making silver dollar pancake is actually quite simple and fun. Once you try it, you will not want to buy them from store anymore!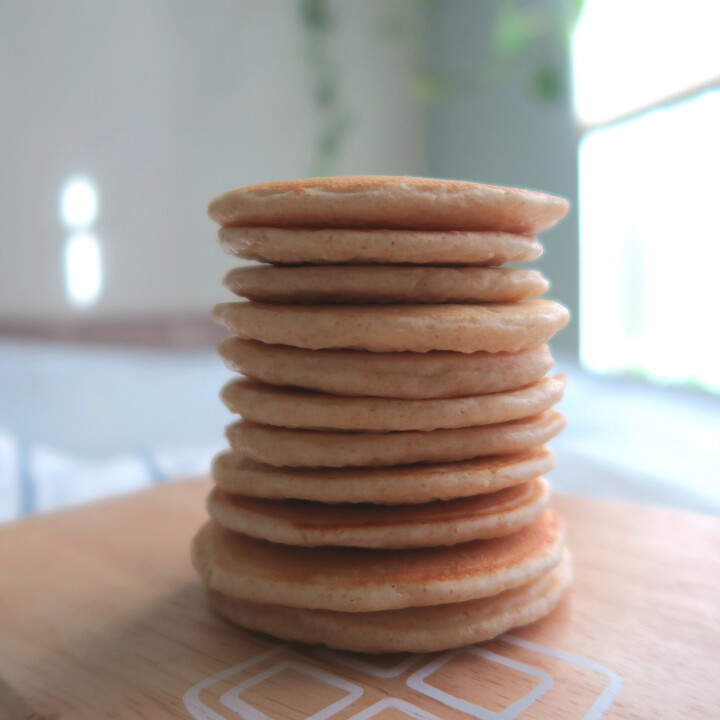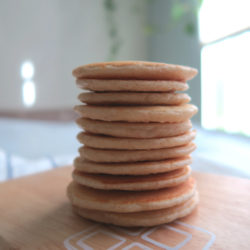 Easy Whole Wheat Silver Dollar Pancakes (mini pancake)
Ingredients
¾

cup

all purpose flour

¼

cup

whole wheat flour

1½

tbsps

granulated sugar

½

tablespoon

baking powder

1

pinch

of salt

1

large egg

1

cup

milk

,

I prefer whole milk *see note

½

teaspoon

vanilla extract

1

tablespoon

melted butter
Instructions
Mix flour, sugar, baking powder and salt together in a mixing bowl with a whisk.

In another mixing bowl, beat the egg and mix in milk and vanilla extract until well combined.

Pour the wet ingredients into the dry ingredients and whisk in a "Z" or "N" motion to prevent developing gluten. Only whisk in circular pattern a few times to incorporate the flour on the edge. Do not overmix! Batter can still contain small lumps.

Pour in melted butter, mix few more times to incorporate.

Turn on the electric grill (I set it my Cuisinart griddler to 400 F) or preheat a nonstick pan to medium low.

Pour 1 tablespoon batter at a time, aim for the same spot and let the batter spread to form a circle. If the batter doesn't spread well, add a bit more milk.

Cook one side until the bubbles pop, then flip and cook for another minute or until it's done.
Notes
Depending on the type of flour you use, adjust the amount of milk to make the batter thin enough to spread and form a circle.  
To maintain the freshness of these pancakes, store them in the freezer and heat up or let it thaw before eating.