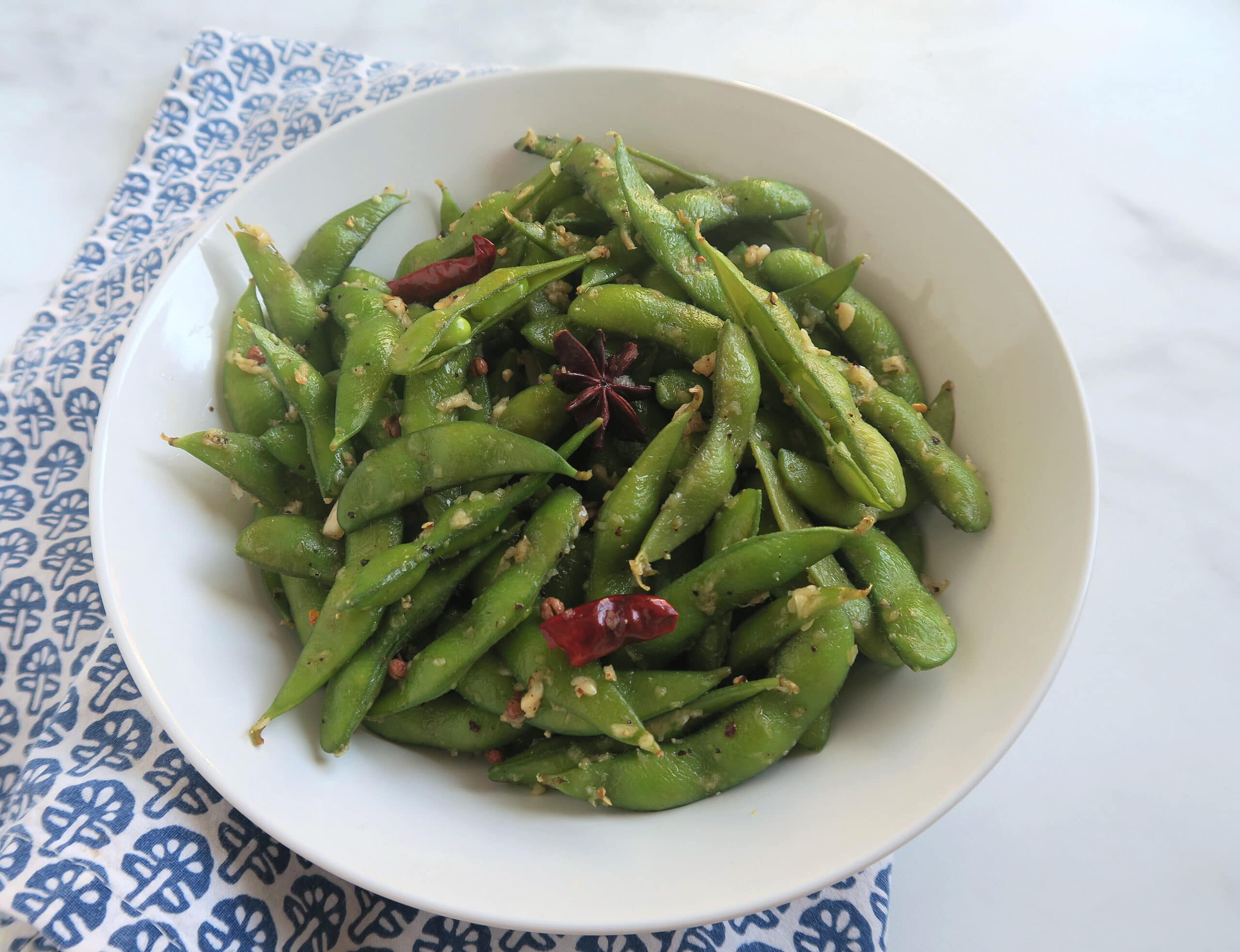 My 2.5 year old daughter loves edamame beans. Usually she gets tired of the same food very easily, but not edamame. She can eat it for 3 or 4 times a week without any problem, and I'm very happy she likes it, because it's healthy and easy to prepare. I always make sure I have a bag of frozen edamame in my freezer. She especially likes the kind that's still in the shell, since she enjoys the peeling process. Anything that can keep her busy and quiet for a bit during meal time is definitely a plus!
One day, when my daughter was eating edamame, during a random conversion with my husband we discovered that EVERY time we've had edamame by itself as a dish in Taiwan, it was always the same preparation involving garlic and black pepper. After our conversation, I right away craved for some garlic black pepper edamame beans, so I searched through some recipes online and tried to make it by myself. In my first attempt, I used unsalted edamame, which I usually have at home, but I found it to be bland (since it's hard for the salt to pass through the outer shell). So I tried using lightly salted frozen edamame for my second attempt and it was much better. In order to make it more flavorful, I boiled the edamame with one star anise and added some Sichuan peppercorns when mixing in the rest of ingredients. Those ingredients, however, are optional (especially since they might not be something you have on hand), and this dish will still taste good without those two spices.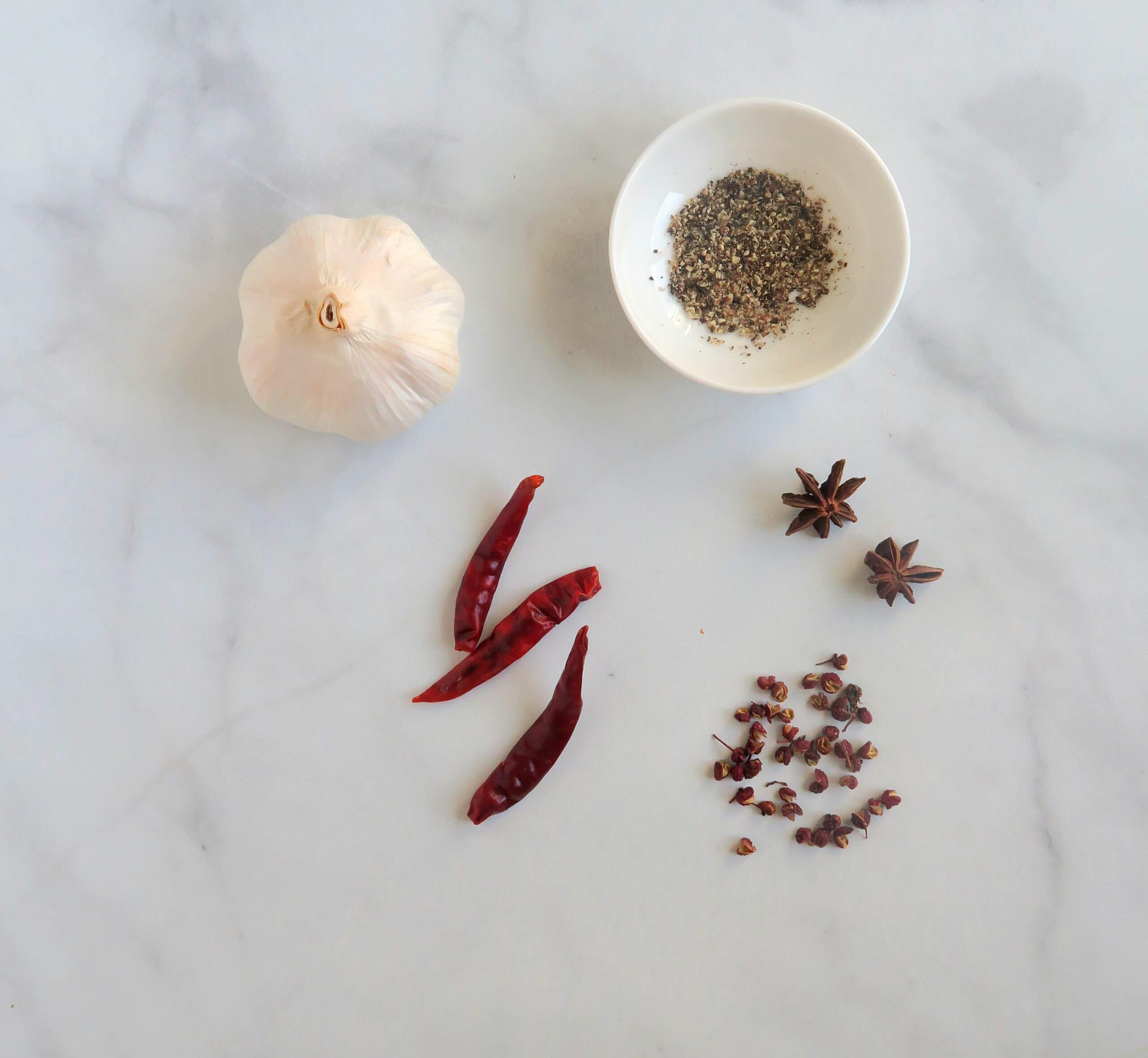 This dish is so easy to make, and great for picnics, parties or just a side dish to go with your meal. You can adjust the seasoning according to your taste. Hope you enjoy it!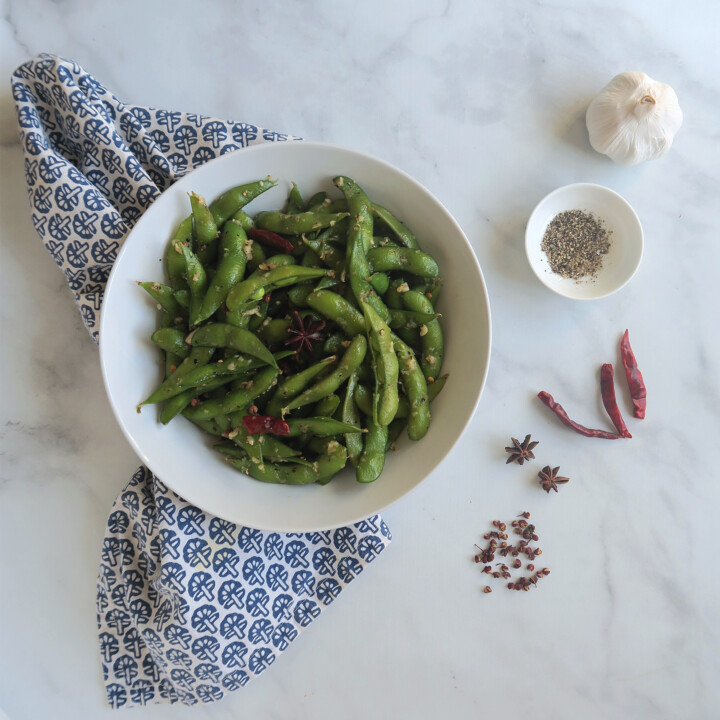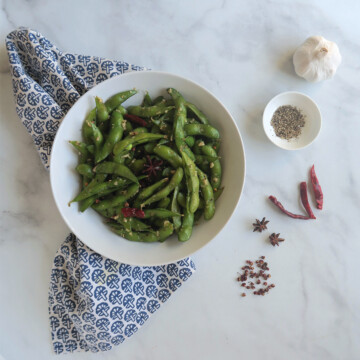 Garlic Black Pepper Edamame
Ingredients
1

lb

lightly salted frozen Edamame with shell

1-2

star anise

1

tablespoon

sesame oil

4-6

cloves

of garlic

,

minced

1

teaspoon

Sichuan peppercorns

½

teaspoon

sugar

2-3

dried chili pepper

,

break into 2 or 3 pieces

freshly ground black pepper

salt
Instructions
Bring 2 quarts of water with 1 -2 star anise to boil.

Add frozen edamame and cook for 2-3 minutes, try one to see if you like the texture, don't overcook. Once it's done, drain and set aside.

Add 1 tablespoon of sesame oil in the same pot while it's still hot, then add minced garlic, Sichuan peppercorn, sugar

Stir several times, then add Edamame, dried chili pepper, salt and black pepper and mix well.

Chill in the fridge for 30 mins before serving.
Nutrition