Learn the easy way to make authentic restaurant's style Taiwanese beef noodle soup at home with restaurant's secret tip.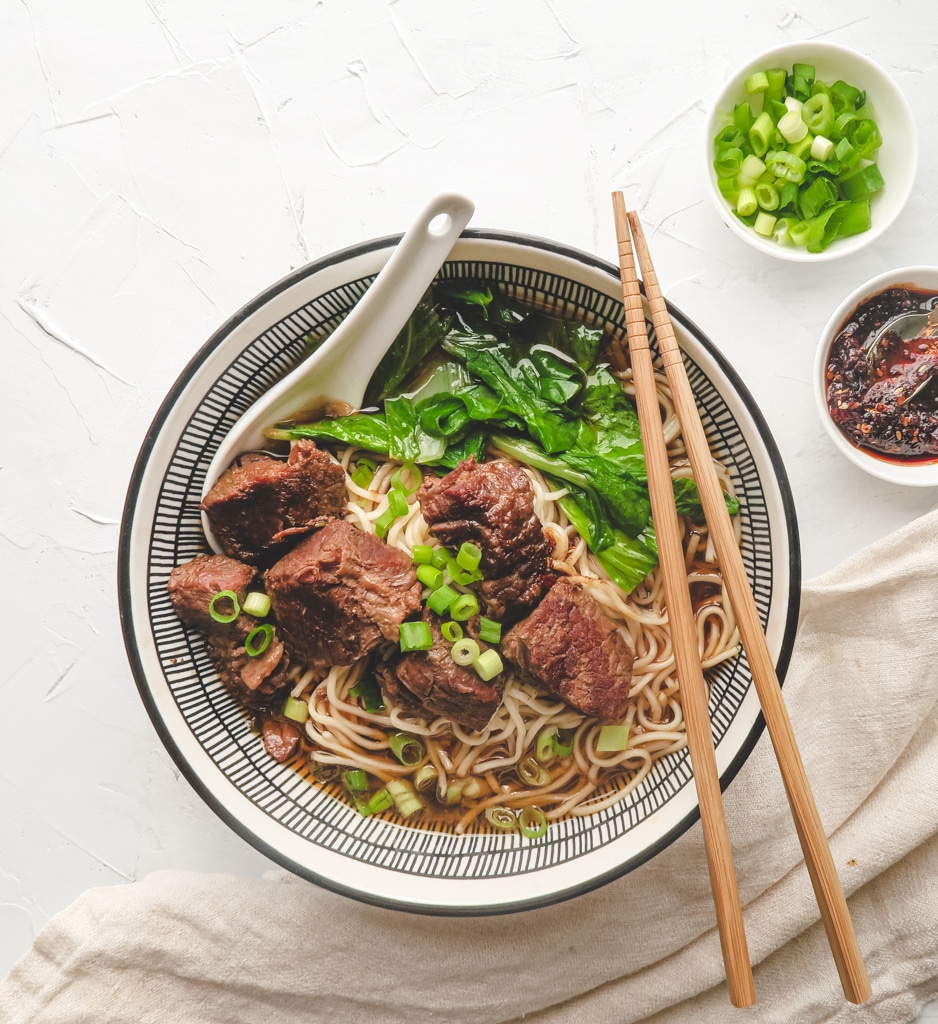 Beef noodle soup is an all-time comfort food for the Taiwanese. It's probably one of the most common/popular meals in Taiwan. I would say that this dish is to the Taiwanese as the burger is to Americans. The tender beef with the savory broth plus the chewy wheat noodle just makes it irresistible. I still remember when I first came to US, I missed beef noodle soup all the time.
I tried almost all the beef noodle soup near where I live, but they are either too salty (making you feel like you're drinking soy sauce soup), or they use the wrong kind of noodles (making the whole dish taste just -- off). I tried many recipes and learned from each one I tried. I got better each time but my results were still not satisfactory.
My mom makes a very good beef noodle soup, and her recipe is popular among our friends and family. She has picked up special tips on this dish throughout the years -- tips that makes her beef noodle soup stand out above the rest. I asked her many times how she does it, but she could never give me any accurate measurements as she cooks based on experience and instinct.
Fortunately, she came to Ann Arbor recently to help my family since we just had our second baby, so I finally got the opportunity to watched and document her process of making this dish. This is the recipe that you're getting today. Surprisingly, it's very simple; simple enough that I feel I should definitely be cooking it more!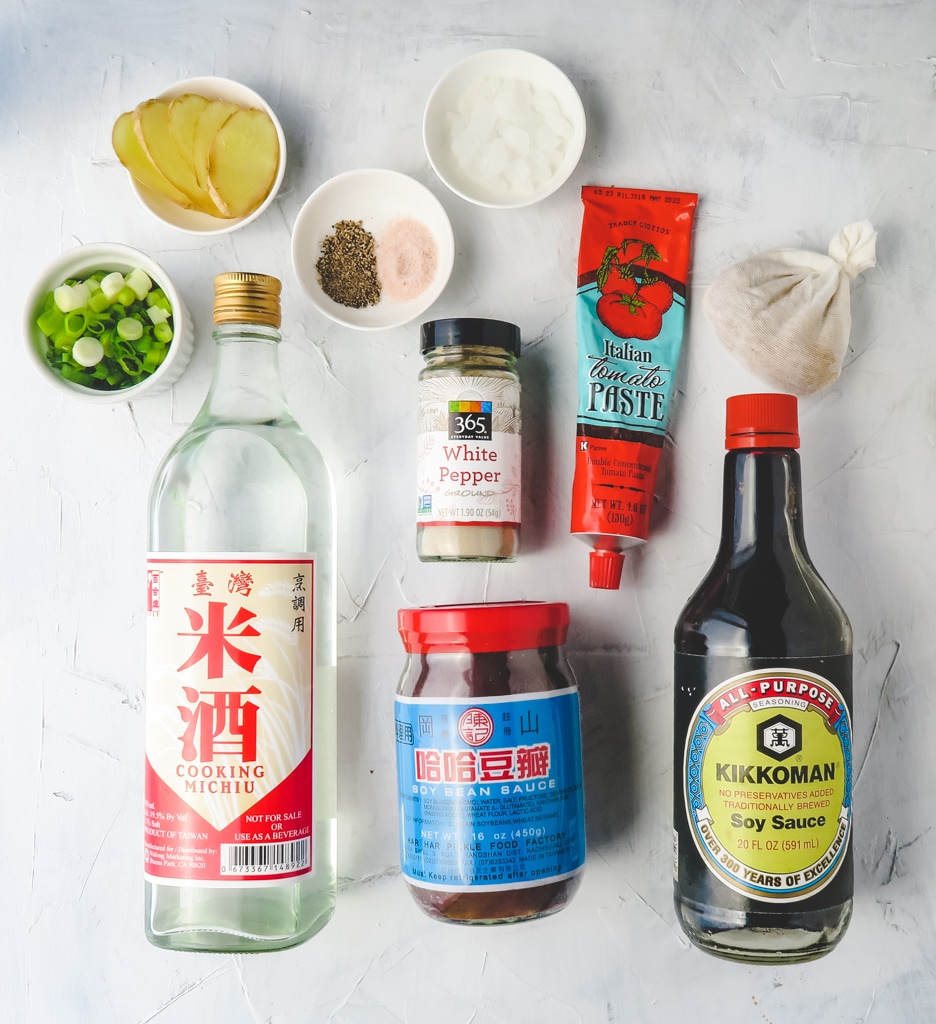 One special tip my mother learned was from someone who held the secret recipe of a famous beef noodle soup restaurant that has been open for 60 years and won many prizes at Taipei Beef Noodle Festival competitions. That tip is to make a paste with caramel and Doubanjiang (aka broad bean paste), which adds a special kind of depth and sweetness while providing some color without having to rely on adding a bunch of soy sauce.My mom usually doesn't add onion in the soup like most people do, as she prefers a clean, unmuddled broth. She does, however, include ginger and scallion to develop a better aroma.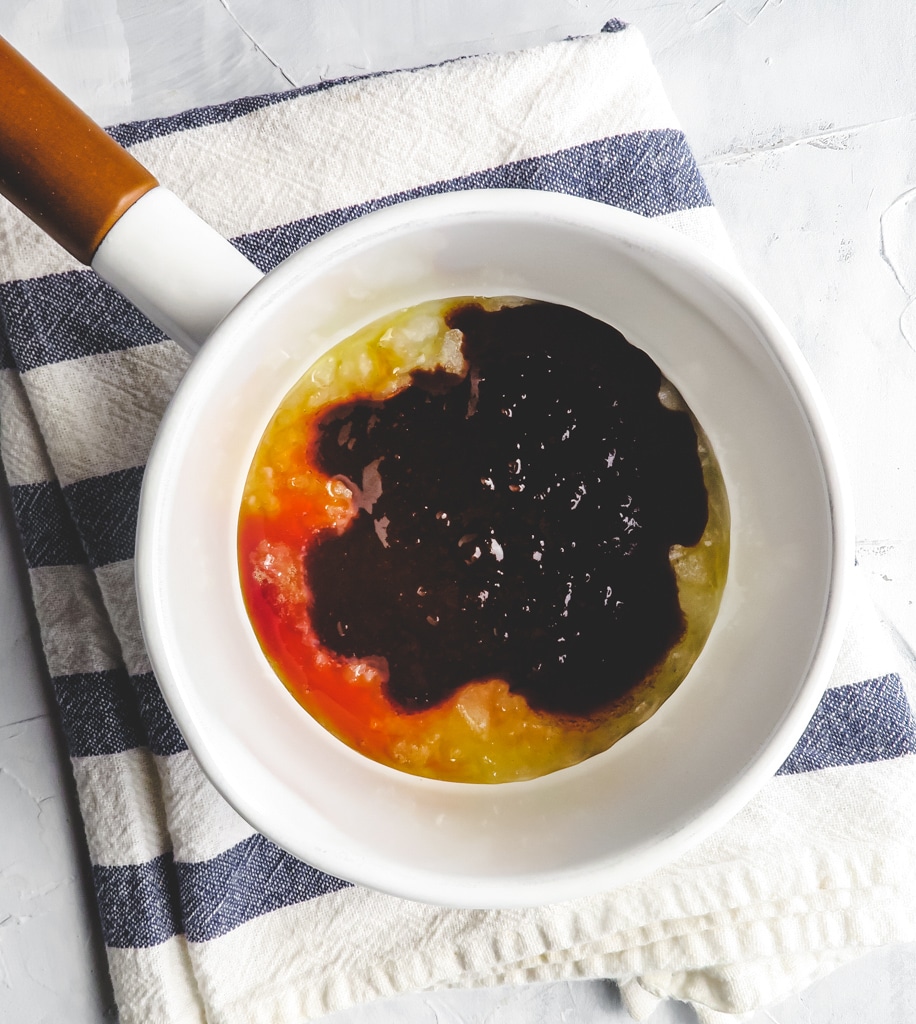 Spices for braising beef
For the aromatics, you can simply use a Chinese spice braising package (also known as lu bao, or lu wei bao), which can be found in most Asian grocery stores. Alternatively, you can use star anise, bay leaf, cinnamon stick and Sichuan peppercorn. If you've had bad experience with Sichuan peppercorns, don't worry, in this dish it's only used to add to the aroma, and it won't give you that numbing taste. It is optional, though.
Cooking method
My mom cooks almost everything in pressure cooker, in this case, she usually cooks the beef the pressure cooker for around 20 mins or so, then let it sit for several hours to let the flavor saturate into the meat. I prefer cooking meat in my dutch oven for 3 hours to get the beef tender and flavorful, as I think the pressure cooker only separates the fibers of the meat instead of actually soften the meat itself.
Recently, however, I discovered a new method to make the beef soft and flavorful while also saving cooking time. I pressure cook the beef first for 20 minutes and then let it simmer without pressure for another 30 minutes or so, and the result is perfect!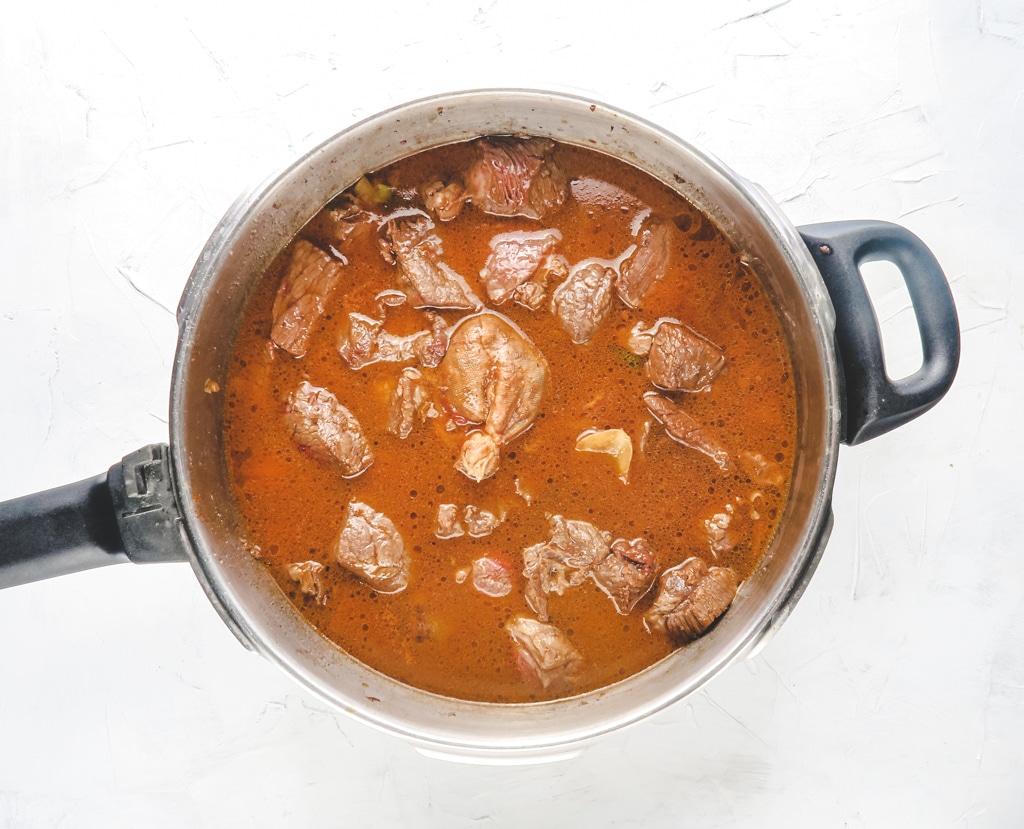 Make the broth separately
Yes, beef noodle soup is not a one pot dish. You need to make a separate pot of broth in order to have a perfect bowl of Taiwanese beef noodle soup with flavorful beef and perfectly seasoned soup. If you add too much water during the braising process, the meat will end up lacking in flavor. For the soup's base, either beef or chicken broth will both work. Usually, I myself would make a pot of beef broth and then add some "Better than bouillon chicken base" to enhance the flavor.
Noodles for the beef noodle soup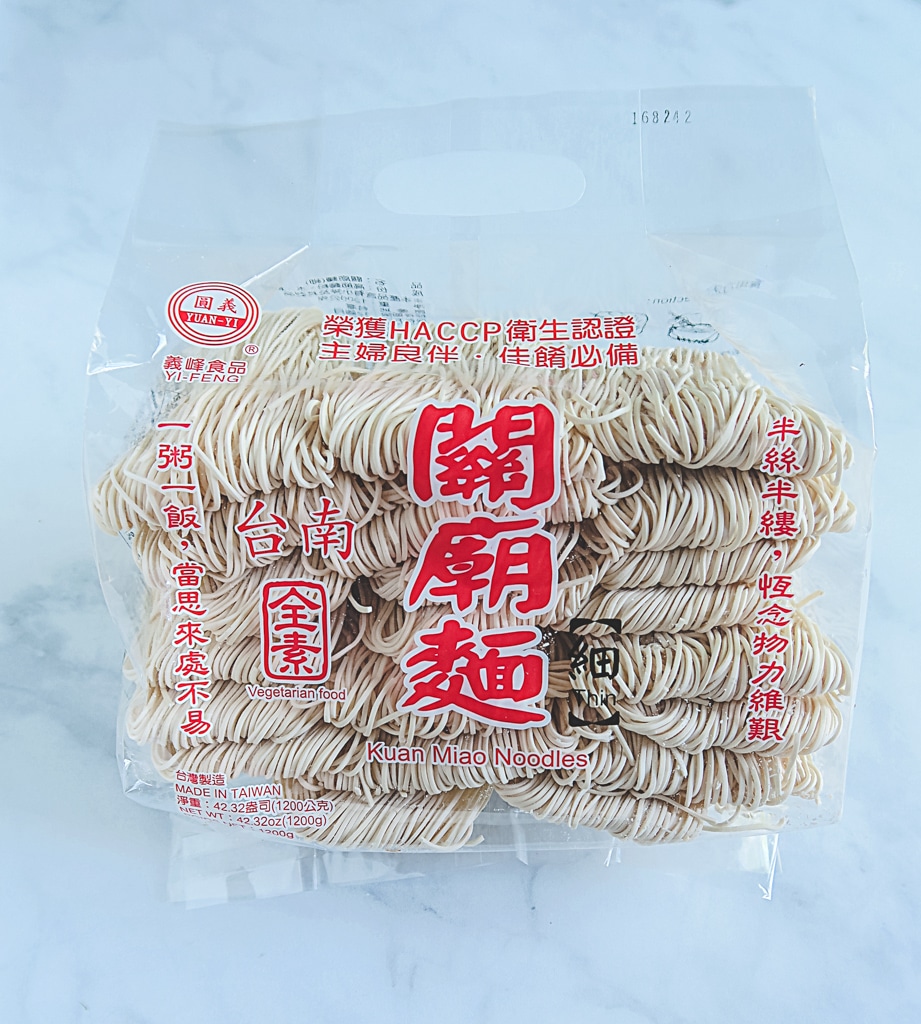 Wheat noodle works the best! I like the thick noodles that have more of a bite, such as knife - cut noodles (Dao Xiao Mian, 刀削麵). My husband, though, prefers thin noodles because he thinks there's better flavor distribution in each bite. Everyone has their own preference here, but the most important thing is not to over cook the noodles and enjoy it right away!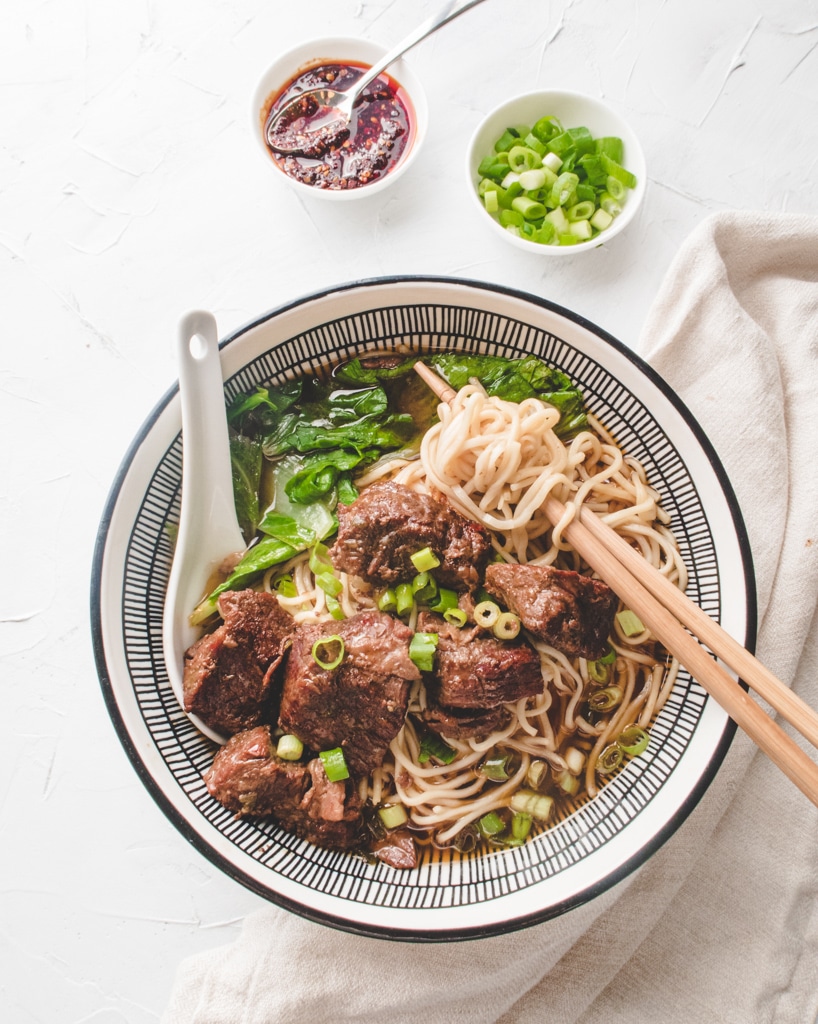 If you like this recipe, make sure you also try my
Best Pressure Cooker Chinese Beef Stew
Taiwanese Hand Torn Noodle Soup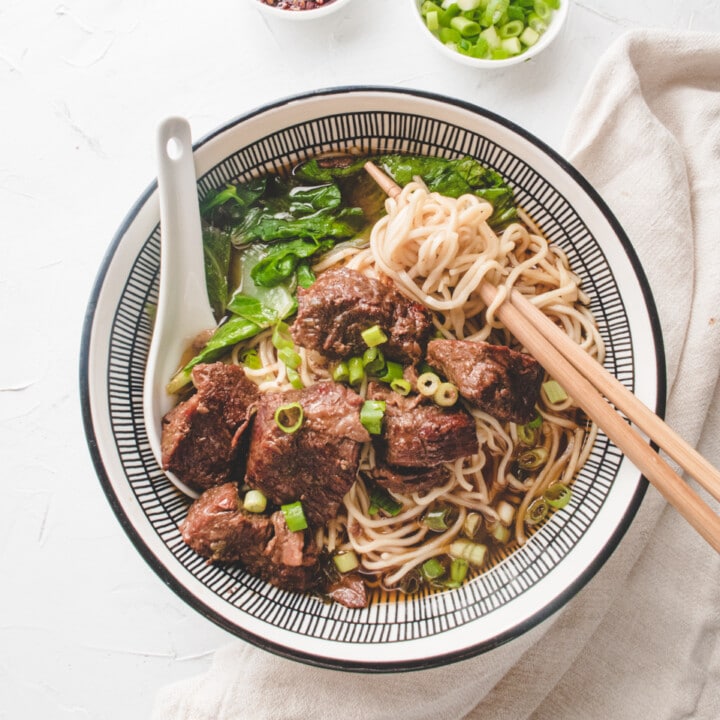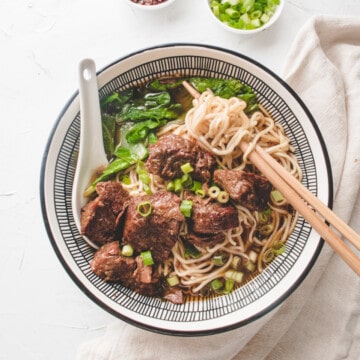 Mom's Taiwanese beef noodle soup
Ingredients
Broth (can be replaced by store bought chicken stock)
2

lb

beef bones or 2 whole chicken bones/carcass from leftover rotisserie chicken

8

cups

water

½

onion

A 3-inch piece of fresh ginger

,

smashed

1

carrot

,

optional

2

stalks celery

,

optional

salt
Braised Beef
2.5-3

lbs

beef chuck roast

¼

cup

rock sugar

2

tbsps

doubanjiang

,

Chinese bean paste, spicy or regular

¼

cup

hot water

5

slices

fresh ginger

1

scallion

,

minced

¼

cup

soy sauce

3

tbsps

cooking wine

2

tbsps

tomato paste

1

teaspoon

salt

½

teaspoon

white pepper powder

1

Chinese spice braising packet

,

Lu Bao (see note for alternative)
Everything else
Wheat noodle

Scallion

,

finely chopped

Cilantro

,

finely chopped

leafy green of your choice

,

boiled

sesame oil

chili oil
Instructions
Broth
Boil a pot of water for blanching the bones. Cook the bones for 3 minutes, then drain and wash the bones and pot (this gets rid of the scum). Add the bones back to the pot with the rest of the broth ingredients except salt and bring it to a boil. Reduce the heat to low and skim any other scum that may develop. Cook for 2 to 2.5 hours with lid on or 90 minutes in an Instant Pot on the high setting.

When it's done, add in the salt to make it only slightly salty.
Braised beef
Melt rock sugar in a sauce pan on low heat, turn off the heat when it starts to caramelize.

Add in doubanjiang right away, and then add ¼ cup hot water. Turn on low heat and cook until the sugar melts completely and set it aside.

Heat a dutch oven or pressure cooker on medium heat until it's very hot, then brown the meat on both sides. Do this in 2 batches if needed.

Add in ginger and scallion, and continue to stir fry for 1 minute.

Add in the caramel/doubanjiang paste, soy sauce, cooking wine, tomato paste, white pepper powder, salt and Lu Bao. Cook and stir for another 30 seconds, then add in enough water to just cover the beef.

If using dutch oven, bring to a boil and then reduce to simmer for 3 hours with lid on, stir every 30 minutes and adjust the heat if needed.

If using the stove top pressure cooker, lock the lid and set on high pressure, cook with medium high heat until the pressure cooker hiss. Turn to medium low to low heat and cook for another 20 minutes.

Turn off the heat and let it sit until pressure releases naturally. unlock the lid, take out the spice packet and let it simmer (with lid on) on low heat for another 30~40 minutes, the meat will be really tender at this point so don't stir too much.

Cook noodles according to the package, drain the water and mix noodle with a bit of salt and sesame oil.
Assembling
Put noodle in a bowl and pour in braised beef and soup, then dilute with an equal amount (or more, according to your taste) of broth before finally topping it off with scallion, cilantro and bak choy. season with more salt and white pepper powder if needed.
Notes
I usually heat the pot until it's very hot and brown the meat without adding extra oil, as beef chuck roast has higher fat content.    
If you can't find the Chinese spice braising packet, simply wrap 2 inch cinnamon stick, 2 bay leaf, 2 star anise and ½tbsp Sichuan pepper corn in a cheese clothe.