Typically, deep flavors take time and effort to develop. This minced pork with Taiwanese soy sauce pickled cucumber (醬瓜/花瓜 /脆瓜), however, only needs 15 minutes to deliver a deep, meaty, and rich umami flavor! It's packed with different layers of flavors with contrasting textures. Oh, and did I mention that you only need one pot for this recipe?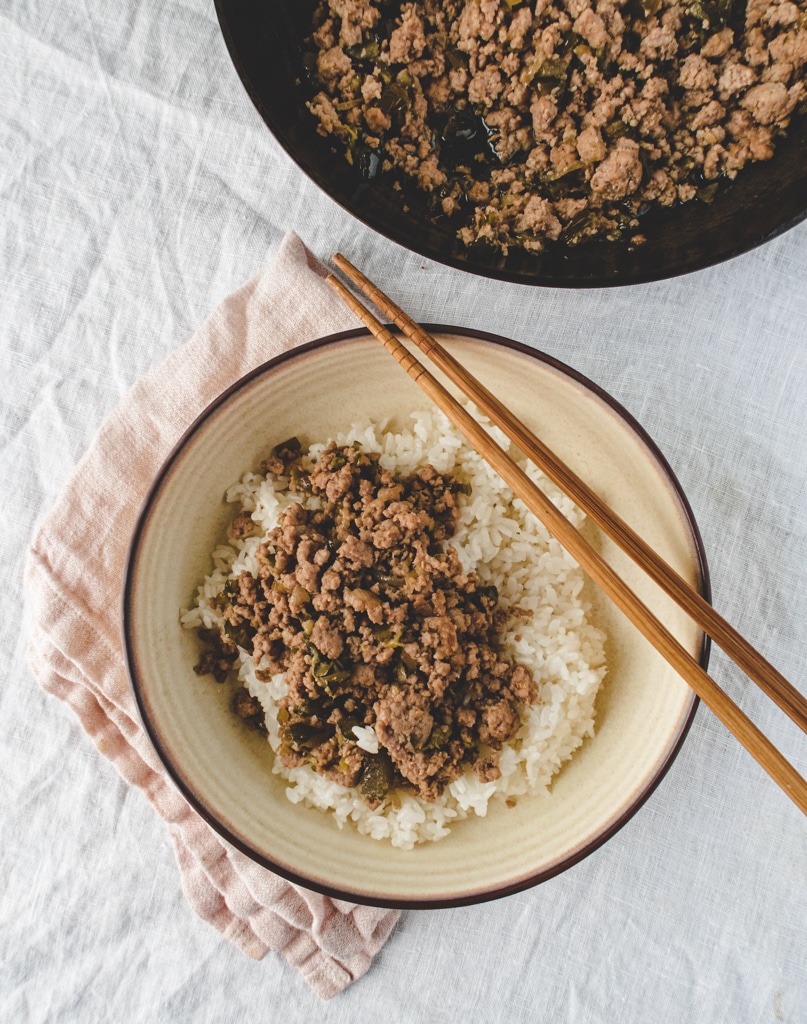 The ingredients for this dish are very simple, since the Taiwanese pickled cucumber is very flavorful, we just need a bit of seasoning and and aromatic elements to complete this dish.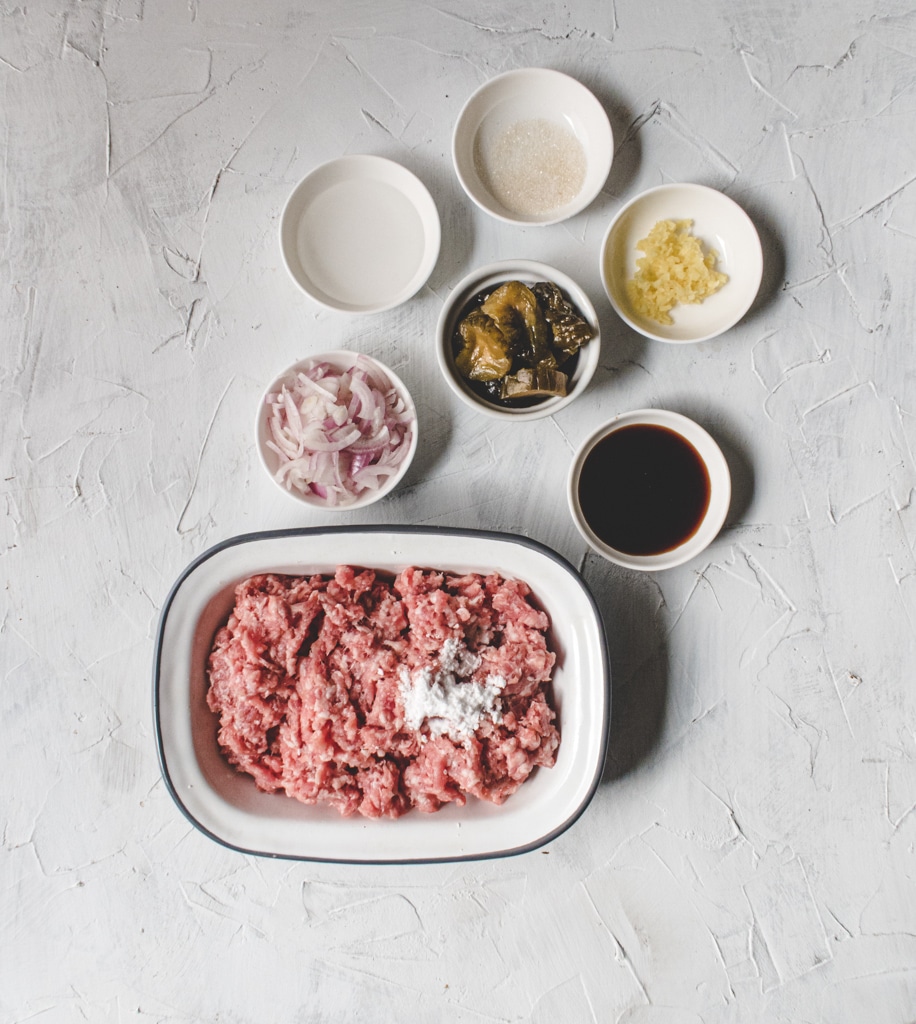 What is Taiwanese soy sauce pickled cucumber?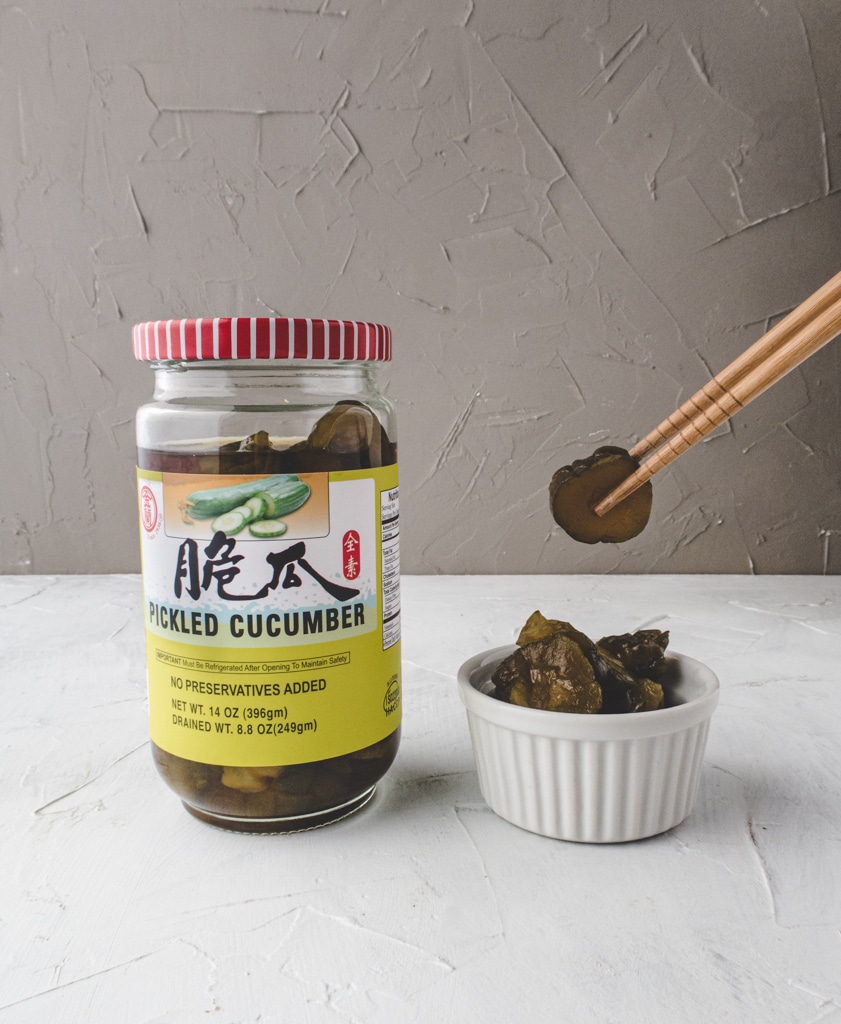 This pickled cucumber, made with sugar, soy sauce and vinegar, tastes very different from the typical pickled cucumbers you find in the US. It tastes sweet, with a very distinctive soy sauce like umami, and the texture is very crunchy. Traditionally, people in Taiwan will enjoy these picked cucumbers with congee (rice porridge) along with other side dishes for breakfast.
In the past, most Taiwanese people farmed for a living, so when the vegetables were in season and they harvested more than they could finish, they would pickled those vegetables with salt, sugar, soy sauce, etc. That way, the vegetables can be kept for longer. Also, at that time, most people couldn't afford eating too much rice, so they eat congee instead, adding water to make the rice feel more filling. These flavorful pickled vegetables just so happen to go perfectly with congee.
Now the economic situation in Taiwan is way better, but people still enjoy eating these pickled vegetables. If you go to some restaurants in Taiwan, they will still offer congee with pickled vegetables along with many different side dishes for breakfast. I didn't like it when I was a kid, but now I really miss it. To me, it's definitely something I'd consider comfort food.
Since these pickles are very flavorful, people incorporate them into different dishes or soups to quickly amp up the flavor. This minced pork with pickled cucumber is one of the most classic examples. The sweet, crunchy, and umami pickled cucumber adds everything else that the pork needs to round out the flavor profile and complete this dish. If you like Taiwanese minced pork sauce, you will definitely enjoy this dish very much!
Notes for making this dish
Use ground pork with 20% fat.
Mix the pork with a bit of corn starch to improve the texture/mouthfeel of the meat.
Stir fry the shallots until they're aromatic before adding other ingredients.
Ginger and rice cooking wine are good for eliminating the gamey taste from the pork.
Make more rice than you think you'll want, because you'll definitely want more than you think!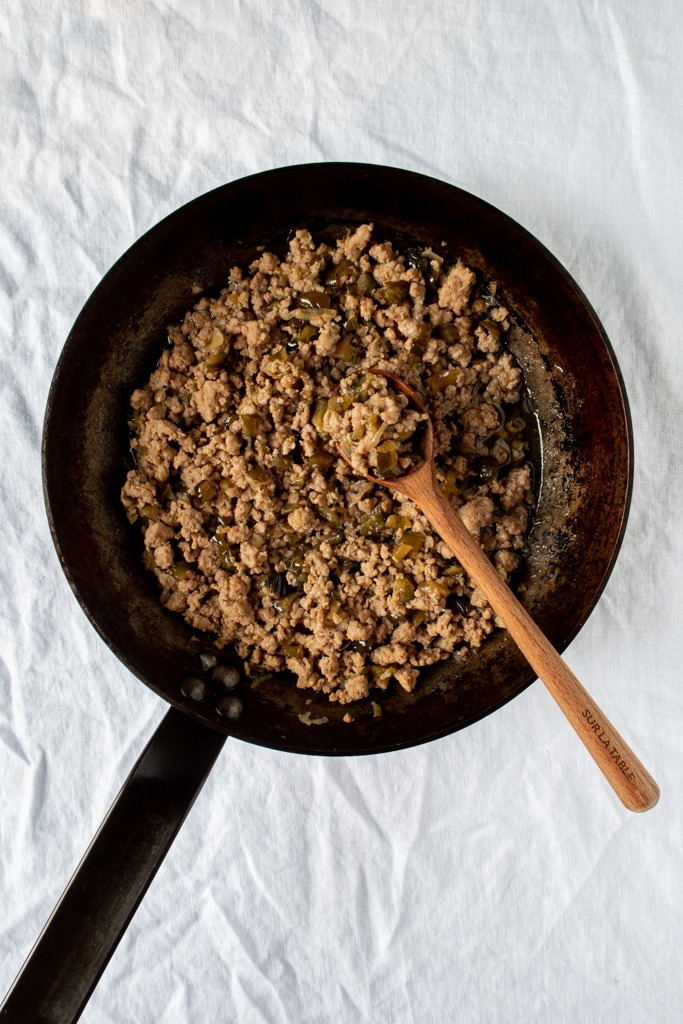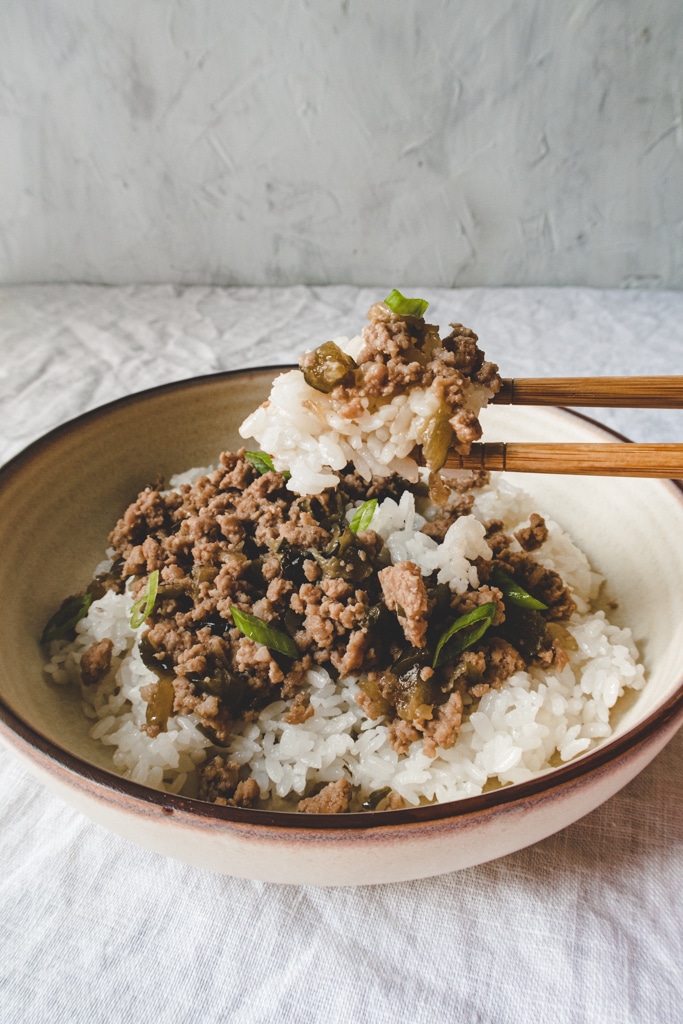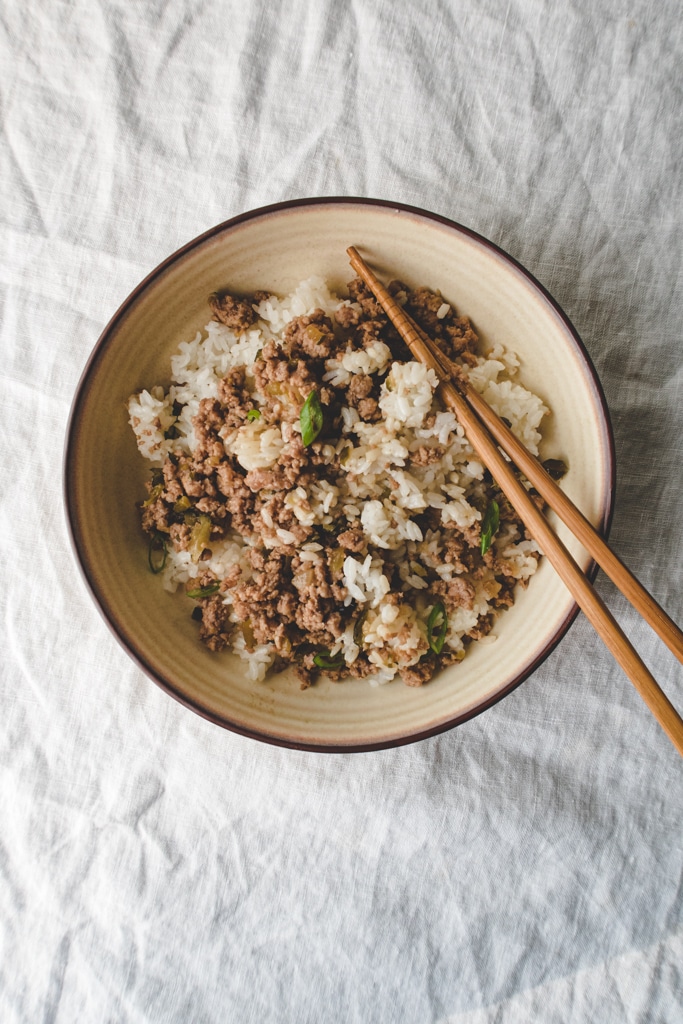 Hope you all enjoy this dish. Happy Cooking!!
Make sure you also try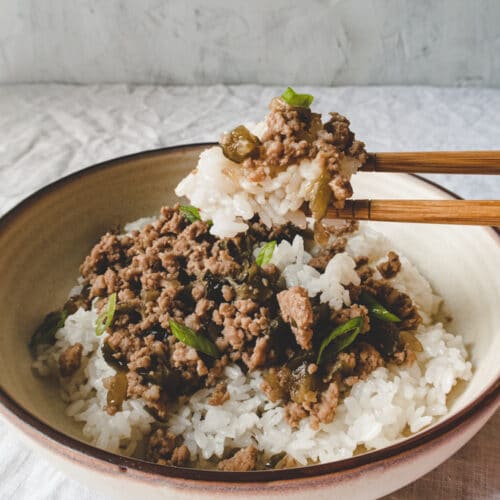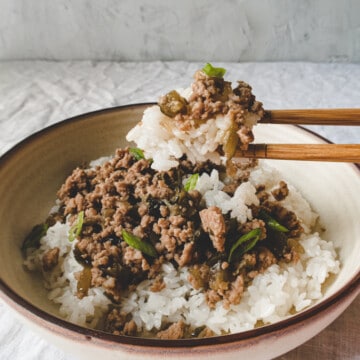 Taiwanese Minced Pork with Pickled Cucumber Over Rice (瓜仔肉)
Learn how to make this classic and popular Taiwanese home cooking dish that takes only 15 minutes to make.
Ingredients
1

lb

ground pork with 20% fat

1

tsp

corn/potato/tapioca starch

2

tablespoon

vegetable oil

1

small

shallot

,

thinly sliced (see note if you have crispy fried shallot)

1

teaspoon

freshly grated ginger

¾

cup

Taiwanese soy sauce pickled cucumber

,

chop into roughly ¼ inch pieces

2

tablespoon

liquid from the jar of pickled cucumber

1

tbsp

rice cooking wine

1

tablespoon

soy sauce

½

teaspoon

sugar

½

tsp

sesame oil

warm rice
Instructions
Toss ground pork and corn starch together and set it aside.

Heat vegetable oil in a frying pan over medium low heat, add sliced shallot while the pan is still cold.

When the pan starts to sizzle, stir the shallot and cook until it begins to brown. This usually takes about 2 minutes.

Add ginger and cook for about 10 seconds until fragrant.

Turn the heat to medium high before adding ground pork, stir and cook until it's loose and turns white.

Stir in pickled cucumber, juice from the pickle jar and cook for about 15 seconds.

Add cooking wine, soy sauce and sugar, stir fry for another 15 seconds.

Finally, finish the dish with a few drops of sesame oil. Serve with warm rice.
Notes
If you have crispy fried shallot on hand, skip step two and three and add 2-3 tablespoon of crispy fried shallots along with the pickled cucumber. 
Nutrition
Calories:
1531
kcal
Carbohydrates:
15
g
Protein:
80
g
Fat:
125
g
Saturated Fat:
58
g
Cholesterol:
327
mg
Sodium:
2645
mg
Potassium:
1522
mg
Fiber:
2
g
Sugar:
6
g
Vitamin A:
196
IU
Vitamin C:
6
mg
Calcium:
109
mg
Iron:
5
mg