We always have a jar of pickled onions in our fridge since my husband loves it so much. He seems to think everything tastes better with pickled onions. He tried a number of recipes, but most of them, to my taste, are either too raw or not flavorful enough. Though I agree that it makes the food more presentable, I just wasn't a huge fan of it.
One day, I decided to try making my own version to see if I can make it better. My goal was to make the pickled onions crisp and crunchy, with a balanced flavor and without any harshness or rawness in the taste. I started with soaking the raw onion in hot water to remove its rawness. Next, I made the pickling solution with two kinds of acid, two kinds of sweetener, a bit of salt and just enough water. Unlike most of the recipe use just either vinegar or lemon juice, I use both, as I believe it will give the pickled onion more layers of flavor. In the same principle, I sweeten my pickles with both sugar and honey, to add more nuance to the flavor.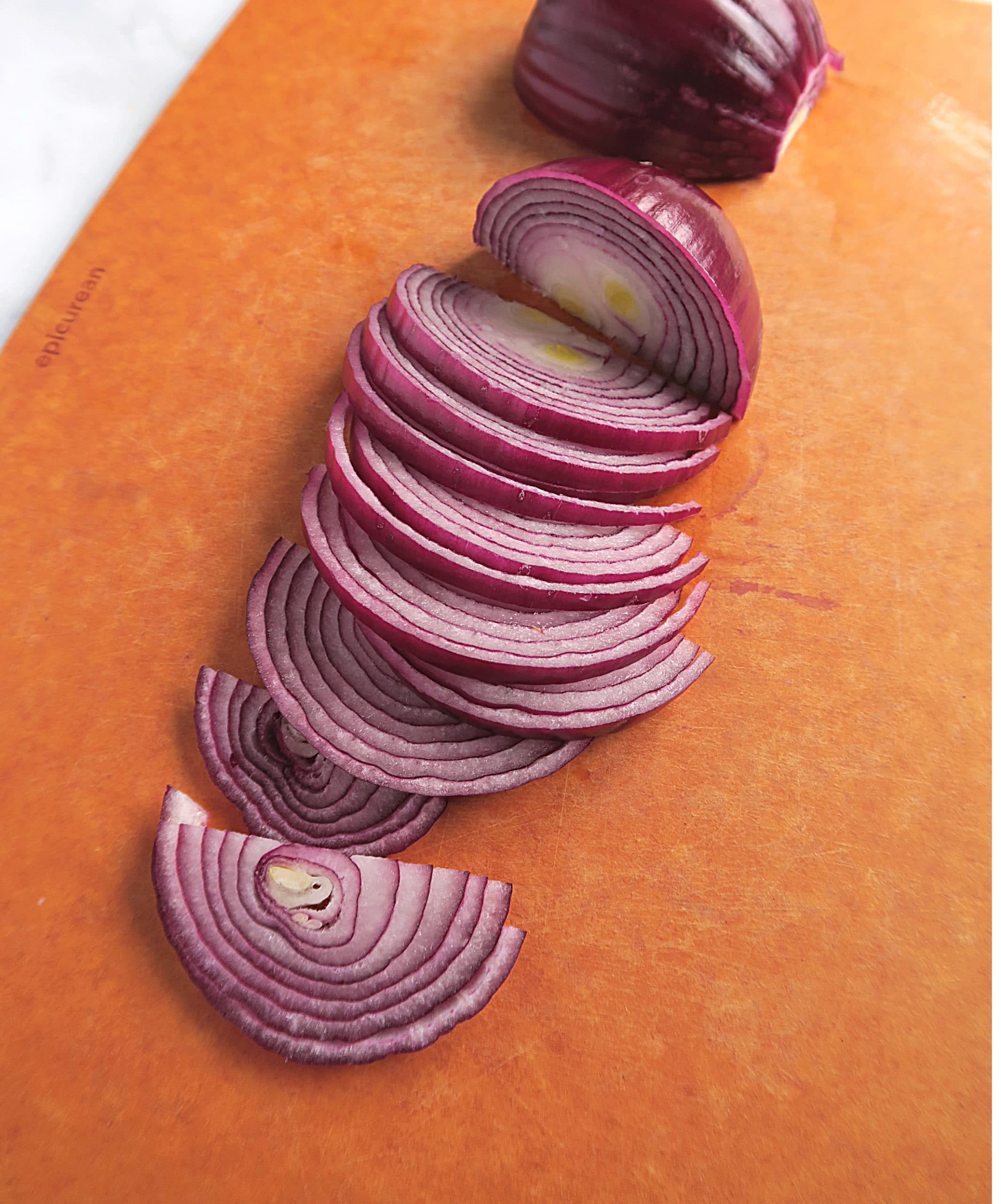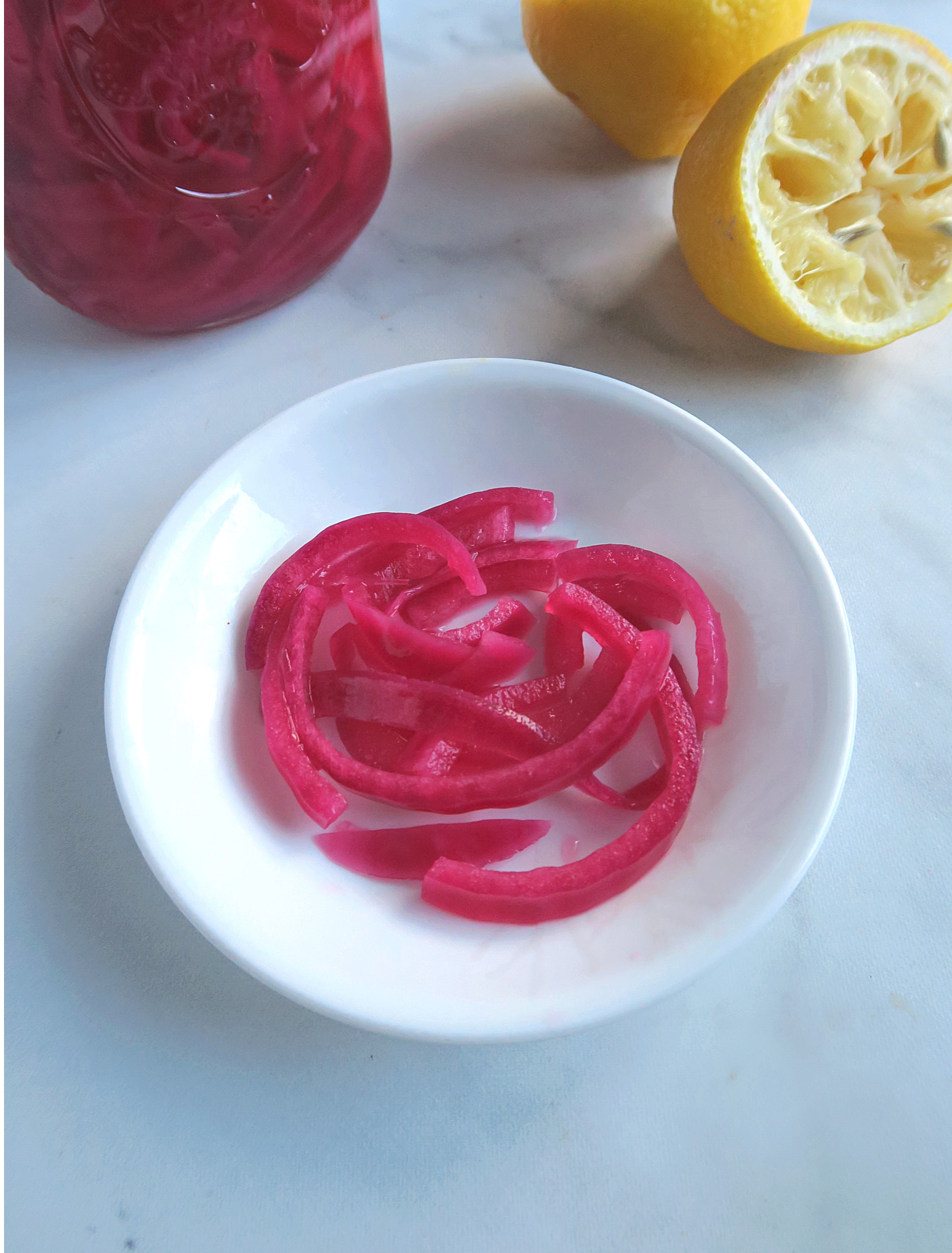 The result was amazing! I love the pickled onion I made so much that I also started to put it on much of my food. My husband tried it and was surprised by how good it tastes. He asked me to write down the recipe so I can keep making the same amazing tasting pickled onions. To my surprise, even my 3-year-old daughter likes it! So I guess I have to share this recipe with you all.
Pickled onion is especially good with Mexican food, burger, sandwiches, avocado toast, meat dishes, curry, rice bowls, gua bao, and basically anything that could use a hit of brightness and acidity! This is definitely the quickest and easiest way to instantly elevate something typical into something special. Seriously, though, add a bit of these on your avocado toast and your boring breakfast will become a fancy brunch.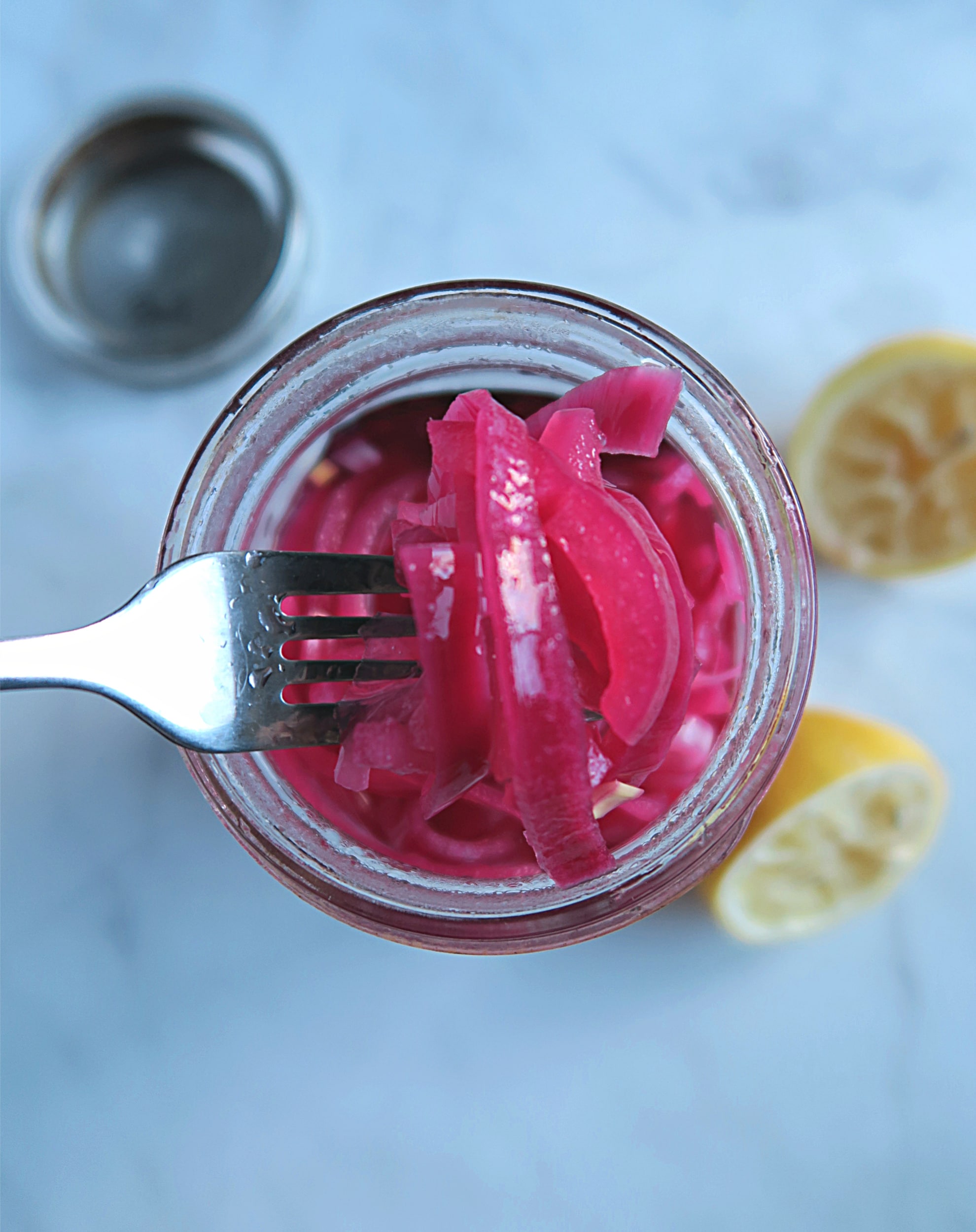 Hope you all can give it a try!
I would like to hear from you! If you make this recipe, please consider leaving a star rating and comment in the section further down the page. Stay in touch by following my Instagram and Pinterest!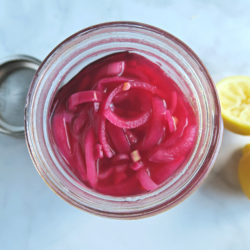 Best Tasting Pickled Onions
Ingredients
4

cup

water

1

medium purple onion

1

tablespoon

sugar

1

tablespoon

honey

½

tablespoon

sea salt

½

cup

apple cider vinegar

¼

cup

lemon juice
Instructions
Bring the water to a boil in a saucepan.

Meanwhile, slice the onion against the grain thinly and put it in a heat proof bowl.

Once the water boils, pour 3⁄4 cup into a glass jar and the rest to the bowl with onions and soak for 10 minutes.

Add sugar, honey, salt, apple cider vinegar and lemon juice into the jar and mix well.

Once the onions are done soaking, drain and place the onions in the glass jar, press down with a spoon to submerge all the onions in the pickling solution.

Let the onions sit in the solution at room temperature for at least an hour before eating. After an hour, keep it in the fridge for up to 2 weeks.