Black sesame bun (Zhi Ma Bao) is a popular Chinese sweet pastry that can usually be found in dim sum restaurants. Growing up in Taiwan, we usually eat black sesame bun for breakfast or as a snack. It's basically a Chinese steamed bun filled with sweet black sesame paste, which is something tragically absent from western style baked goods. The sweet black sesame filling in this bun is creamy, rich, nutty, and just all around amazing. Basically, any time I make some kind of baked good, my husband always ends up suggesting creating a black sesame version of it...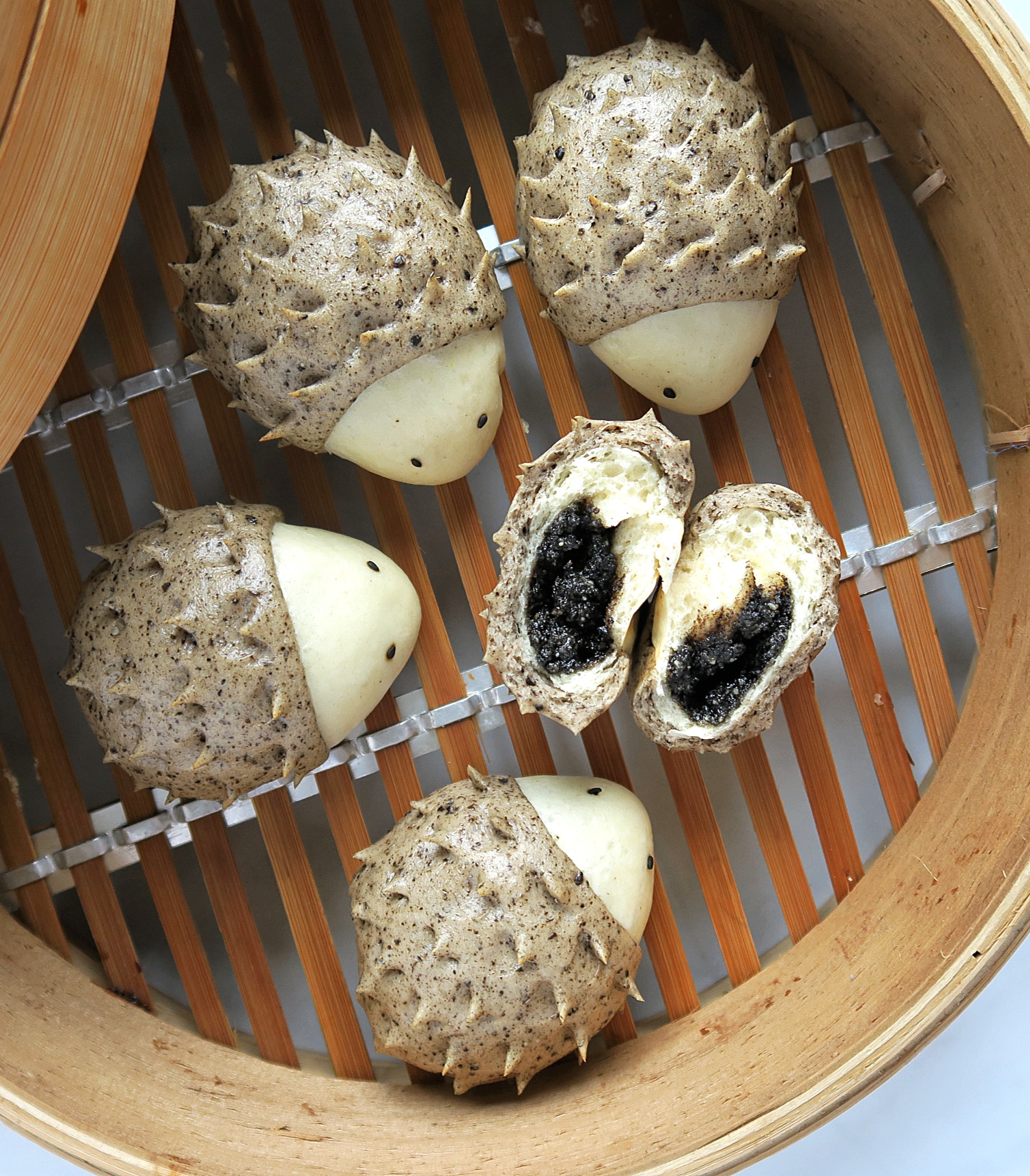 If you need another reason to try this recipe, black sesame seeds are super nutritious with tons of health benefits. They're especially good for pregnant women, nursing mothers and children; so, I always try to incorporate some into my children's diet. Black sesame bun is one of the best way to consume lots of black sesame seeds at a time, especially since it's super delicious!
When I first made it for my 3-year-old daughter, in order to encourage her to try it, I made the buns into little hedgehog shapes. Just as I expected, she loved the cute little hedgehogs. After finishing the first one, she asked for a second one, and then a third one, until I ended up asking her to save one for daddy, who also loves black sesame buns.
Making cute steam buns has became one of my favorite activities recently, it's very fun and relaxing. I'm not an expert, so if I can make it, you can make it too. Here are some tips for how to successfully make cute steam buns and steam buns in general:
Measuring
I know many people prefer to use measuring cups instead of a scale, but a scale is just a lot more accurate. Your one cup can be very different from my one cup. Then, when you double or triple the recipes, the difference will become more significant and can noticeably affect your result. So, while I prefer using a scale for baking in general, this is especially helpful if you are new to making steam buns.
Kneading
You can either knead with a stand mixer, bread machine or by hand. Since this recipe only uses a very small amount of dough, I usually just knead by hand. It doesn't take very long and it's good exercise! Sufficient kneading is the key to whether or not your steamed buns will end up with a smooth and pretty surface. If you don't knead the dough enough and there are air bubbles remaining, the surface of your buns will end up looking like the surface of the moon.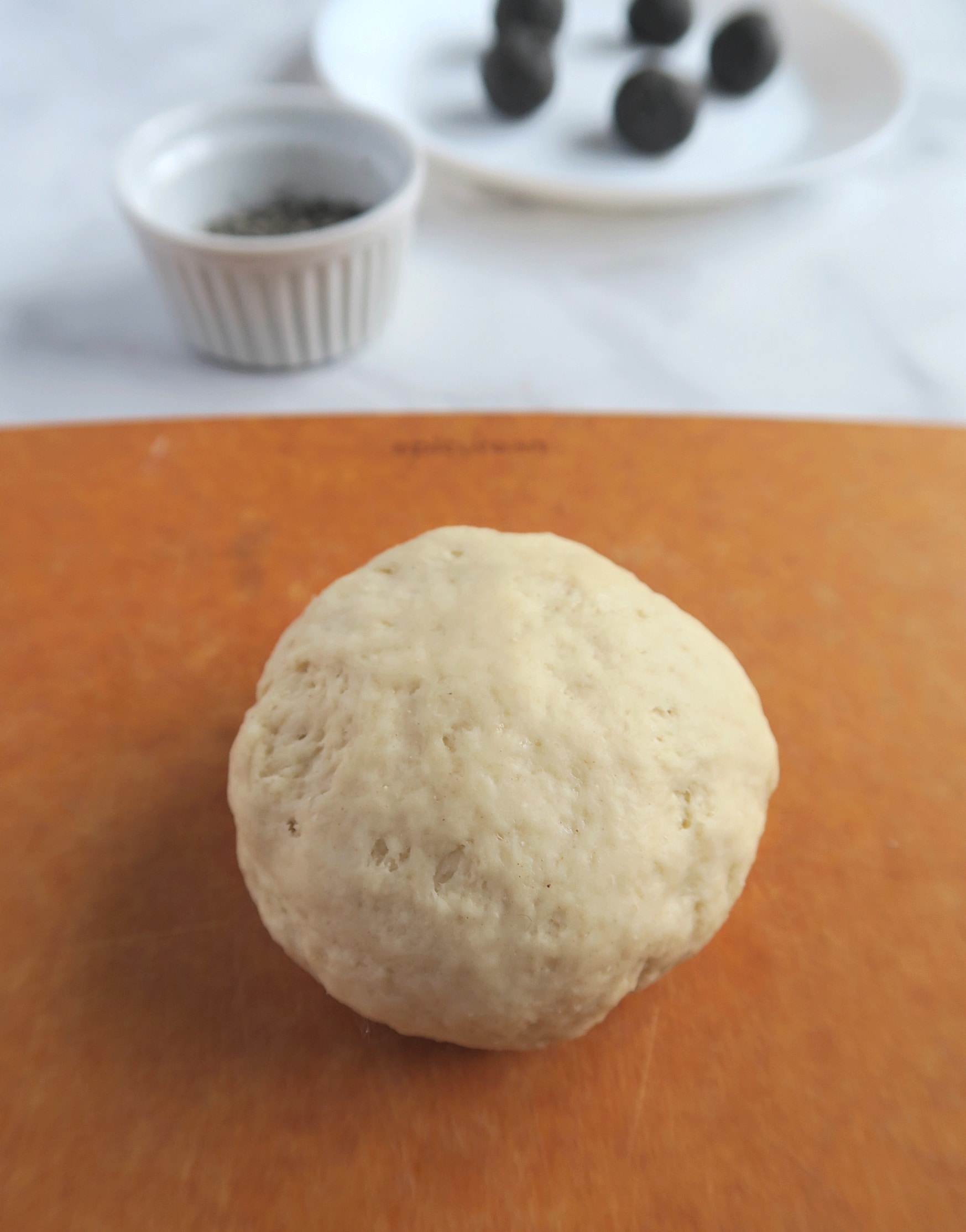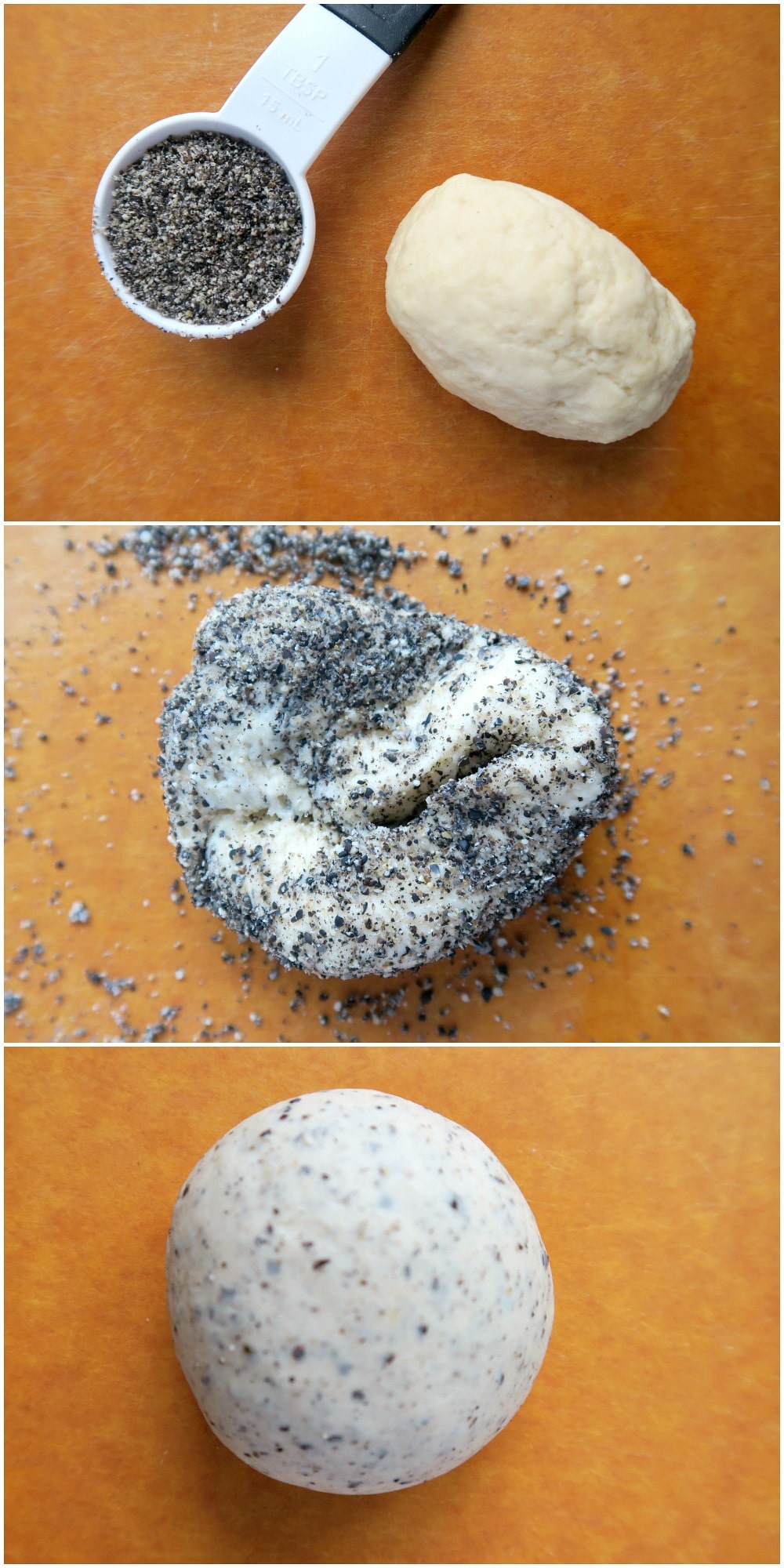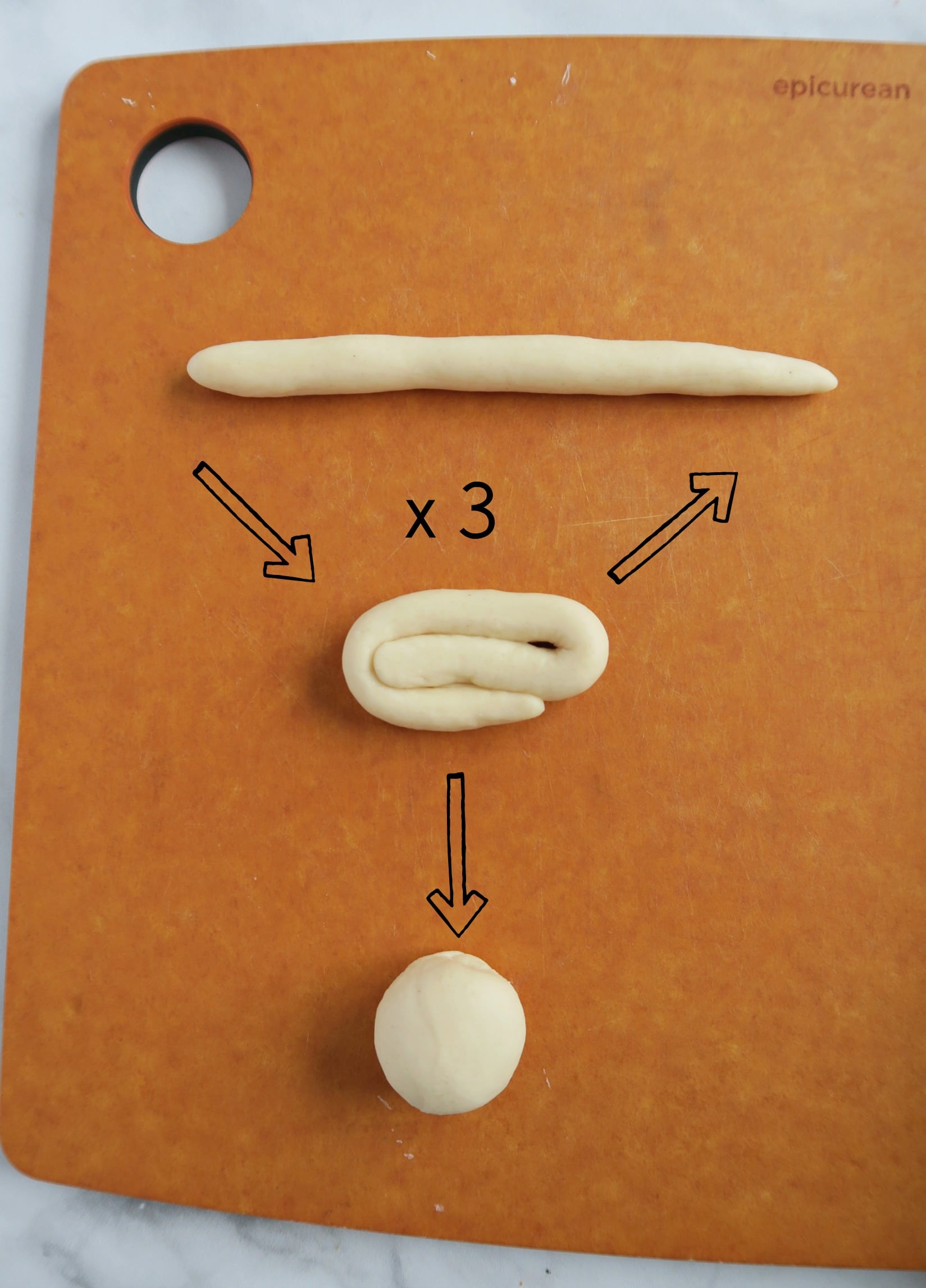 Shaping
In this recipe I only make 5 buns, since you need to work fast to finish shaping before the dough rises too much, otherwise, the first bun may end up overproofing before you even finish the last one. Overproofed buns will collapse and become wrinkly after steaming, and the texture will suffer as well. What's worse is the hedgehog will end up looking very sad! If you are experienced or making it with friends, feel free to double or triple the recipe.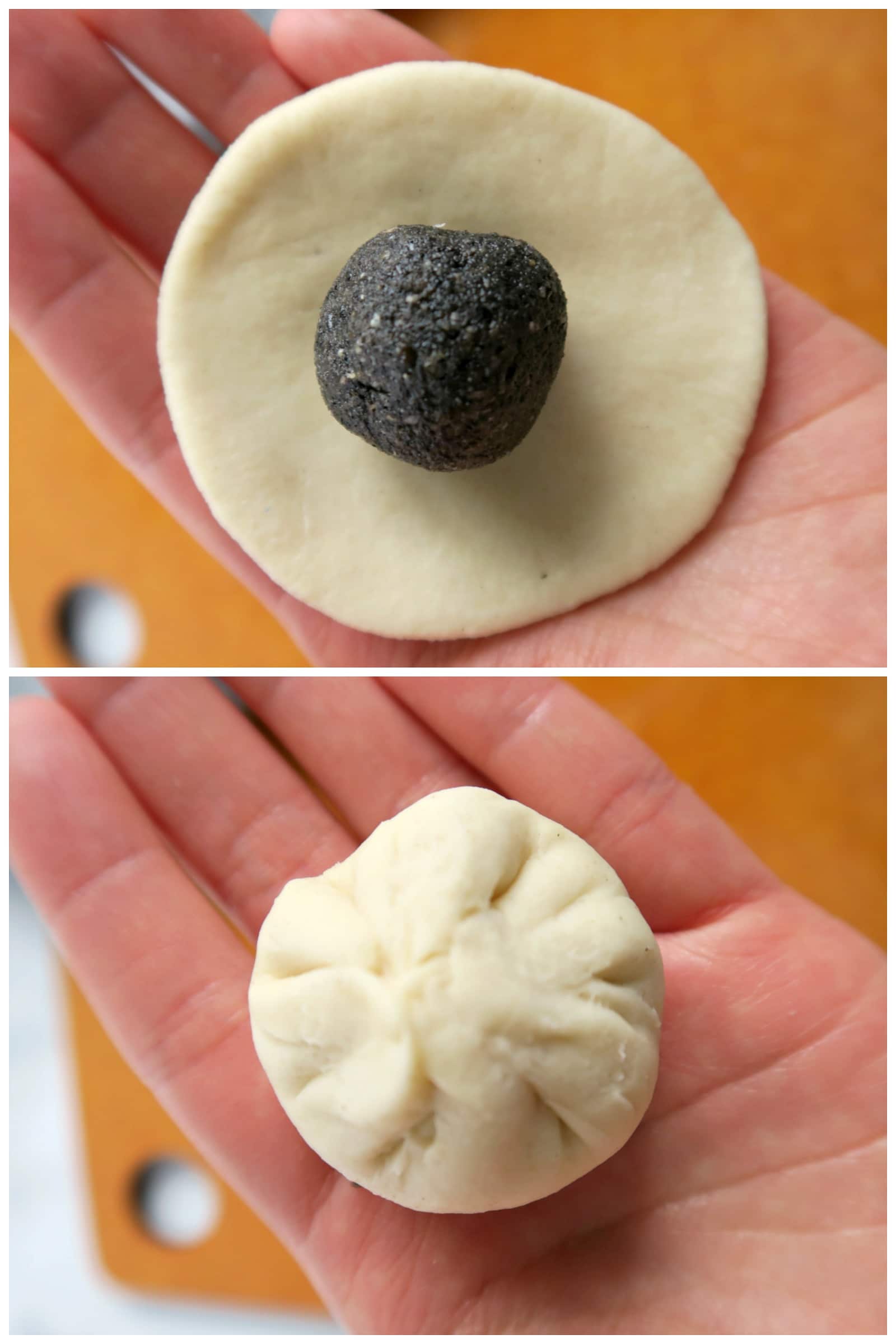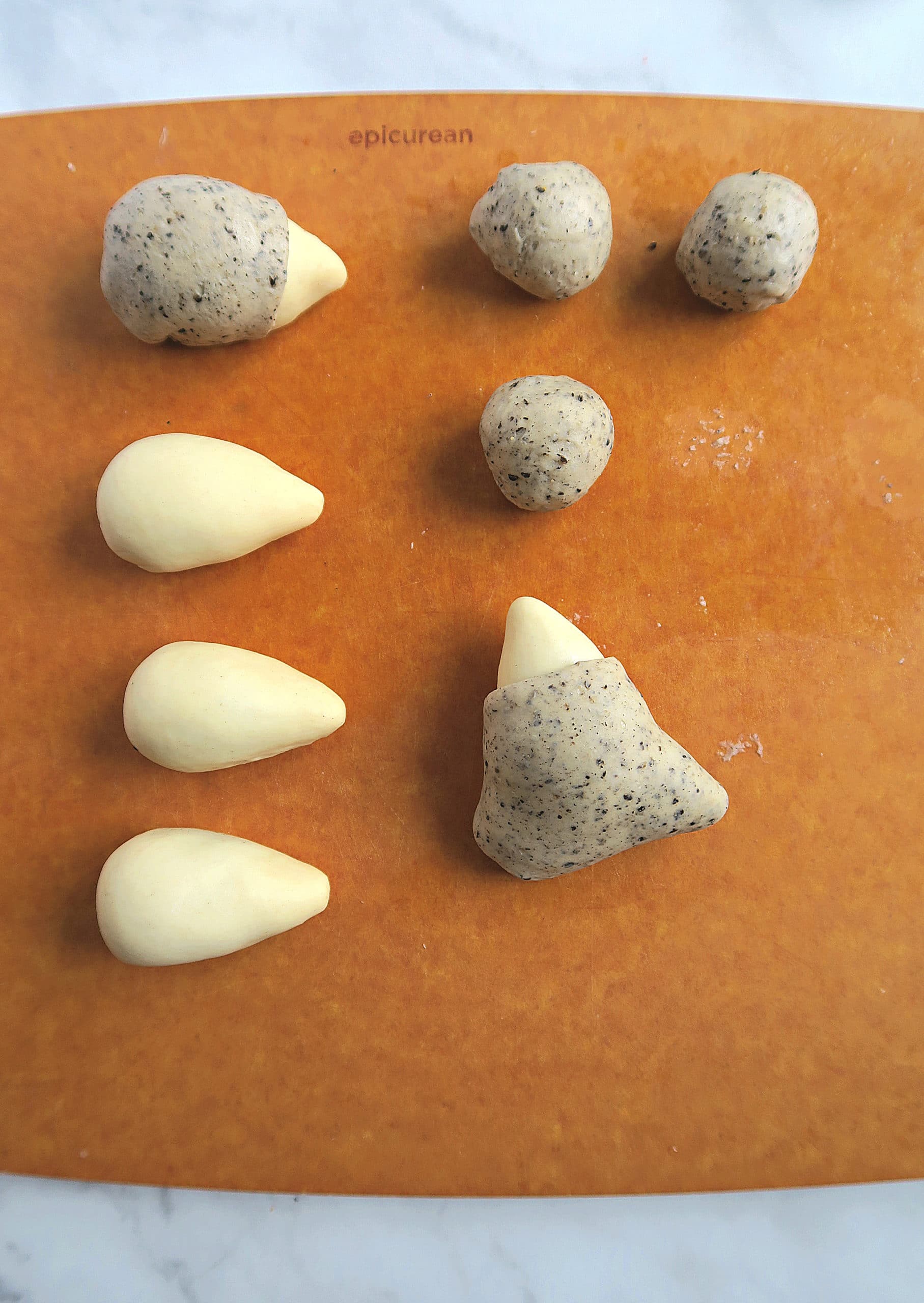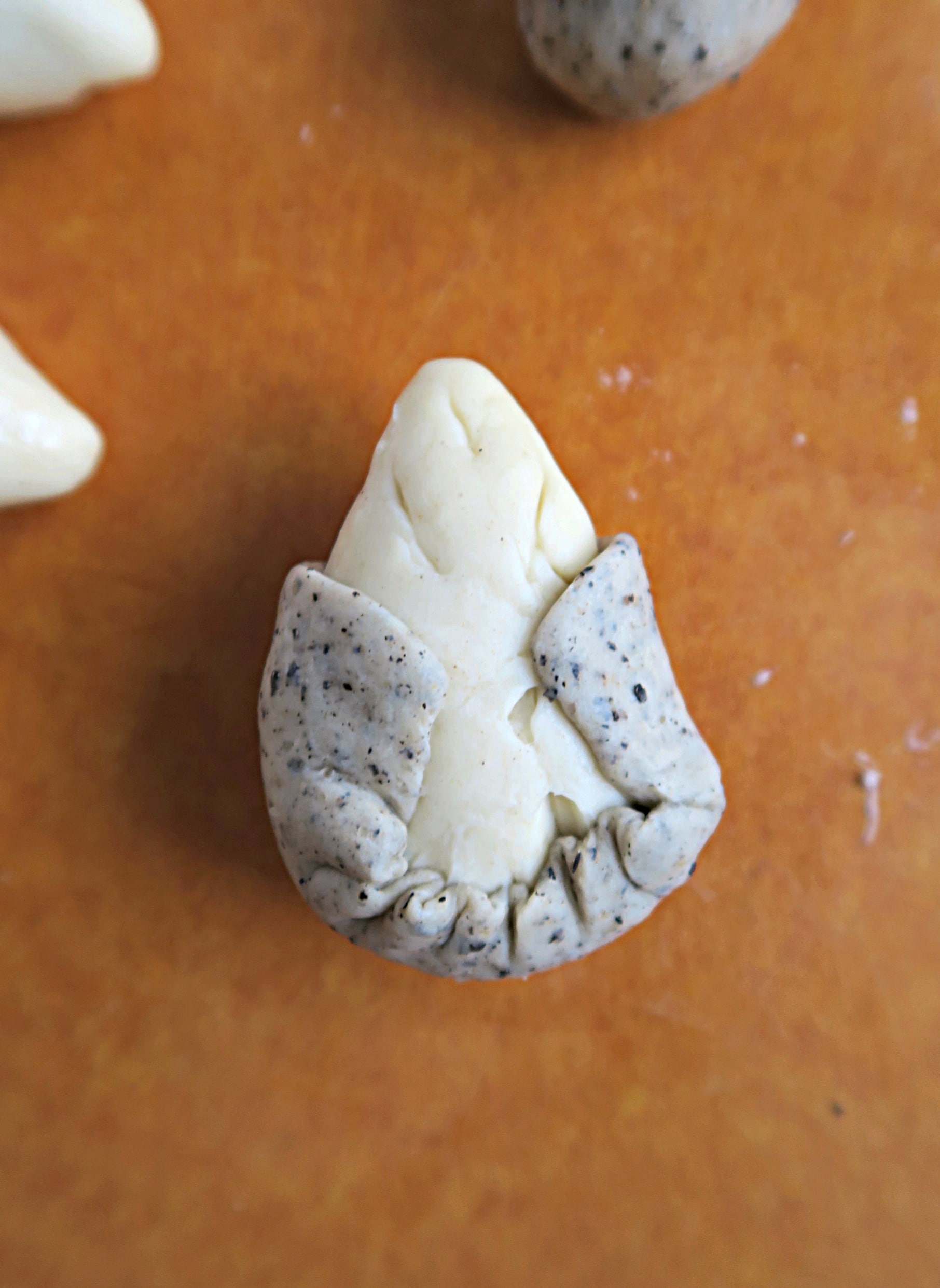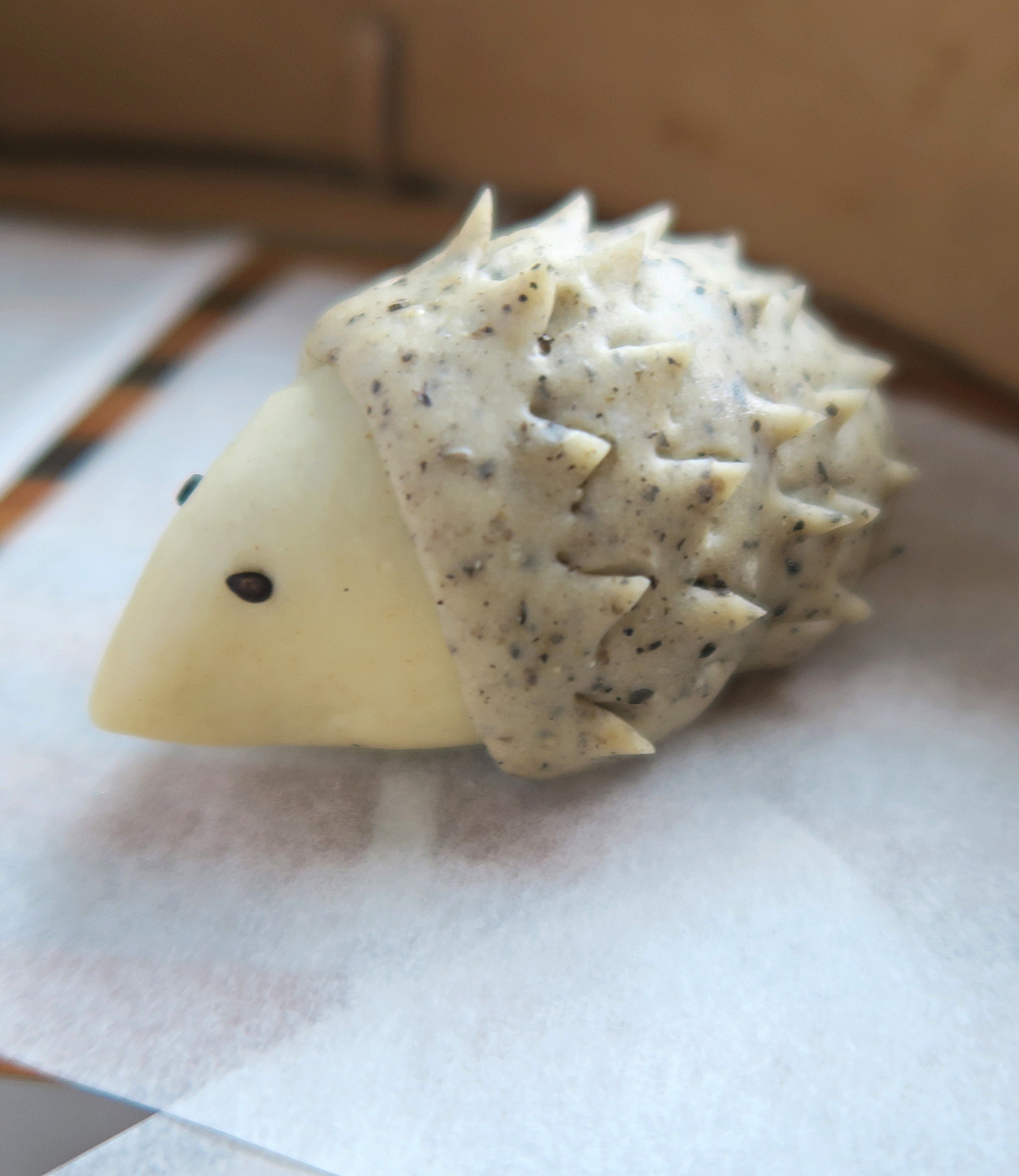 Cooking
I usually steam these in a bamboo steamer, which you place over a pot with boiling water. If you are using a bamboo steamer as well, make sure you use a deeper pot so that the water in the pot won't be too close to the buns, which, in my experience, results in buns with damaged surfaces. I once steamed these buns over a shallow frying pan, and all the buns end up looking very wrinkly and sad because of the water dripping on the buns.
I usually fill the pot with just half an inch to an inch of water, this way the water will boil sooner and you'll have less risk of overproofing before the bun is able to cook. After cooking is complete, remove the steamer as soon as possible so the buns won't continue absorbing water. Let the buns sit in the steamer for about 2 minutes before opening the lid.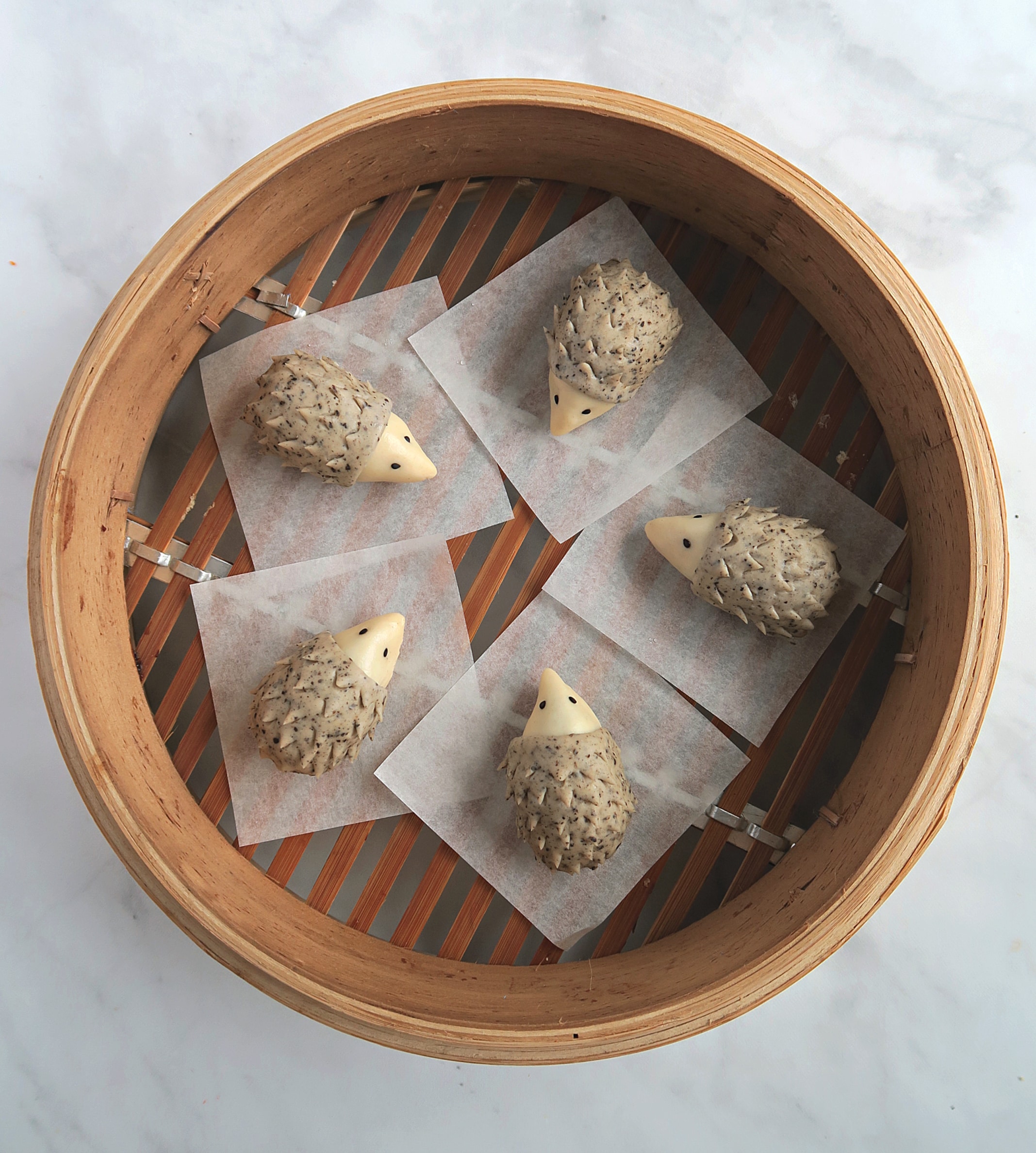 If you have a digital steamer then everything will be a lot easier! I have a steamer oven that allows me to adjust the temperature. In this steamer all I need to do is to set the temperature to 300°F, set the timer and wait for the buns to be done. It's a lot more convenient, but I do slightly prefer the results of the bamboo steamer.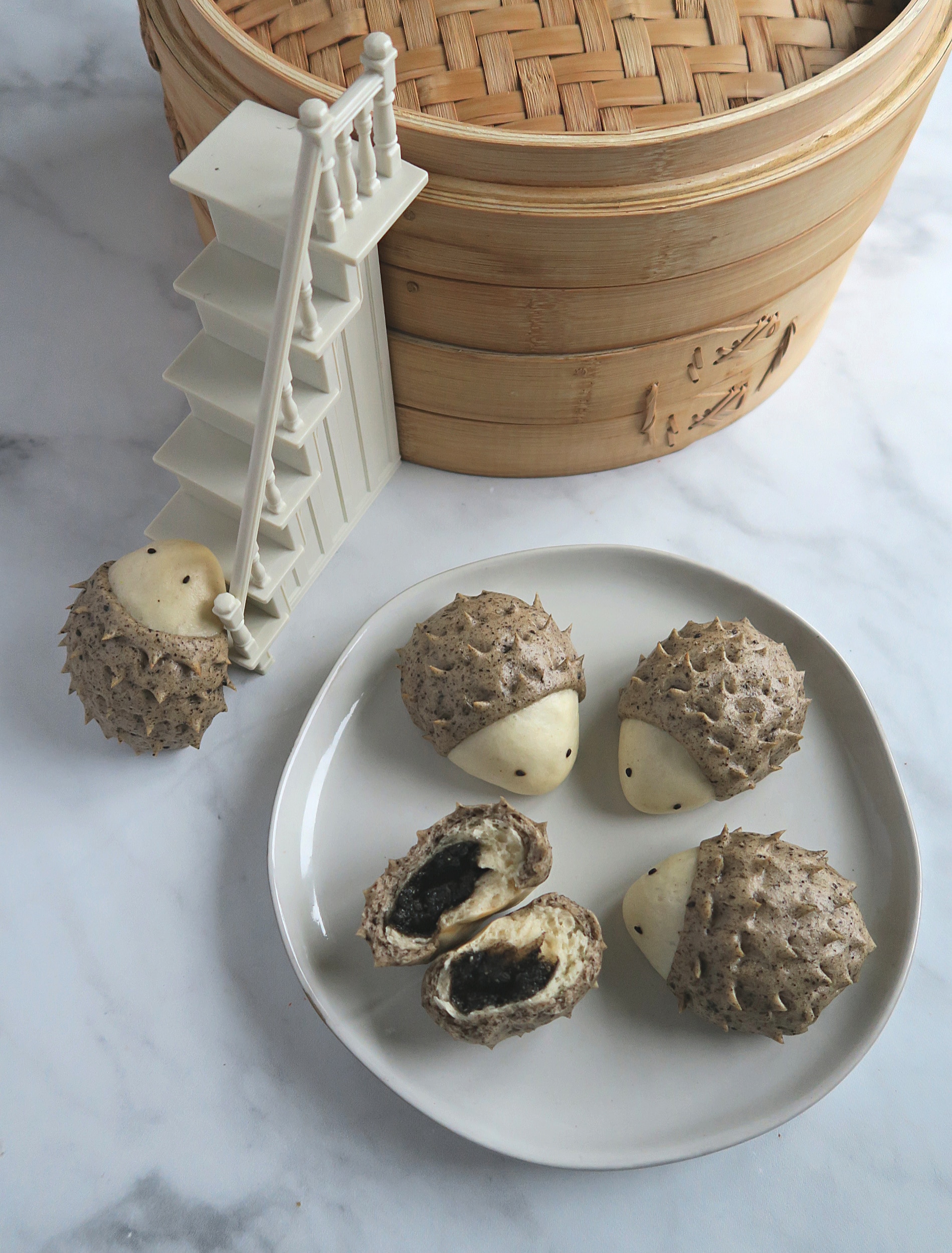 Now it's your turn to try these out! Especially if you have kids, this would be an awesome treat for them! Leave me a comment below in you still have any questions.
I think you may also like these recipes
Chinese Sesame Flatbread (Shaobing)-Taiwanese Breakfast Style
The Ultimate Chinese Scallion Pancake
Taiwanese Traditional Style Egg Crepe (Dan Bing)
IF YOU MAKE THIS RECIPE, DON'T FORGET TO TAG ME @COOKINGINCHINGLISH #COOKINGINCHINGLISH ON INSTAGRAM, I WOULD LOVE TO SEE IT!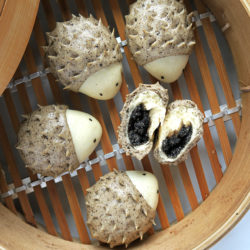 Hedgehog Black Sesame Steam Buns (Zhi Ma Bao)
Ingredients
Sesame Filling
25

g

black sesame powder

,

3 tbsp

15

g

unsalted butter, softened

,

1 tablespoon

10

g

powdered sugar

,

1 tablespoon
Dough
100

g

all purpose flour (I use King Arthur)

,

¾ cup

¼

teaspoon

instant yeast

,

½ teaspoon if using active dry yeast (see note)½

10

g

sugar

,

1 tbsp

1

teaspoon

vegetable oil

,

I use coconut oil

60

g

whole milk or milk alternative of your choice.

,

¼ cup

1

tablespoon

black sesame powder
Decorating
Small handful of black sesame seeds
Instructions
Making sesame filling
Mix the ingredients for the filling together in a small bowl and store it in the fridge.
Making the dough
Mix all the dough ingredients together except for the sesame powder and knead for 1 minute until a rough ball is formed.

Separate the dough into two equal parts, cover one part with plastic wrap and mix the other part with sesame powder. Knead until the sesame powder is thoroughly and evenly incorporated in the dough. Cover the the dough with plastic wrap to rest.

Now cut the white dough into five equal pieces, take one piece and cover the rest.

Roll the small piece of dough into a long log, fold two sides in and roll it out to a long log again (see the picture in the main post). Repeat this step 2 more times before rolling the dough into a ball with smooth surface by tucking the edges to the center and pinching them together.

Separate the sesame paste into 5 equal portions and roll into balls.
Assembling
Roll the white dough into a 3" diameter rough circle, wrap one portion of filling in the dough and then shape it into a tear drop shape. Repeat the same for the rest of the dough.

Cut the grey dough into 5 equal pieces, roll each piece into a ball.

Use a rolling pin to roll the ball into a 3" diameter rough circle. Fold the top part down a little bit to create a flat side that will join to the hedgehog's head.

Use your fingers to flatten the edge of the dough so that it would more easily stick to and wrap onto the "body".

Moisten the white dough with a bit of water before covering with the grey dough. Start from the "head" side first when covering the white dough with the grey, making sure to leave the head uncovered. Fold the excess grey dough under. (see the picture in the post). Repeat this step for the rest of the hedgehogs.

Gently squeeze two sides of the hedgehog to make it thinner and taller, as it will flatten down after cooking.

Use a small pair of scissors to make some small cuts on the back for the hedgehog spikes and place the hedgehog on a small piece of parchment paper or whatever you use to line the steamer.

moisten the head with a bit of water and stick two black sesame seeds on it as eyes. Stick the eyes on a bit higher and closer than you want it to be, as they will move apart and lower after cooking.

Place the buns in the steamer, spray each bun with some water, cover with the lid and let it rise in a warm place for about 40-50 minutes until it grows to be about 1.5 times the original size. One good way to check if it's ready is that when you lift the bun, it should feel pretty light, and when you slightly press on the bun, it will bounce back.
Cooking
Place the steamer on top of a pot with 1⁄2" to 1" of water, turn the heat to medium. Once the water is boiling, reduce the heat to medium low and cook for 13 minutes.

Remove the steamer from the pot and let it sit for 2 minutes before open the lid.
Notes
This recipe is developed and tested in gram, if you would like to make this recipe, a kitchen scale is highly recommended. I used the OXO scale that's recommended by Cook's Illustrated, but any cheaper one will work just fine!
Instant (rapid-rise) yeast is recommended for this recipe.  If you are using active dry yeast, mix it with milk first to devolve before mixing in the rest of the ingredients. 
If you don't have black sesame powder, you can make some yourself using black sesame and a spice grinder, food processor or blender.  Home made black sesame powder is usually better and more fragrant.
These buns taste the best when they're warm.  If not eating within a day, freeze and reheat before eating.