I love eating sushi! Any kind of sushi, from the authentic ones with sashimi to the modern maki roll variations like the California roll. However, I have to say, the Taiwanese style sushi roll is still my favorite. The springy and chewy rice blanket the fillings and blend together a mix of contrasting flavors and textures -- savory, sweet, sour, crunchy, tender, fresh, and meaty all in one bite. I will never get tired of eating it!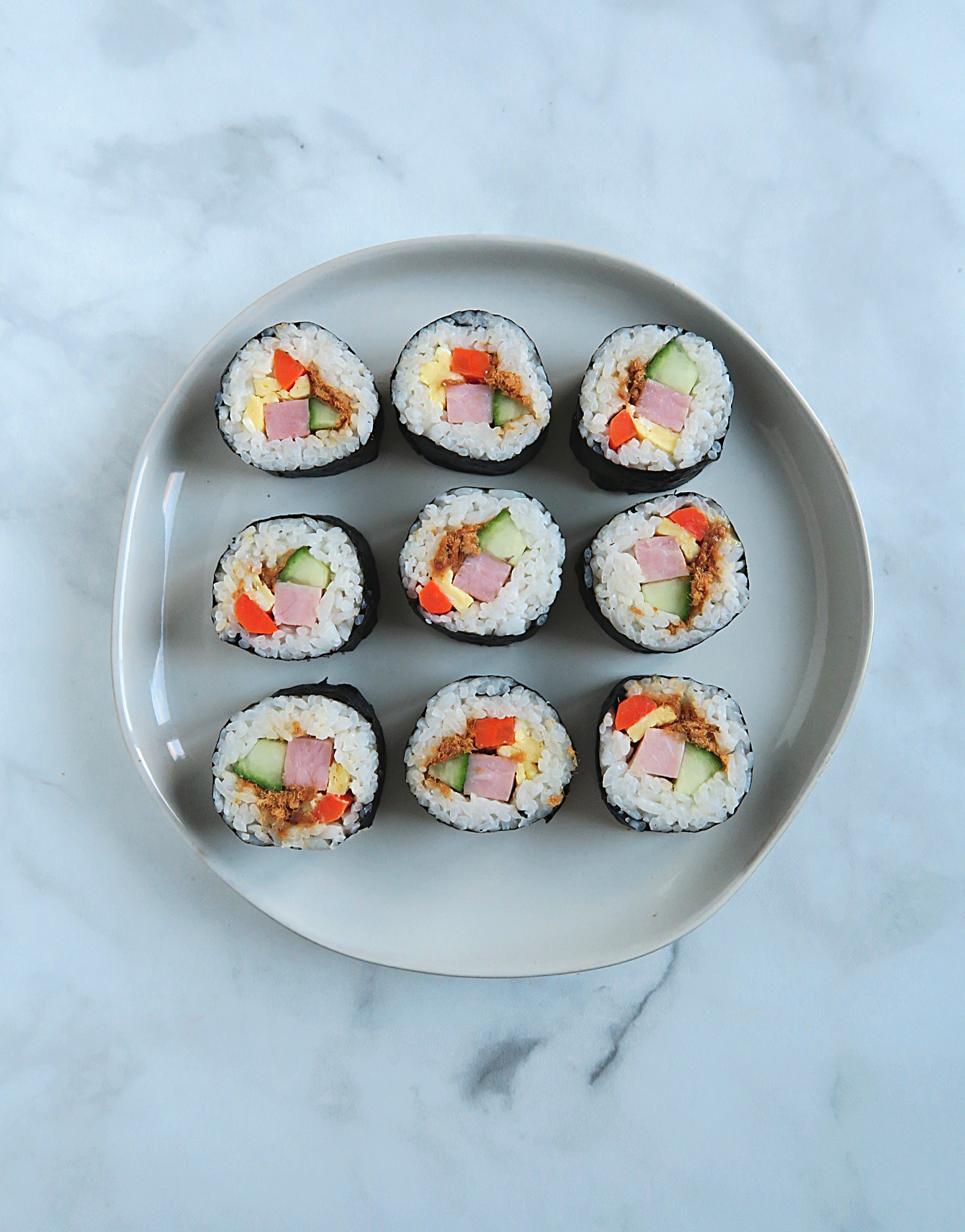 These kind of Taiwanese sushi rolls usually appear in some street vendors or small bistros. It's not authentic Japanese food but it taste so good! The ingredients of the sushi rolls vary from place to place, the one I demonstrate here is a more common one, which has ham, cucumber, omelet strips, carrot and pork floss.
You may ask what is pork floss? It's basically shredded pork stir fried with soy sauce, sugar and other seasonings until it's dry and fluffy. You can think of it as pork jerky that doesn't require as much chewing and with a airy/fluffy texture. Since it's dried, the flavors are concentrated and it can be stored for a good while. I grew up eating pork floss almost everyday, since it's used in so many applications in Taiwan: with rice porridge, in sandwiches, with pastry buns, in sushi, etc.... You can find it in Asian grocery stores here, and even though they're typically not as good as the ones in Taiwan, they're good enough to satisfy my craving for it.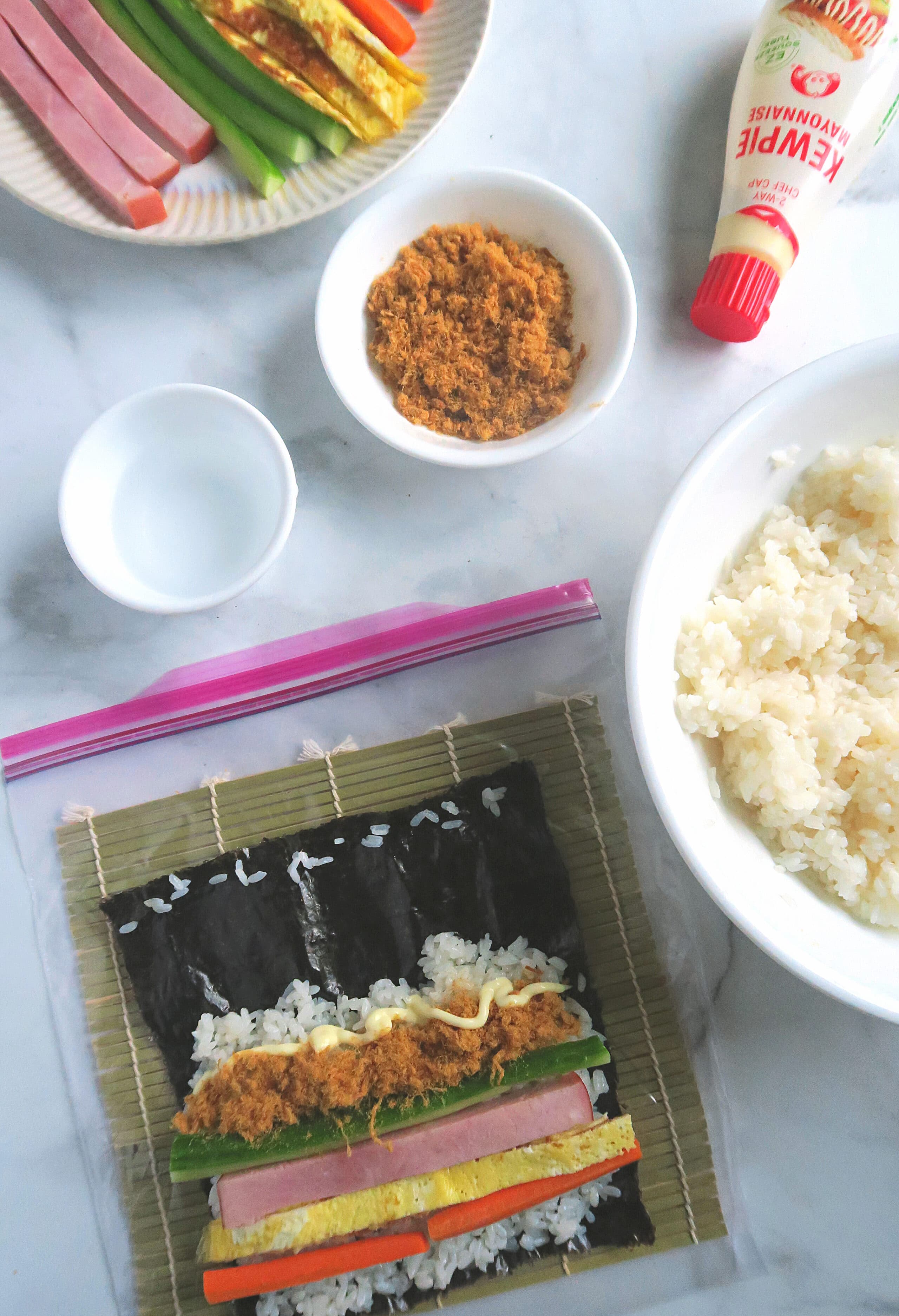 The key to making Taiwanese sushi roll successfully is to make a good sushi rice.
Here are some tips of making good sushi rice:
Use short grain rice as it sticks together better. White rice is the best, but you can also do half white half brown.
Rinse the rice very well and drain all the water with a strainer before cooking.
The ratio for rice and water is 1:1. Don't over cook the rice!
Stir in sushi vinegar when the rice is still hot, mix gently and cool it with a fan (or do it near a open window if it's cool outside) at the same time.
The sushi rice should taste sweet and sour enough in order to balance the flavor of other ingredients.
Tips of rolling a sushi roll
Wet your hands with water first so the rice won't stick on your hands when arranging the rice.
Put a small amount of rice on the top edge of nori sheet to work as "glue" to stick the nori together.
In the initial roll, fold the bottom of the sushi up over all the fillings before gently cinching and pulling the ingredients in to the bottom part of the sushi. Then lift the bottom of the bamboo mat up to roll the rest of the sushi roll.
Give the roll a firm squeeze so that the rice will stick together and not fall apart when the roll is cut. Be careful not to squeeze too hard, though, as the rice will become too dense, and squeezing out the fillings is probably one of the saddest ways for a sushi roll to go.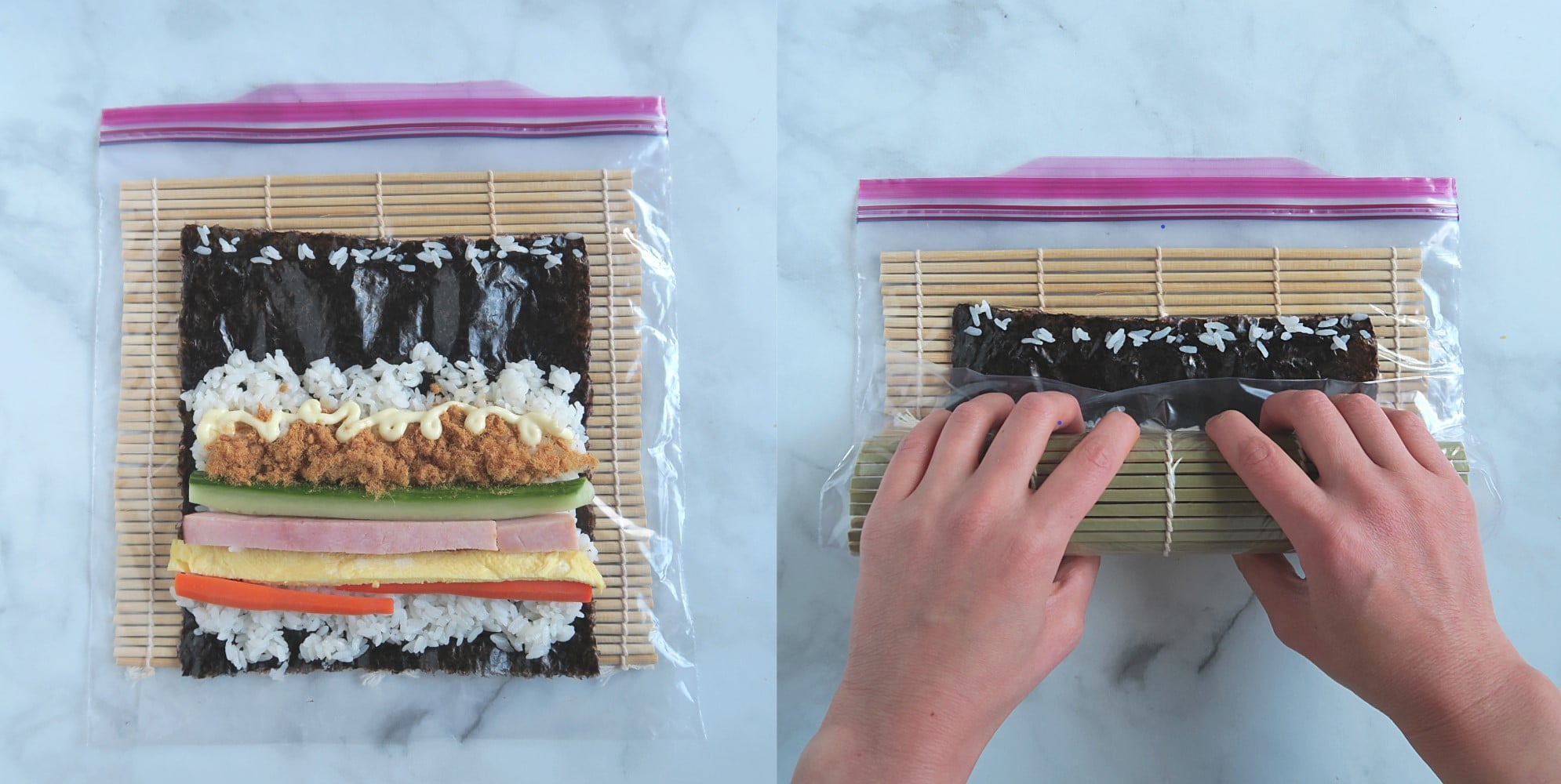 Making sushi rolls can be a fun activity with family and friends. One time we had a sushi party where the ingredients were all set out and each person could made their own rolls. It was a fun activity and everyone got to have exactly the kind of sushi they wanted. It's also very suitable for bringing to a potluck, these yummy and colorful sushi rolls will definitely catch people's attention. Hope you enjoy this recipe and don't forget to give it a try!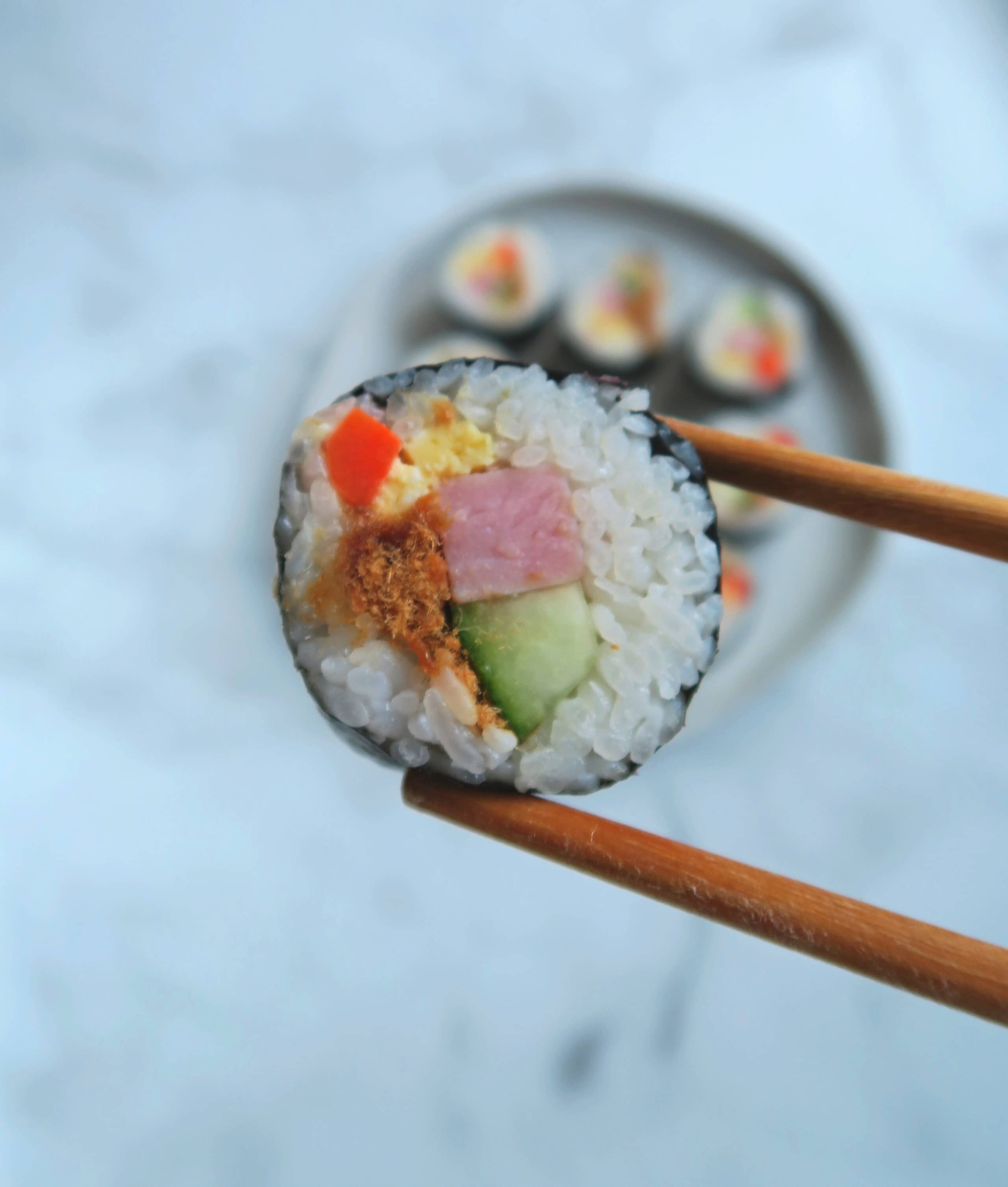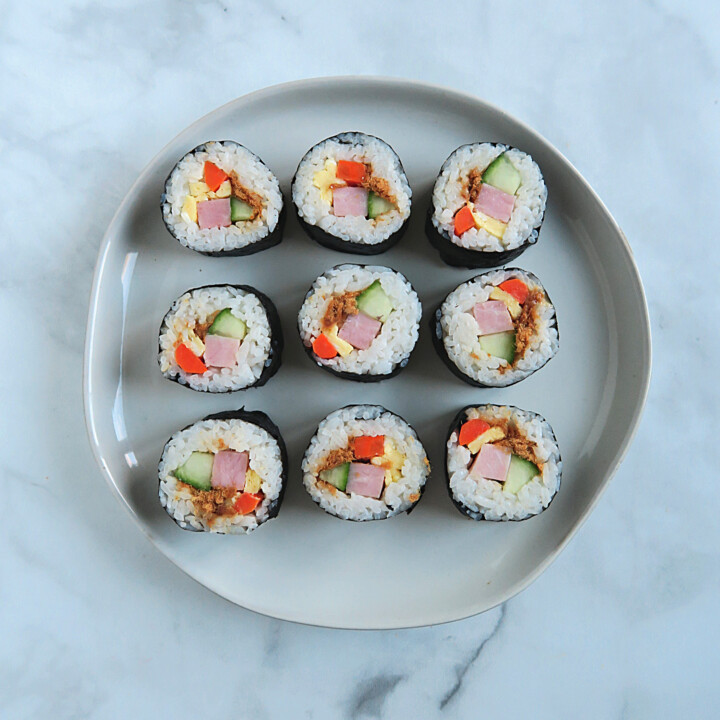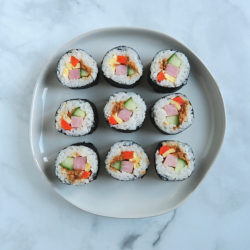 Taiwanese Style Sushi Roll
Ingredients
For Sushi Rice

2

cups

short grain white rice

2

cups

water

⅓

cup

unseasoned rice vinegar

3 ½

tbsps

sugar

1 ½

tsps

sea salt

For fillings

½

English cucumber

2

carrots

2

eggs

1

teaspoon

mirin

,

optional

½

ham steak or 5 imitation crab meat

1

cup

pork floss

Mayonnaise

,

preferably Japanese style Kewpie Mayonnaise

Optional dipping

Soy sauce

Wasabi
Instructions
Cook rice
Wash the rice several times until the water becomes clear. Drain all the water with a strainer.

Cook the rice with 2 cups of water in a rice cooker. If using an instant pot, cook on high pressure for 12 minutes.
Make sushi vinegar
Mix vinegar, sugar and salt in a sauce pan, cook with low heat until most of the sugar is dissolved. Be careful not to let the vinegar boil. Alternatively, you can directly purchase and use store bought sushi vinegar (see note for more on this).
Prepare the fillings
Wash and quarter cucumber length-wise, remove the seeds with a small knife and cut each portion lengthwise in half.

Peel and cut carrots into strips, boil for 1-2 minutes until it's cooked but maintains a bite.

Heat a nonstick pan and pan fry the ham steak on both sides for 30 seconds without adding oil, and cut into long strips. If using imitation crab meat then imply cut it into half.

Whisk two eggs with mirin. Brush the nonstick pan with a thin layer of oil and pour in the egg mixture. When the egg is half set, fold the egg into half and continue to cook until it's fully set. Cut into half inch strips.
Mix sushi vinegar in the cooked rice
Transfer the rice into a big mixing bowl and drizzle half amount of the sushi vinegar into the rice.

Fold the rice with a spatula gently to allow the vinegar to distribute evenly without smashing the rice. At the same time, cool the rice with a fan while folding the rice.

Repeat this step with the rest of vinegar while tasting/checking occasionally. The rice should taste sweet and sour and have a slight glisten to it at the end. Let it sit until it's only a bit warmer then room temperature.
Rolling
Now put your bamboo mat into a Ziploc bag and place a piece of nori sheet on top of it. Moisten your hands with water and place one cup of rice on the nori sheet. Arrange the rice into an even layer that covers anywhere from ⅔ of the nori sheet to all except one inch. Add a little bit of rice on top edge to work as "glue". Adjust the amount of rice according to your preference.

Place the fillings on the rice (see the picture in the post for positioning of filling) and lift up the edge of the sheet closest to you, rolling it to just cover the fillings. Firmly press the roll together, then lift up the edge of the bamboo mat closest to you and roll the rest of the sushi up into a log. Roll the sushi roll inside the bamboo mat and press it firmly.
Cut the sushi roll
Wet a sharp knife and cut the sushi roll into 8 pieces. Enjoy it with soy sauce and wasabi or just by itself.
Notes
Placing the bamboo mat inside a ziploc bag can prevent food from getting stuck in the bamboo mat, which can be a pain to clean.
If you find "Sushi Vinegar" at the store, this product already has the added sugar and salt.  You may want to use this vinegar if you plan on making sushi often, otherwise buying and having regular unseasoned rice vinegar is generally much more useful and less expensive.
If you can't find a ham steak, you can also use regular ham, cut into strips and stack 3-4 slices together. 
Nutrition