These deliciously crispy and nutty puff pastry almond cookies look and taste so much like something purchased from a high-end bakery that you would not believe how easy they are to make! With just five ingredients and 10 minutes of prep time, even an inexperienced baker can whip these up without problems.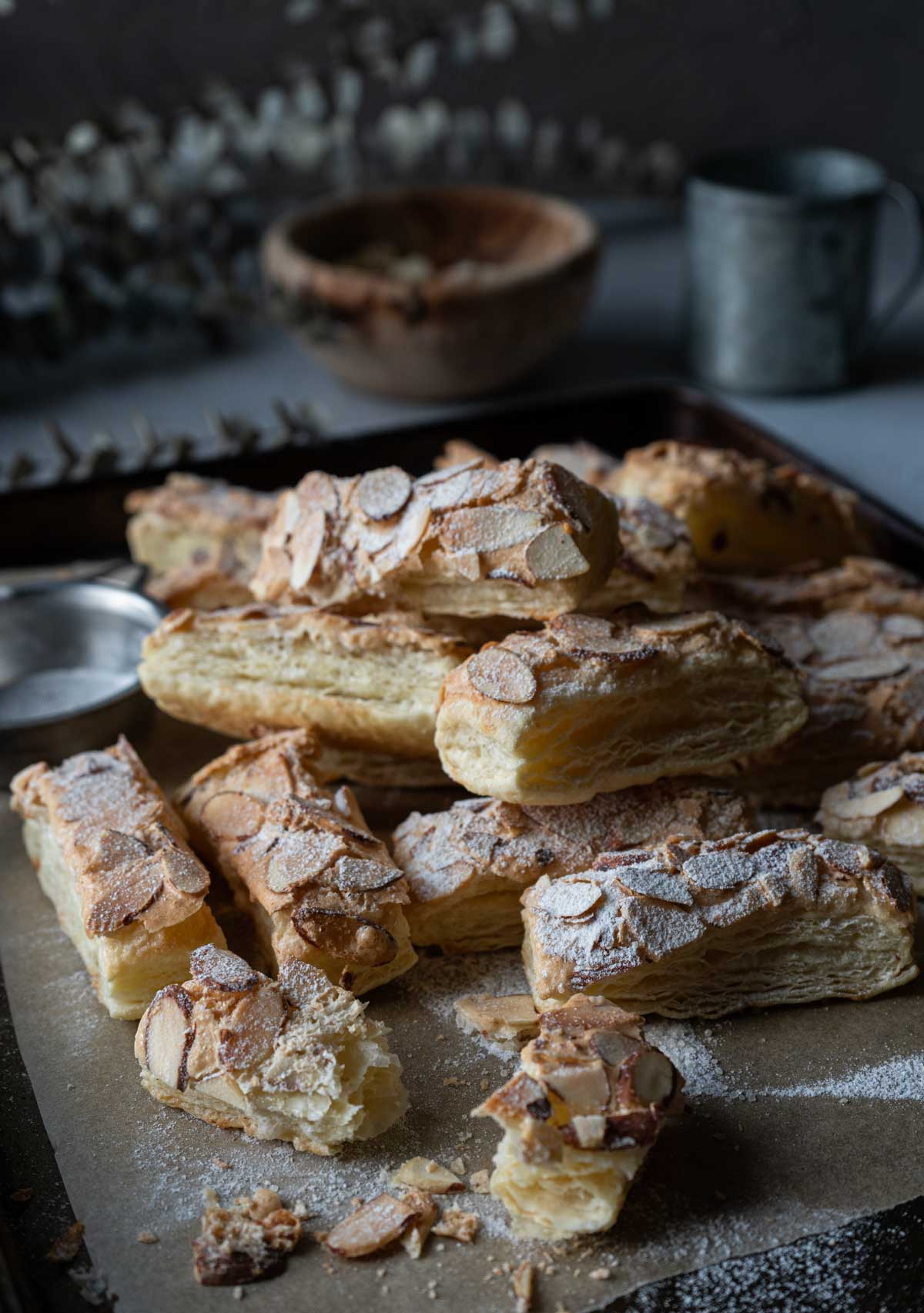 The crispy and airy puff pastry with the lemony meringue-like top, along with the almond slices create a symphony of buttery, sweet, zesty, crunchy, and nutty in every bite. This is one of those snacks that disappear quickly!
I have gotten many compliments on these cookies. I've even had people surprised that I made them myself. The crazy thing is, even though these cookies look so amazing, they are so easy that even relatively inexperienced bakers can make these.
If you like more easy dessert, don't forget to try my Easy Baked Mochi Balls with Sweet Potato and 3 Ingredient Easy Homemade Boba Tapioca Pearl
Why should you make this recipe?
These cookies are sure to impress!
Super easy to make!
They'd make a great holiday gift for family and friends.
It's a great last-minute dessert for any kind of gathering or when you have visitors.
You only need five ingredients to make this recipe.
Ingredients you'll need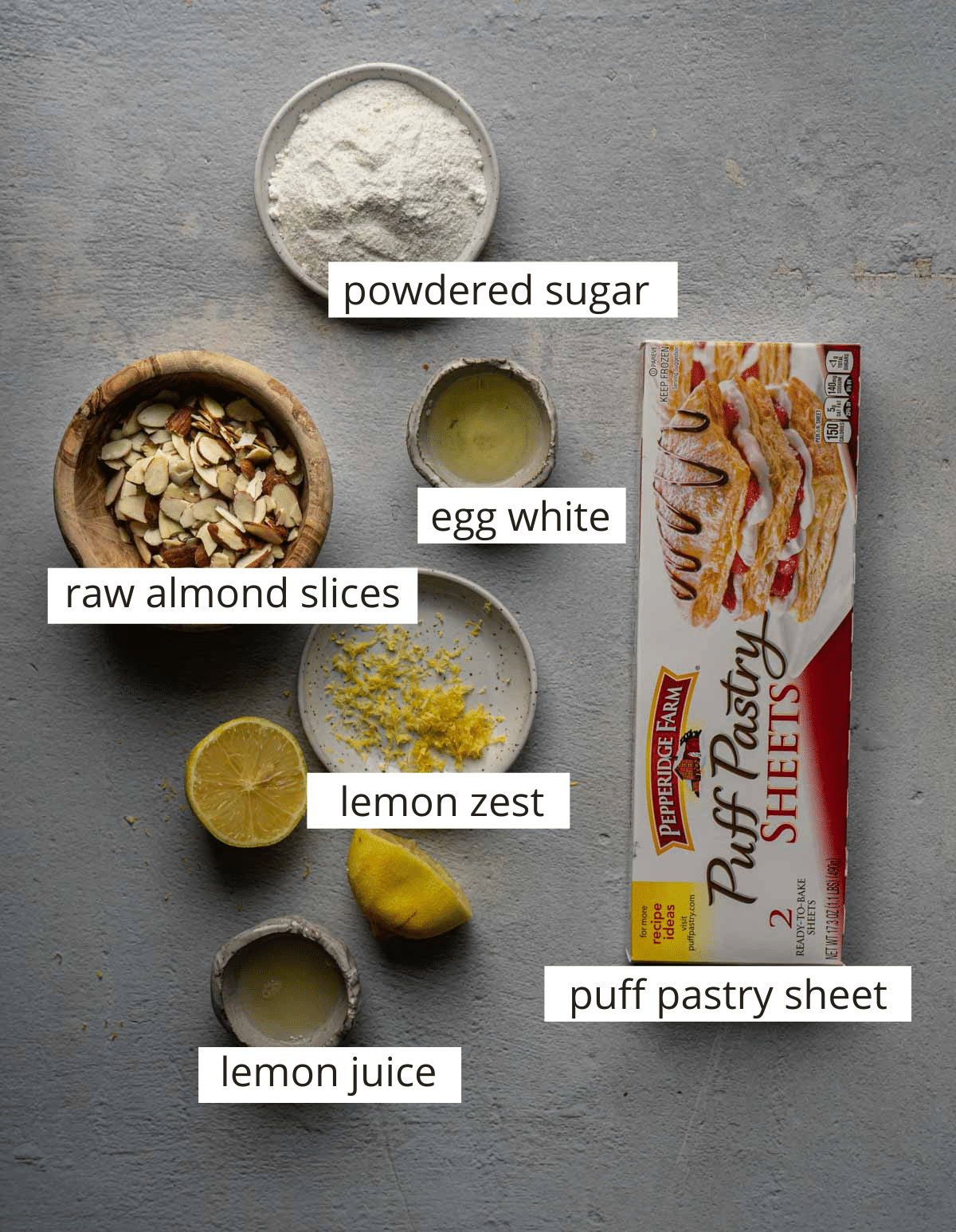 Ingredient notes
Puff pastry sheet - I prefer the tri-fold type than the rolled up type, as they're easier to unfold while they're still frozen.
Raw almond slices - you can also use slivered almonds or almond bits. Use the raw ones so they won't be too burnt after baking.
Lemon juice/zest - you can also replace this with lime or orange. Try to use organic when you need to use the zest of a citrus.
How to make this recipe
1. Thaw the puff pastry sheet just until the point where you can unfold it, about 5 minutes. Dust off some of the excess flour before proceeding.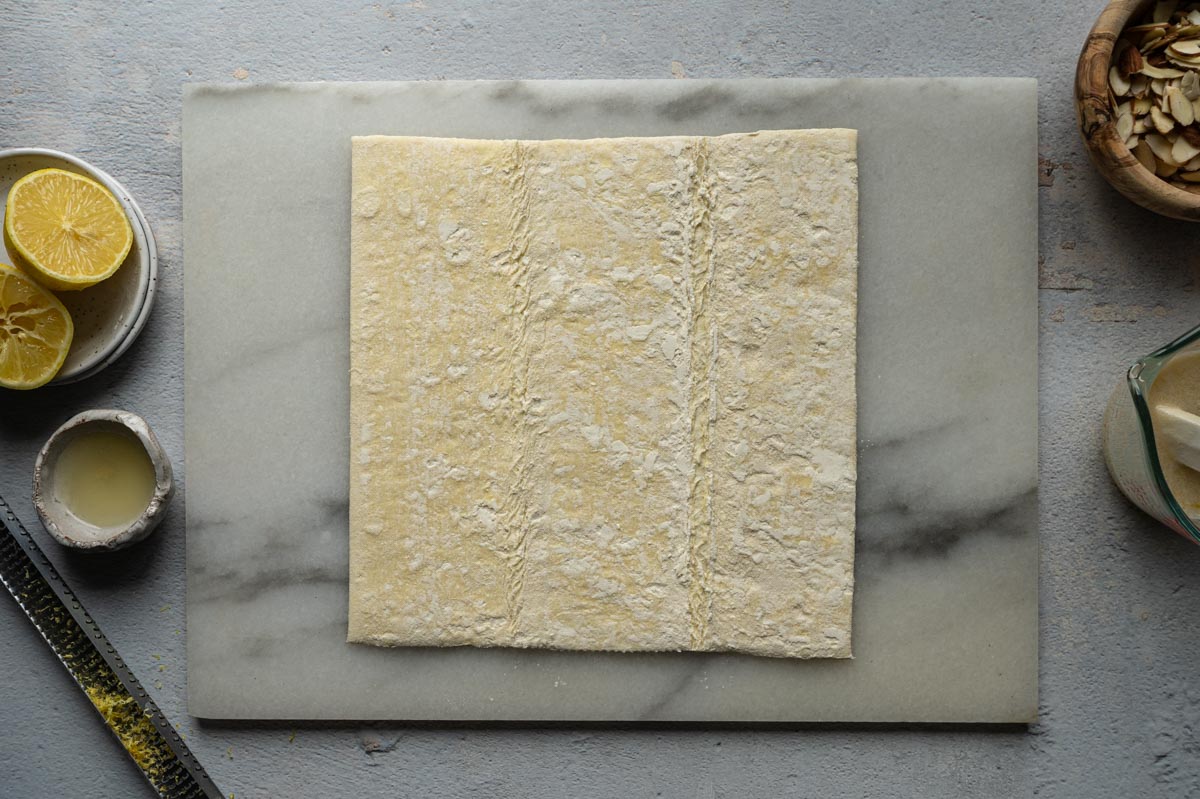 2. Mix egg white, powdered sugar, lemon zest and lemon juice together before spreading on the puff pastry sheet.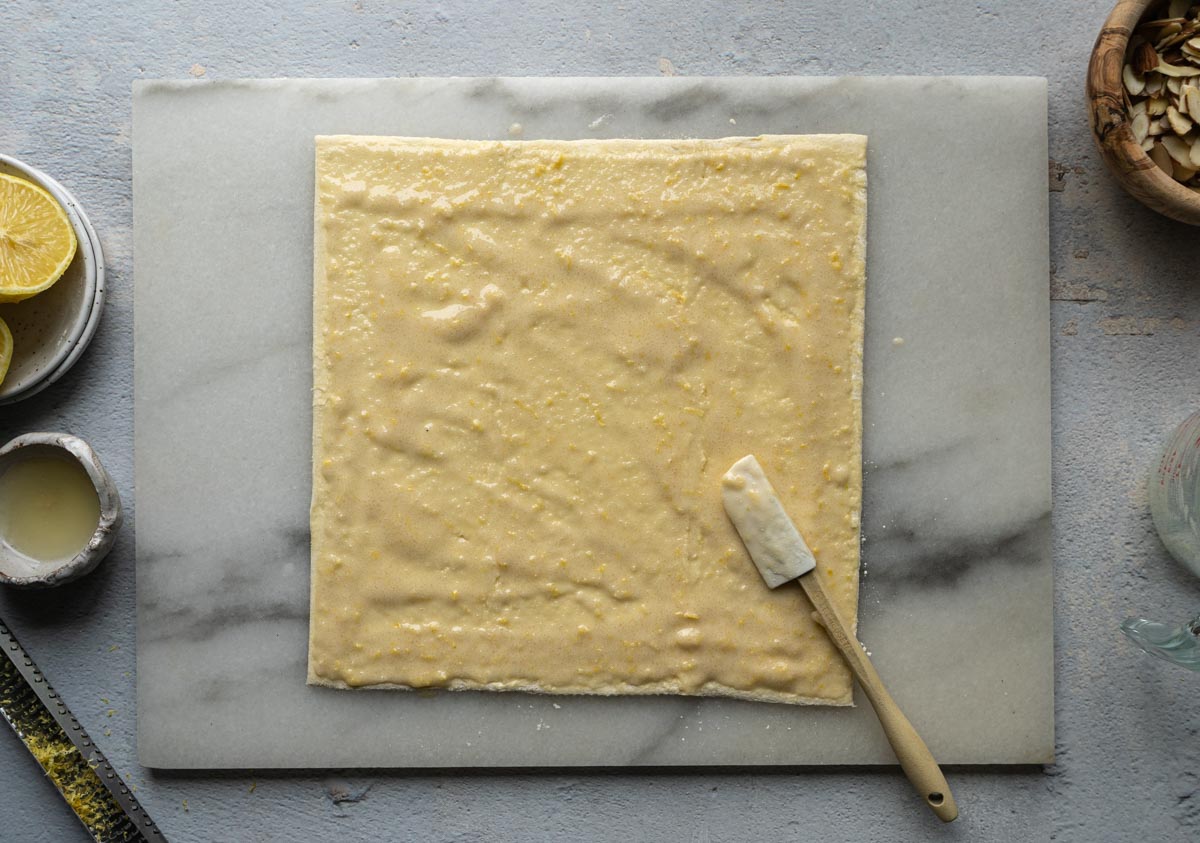 3. Evenly top the entire puff pastry sheet with almond slices.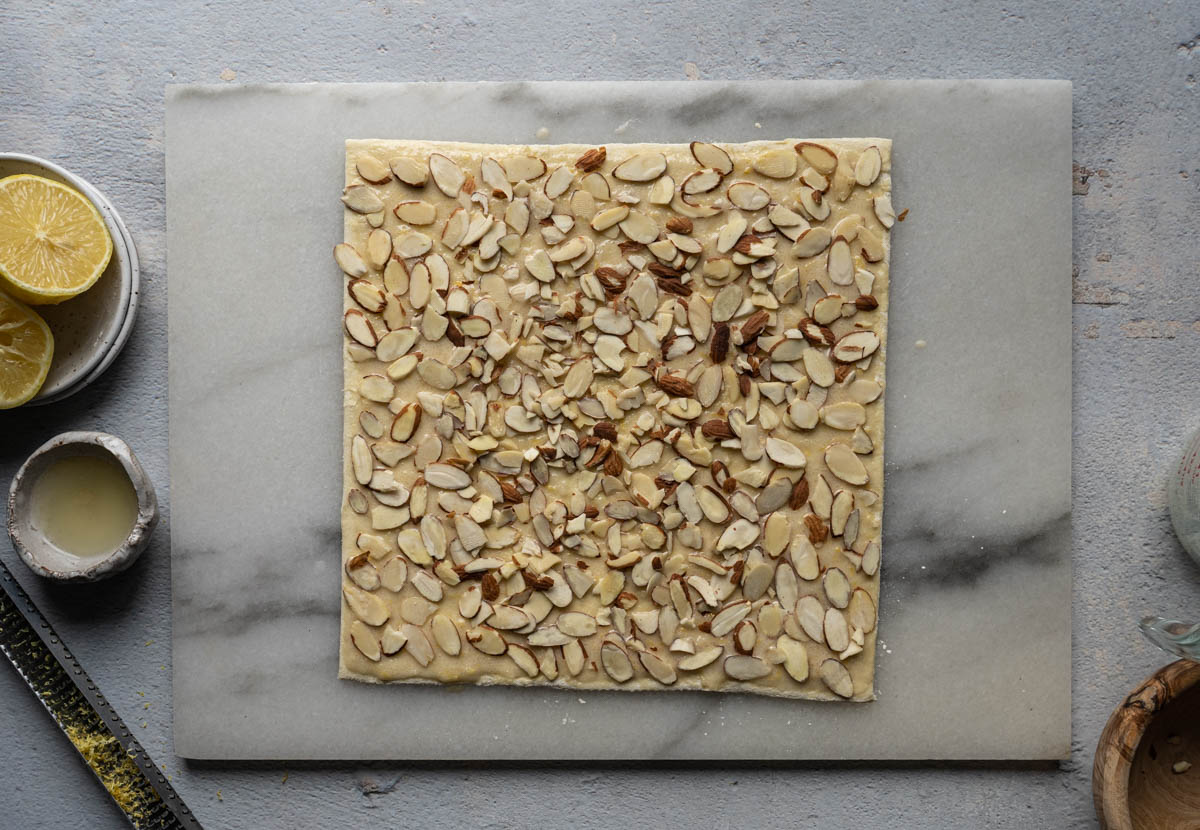 4. Cut the puff pastry sheet into 24 rectangular pieces (or any shape you like) and place them on a lined baking sheet with some space between each piece.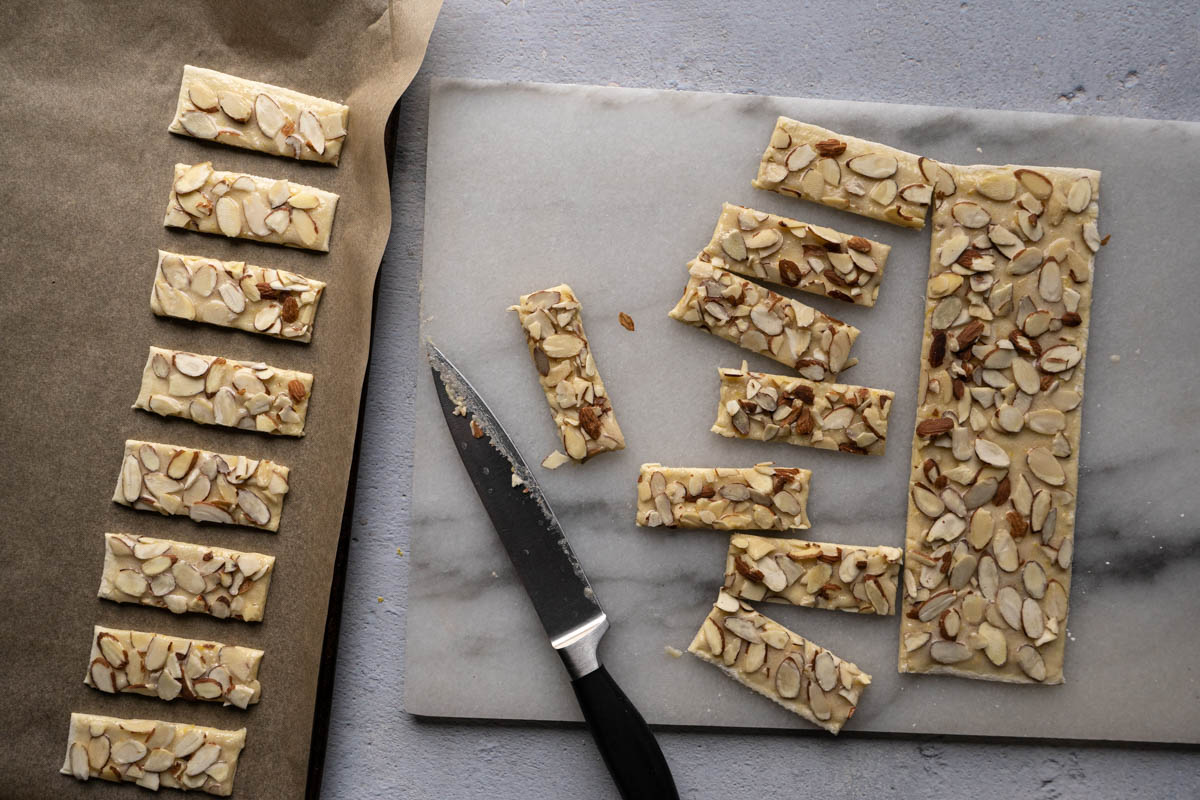 5. Bake for 18 - 20 minutes, and let cool for 5 minutes. Dust the cookies with powdered sugar and enjoy!
Wile you are waiting, make yourself some Taiwanese brown sugar milk tea to enjoy with the almond cookies!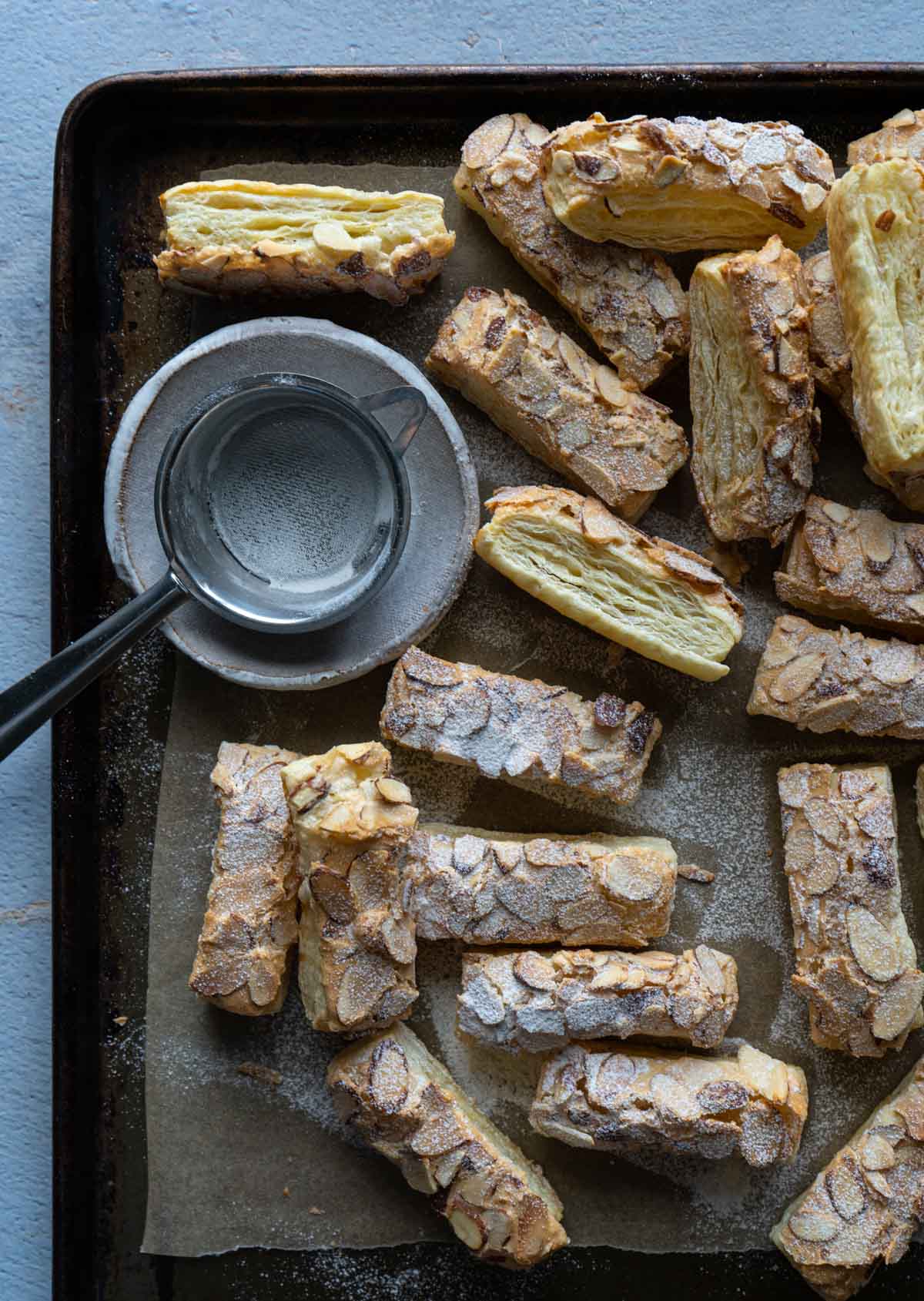 Tips and Tricks
Work quickly, the dough will become sticky and hard to work with if it's left in room temperature for too long.
You want the puff pastry to remain at least half frozen before putting it in the oven, otherwise it won't be able to puff up perfectly.
If the puff pastry becomes too soft at any point, simply put back into the freezer for 15 minutes to firm up.
Recipe FAQs
How come my puff pastry doesn't puff after baking?
It's likely that your puff pastry sat at room temperature too long. When you transfer the puff pastry to the baking sheet, if they are soft and hard to lift up, you will need to put the entire sheet into freezer for about 10-15 minutes to firm up before baking.
Can I use other nuts to replace almond?
I haven't try making it with other nuts, but I think it should work just fine. I did try sprinkle it with some white sesame seeds along with almond slices, and it was also delicious!
How long can I keep these puff pastry cookies?
These cookies taste the best when they are fresh, but you can keep it in an air tight container for about 3 days. You can also pop them in a toaster oven and bake for 3-5 minutes to bring back the crunchier texture.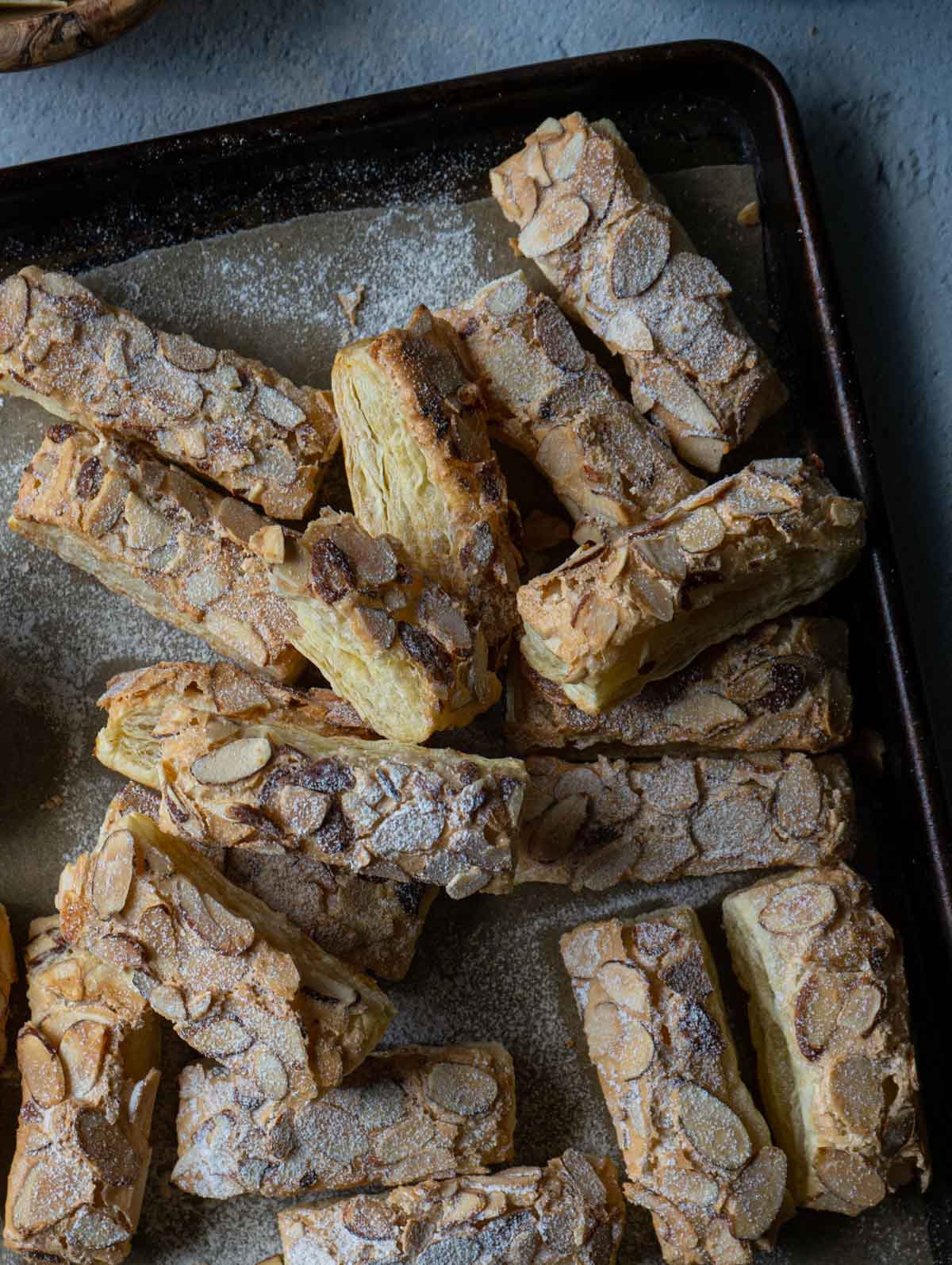 Happy baking!!
Don't forget to try
I would like to hear from you! If you make this recipe, please consider leaving a star rating and comment in the section further down the page. Stay in touch by following my Instagram and Pinterest!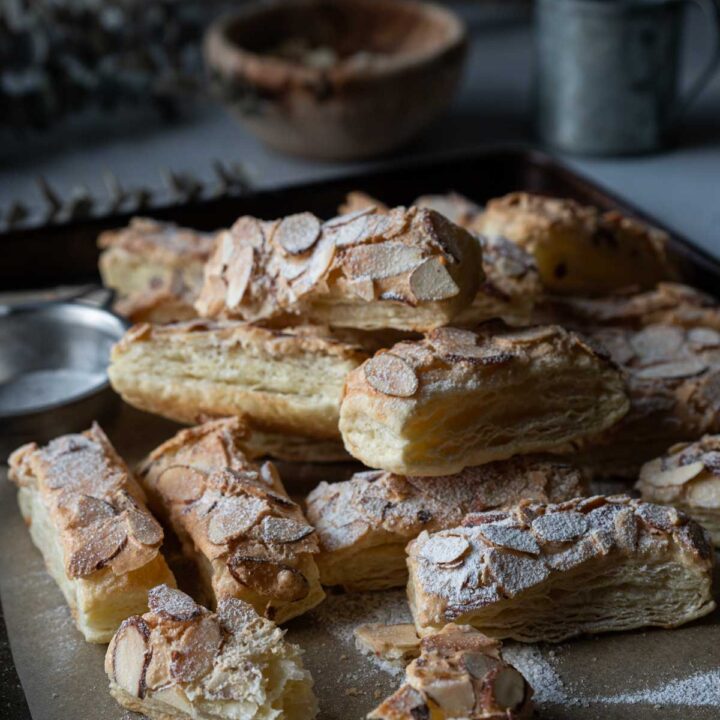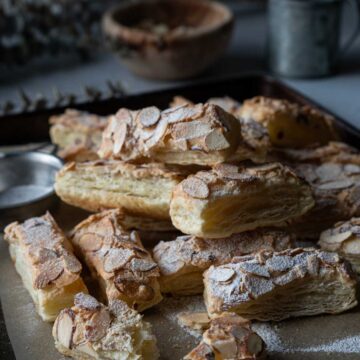 Quick and Easy Puff Pastry Almond Cookies
Ingredients
1

sheet of store bought puff pastry

15

g

egg white

,

1 tbsp

75

g

confectioners' sugar

,

⅔ cup, plus more for dusting

lemon zest from 1 lemon

½

teaspoon

lemon juice

½

cup

raw almond slices

,

or enough to cover the surface of puff pastry
Instructions
Preheat the oven to 350°F (180°C)

Take the puff pastry out from the freezer to let it thaw a little bit.

Meanwhile, whisk egg white, confectioners' sugar, lemon zest, and lemon juice together and set it aside.

Place the puff pastry sheet on a cutting board, unfolding it immediately after it has thawed enough that you are able to separate them. Dust off some excess flour on the puff pastry.

Use a spatula or the back of a spoon to apply the egg white mixture on the puff pastry sheet.

Evenly top the entire puff pastry sheet with almond slices.

With a sharp knife, cut the puff pastry sheet into 24 rectangular pieces (or any shape you like!) and place them on a lined baking sheet with some space between each piece.

Bake for 18-20 minutes or until it's all puff up and golden brown.

Dust with some confectioners' sugar if desired.
Notes
It's very important that your puff pastry sheet has to remain half frozen when you cut it and when you put it in the oven.  If it becomes too soft and difficult to lift up with your hand, that means it has been sitting at room temperature for too long.  If that happens, simply put it back in the freezer for 15 - 20 to firm up.   
Nutrition
Calories:
97
kcal
Carbohydrates:
9
g
Protein:
2
g
Fat:
6
g
Saturated Fat:
1
g
Sodium:
27
mg
Potassium:
41
mg
Fiber:
1
g
Sugar:
3
g
Vitamin C:
1
mg
Calcium:
14
mg
Iron:
1
mg