Soft and fluffy bread covered with a seriously crispy crust results in a contrast that make eating these things an experience. It's impossible to eat just one!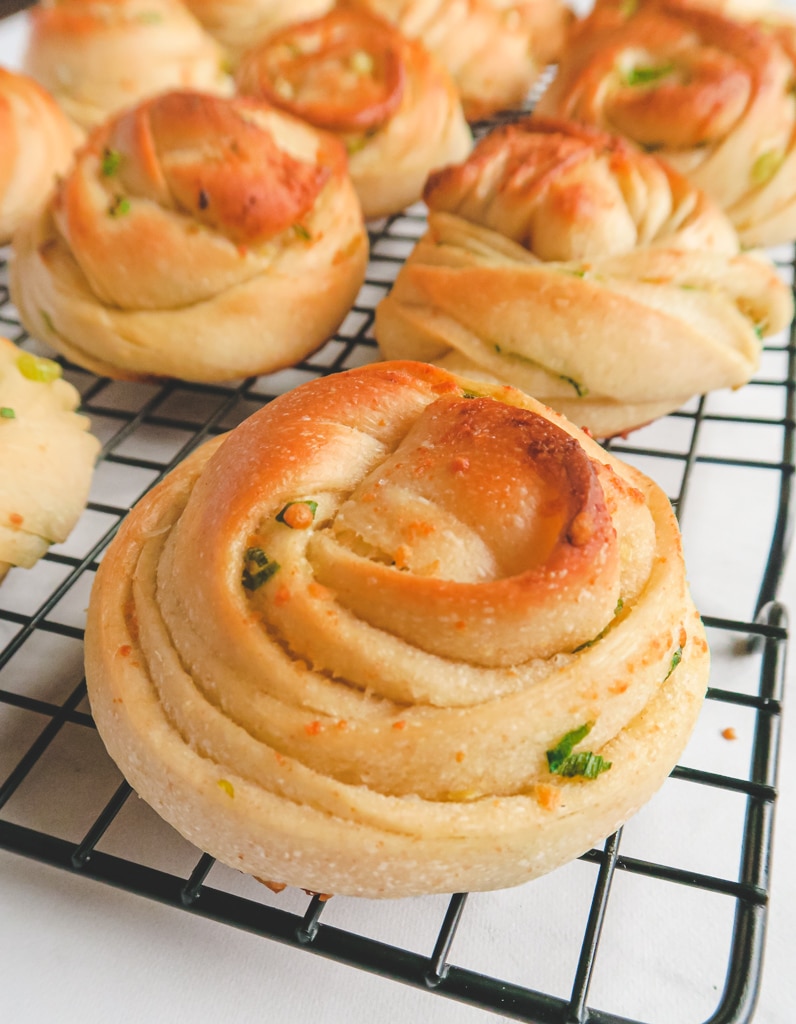 These garlic rolls with scallion and Parmesan basically take the best qualities of garlic bread and turn the dial all the way up.  Instead of just garlic butter on top of the bread, these rolls are wrapped with garlic, scallion and Parmesan, creating many more layers of flavor. 
I developed this roll because one day I couldn't decide whether I should make some Taiwanese scallion rolls or garlic rolls.  After thinking for a bit, I ended up combining both and made it into a twisted roll. 
The result was amazing!  My family was fighting for the rolls (yes, even my 11 month old!).  I was originally planning on freezing some for another day, but they were gone even before I had the chance to put them in the bag.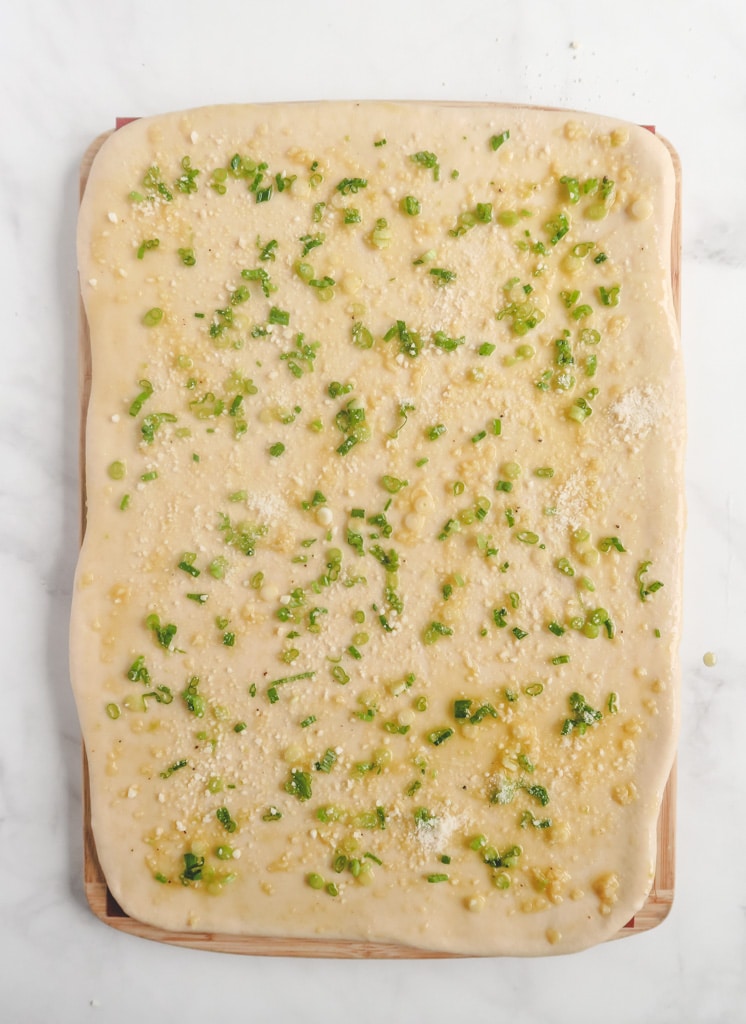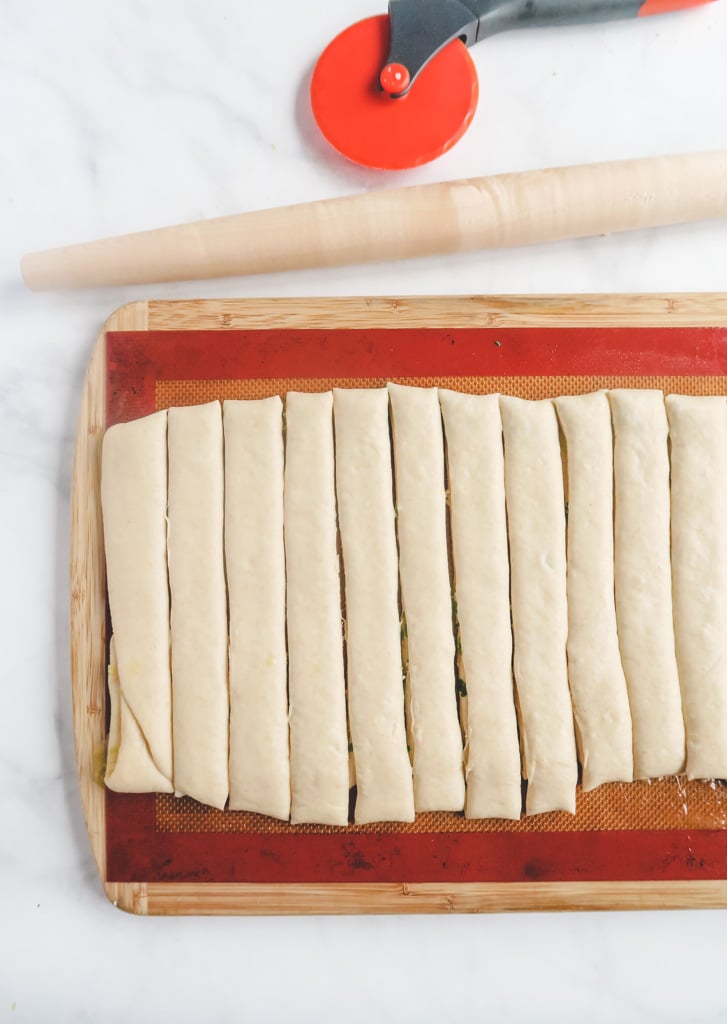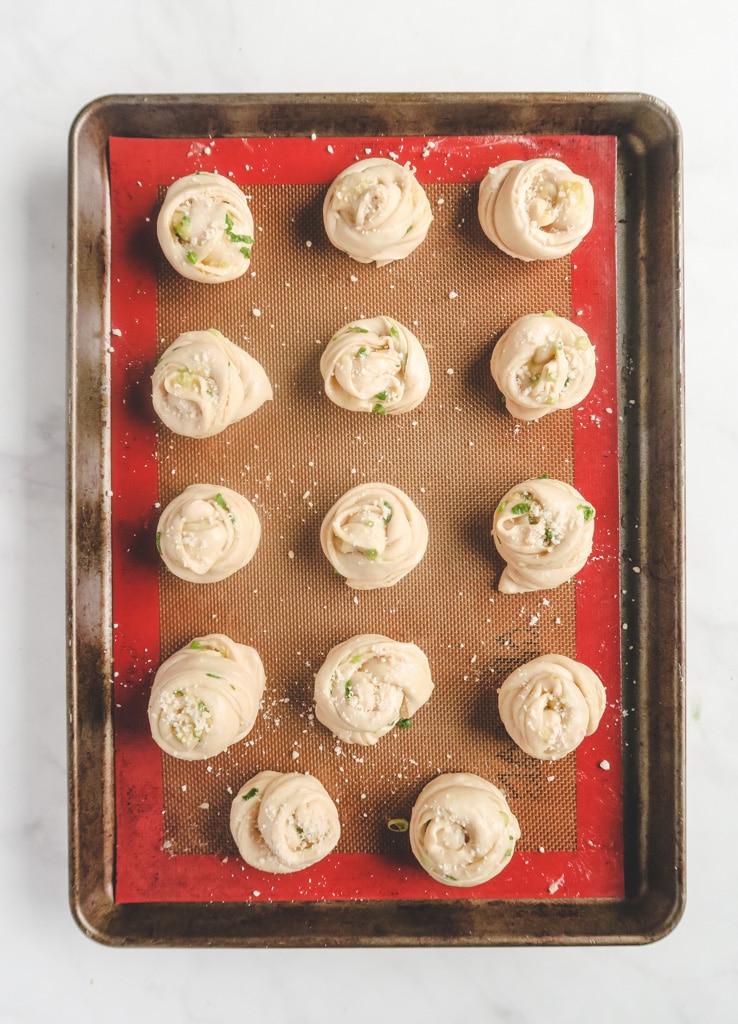 I know you are wondering how to form these twisted rolls. It's actually very simple: just take a piece of dough, stretch and roll it around your finger and tuck the end in the hole from the bottom. If that doesn't make any sense, then at least this gif should help: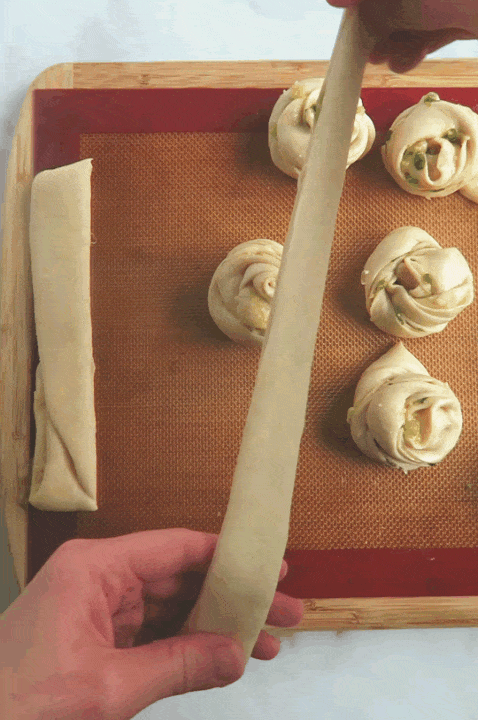 For this recipe, I added a little bit of whole wheat flour in the dough to provide a nuttiness that I think works very well in this recipe.  After brushing the garlic mixture and sprinkling on the scallions, I add a little bit of grated Parmesan, which also gets added on top of each finished roll as well, because everything taste better with cheese!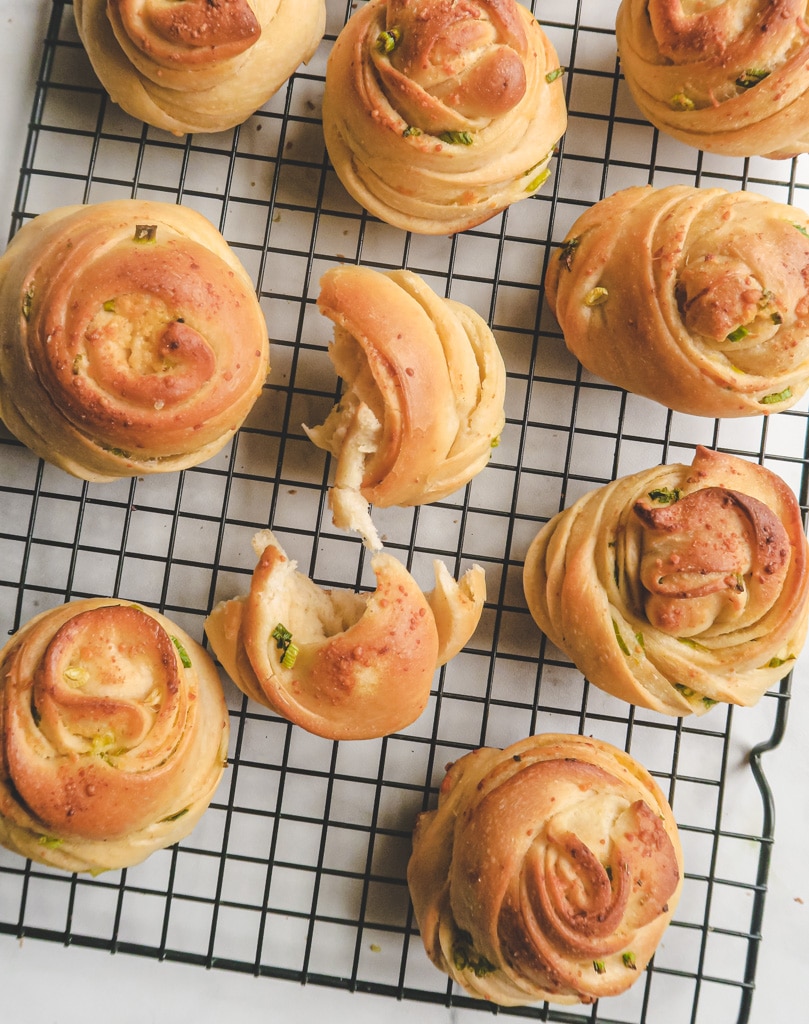 If you are new to making bread, this is a great recipe for you to try. It's very easy and straight forward. This can be made in the stand mixer or just by hand.
These rolls smelled so good that it was too hard for me to resist trying one while I was taking these pictures, so I decided to try one. Then, I ate a second one with my daughter, you know... because she wanted some.... In the end I just decided to forget about taking pictures and enjoy the rolls.
Don't forget to try
I would like to hear from you! If you make this recipe, please consider leaving a star rating and comment in the section further down the page. Stay in touch by following my Instagram and Pinterest!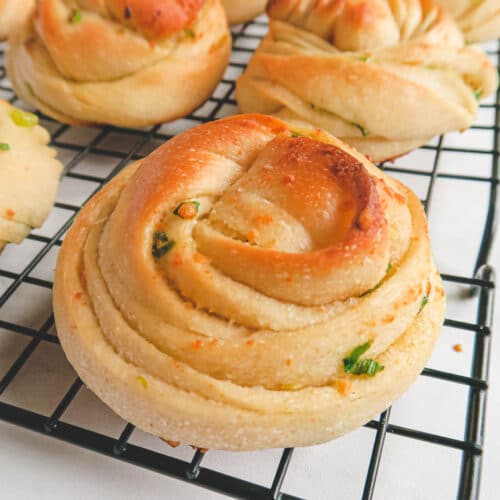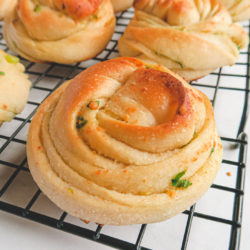 Garlic Roll with Scallion and Parmesan
 Soft and fluffy bread covered with a seriously crispy crust results in a contrast that make eating these things an experience.  It's impossible to eat just one!
Ingredients
Dough
150

g

cold water

,

⅔ cup

100

g

cold milk, preferably whole milk

,

⅓ cup + 2tbsp

20

g

sugar

,

1 tablespoon + 2 teaspoon

1

teaspoon

instant yeast,

preferably Saf instant yeast

370

g

bread flour

,

2 ¾ cup

30

g

whole wheat flour

,

¼ cup

4

g

sea salt

,

½ teaspoon

25

g

unsalted butter, cut into 6 pieces. (Soften if kneading by hand)

,

2 tablespoon
Filling
½

tablespoon

minced garlic

,

from about 4 - 6 garlic cloves

½

teaspoon

sea salt

½

teaspoon

garlic powder

2

tablespoon

olive oil

2

tablespoon

butter

¼

cup

thinly sliced scallions

,

or more if desired

2

tablespoon

Parmesan cheese
Topping
1

tablespoon

Parmesan cheese
Instructions
Making the dough
Mix water, milk, sugar, yeast and flour in a stand mixer, mixing until the dough is formed. Cover and let it sit for 15 minutes.

After 15 minutes, turn on the mixer and add salt before adding 2 pieces of butter. Knead until the butter is all absorbed by the dough.

Repeat the the above step for the rest of the butter and continue to knead about 5 minutes until you get a dough with a smooth surface. If you do it by hand, it might seem impossible to knead in the butter and it may become greasy, but just keep kneading and before long you will end up with a smooth dough.

Form the dough into a ball and put it in a lightly greased bowl. Cover and let the dough rest in a warm place (82°F to 90°F) for about an hour until it doubles in size.
Making the filling
Meanwhile, add garlic, salt, garlic powder, olive oil and butter in a bowl and microwave for 20 seconds. Stir and microwave for another 30 seconds. Set it aside to let it cool down before using.
Shaping
Roll the dough out into a 11" x 16" rectangle on a working surface with the shorter edge being closer to you.

Brush on the garlic butter mix, reserving about 2 teaspoon of the oil.

Sprinkle scallion and Parmesan evenly on the dough.

Fold the bottom ⅓ of the dough up and the top ⅓ down.

Using a rolling pin, gently roll the dough forward and back a few more times and then cut the dough into 12-14 long strips (see pictures in post).

Take a piece of dough, gently stretch it a little bit before wrapping around your fingers and tucking the end in the hole from the bottom and removing it from your hand (see gif in post).

Sprinkle more Parmesan cheese on top of each roll and cover with a piece of lightly greased plastic wrap to let it proof at room temperature for 1 - 2 hour until it's puffy and the layers begin to separate.
Baking
Preheat the oven to 375°F (190°C) in the last 20 minutes of proving. Bake for 16-18 minutes until the tops are golden brown.

Brushed with the leftover garlic butter on top and let it cool down for 5-10 minutes before enjoying.
Notes
This recipe is developed and tested in gram, if you would like to make this recipe, a kitchen scale is highly recommended. I used the OXO scale that's recommended by Cook's Illustrated, but any cheaper one will work just fine! 
Whole wheat flour in this recipe is primarily there for the flavor, I highly recommend adding it. If you don't have any on hand, then you can simply replace it with an equal amount of bread flour. 
If you are kneading by hand, use room temperature liquid, and add half amount of the flour first, mix well before adding the rest.  It will take about 10 minutes (or more) to knead until smooth after adding butter.  
If the layers of your rolls end up blending together, it might be because you rolled your dough too tightly or the dough is over proofed. 
Bread flour results in a roll with a much better texture, so it would be best not to replace it with all purpose flour.  However, if bread flour isn't available to you, you could replace it with all purpose flour and reduce the liquid by 15 - 30 g or so.  If the dough is too soft, you won't end up with layers, and your roll will end up becoming more like a blob.
I recommend doing the final proof at room temperature because of the butter in the filling.  This will take longer, but we are not looking for how to make the bread faster but tastier. 
Nutrition
Calories:
176
kcal
Carbohydrates:
27
g
Protein:
5
g
Fat:
5
g
Saturated Fat:
2
g
Trans Fat:
1
g
Cholesterol:
6
mg
Sodium:
255
mg
Potassium:
69
mg
Fiber:
1
g
Sugar:
2
g
Vitamin A:
100
IU
Vitamin C:
1
mg
Calcium:
36
mg
Iron:
1
mg