Learn how to make flavorful, crispy, and flaky Chinese scallion pancake with the street vendor secret tips.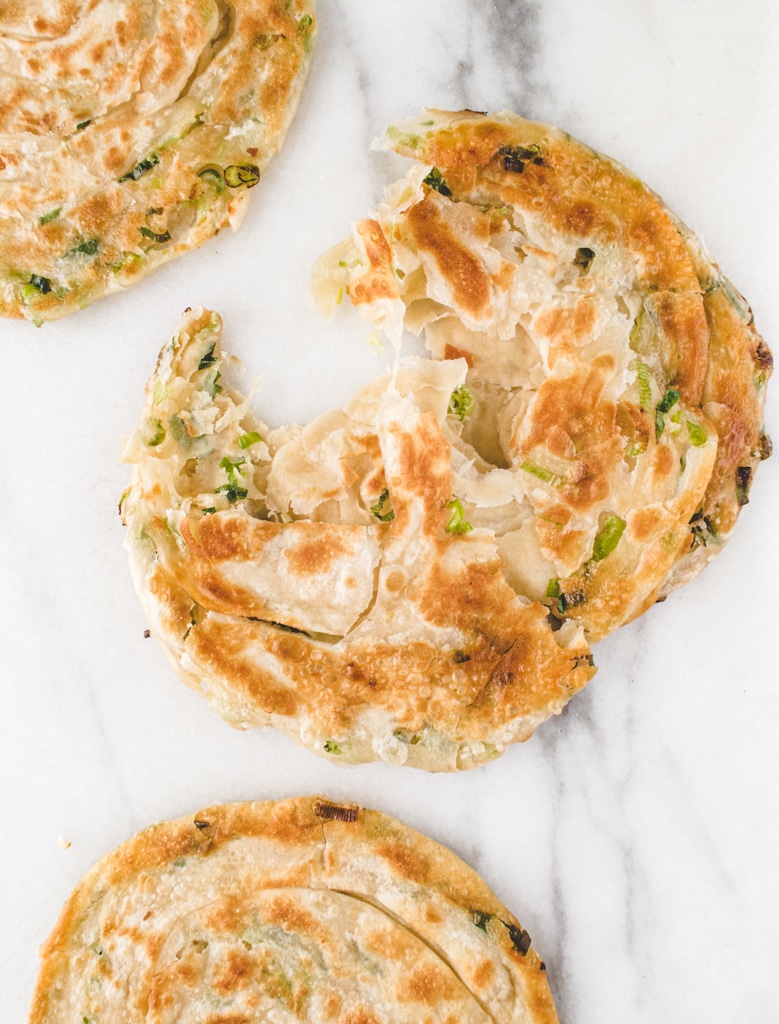 It would not be an exaggeration to say that the scallion pancake is one of the most popular and ubiquitous dishes in Taiwan. It's so popular there that we would eat it for breakfast, lunch, dinner or just as a snack. You can easily find it at restaurants, street vendors or in the frozen aisle of grocery stores.
My husband and I especially miss the kind sold at the street vendors, where you have the option of adding things like white pepper powder, sweet soy glaze, spicy sauce, a fried egg, or veggies and meats. Fortunately it's very easy to make it at home, you don't even need a standing mixer or a food processor.
My grandma taught me how to make it 7 years ago before I came to US for grad school. Since I didn't know how to cook back then, she wanted me to at least be able to make some dishes from back home for whenever I feel homesick. I'm so glad I learned it because every time I order it from the local Chinese restaurants, it tastes exactly like how I imagine disappointment would taste like.
I am very picky with my scallion pancakes. To me, the ideal scallion pancake should be flavorful, crispy, flaky, soft within, and yet delivering a good bite with its many layers. After 7 years of experience with making scallion pancakes, experimenting with many different methods, finally I am able to make one that may even be better than some of the ones I got from street vendors in Taiwan.
First, let's talk about the dough.
We make the dough with hot water (around 195°F, 90°C), this way the dough can absorb more water so that we will end up with a softer pancake after it's pan fried. Stir and mix with chopsticks until it becomes clumpy.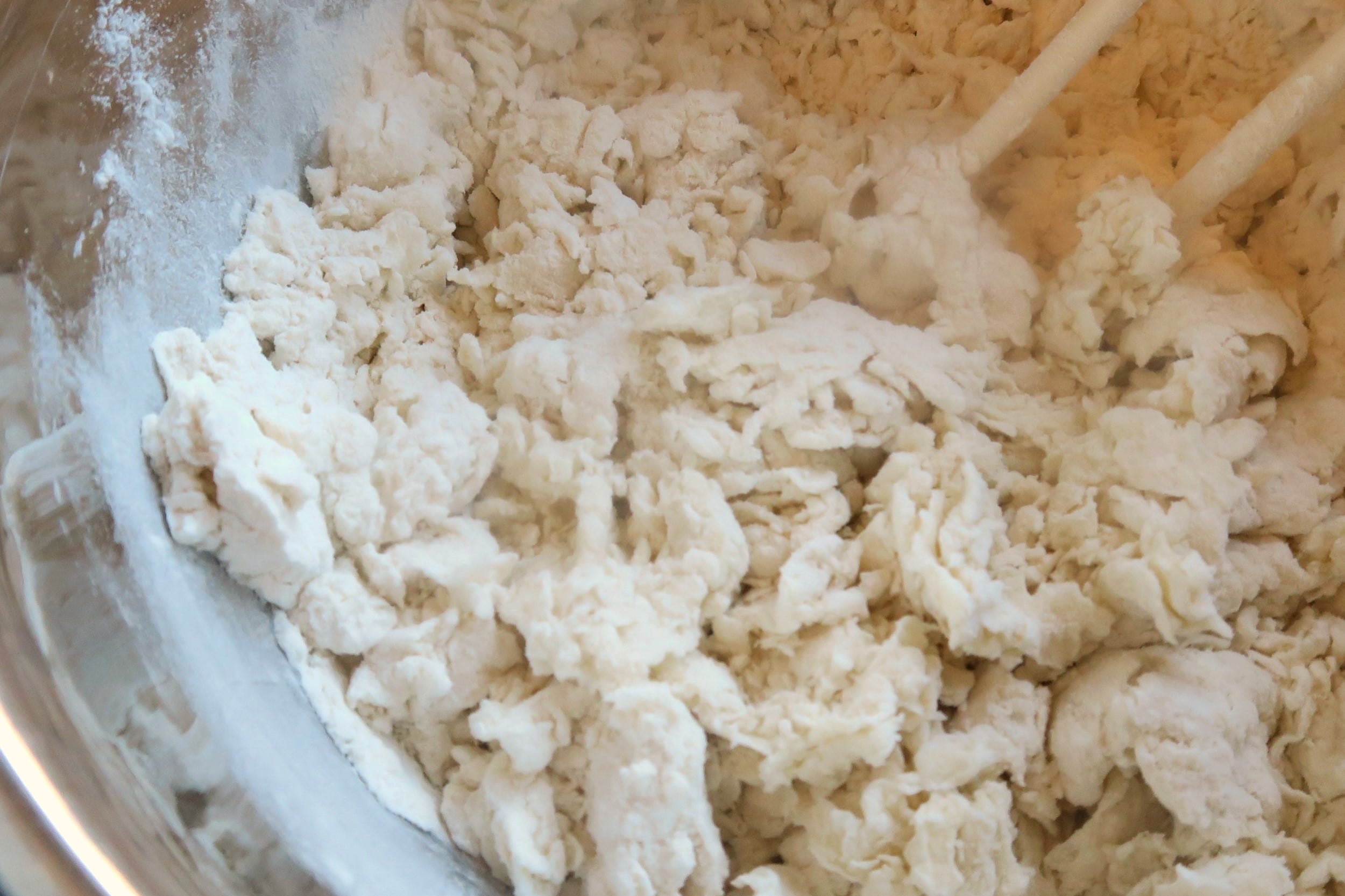 Unlike other breads that require lots of kneading, all you need is to knead until your hands are clean (no dough sticking on your hands) and the bowl is relatively clean. This should take about 2 to 3 minutes to achieve.
Next, put the dough in a Ziploc bag or wrap it in a piece of plastic wrap and let it rest for 30 minutes to 2 hours. Don't worry if the outside of the dough looks rough like the moon's surface, after resting it will all became smooth.
Second, things that go inside the scallion pancakes.
Literally, scallion pancakes in Chinese are called "scallion oil pancake", so it's obvious we'll need some scallions and oil. After washing the scallions, pat them dry with paper towel and trim the root.
Next, cut the white portion of the scallion stalks lengthwise before lining up and thinly chopping. Before using our scallion for the next step, let them dry on the chopping board, which usually takes about 30 minutes. Cutting the white portion lengthwise first ensures that the harder white pieces won't be large enough to break through the dough when we roll it, and drying the scallion a bit makes it more manageable in the dough.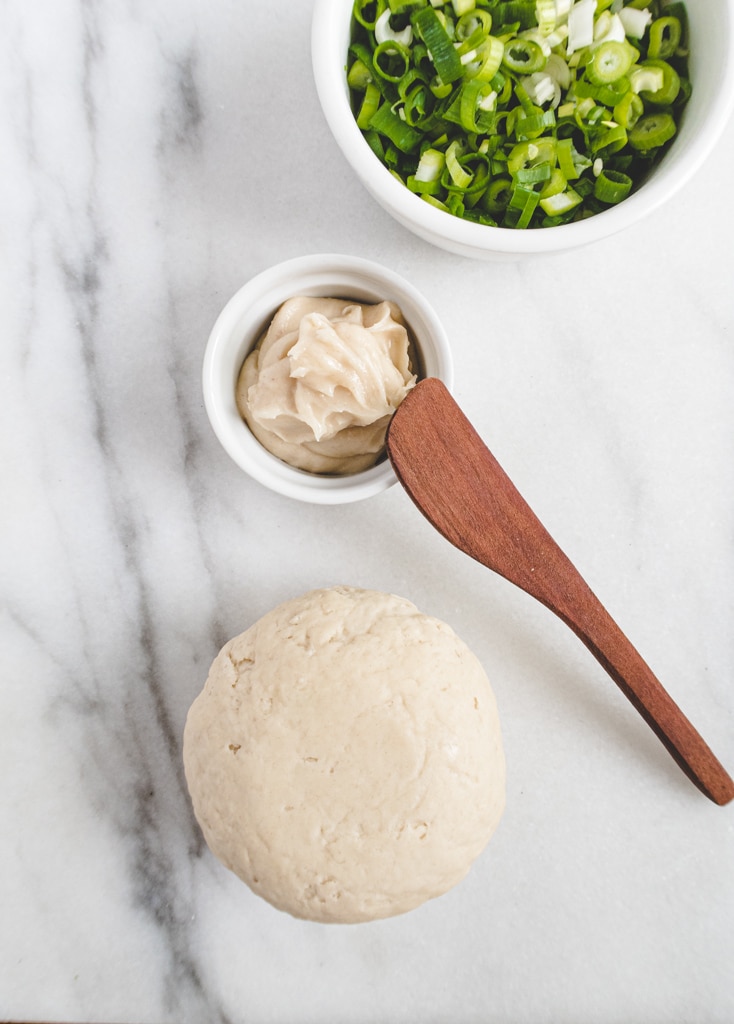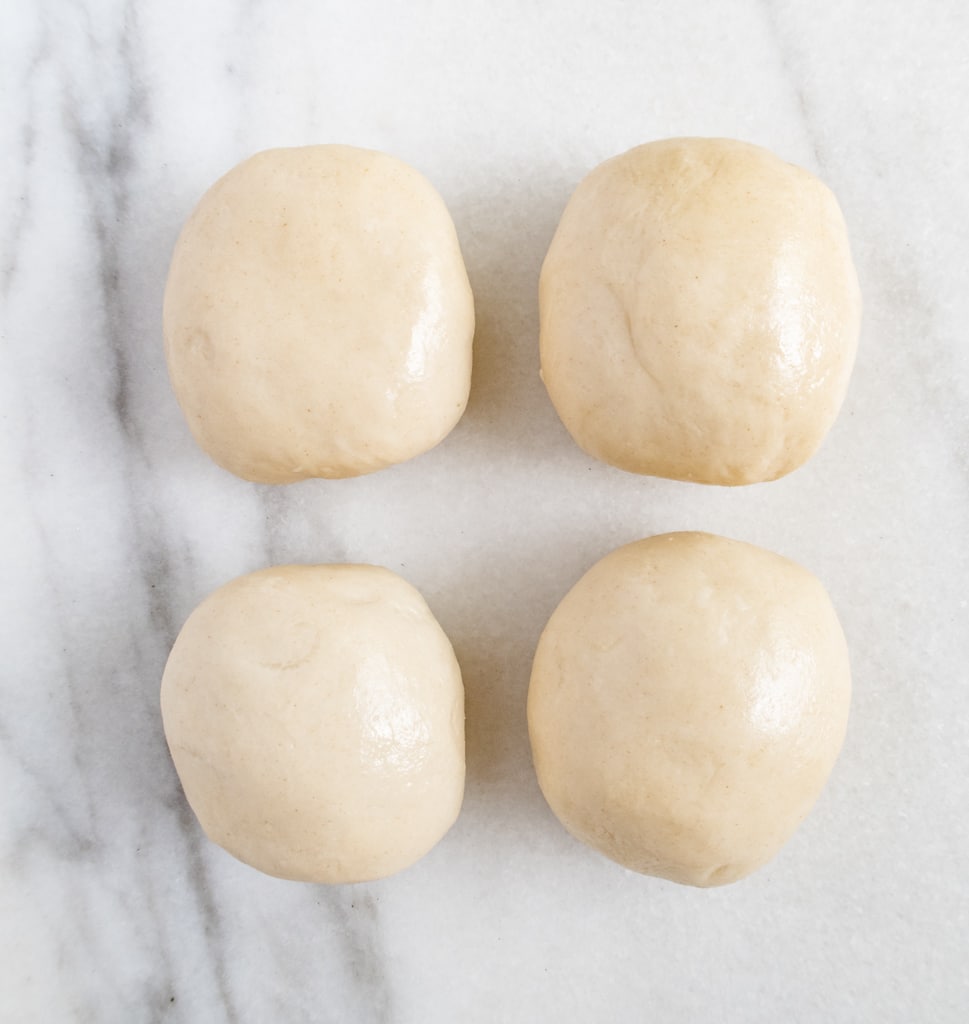 The oil we use is what ensures that the pancake will have multiple layers. When I first learned this dish from my grandma, she taught me to simply apply a thin layer of oil on the dough once it was rolled out, then sprinkle salt and scallions.
However, if you want to make a flakier and crispier scallion pancake (i.e. a better one), you need to apply the oil as an oil paste, which can be created simply by mixing the flour, oil, lard, and salt together. While lard isn't necessary if you don't have any, the secret to making a superior scallion pancake, flavor-wise, is to use some lard.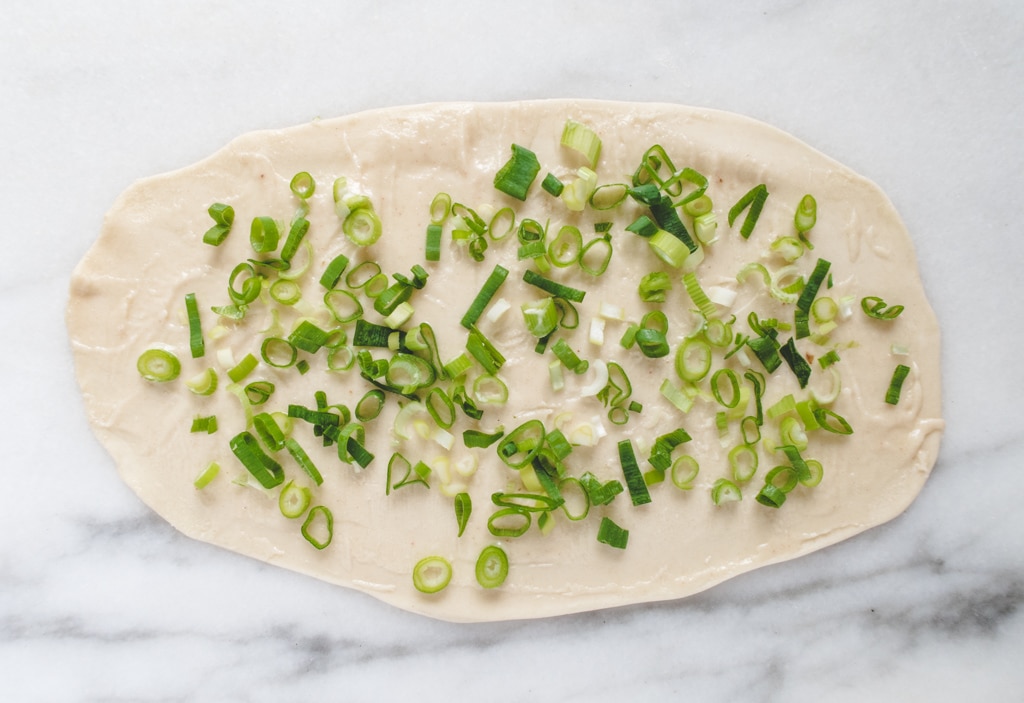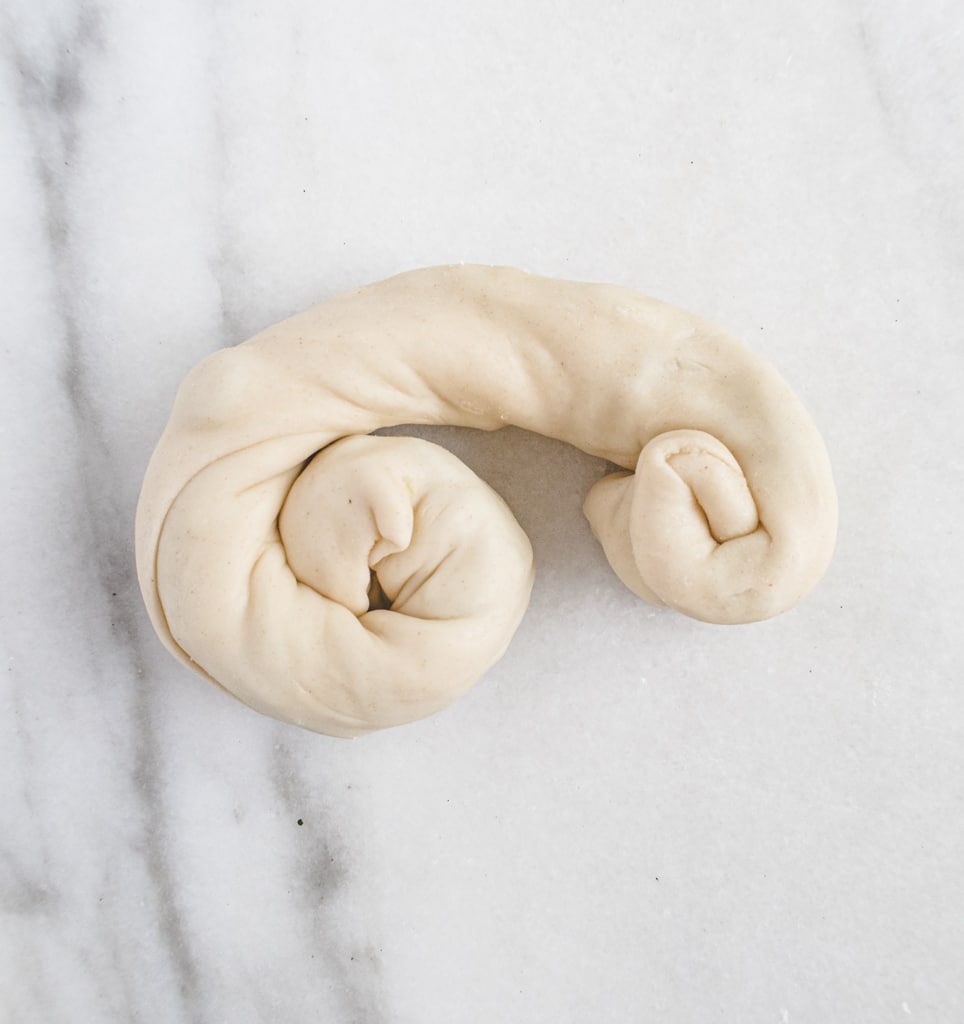 Finally, secret cooking tip
Here's a trick my grandma taught me (she said she learned from a street vendor) -- after the pancake is almost finished, use a combination of tongs, spatulas, and/or spoons to gently scrunch the pancake towards the center a bit, somewhat fluffing it up. This accentuates the multilayeredness (yes, that's a real word) of the pancake and makes the experience of eating it just a bit more dynamic.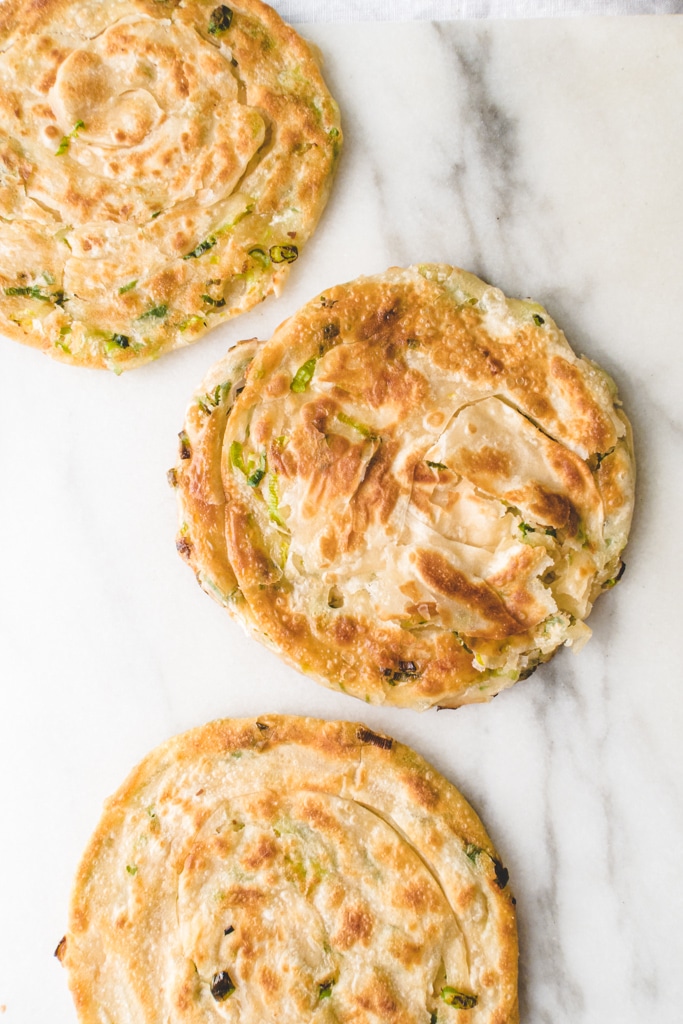 Of course, the most important part is to enjoy your pancake as soon as possible! It tastes the best immediately after it comes out of the pan. After it cools, no matter how you reheat it, it will never be quite the same.
As you're enjoying your scallion pancake, you'll likely find that it's flavorful enough by itself, but you could optionally add some hot sauce, sweet soy sauce or white pepper powder.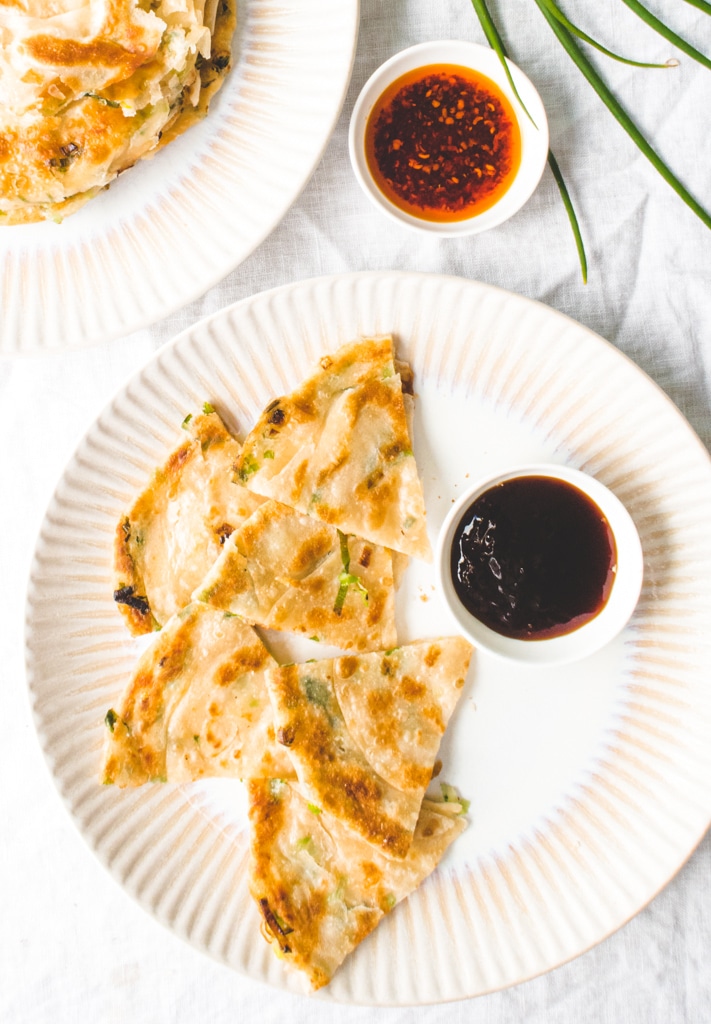 Another option for your scallion pancake is to cook a fried egg onto it. To do so, heat some cooking oil and crack an egg in the pan. Next, cover the egg with the pancake before pressing them together to combine them. Cook your scallion pancake with egg to the degree of doneness you like. I put on some sriracha with white pepper powder and a little bit of salt, folded it in half and took a bite, it was amazing!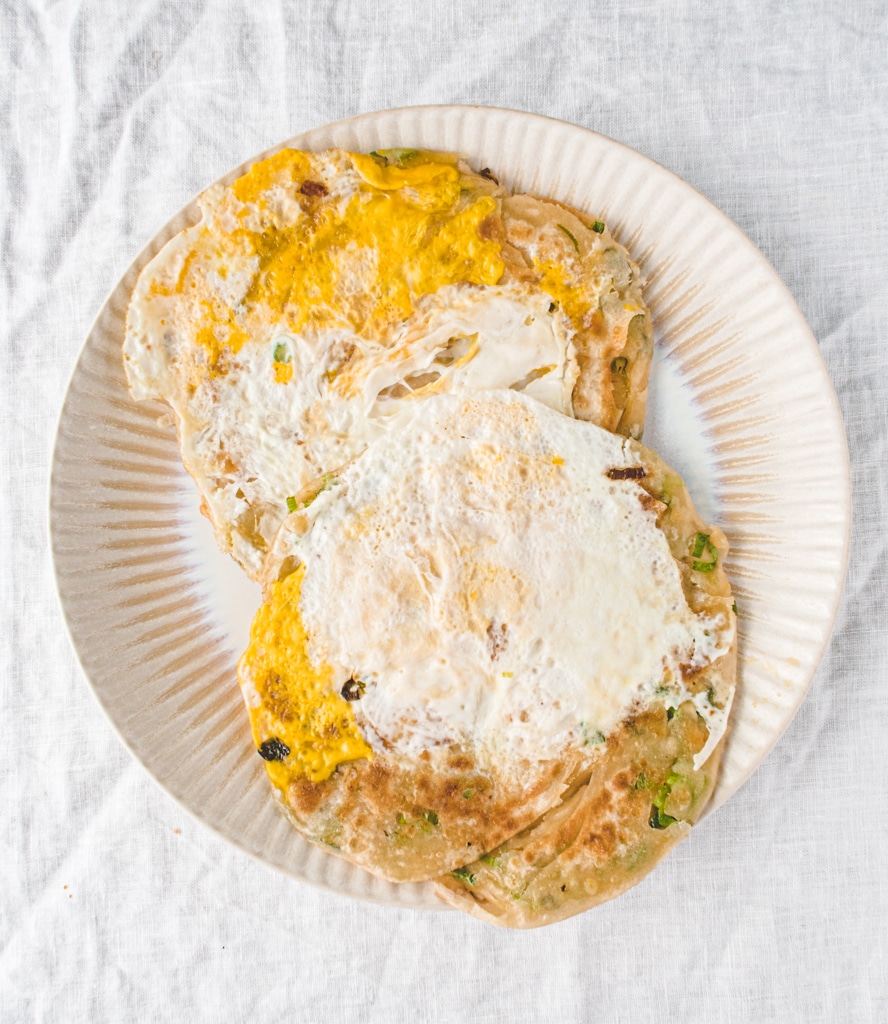 I would like to hear from you! If you make this recipe, please consider leaving a star rating and comment in the section further down the page. Stay in touch by following my Instagram and Pinterest!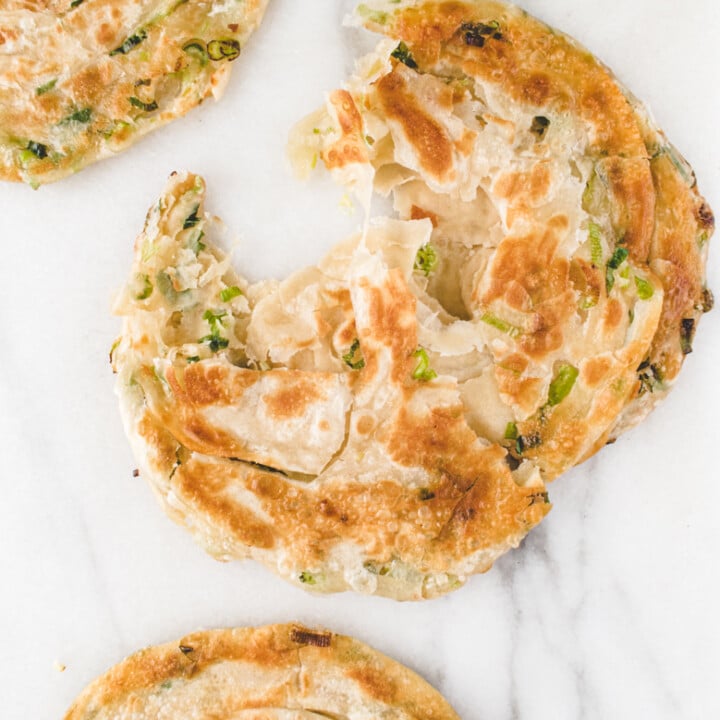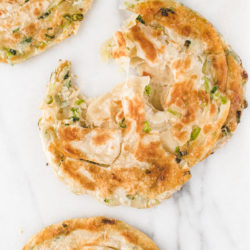 Crispy and Flaky Chinese Scallion Pancake (蔥油餅)
Ingredients
3-4

stalks of scallions

,

also called green onion or spring onion
Dough
2

cups

all purpose flour

½

cup

hot water

,

around 195°F, 90°C

cold water
Oil Paste (will have extra)
¼

cup

all purpose flour

1½

tbsps

lard

,

can be replaced by sesame oil or cooking oil

1½

tbsps

cooking oil

1

teaspoon

sea salt
Optional Toppings
black pepper

white pepper

toasted sesame seeds
Instructions
Wash and thinly slice scallions, let them dry on the chopping board until ready to use.
To form the dough
Mix the hot water and flour in a mixing bowl, stirring and mixing with chopsticks until it becomes clumpy. After the dough cools slightly, knead the dough by hands until the mixing bowl and your hands relatively clean. Add more cold water if needed.

Continue to knead the dough for another 2 to 3 minutes until you can form it into a soft and springy ball with a rough surface. Put the dough in a lightly oiled Ziploc bag or wrap it with plastic wrap to rest for 30 minutes to 2 hours.
Make oil paste
Mix the oil paste ingredients until well combined. The consistency will depend on the type of fat you use and the temperature; it can be runny.
Assembling
After the dough is done resting, divide it into 4 equal pieces. Tuck the edges into the bottom, apply some oil on the surface, cover and let it rest for another 10 minutes. Work on the dough one at a time while keeping the others covered. Roll the dough into a long rectangular shape, with around ⅛ inch thickness.

Apply a thin and even layer of oil paste on the surface and put scallions on top of it. Add desired optional toppings.

Roll the dough from the bottom all the way up while squeezing out the air inside. Using the resulting log of dough, form two spirals from the two ends of the log, with one spiral being smaller than the other. Tuck the small spiral under the big one and press the big spiral down over the small one. Repeat for the 3 other lumps of dough. Cover resulting buns with plastic wrap and let rest for around 30 minutes (could be stored overnight in the fridge for using the next day).

Roll the spiral lumps of dough out on an oiled surface into a 7 inch pancakes.
Cooking
Heat 2 tablespoon oil in a skillet over medium heat before pan frying the pancake for one minute on each side. Continue flipping and cooking until evenly golden brown. Add more oil when needed as each pancake is being cooked.

Finally, use two spatulas or tongs to squeeze the pancakes from two sides 2 to 3 times to accentuate the layers and serve right away.

For the option of adding an egg, simply crack an egg in the skillet and top with a cooked scallion pancake. Gently press the pancake to combine with the egg and cook until the egg is done. Add any toppings you like (white pepper powder, sweet soy glaze or hot sauce...) and enjoy!
Notes
1. If you want to make more and freeze them, separate each roll out raw pancake with parchment paper, put in a freezer storage bag and store in the freezer for up to a month. Follow the cooking direction and cook directly without thawing.
2. Lard is the key ingredient making a flavorful scallion pancake, and it's very easy to make at home, you can either save the oil from pan-frying pork belly or grind the pork fat and steam it for 30 minutes (with cover so water won't get in); however, if you are vegetarian or just don't want to use lard, you can replace it with sesame oil or just regular cooking oil.
3. The amount of salt goes into the oil paste depends on the kind of salt you use. In this recipe I used Himalayan pink salt, if you use the fine sea salt or table salt, try adding only 

½

 tsp first.