Hearty, warm, comforting, and deeply flavorful -- is it weird to say that if I were a bowl of rice, this is the stuff that I'd want to be covered with?  My standards for Chinese beef stew, however, is very high.  The meat needs to be thoroughly flavorful and tender without falling apart; the broth needs depth of flavor (not a monotone soy sauce taste) and be well balanced; and the carrots and radishes need to be completely softened yet maintaining its texture and flavor.  When done right, this dish is the epitome of Chinese comfort food. My husband once said that if I weren't there to stop him, he would eat up the half pot all by himself.  Yes, it is that good!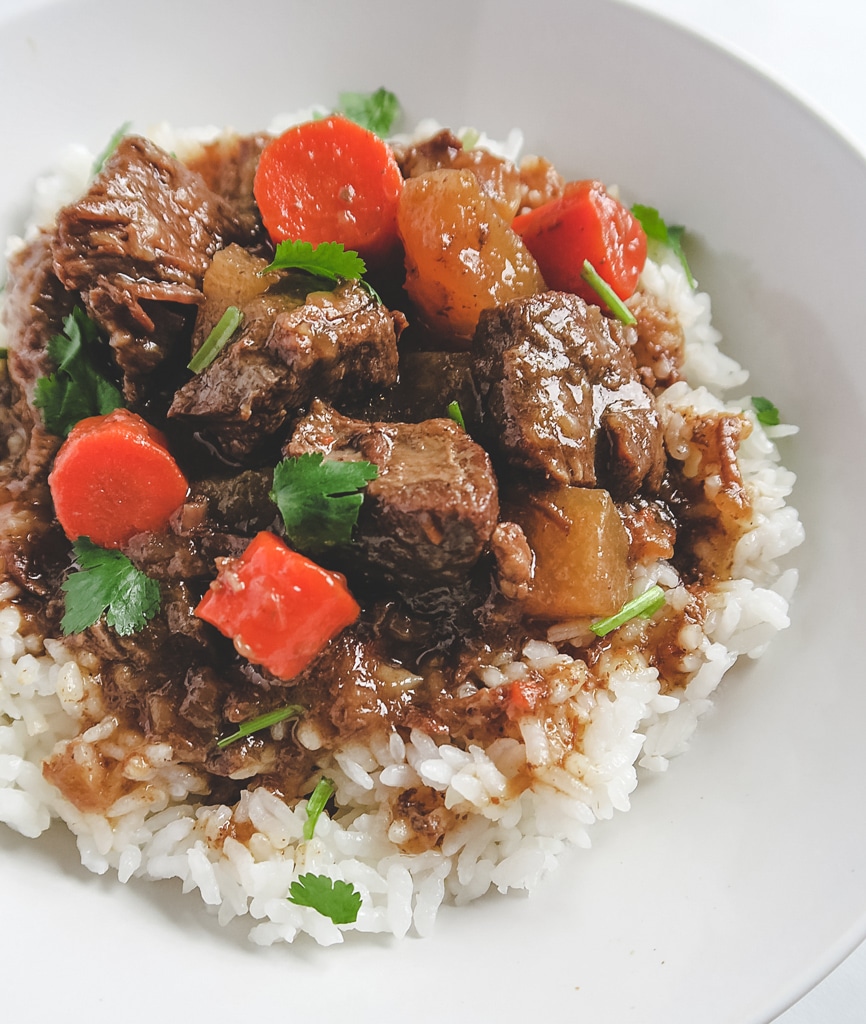 Pressure cook + Simmer
I used to believe only cooking in the dutch oven can make beef fully tender and flavorful, as pressure cooking only allows the meat fibers to separate without really softening the tissue.  However, after I developed this method of pressure cooking beef 80% of the way before finishing it off with 30-40 minutes simmering without pressure, this is now the only way I cook beef stews.  Not only does this save time and energy, the result is perfect!  Plus, I add the carrots and radishes after the pressure cooking phase, this allows them to maintain some of their texture and flavor.
Thirteen Spice Powder
I use Thirteen spice in this recipe, which is my new favorite spice mix to use when cooking Chinese food.  It's kind of like five spice powder but the flavor is more complex and well-balanced.  I find the typical five spice powder to be overpowered by the fragrance of star anise.  The thirteen spice powder can be used in savory recipes wherever five spice is used.  You can usually find it at your local Chinese grocery store or online.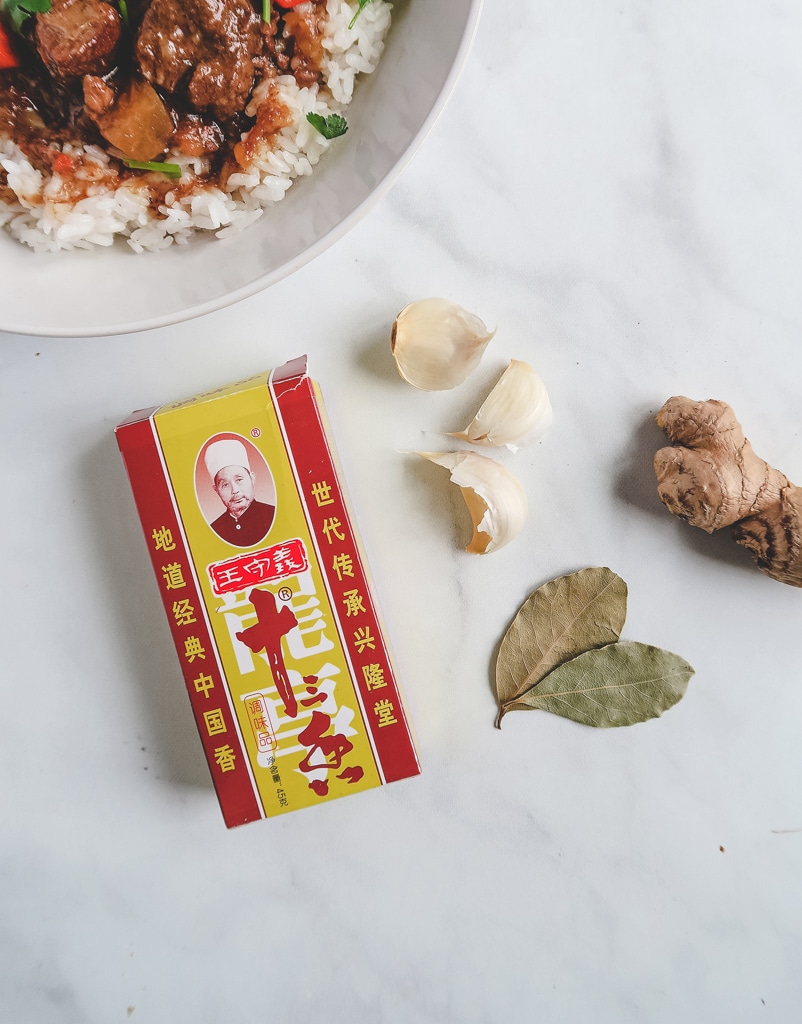 Thicken it up at the end
Thickening up the stew at the end helps bringing this dish together and makes it more flavorful.  Also, since this is should be served with rice, a thicker stew would adhere to the rice better and be easier to eat.  Unlike western dishes that typically thicken stews and sauces with flour, we use starch ( as tapioca starch, corn starch, arrowroot starch, etc).  First, mix the starch with about double the amount of cold water.  When the broth is boiling and ready to be thickened up, pour the starch mixture into the broth slowly like drawing a spiral, and then stir broth right away.  If you are not familiar with this technique, do it little at a time until you reach your desired consistency.  Never add the starch directly into the hot broth, you'll end up with a lumpy mess.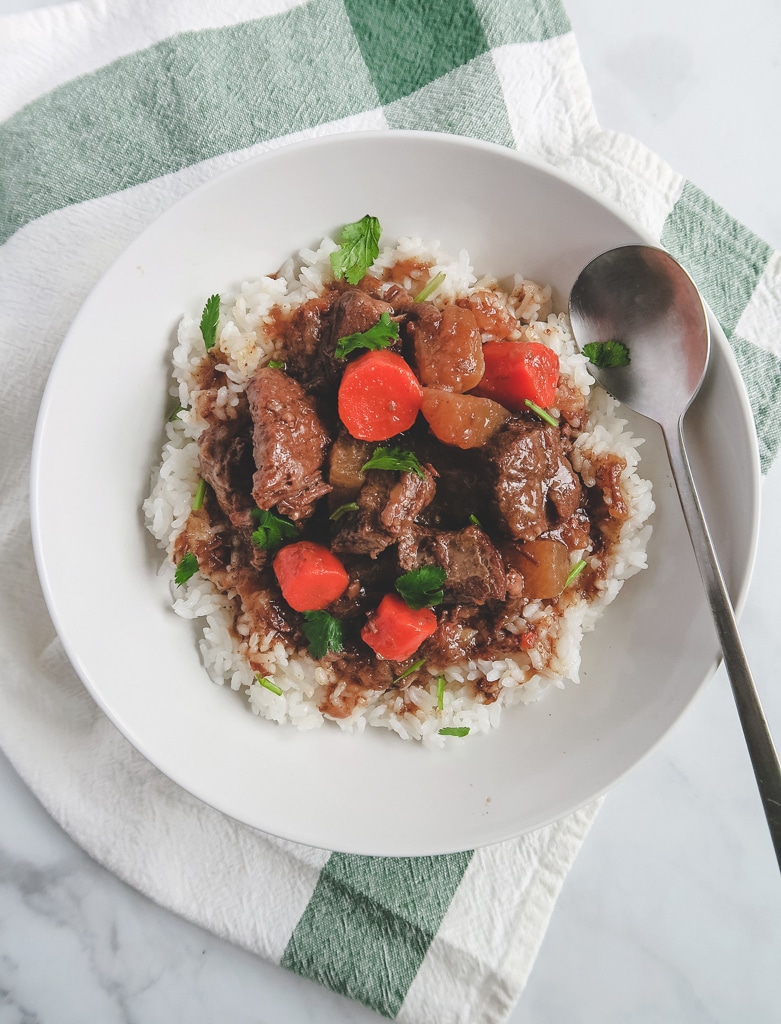 The stew tastes even better on the next day after the flavors had more time to meld.  You can also cook the beef the day before and finish cooking with carrots and radishes before serving.
Now it's your turn to try!
Hope you will enjoy this dish that's loved by my family 🙂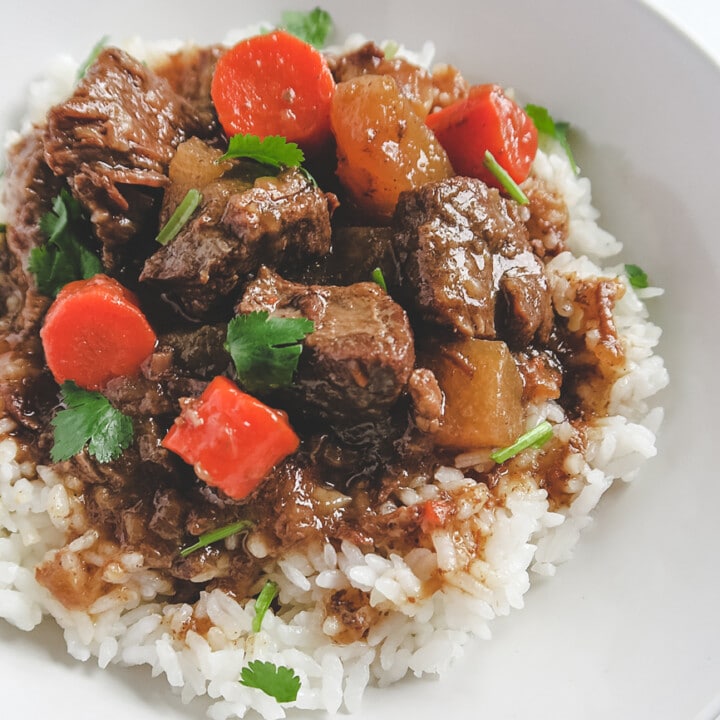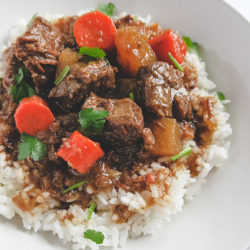 Best Pressure Cooker Chinese Beef Stew
Ingredients
2.5 - 3

lbs

beef chuck

,

trim and cut into 1.5 inch cubes

1

sweet onion

,

roughly chopped

2

teaspoon

sugar

¼

cup

soy sauce

1

tablespoon

rice cooking wine

1

teaspoon

ketchup

1

teaspoon

thirteen spice or five spice powder

½

teaspoon

white pepper powder

2

bay leaves

3

cloves

garlic with peel

1

piece

2-inch long ginger root

,

smashed

1

cup

chicken stock

water

1

cup

1 inch cubed carrots

,

about 3 carrots

2

cups

1 inch cubed white radish or daikon

2

teaspoon

tapioca starch

4

teaspoon

cold water

1

teaspoon

toasted sesame oil

Warm white rice
Optional Topping
Scallion

,

thinly sliced

Cilantro

,

chopped
Instructions
Heat the pressure cooker on medium high heat until the pan is very hot before placing the beef in an even layer in the pot. Cook until the bottom part of the beef has slightly browned.

Add in onion and stir fry for 30 seconds.

Add sugar, soy sauce, cooking wine, ketchup, thirteen spice and white pepper into the pot and stir to combine.

Add bay leaves, garlic cloves, ginger root and chicken stock into the pot. Add water until the liquid almost covers the beef.

Lock the lid and set on high pressure, cooking until the pressure cooker starts to hiss. Turn the heat to low/medium low and cook for another 20 minutes.

Turn off the heat and let stand until pressure releases naturally or manually after 10 minutes. Unlock the lid, remove garlic cloves, bay leaves and ginger from the pot. Skim of the scum and part of the oil. (Do not remove all the oil!)

Add carrots and white radish to the pot, stir gently to combine and simmer with lid on (no pressure) for 30 - 40 minutes until the carrots and white radishes are completely soft.

Meanwhile, whisk tapioca starch with water together and set it aside.

Bring the stew to a boil, stir the starch water again before pouring it in slowly in a circular motion. Stir right away so that the starch would be evenly distributed.

Add sesame oil and then serve with white rice along with any optional toppings.
Notes
Since the chuck has higher fat content, I usually just brown it without adding extra oil.  If the pot is hot enough, the meat shouldn't stick.  One good way to test if the pot is hot enough is by dropping few drop of water, if the water slide on the pot instead evaporate, it means it's hot enough. 
The amount of the carrots and white radish totally depends on your preference.