This stir fry mung bean noodle dish is one of my favorite one pot dish to make for a quick lunch or week night dinner. The mung bean noodles soak up the fragrance and flavor from the pork belly and the aromatic elements balance with the sweet and crunchy veggies to make this dish super tasty! Plus, it's so easy and quick to make, you don't even need to boil another pot of water to precook the noodles like when you make pasta. Once you prepare all the ingredients, it takes only about 10 minutes to cook.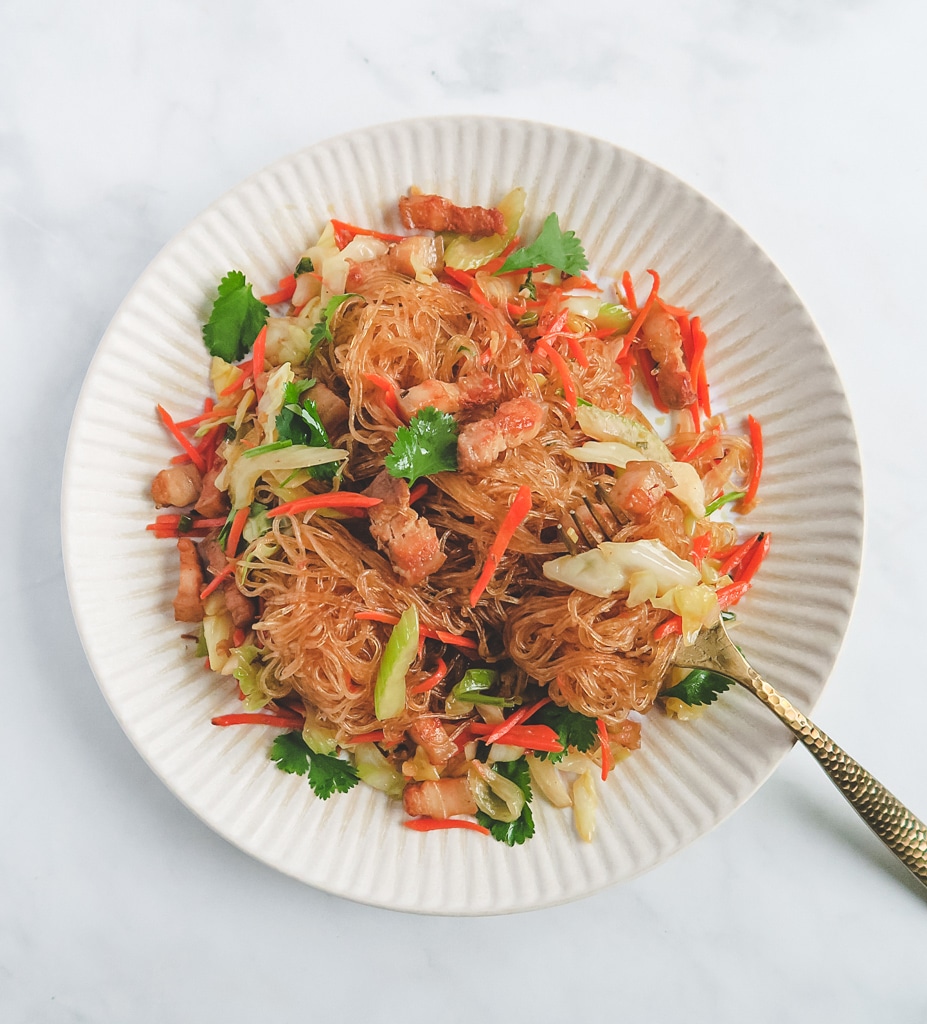 What are Mung Bean Noodles?
Mung bean noodles (冬粉 or 粉絲) are made with mung bean starch and taste kind of like the noodles used for making Japchae (Korean glass noodle with veggies), but a bit thinner. Usually we soak it in cold water for 15 minutes beforehand to re-hydrate, which makes the cooking process faster and easier.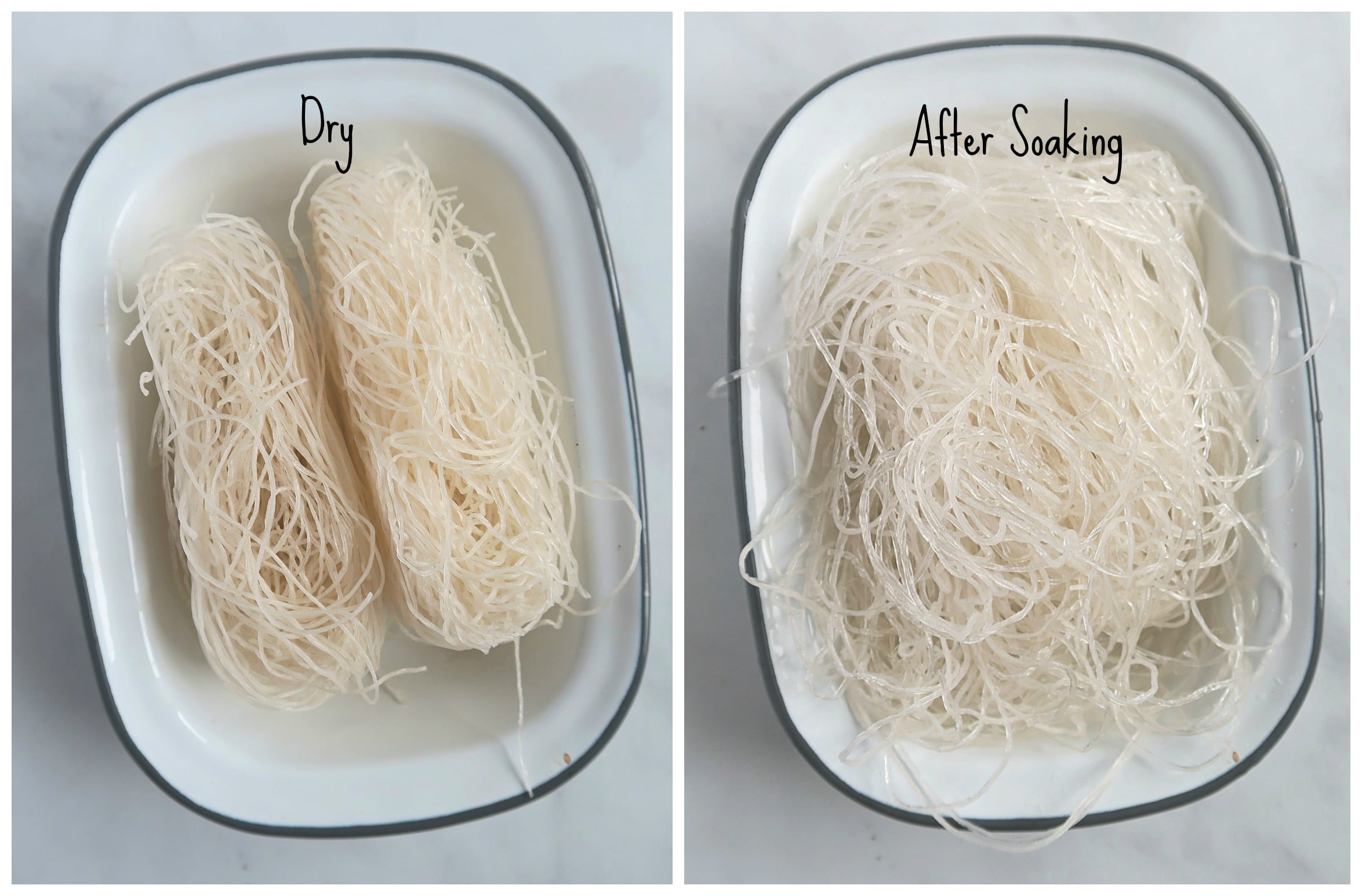 Try Using Taiwanese Cabbage
Taiwanese cabbage looks very similar to the green cabbage, except it's usually bigger and flatter. Having been accustomed to Taiwanese cabbage growing up, many Taiwanese find the green cabbages in the US to be thicker, tougher, and less sweet than cabbages they're used to. Whereas green cabbage usually either requires slicing very thin or cooking for a long time, Taiwanese cabbage has thinner, crunchier, and juicier leaves that work great even in a quick stir fry. Usually I just stir fry it with garlic and salt for a quick and healthy side dish that's popular in our family. My husband even considers this to be the best tasting veggie!
You can usually find these in Chinese grocery stores, but if it's not available to you, just substitute it with napa cabbage.
Have all the ingredients ready before you start cooking
Since this is a stir fry dish, everything cooks very fast, having all the ingredients prepped beforehand will make the entire cooking process a lot smoother.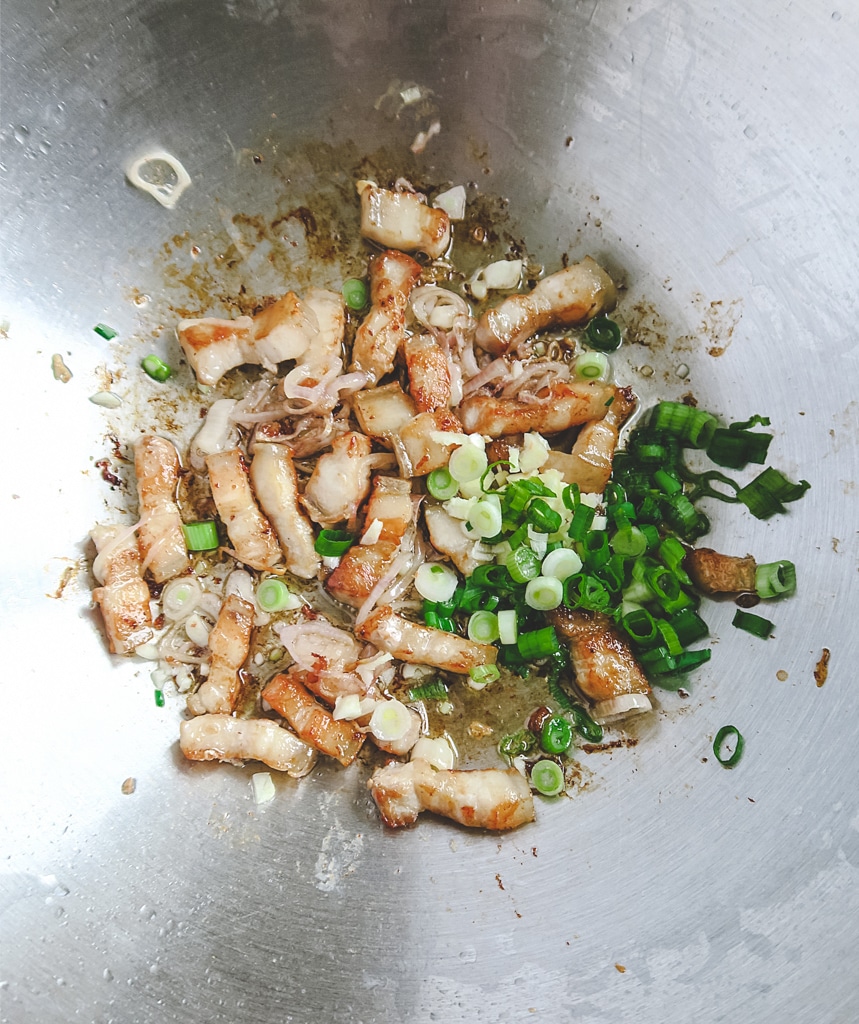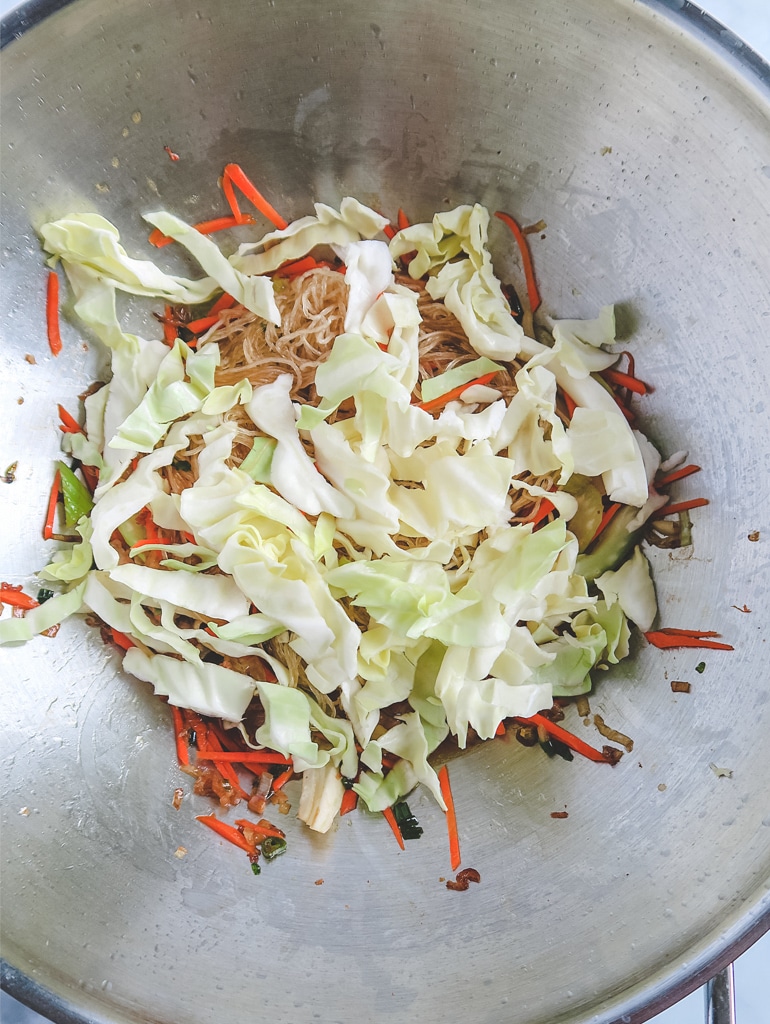 My Favorite way of eating this is to top with some chopped cilantro, crispy fried shallots, and stir in some Lao Gan Ma Chili Crisp Sauce. The result is so delicious and satisfying!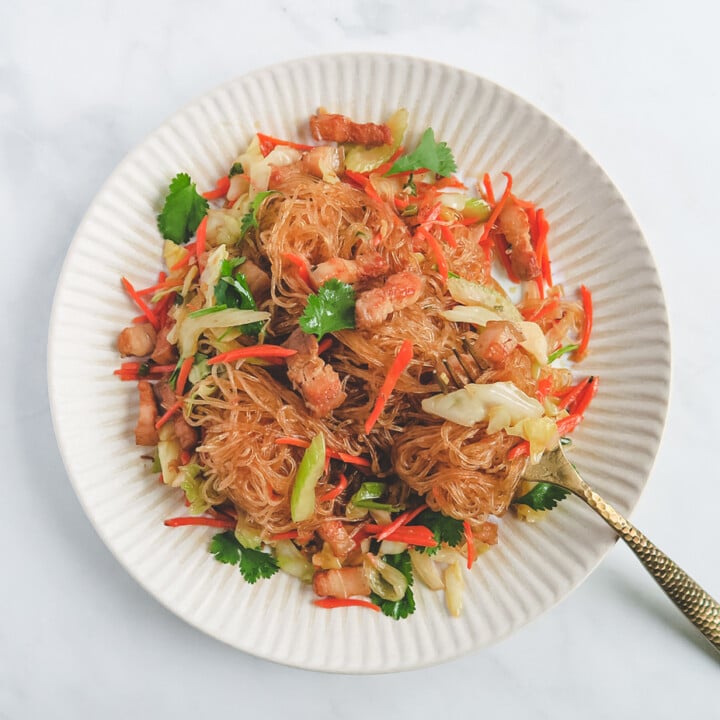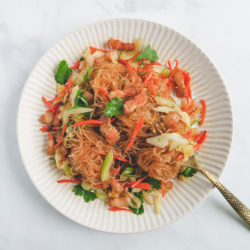 Stir fry Mung Bean (Glass) Noodles With Pork Belly and Veggies
Ingredients
2

bunches of mung bean noodles

4

oz

pork belly

1

small shallot

,

thinly sliced

2

cloves

garlic

,

minced

1

scallion

,

thinly sliced

1

medium carrot

,

julienned

1

rib celery

,

thinly sliced diagonally

½

teaspoon

sugar

¼

teaspoon

white pepper powder

3

tablespoon

soy sauce

⅔

cup

water

2

cups

of Taiwanese cabbage

,

cut into half inch strips

salt

Drizzle of toasted sesame oil

Chopped cilantro

,

optional

Crispy fried shallot

,

optional

Chili sauce

,

optional
Instructions
Soak mung bean noodles in cold water for at least 15 minutes until it's softened.

Cut pork belly into 1⁄3 inch thick strips before chopping these into 1⁄3 inch "matchsticks" and set it aside. It's easier to do it when the pork belly is half frozen.

Prepare all the veggies according to the ingredient list.

Heat a wok or frying pan on medium heat, brown the pork belly (without added oil) until about 3 tablespoon of fat renders out.

Add in shallots and continue to cook until it's aromatic and pork becomes golden brown.

Add in garlic and scallion and stir fry for around 15 seconds.

Add carrot, celery and stir fry for another 15 seconds.

Stir in sugar, white pepper powder and soy sauce. The wok/pan should be really hot at this point, which helps bring out the fragrance of the soy sauce. If the soy sauce is not boiling, cook until it's boiling.

Add water, soaked mung bean noodles (drain and discard the soaking water), use a pair of tongs to toss the noodle with the veggies in the wok/frying pan, then top with cabbage. Sprinkle a bit of salt on top of cabbage evenly to help it cook faster. Cover and cook until the liquid is boiling.

Remove the lid and continue to stir fry with a pair of tongs until the noodle is cooked through. If the water runs out before the noodles are done, simply add more water. The noodles should be easy to eat but still have some bite to it. If the noodles begin to break when you're cooking, then it's overcooked.

Remove from the heat, taste and add more salt if needed.

Finally, drizzle a bit of sesame oil and top with any optional toppings you desire.
Notes
If you cannot find Taiwanese cabbage, replace it with Napa cabbage. 
The quantity of the veggies is just a reference,  feel free to adjust the amount according to your preference.  
The amount of water you need for cooking the noodles depends on the heat and the shape of your wok/frying pan.  Start with 2⁄3 of a cup and add more if needed.