This shaobing is a sort of bread/pastry that has a crisp exterior covered with sesame seeds and a layered interior that provides some bite. While the shaobing has quite a large variation of styles depending on the region and whether it's sweet or savory, if you're eating a shaobing, you're most likely having a pleasant experience that you'd describe with words like crunchy, crispy, flaky, aromatic (from the toasted sesame), and chewy.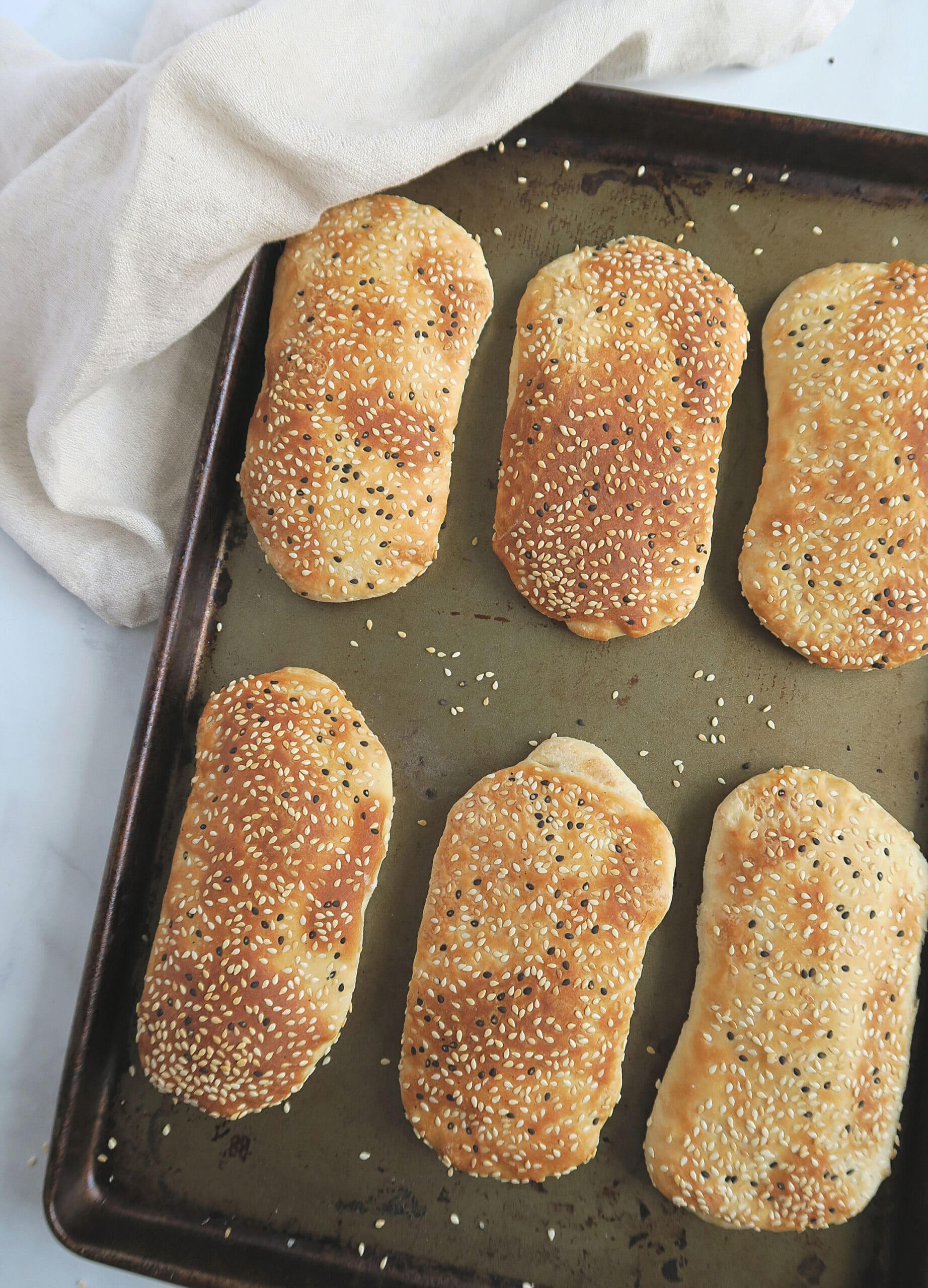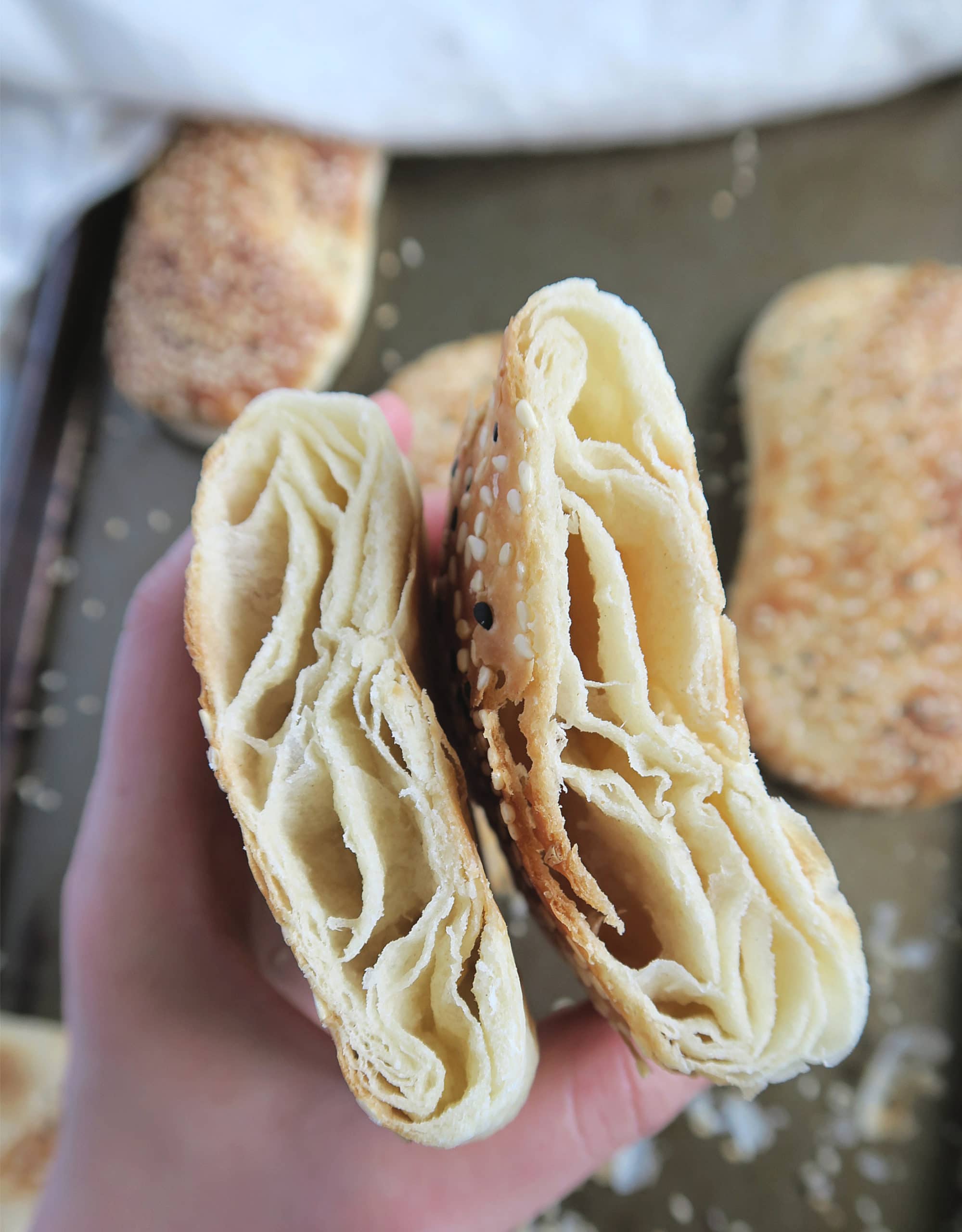 The best way to understand the importance of shaobing to the Taiwanese breakfast is perhaps by comparison to a classic American diner.  While at the American diner, you would expect to find eggs, toast, bacon, hash brown, sausage, and pancakes, when you go to a classic Taiwanese breakfast vendor, you'd find a mix and match combination of shaobing, scallion omelette, youtiao (Chinese fried dough/stick), danbing, soymilk, etc.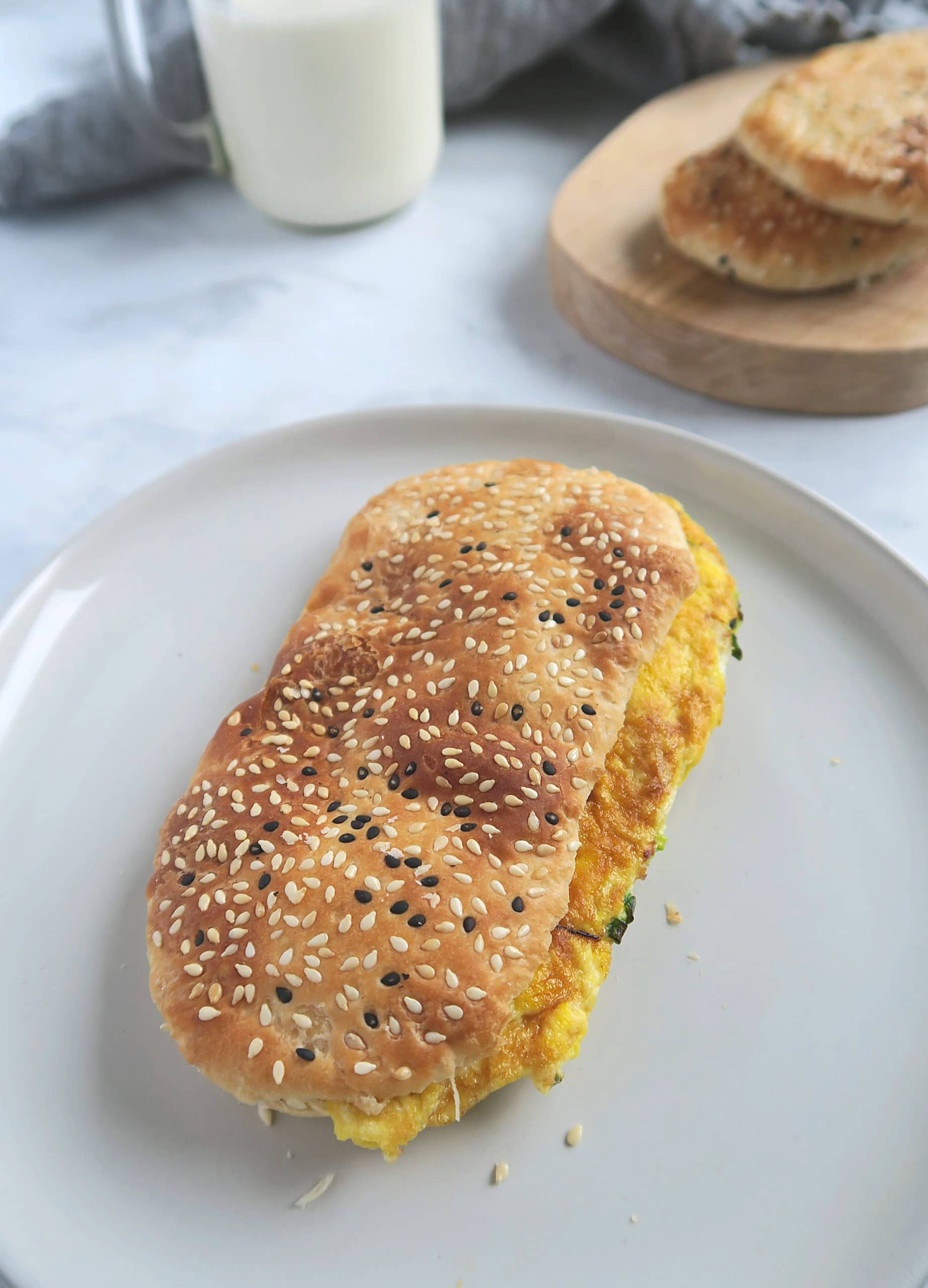 The recipe I'll be sharing with you today is a classic savory version that's typically used for sandwiching youtiao and eggs, but you can use it like you would a pita bread or tortilla and put veggies, meat or whatever you like in it.
After much research, tweaking, and testing, I've finally developed this recipe of shaobing that I think most resembles what you would find if you fly to Taiwan today and visit a local breakfast vendor (except this recipe is likely even better!).
This version, I believe, is also tasty enough to snack on by itself.  Certainly my family thinks so, since we finished most of our shaobing before I even got around to trying to put something into them!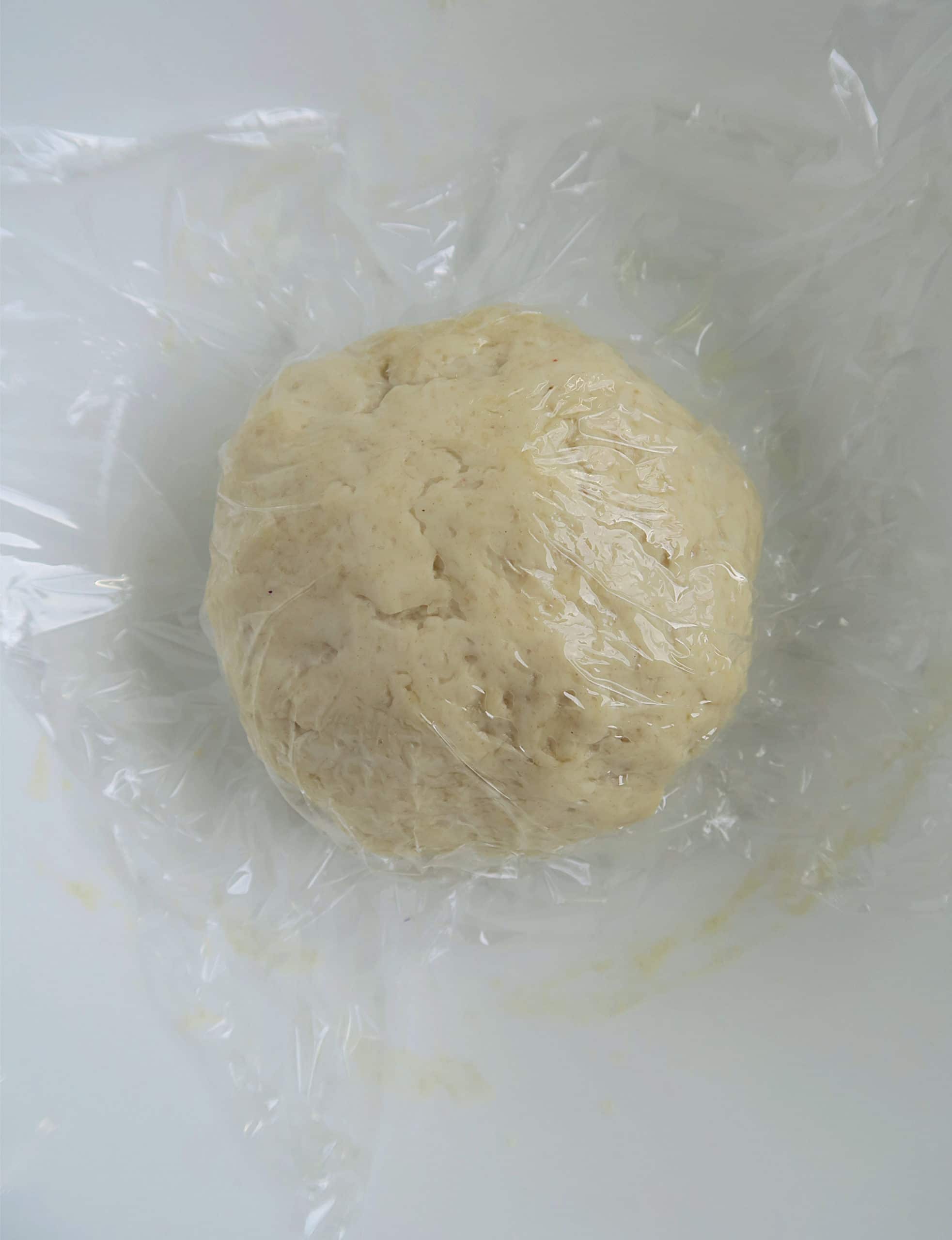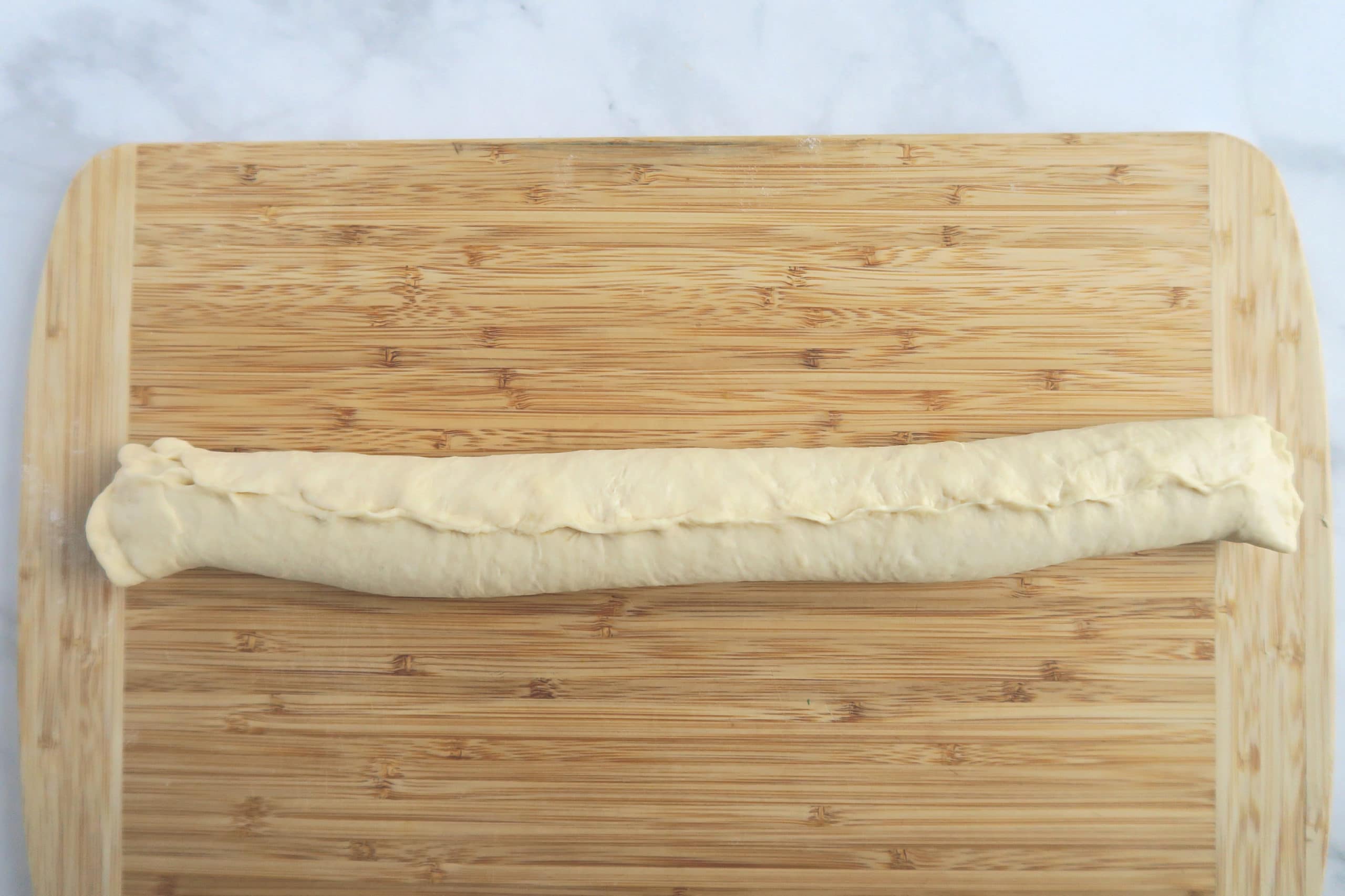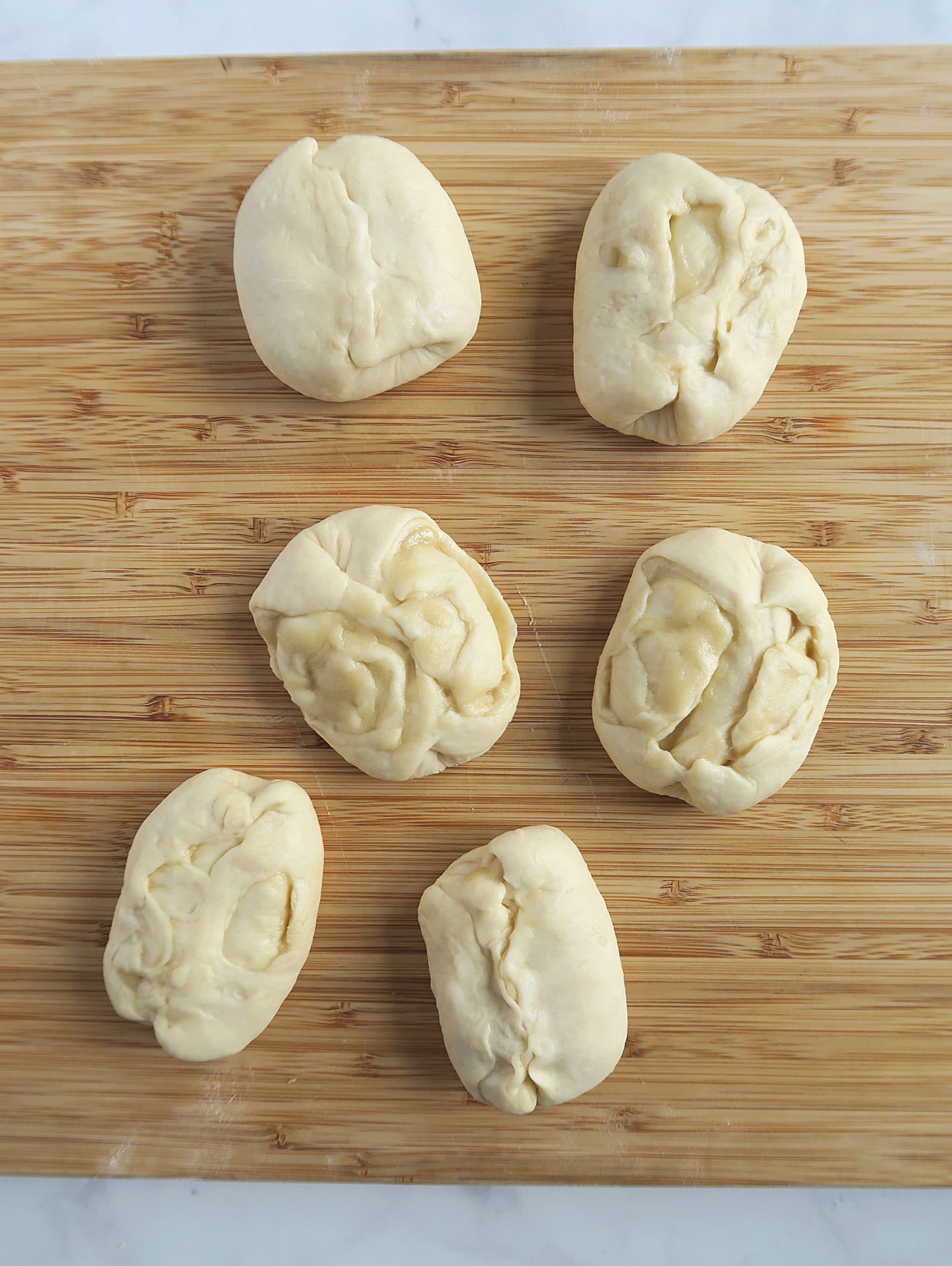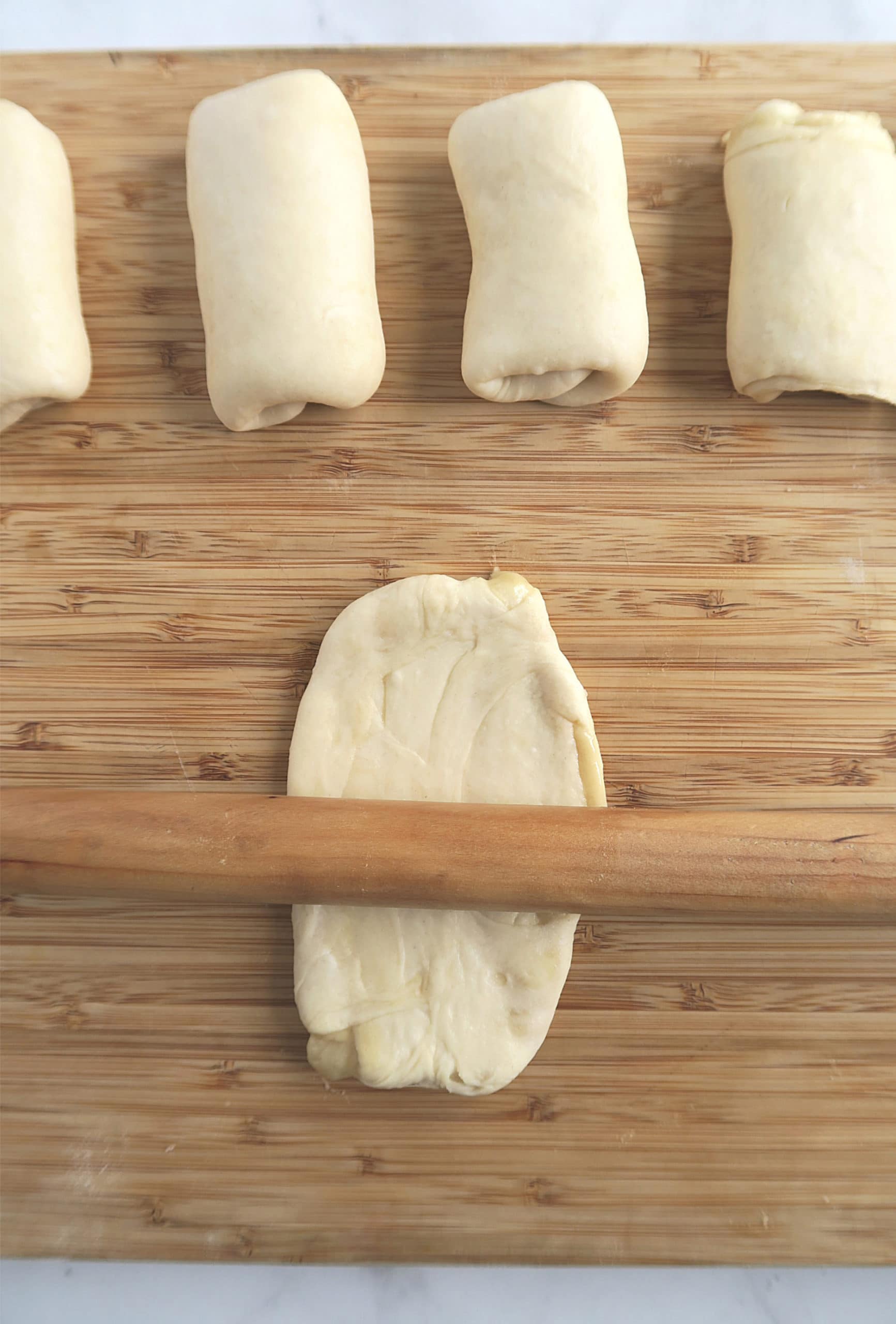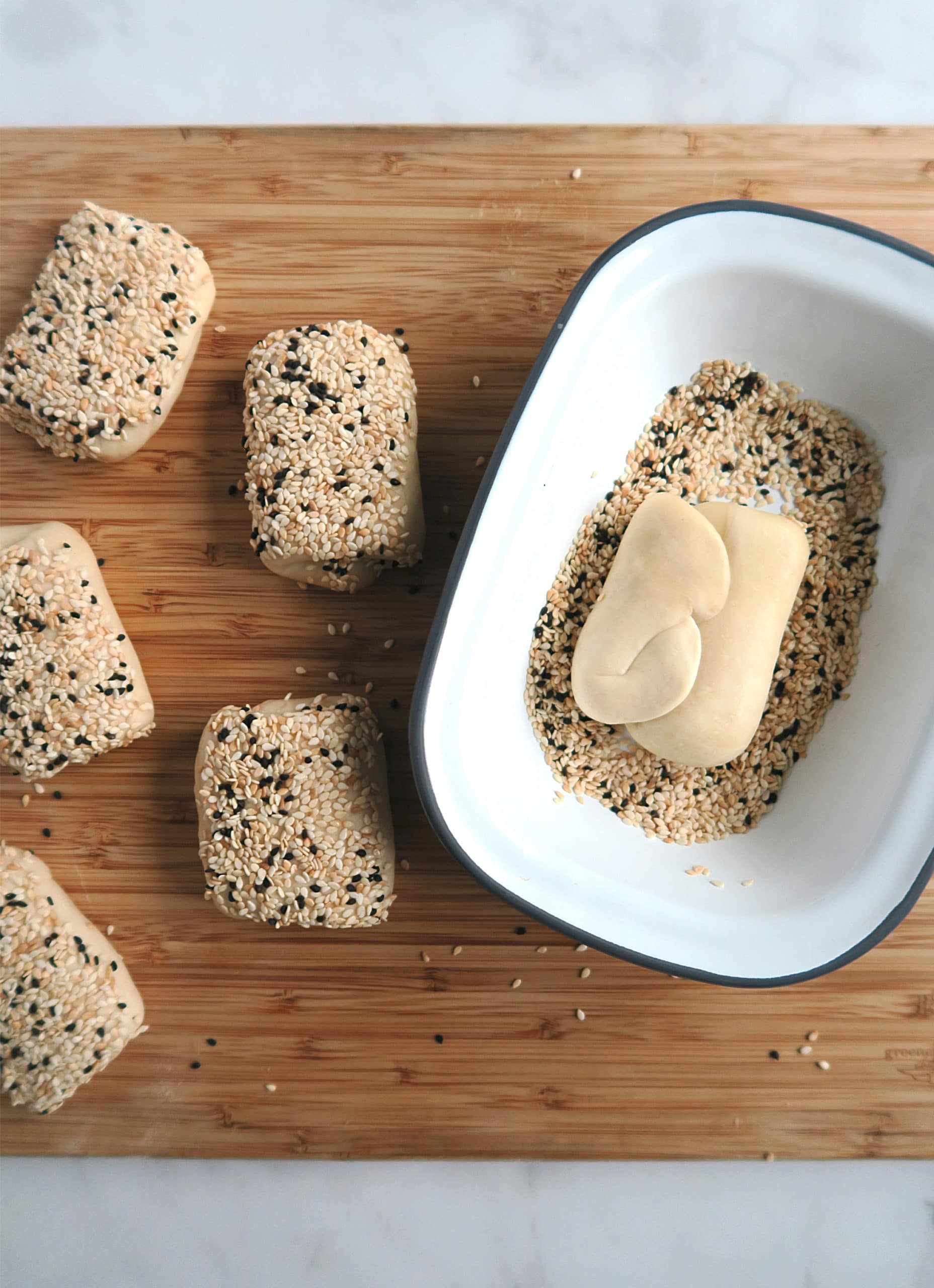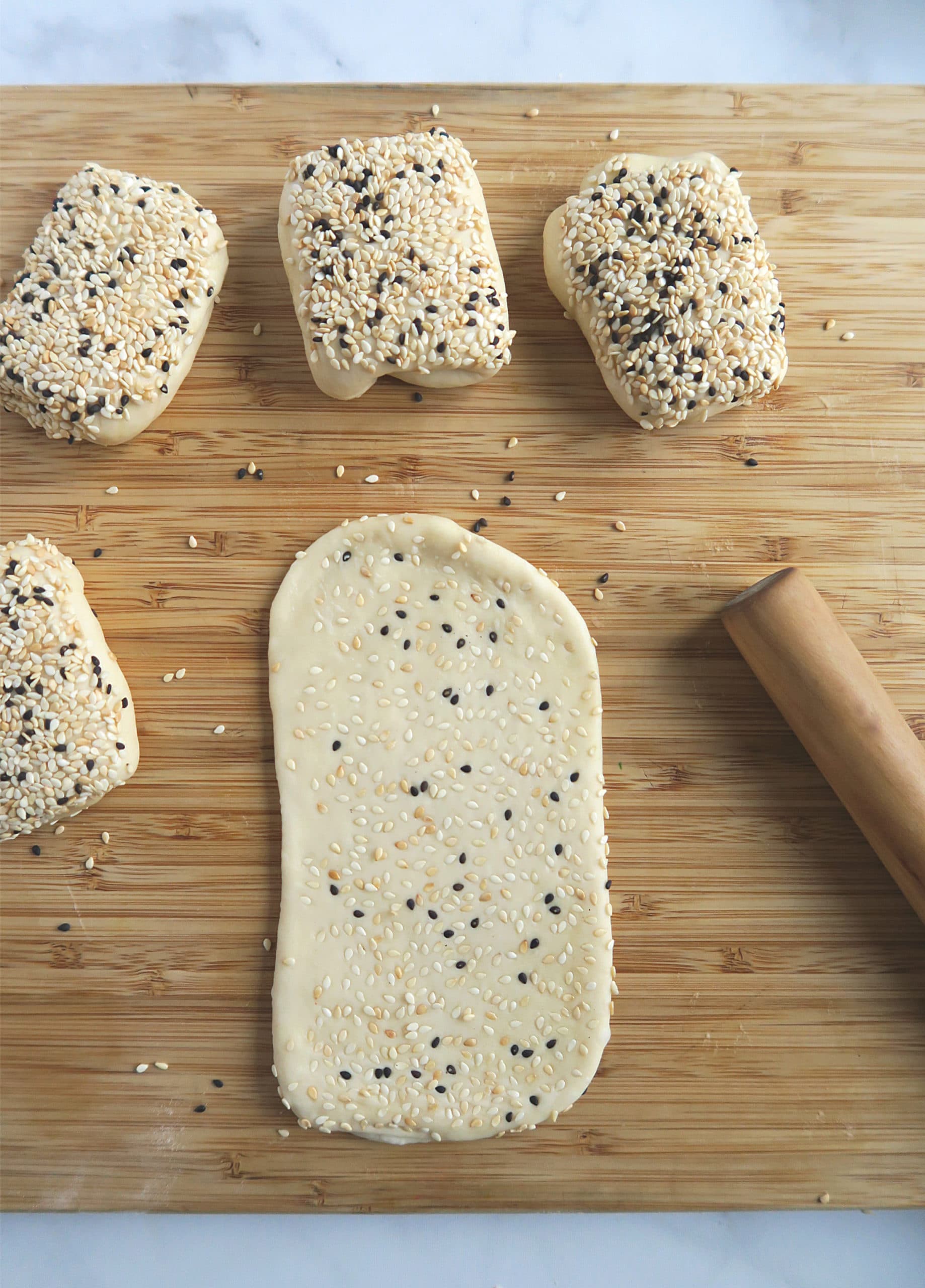 If you like this recipe, make sure you also try my
I would like to hear from you! If you make this recipe, please consider leaving a star rating and comment in the section further down the page. Stay in touch by following my Instagram and Pinterest!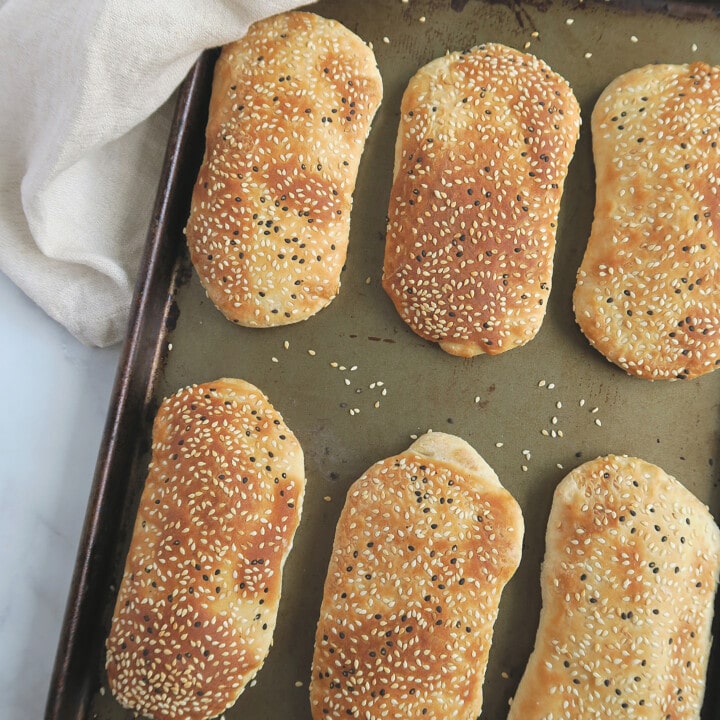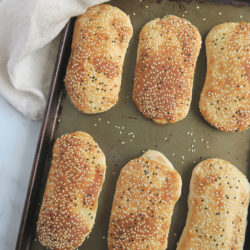 Chinese Sesame Flatbread (Shaobing)
Ingredients
Dough
200

g

all purpose flour plus more for dusting

,

1 ⅔ cup

½

teaspoon

sea salt

1

tablespoon

sugar

50

g

hot water (around 195°F, 90°C)

,

¼ cup

¼

teaspoon

instant yeast

70

g

cold water

,

⅓ cup

1

tablespoon

vegetable oil plus more for greasing
Oil paste
35

g

vegetable oil

,

2 ½tbsp

50

g

cake flour

,

⅓ cup
Topping
4

tablespoon

toasted white sesame seeds

1-2

teaspoon

black sesame seeds

,

optional
Instructions
Making the dough
Mix flour, salt and sugar together in a mixing bowl before adding in hot water. Stir and mix with chopsticks/fork until it becomes lumpy.

Add yeast, cold water and oil; stir with chopsticks/fork until the liquid is all absorbed by the flour, and then knead until a dough is form. The dough will be very sticky, so just knead until you're able to form a rough ball. Grease the dough with oil and cover with plastic wrap before allowing it to rest for 20 - 30 minutes so that it'd be easier to roll out later.
Making the oil paste
Meanwhile, heat the oil in a small pan on medium heat until it's hot. Add in the cake flour and stir until smooth. Continue to cook and stir until it darkens a bit and becomes aromatic. Pour the paste in a bowl and let it cool down.

Preheat the oven to 425°F (220°C)
Forming the bread
Dust the working surface with a thin layer of flour, roll the dough out to an approximately 10" x 16" rectangle.

Spread the oil paste by spatula or by hand on the dough, leaving ½ inch on the top.

Roll the dough from the bottom all the way up, pinching the seam at the end to close.

Cut the roll into 6 even pieces and gently press each piece down to flatten a bit and bring the two "cut" sides to the middle and pinch them together (it's ok if they don't stay together perfectly).

Gently roll each piece out to an oval shape and then fold the top third of the dough down and the bottom third up. After finishing all six pieces, repeat this step again for each piece. Always fold the side with oil paste in so that we'd end up with a smooth surface. Cover and let rest for 10 minutes.

Put sesame seeds in a small plate and lightly press the smooth side of each piece of dough into the plate of sesame seeds.
Baking
Roll each piece out to about a 3" x 6" rectangle. Place the pieces on a lined baking sheet and bake for 12 minutes or until the top is golden brown.

If you are storing these for later, simply toast them in a toaster oven for 3 -5 minutes and they will be just as good as when they're fresh.

If you want to stuff things inside, simply cut the side with a pair of scissors and open it like a book.
Notes
Adding hot water into flour is a common technique used in many Chinese dishes that involve dough . The purpose is to increase the water absorption in order to produce a tender texture.  I also add a bit of yeast here, which allows the dough to rise a little bit when it's baking.  This results in a Shaobing with better texture that's almost the same as I had while growing up in Taiwan. 
To achieve a crispier crust, use convection baking and bake for 8 - 10 minutes or until it's golden brown.