Taiwanese macaron is a traditional snack that you can only find in old school Taiwanese bakeries now a days. Few pastries can bring as much nostalgia to the typical Taiwanese as this pastry. Even though I call it a Taiwanese macaron because it looks so similar to French macarons, but the taste and texture are completely different different. Two small wafers of soft and airy sponge cake/cookie with a thin crispy shell and butter cream in between creates a fabulous flavor when they all melt together in your mouth. The flavor is simple but the combination of textures and flavors make these these quite moreish -- once you try one, it's hard to resist going for more. Plus, they look so cute! Taiwanese people love it very much!
I remember when I was a kid, my dream was to be able to have a bag of these Taiwanese macarons all to myself. However, that never happened. I always needed to share these with others, because even a small bag of these mini sandwich was more expensive than a meal!
Even until now, after having tried many different kinds of fancy desserts, I still love this traditional snack very much. Many Taiwanese even prefer these to the French macaron! It definitely helps too that these are much easier to make successfully than their finicky French cousins, so don't be afraid of trying this recipe!
Beat the egg whites and yolks separately
The traditional way of making these is similar to making a lady finger or a sponge cake, which includes a step of beating the whole egg together and folding in the flour. However, I've found that it is a lot easier and quicker to beat the yolks and whites separately first before mixing them together. One important tip for beating the egg whites is to beat them with medium speed instead of high speed, since high speed beating encourages the formation of larger and less stable bubbles -- ones that will likely pop when we fold in the flour. Though beating on medium speed takes more time, the result is a denser and more stable egg white that sets you up for success in the next subsequent step.
The technique for incorporating the flour
Many people fail at this step by over mixing. The best way I've found for incorporating the flour is to sift it evenly on the surface of the egg in two batches, and use your spatula to fold in the flour instead of stirring. Stop right after all the dry flour are mix in. The egg mixture will deflate a bit and the texture will becomes rough, and that's normal, don't try to mix until it becomes smooth!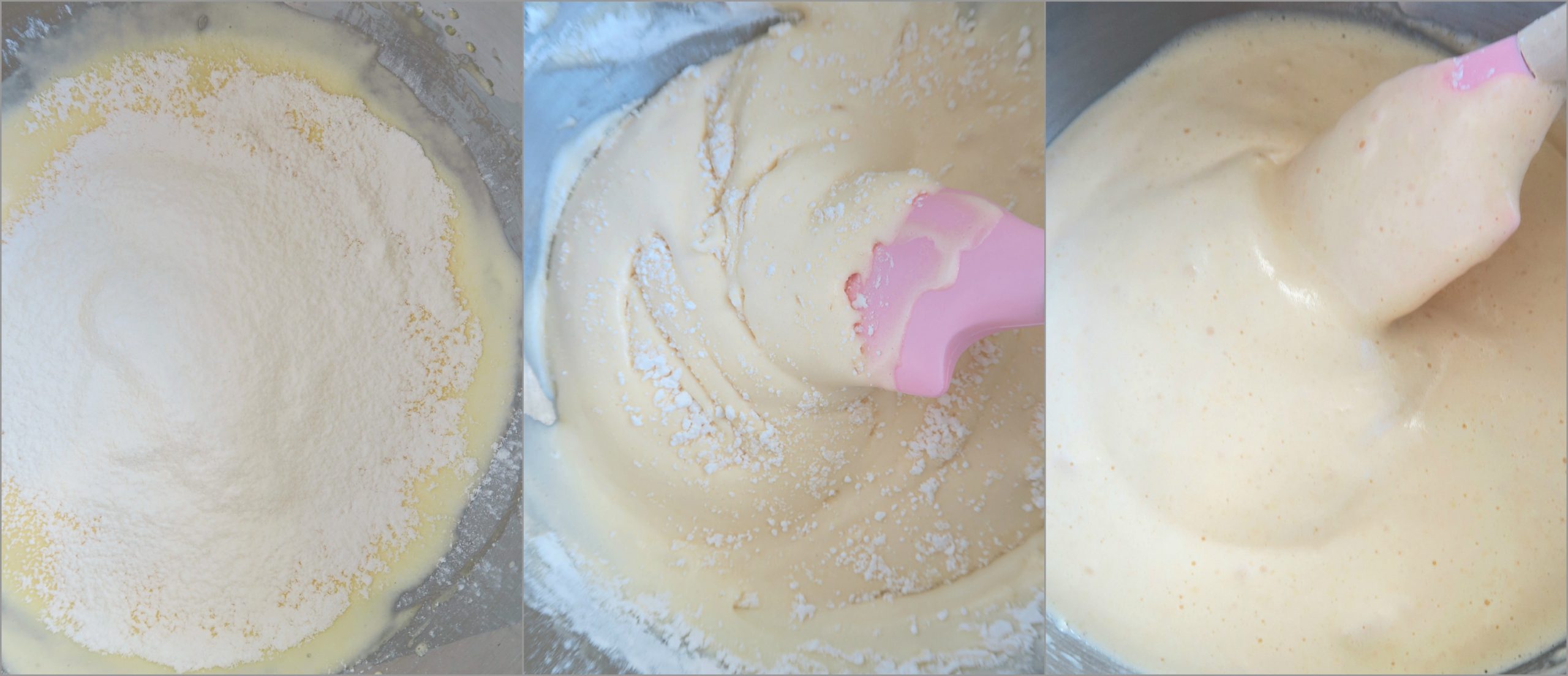 After piping out the batter, dusting a generous amount of confectioner's sugar on top two times before baking helps produce a crispy layer on top while the interior is moist and pillowy. Don't over bake! Otherwise your wafers will become dry and crunchy, which is not the texture we want for the Taiwanese macaron.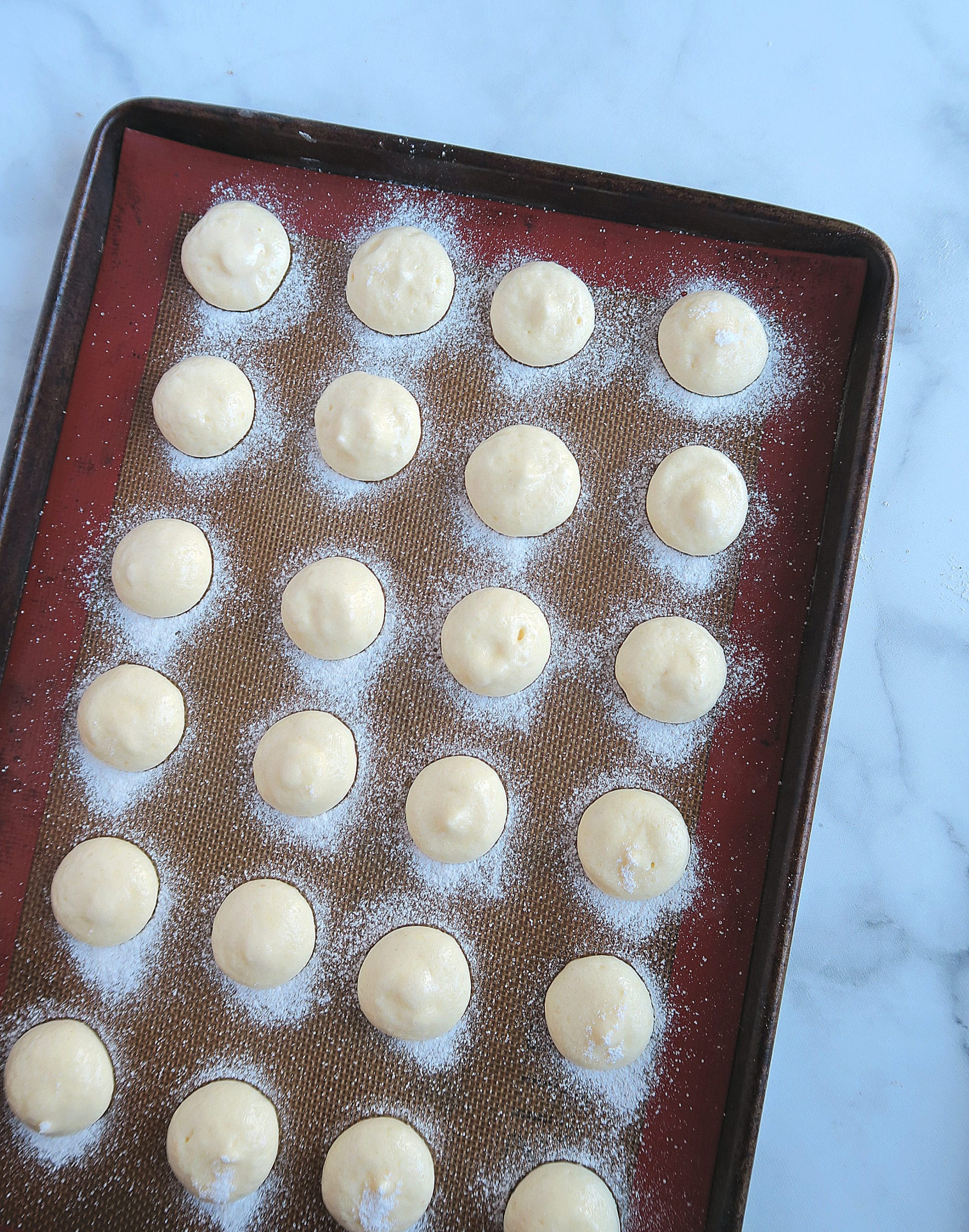 Use the butter cream of your choice
The butter cream I used in this recipe is the easiest-- I just beat together butter with sugar and vanilla bean paste. However, you can definitely use any kind of butter cream, like Swiss butter cream, Italian butter cream, etc. You could also try many different types of flavors like chocolate, matcha, stawberry or whatever you like!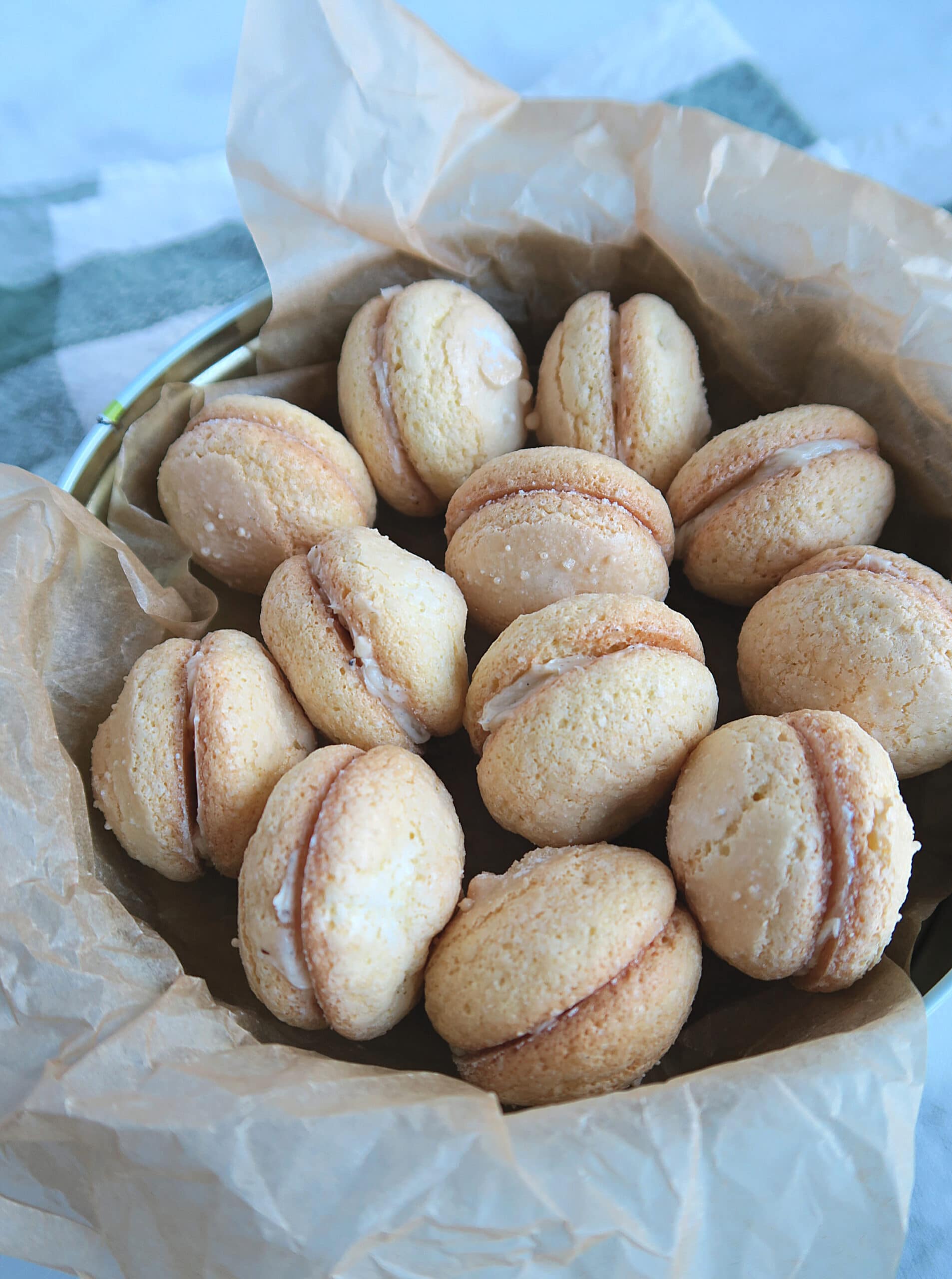 These Taiwanese Macarons are so yummy and easy to make, they're also probably unlike any other dessert you've ever had. Hope you can give it a try!
Happy baking!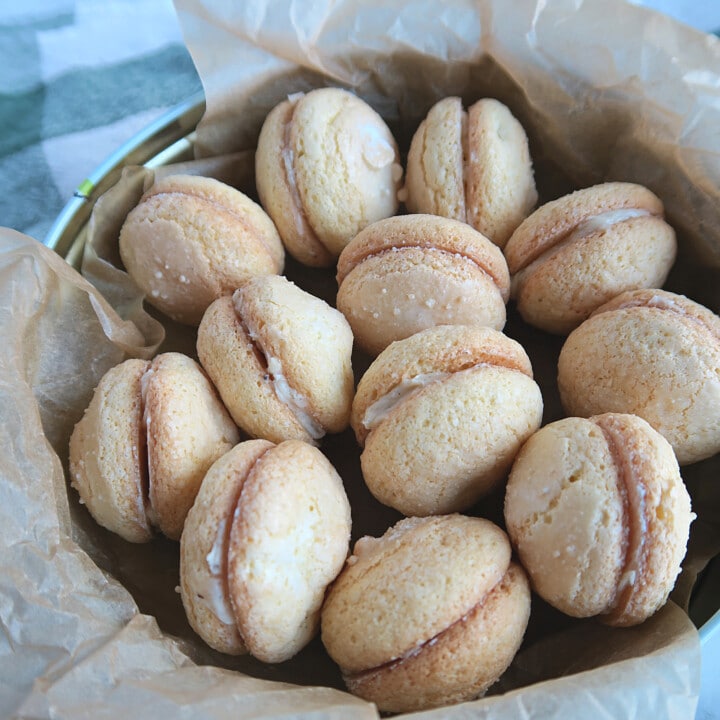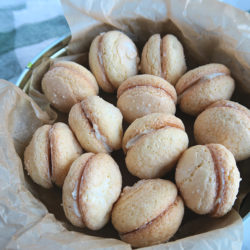 Taiwanese Macaron
Ingredients
Sponge cake wafers
50

g

cake flour

,

1⁄3 cup

10

g

cornstarch

,

2 teaspoon

2

egg whites

2

egg yolks

40

g

sugar

,

3 tablespoon + 1 teaspoon

powdered sugar for dusting
Butter Cream
60

g

butter

,

4 tsbp

6

g

powdered sugar

,

1 tablespoon

½

teaspoon

vanilla bean paste

1

pinch

of salt
Instructions
Preheat the oven to 340°F (170°C)
Sponge cake wafers
Combine cake flour and cornstarch in a bowl and set it aside.

Combine 10 grams of sugar with egg yolk in a small mixing bowl and beat with an electric mixer on high speed until thick and color becomes pastel yellow. Set it aside.

Add egg white in another mixing bowl, beat with a clean and dry electric mixer on medium speed until foamy. Add half of the sugar and continue to beat until the volume increases and air bubbles become smaller. Add the rest of the sugar and beat until the foam can form firm peaks (meaning that lifting the mixer out will result in egg white foam that stands straight up with the peak curling down just a bit).

Add about a half cup of the egg white into the egg yolk, whisk to combine, then pour the mixture back into the rest of the egg white and whisk slowly by hand until well combined.

Sift half of the flour mixture onto the surface of the egg mixture evenly, then fold the flour in with a spatula 5 times before sifting in the rest of the flour mixture.

Fold the rest of the flour in with the the spatula until just combined (no visible flour). The mixture will deflate a bit and look a bit rough, but do not try to mix until the mixture becomes smooth.

Transfer the mixture into a piping bag, cut a half inch wide tip and pipe out 1.5 inch diameter circles onto a lined baking sheet. You will get about 50 dollops.

Dip your finger with water and gently press down the tip of each dollop of batter.

Dust all the dollops with confectioner sugar for 2 times.

Bake for 11 - 13 minutes until the color starts to change, take it out, remove the baking mat or parchment paper from the pan and let it cool for few minutes before peeling the wafers off. Avoid over baking or your wafers will be dry and crunchy. A successful wafer should have a texture more similar to cake than to cookies.
Butter cream
Beat butter, confectioner sugar, vanilla bean paste and salt with an electric whisk until fluffy.
Assemble
Spread a thin layer of butter cream (or more if you desire!) on one wafer and find a similar sized to match it and form into a sandwich. Repeat this for the rest of the wafers.
Notes
This recipe is developed and tested in gram, if you would like to make this recipe, a kitchen scale is highly recommended. I used the OXO scale that's recommended by Cook's Illustrated, but any cheaper one will work just fine!
If you can work fast enough, I recommend you to beat you the egg white first, so you can continue to beat the yolk without washing the whisk.
Feel free to use any other kinds of butter cream you like, such as Swiss butter cream or Italian butter cream.
Store in a airtight container for up to 3 days.  If the weather is hot, store them in the fridge to prevent the butter cream from melting.
Nutrition
Serving:
1
g
Calories:
24
kcal
Carbohydrates:
4
g
Protein:
1
g
Fat:
1
g
Saturated Fat:
1
g
Polyunsaturated Fat:
1
g
Monounsaturated Fat:
1
g
Cholesterol:
16
mg
Sodium:
9
mg
Potassium:
11
mg
Fiber:
1
g
Sugar:
2
g
Vitamin A:
25
IU
Calcium:
5
mg
Iron:
1
mg