This mushroom chicken stir fry uses the dynamic duo of onion and mushroom in an Asian context. The sweetness of onion and the umami flavor from the mushrooms make this dish super delicious and flavorful. What's best about this recipe is that it's super easy to put together -- perfect for a weeknight dinner. The tasty and flavorful stir fry over a bowl of warm rice is just so comforting, I can never get tired of eating it.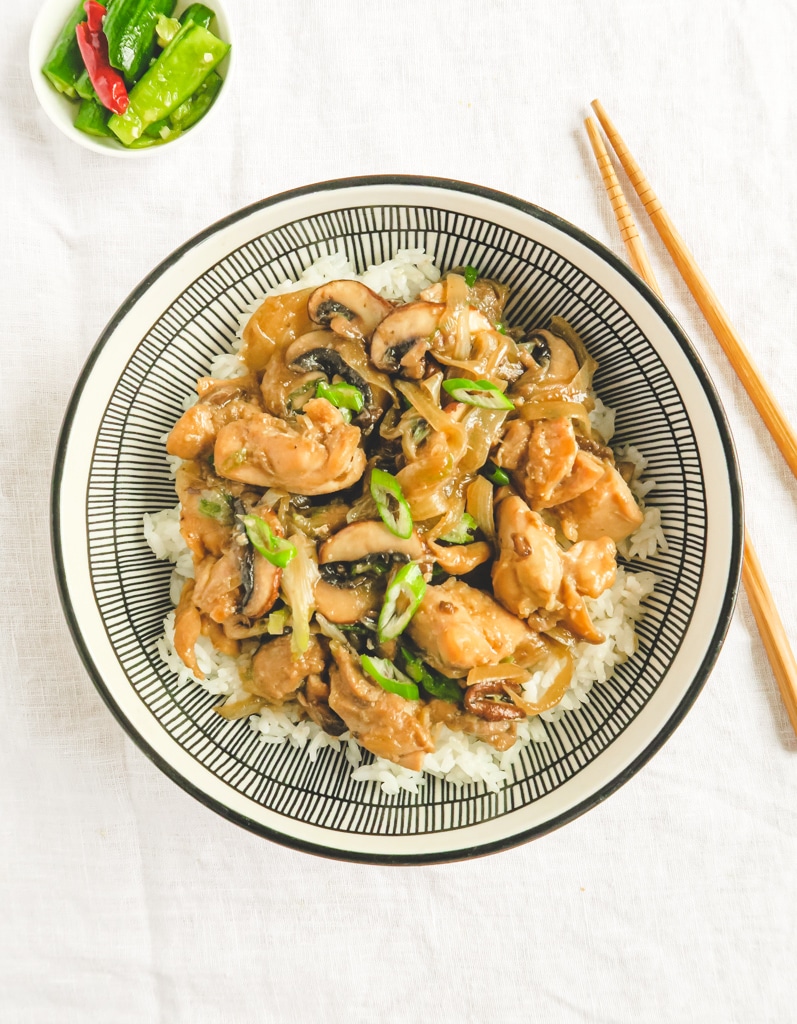 Boneless skinless chicken thigh is something I always have in my freezer. It's quick and easy to cook and you can have so many different ways to prepare it. Stir fry is, in my opinion, one of the best way to prepare it. In order to get the full flavor in a short time, I usually incorporate some aromatic elements like ginger, garlic, scallion, onion, shallot, etc in the cooking process. after I experimented many different combinations, this recipe is one of my favorite.
Marinating
I usually marinate the chicken and onions together with all the seasonings for about 10-15 minutes.  This is optional if you don't have enough time, but highly recommended, as it gives the chicken better texture and flavor. 
Plus, this makes the cooking process so much easier as you won't need to worry about when to put in what seasoning.  If you'd like, you can also marinate much farther in advance and store it in the fridge either few hours ahead or even overnight.
Mushrooms
I love mushrooms!  Mushrooms not only gives a great umami flavor in this dish but also provides a different texture that makes the eating experience more interesting.  The amount of mushrooms in this recipe might seems a lot, but remember, mushroom shrink down a lot as they cook. 
You can also try using different kinds of mushrooms, like a combination of baby bella, maitake, shimeji and oyster mushrooms will make this dish even better!
Thickening
In Chinese cooking, we often call for thickening up the dish at the end of cooking process with some starch.  Through this thickening process, the sauce will be able to attach on the meat and vegetables better and improve the flavor of entire dish. 
To thicken, start by mixing some tapioca starch (or any other kind of starch) with a little bit of cold water (never add hot water here!).  Toward the end of the cooking process, pour in the starch mixture into the pan in the circular motion in order to disperse it evenly, and then stir the broth right away to prevent lumps from forming.
When I'm eating this dish, I like to top it with a sunny side up or poached egg. When you get a bite with rich runny egg yolk mingled with the savory mushroom chicken stir fry and some rice, you have comfort in a bite!
You should definitely give this a try!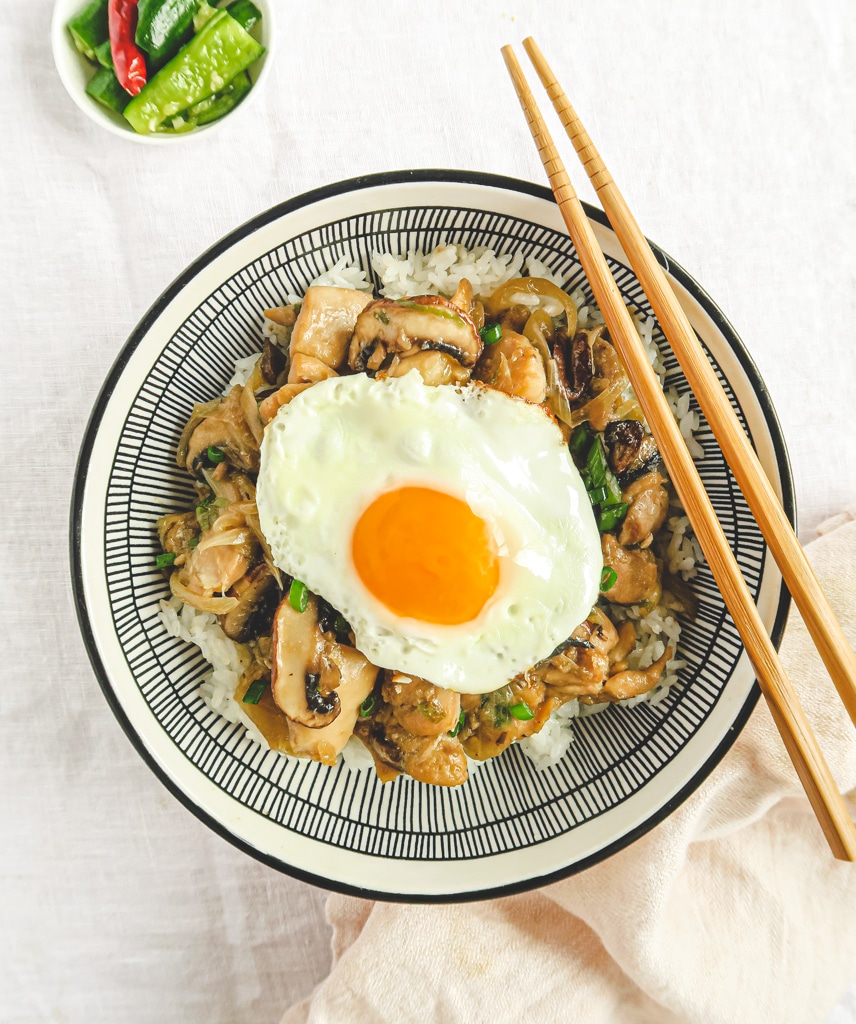 I would like to hear from you! If you make this recipe, please consider leaving a star rating and comment in the section further down the page. Stay in touch by following my Instagram and Pinterest!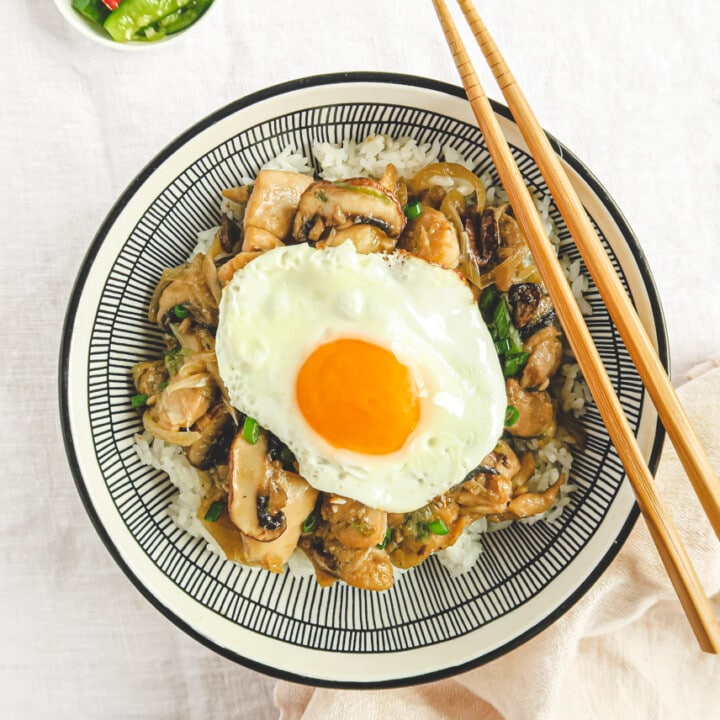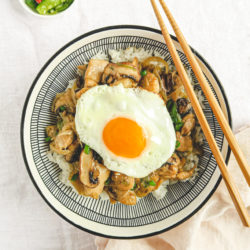 Mushroom Chicken Rice Bowl
A very flavorful dish that's quick and easy to make -- great for weeknight dinner!
Ingredients
3

tablespoon

soy sauce

2

tablespoon

mirin

2

cloves

garlic

,

grated

1⁄2 

teaspoon

grated ginger

1⁄4 

teaspoon

white pepper powder

1

scallion

,

thinly sliced

1

medium

onion

,

sliced

5~6

pieces

boneless skinless chicken thighs

,

cut into bite size (don't trim the fat off the chicken)

5

oz

sliced cremini mushroom (or other kinds based on your preference)

,

about 3 cups

2

teaspoon

tapioca flour (starch)/corn starch

salt

4

serving

warm rice

fried egg or poached egg

,

optional
Instructions
Mix soy sauce, mirin, garlic, ginger, white pepper powder, scallion, onion and chicken thigh together in a big bowl, let it sit for between 10 minutes to a few hours few hours (overnight is ok) in the fridge.

Heat a frying pan over medium to medium high heat, pour the chicken with everything in the bowl into the frying pan, spreading it out into an even layer.

Cover and cook for 3 ~ 5 minutes until the surface of the chicken turns white.

Remove the lid and add in mushrooms, stir and cook until the chicken is cooked through and the liquid in the pan is reduced to just cover the bottom of the pan.

Mix starch with 2 tablespoon of water, pour the mixture into the pan and stir for several times until the starch mixture is evenly distributed and the liquid thickens up a little bit.

Remove the pan from the heat and season with salt to taste.

Serve with warm rice, top with fried egg or poached egg and enjoy!
Notes
Feel free to omit the thickening process if you prefer not to do it.  In that case, simply cook until the liquid in the pan is almost gone to make sure that the flavor is concentrated enough.