Taiwanese cold noodles is a dish that's perfect to make/eat on hot days, as it requires minimal cooking, and tastes refreshing yet satisfying. The magic of this dish is that even though it's a meal that takes less than 30 minutes to put together, the combination of elements in the peanut-sesame dressing still packs a deep and satisfying flavor.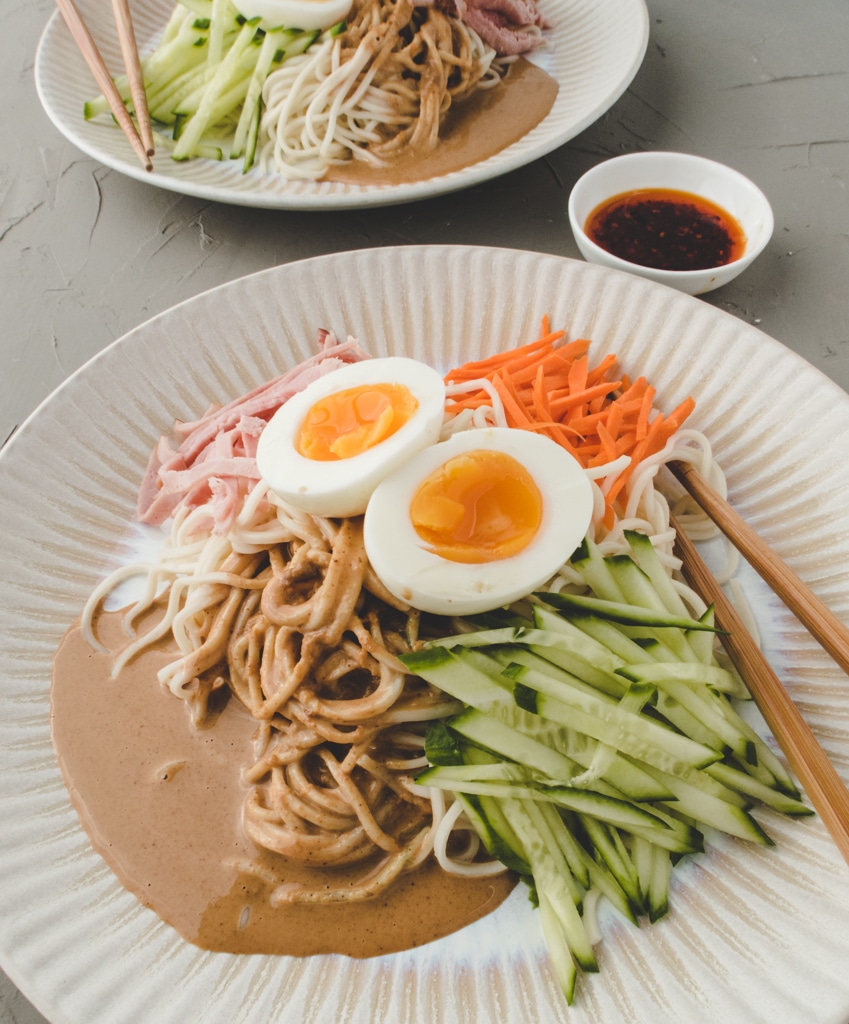 Taiwanese cold noodles (Liang Mian) is very popular in Taiwan because of the hot and humid weather. If you go to the cold noodle stalls in Taiwan, you will usually get a bowl of noodles with sesame dressing topped with julienned cucumber. Depending on the area in Taiwan, the way they serve cold noodle can also differ by a little. For example, some will add a bit mayonnaise or wasabi in addition to the sesame dressing. You can even find many people who like to eat it for breakfast (I know, that's a very interesting breakfast) or a late night snack.
Sesame Dressing
The dressing for this dish is super easy to make -- simply combine all the ingredients and mix until smooth. No cooking necessary. I usually make it in my salad dressing shaker or in a blender if I'm making a lager amount. You can also make it in a mason jar by simply adding all the components and shaking until the dressing becomes smooth.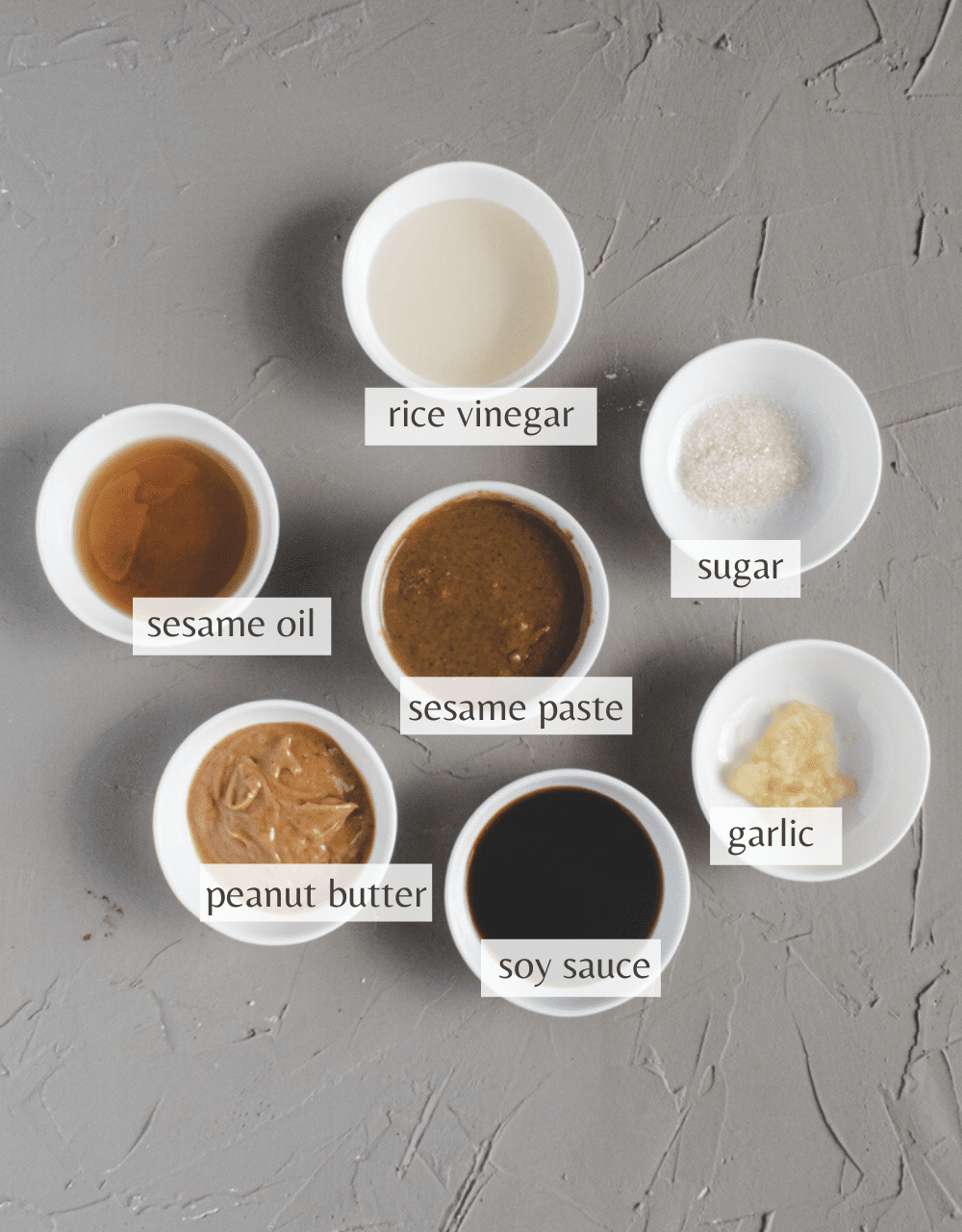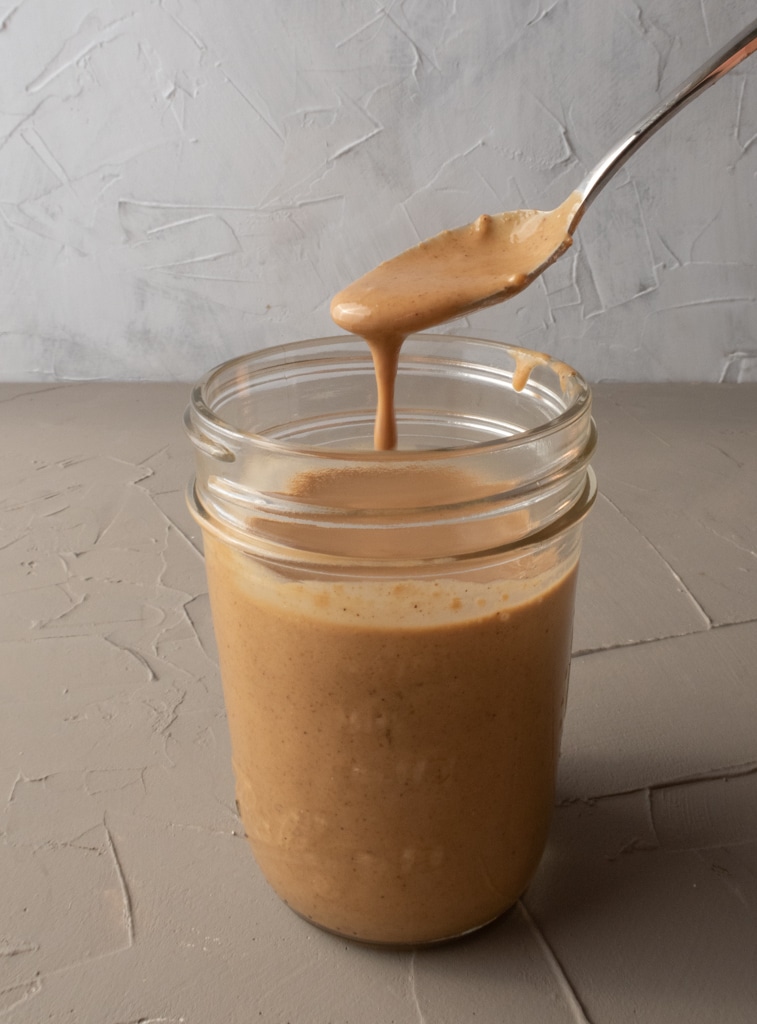 I like to use Chinese sesame paste when making Taiwanese cold noodles, as it is more aromatic than tahini (it smells almost like peanut butter). However, you can also use tahini if Chinese sesame paste is not available to you. I wouldn't use raw tahini, though, as it doesn't provide the kind of nutty aroma that we're looking for in this dish.
When you're preparing this dish, I suggest that you make the dressing first in order to give the different ingredients in the sauce more time to meld together. Also, try the dressing and see if you need to adjust it based on your taste.
Noodles
I would say that for a bowl of good Taiwanese cold noodle, the noodle part is equally as important as the dressing. I personally prefer thin wheat noodles that have a chewy and springy texture, which is what we'd refer to as having a "QQ" texture in Taiwan. If I have time, I will make the noodles myself, otherwise I like to use Kuan Miao thin noodle or even Capellini (angle hair pasta). If your noodles are too thick, you'll have less surface area that can be coated with the dressing, which might make the dish taste less flavorful.
When cooking the noodles, it's very important to not over cook them and to cool the noodles down right after it's done cooking in order to maintain it's QQ texture. I usually will prepare a try of ice cubes, and once the noodle is cooked, I will transfer it into the tray with ice cubes to cool down. You can also rinse with cold water if you prefer. I know this is often frowned upon for pastas, but this sesame sauce is so sticky that you don't really need to worry about sauce adhering to your noodles for this dish.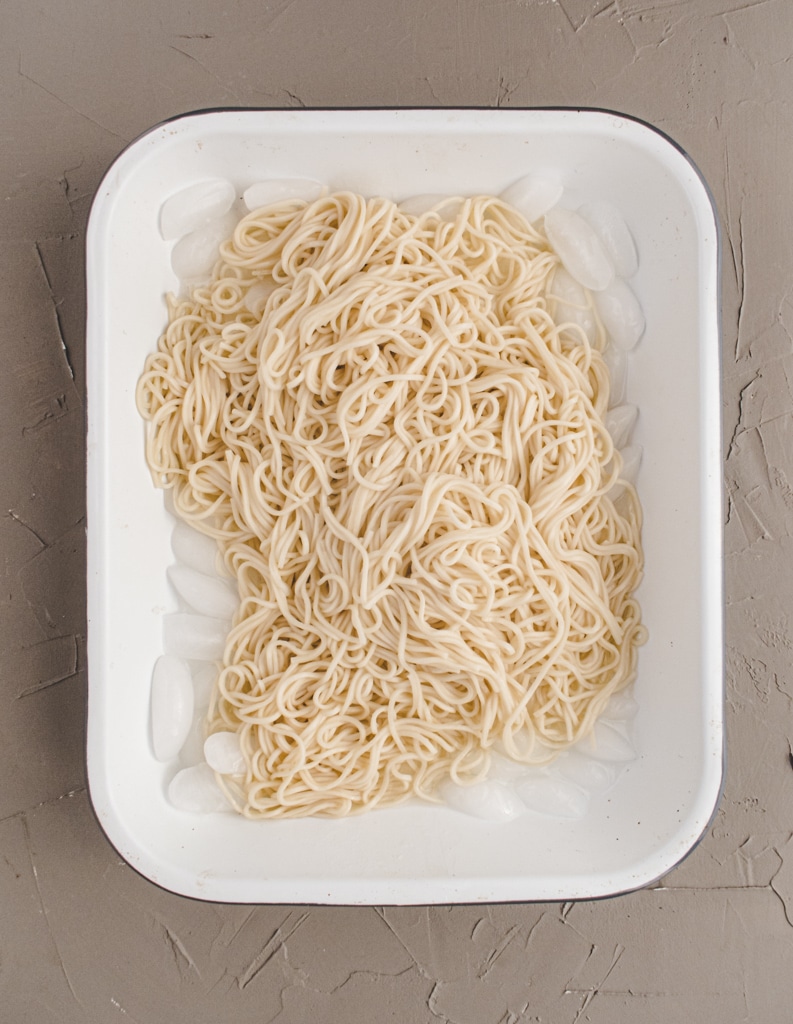 Even though we stop the cooking process by shocking it with ice or water, you should still try to eat the noodles as soon as possible if you cool the noodles this way, otherwise the noodles will harden if it sits too long. Another way to cool the noodles is to blow it with a fan while tossing the noodles. This is what the cold noodle stall do, since this method causes the noodle's to remain QQ a bit longer.
Toppings
Unlike the cold noodle stalls that usually only include cucumber as the sole topping, I almost always add more toppings when I make this at home so that it can be a more balanced and complete meal. The common toppings are
julienned carrots
mung bean sprouts (blanched)
shredding chicken breast
ham
egg (fried egg or sliced omelet)
In this recipe I use julienned cucumber and carrots, ham and soft boiled egg, which are the toppings I usually use whenever I make this for my family. I really like the flavor of ham in my cold noodle, as I feel it introduces another dimension of flavor. Another reason I like ham is that it's a convenient protein to add -- all I need to do with it is to slice it up before adding. I also prefer soft boiled eggs over omelet slices because it's much less of a hassle, and I like the textural contrast that it brings to the dish. I also like to drizzle a little bit of chili oil, which I think goes very well with the flavor of sesame dressing.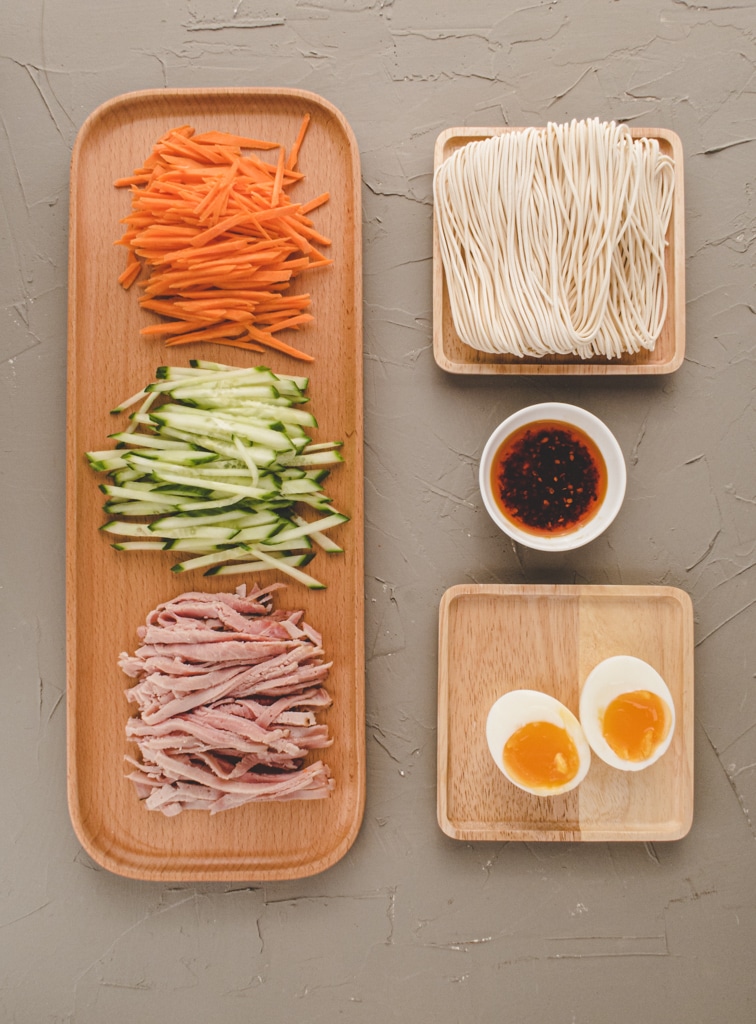 You can also add shredded purple cabbage, chopped kale, edamame, chopped scallion, cilantro, roasted peanuts, etc and make it into a noodle salad -- definitely the perfect delicious and healthy meal for summer.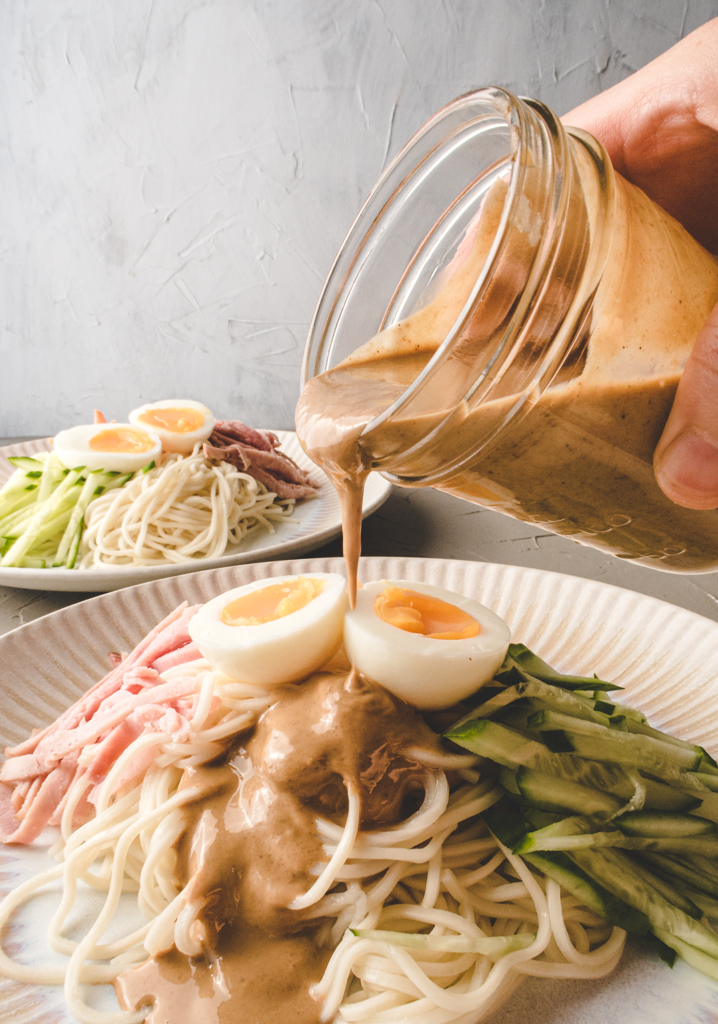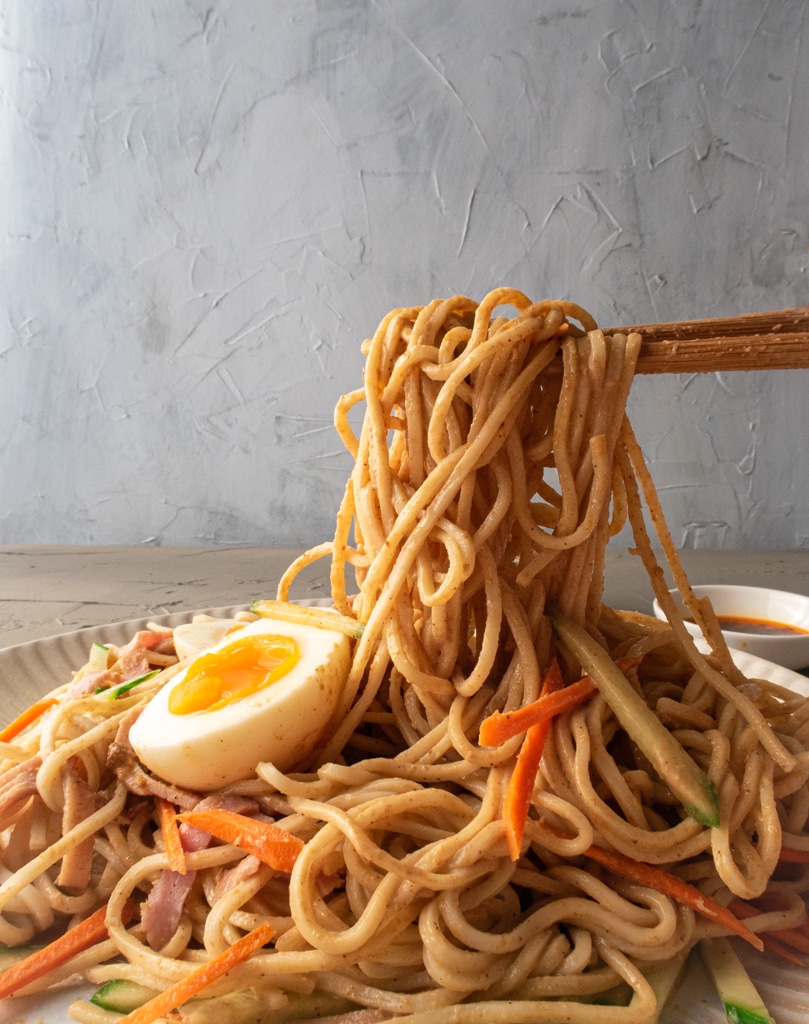 Don't Forget to Try
I would like to hear from you! If you make this recipe, please consider leaving a star rating and comment in the section further down the page. Stay in touch by following my Instagram and Pinterest!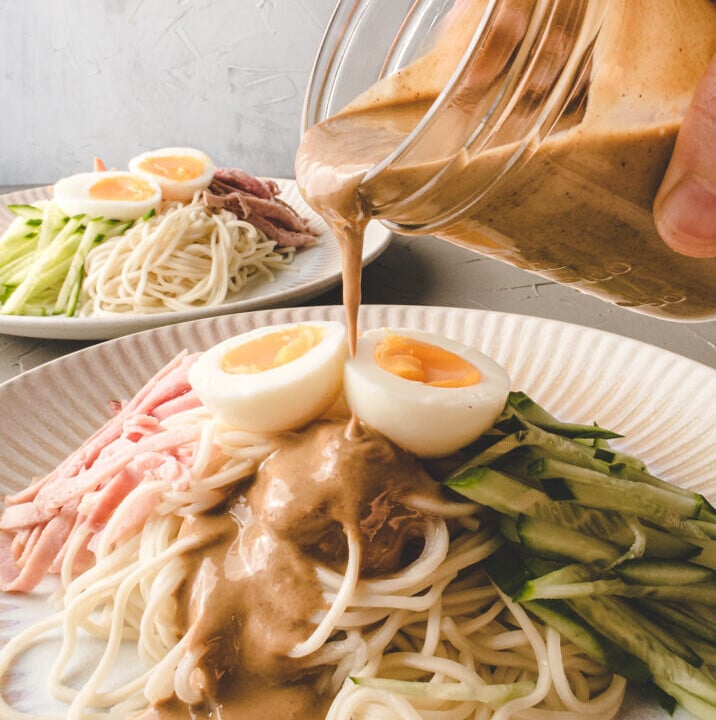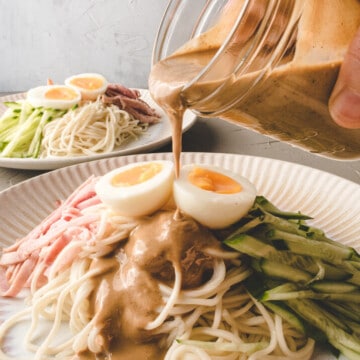 Taiwanese Cold Noodles with Sesame Dressing (Liang Mian)
This satisfying and refreshing cold noodle is great for summer time, easy to make and with only minimal cooking involved.
Ingredients
Sesame Dressing
4

tablespoon

Chinese sesame paste or tahini ,

raw tahini is not recommended for this recipe

1

tbsp

smooth peanut butter

,

can be replaced with sesame paste

1½

tablespoon

soy sauce

2

tablespoon

sesame oil

⅛

teaspoon

sea salt

1

teaspoon

brown sugar

4

tablespoon

water

,

use less if using tahini

½

teaspoon

minced garlic

,

grated or pressed through garlic press

1

tablespoon

rice vinegar

,

can be replaced with apple cider vinegar
Noodle and Toppings
2

serving

Chinese noodles

,

see main post for more information

½

English cucumber

1

carrot

4

slice

ham

2

egg

chili oil

,

optional
Instructions
Make the dressing
Put all the dressing ingredients into a salad shaker or mason jar and shake until the dressing is smooth. If using tahini, start with 2 tablespoon of water as it's runnier than Chinese sesame paste.
Prepare the toppings
To make a soft boiled egg, steam egg for seven minutes and soak it in cold water before peeling.

Julienne or grate cucumber and carrot and set it aside.

Chop the ham into thin strips and set it aside.
Cook noodles
Cook noodles according to the package, do not over cook!

When the noodles are done cooking, soak or rinse it with cold water to cool down. Remember to drain it-- don't let the noodle sit in water.
Assembling
Try the dressing to see if the flavor needs to be adjusted base on your taste.

Top the noodles with toppings, mix with sesame dressing and enjoy!
Nutrition
Calories:
766
kcal
Carbohydrates:
52
g
Protein:
33
g
Fat:
48
g
Saturated Fat:
10
g
Polyunsaturated Fat:
16
g
Monounsaturated Fat:
20
g
Trans Fat:
0.01
g
Cholesterol:
198
mg
Sodium:
1959
mg
Potassium:
648
mg
Fiber:
3
g
Sugar:
7
g
Vitamin A:
5432
IU
Vitamin C:
6
mg
Calcium:
105
mg
Iron:
3
mg