This Taiwanese hand torn noodle soup is a comforting dish that is packed with deep traditional Taiwanese flavors. Unlike beef noodle soup, which is all over the place in restaurants in Taiwan, this is a very home style dish that people enjoy in the family. My grandma used to make this a lot when I was a kid and I loved it very much.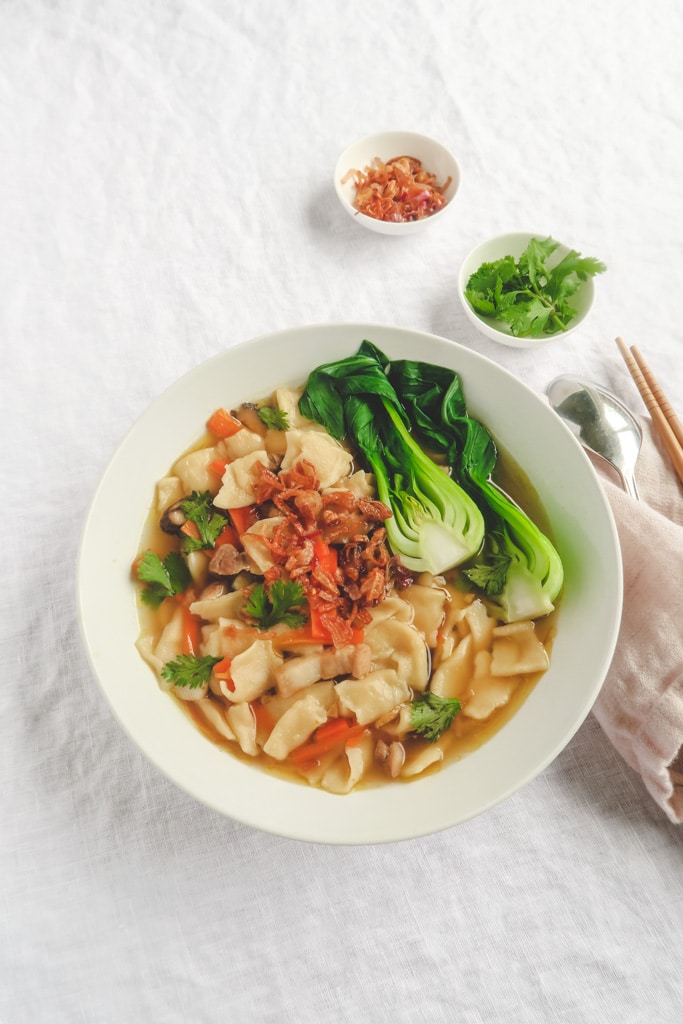 What is traditional Taiwanese flavor?
When people think about Taiwanese food, they might think about things like boba tea, scallion pancakes, gua bao and beef noodle soup. However, there's a lot more to Taiwan cuisine than that. In fact, a lot of authentic traditional Taiwanese cooking involves many flavors and elements that aren't even present in these popular dishes that have been exported to the west. To give you an idea of what these elements are, traditional Taiwanese cooking often uses some of the following ingredients:
Dried Shiitake mushrooms
Dried shrimp
Crispy fried shallots (Recipe)
Cilantro
Scallion
Soy sauce
White pepper powder
Lard
Sesame oil
This recipe is great not only because it's easy and flavorful, but also because it truly showcases a lot of these authentic Taiwanese cuisine flavors. When combinations of these flavors work together, as they do in this recipe, the result is a deep and unique flavor profile that gives you a genuine experience of Taiwanese cuisine.
Making the noodles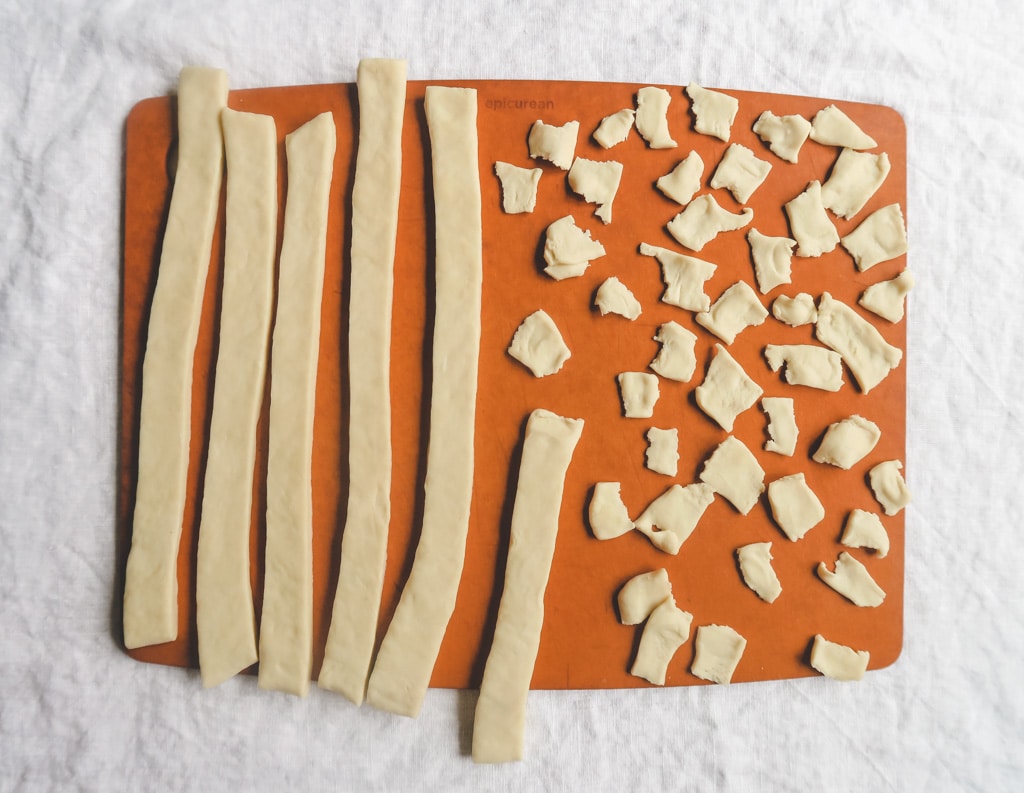 Making hand torn noodles doesn't required too much skill, all you need to do is to make a dough, let it rest, and tear it into smaller pieces. People usually tear the dough into the soup directly as the soup is cooking; however, if you are making more or cannot do it as fast, I highly recommend tearing all the noodles pieces beforehand and adding them all at once into the soup so that the noodles can cook evenly.
In terms of the size of the noodles, it's really up to your preference. I prefer it to be smaller so it's easier to eat. I developed a method that I personally found easier for tearing the dough into smaller pieces. To do this, first roll the dough out to about 1⁄2" thick before cutting into 1" wide strips. Next, simply tear these strips into small pieces, one at a time. If you prefer bigger noodles, simply make the strips wider. Keep in mind that the noodle will absorb some water and became larger after cooking.
Adjust the recipe based on your taste
Unlike western cooking where everything is measured out, Taiwanese cooking is all based on your preference and doesn't prescribe as much specific measurements. If you try to ask your Taiwanese mom or grandma how to make a dish, instead of saying a cup of this and a tablespoon of that, they'll say a bit of this and some of that. So it's actually quite difficult to exactly replicate Chinese/Taiwanese dishes from parents/grandparents.
If you like white pepper powder, you can add more to your dish; if you prefer something saltier, then add more soy sauce. In this recipe, I cut the carrots into batons, but you can also just slice it or cut into small cubes. I cut the baby bok choy into half for better presentation, but feel free to chop it smaller, just do which ever works for you.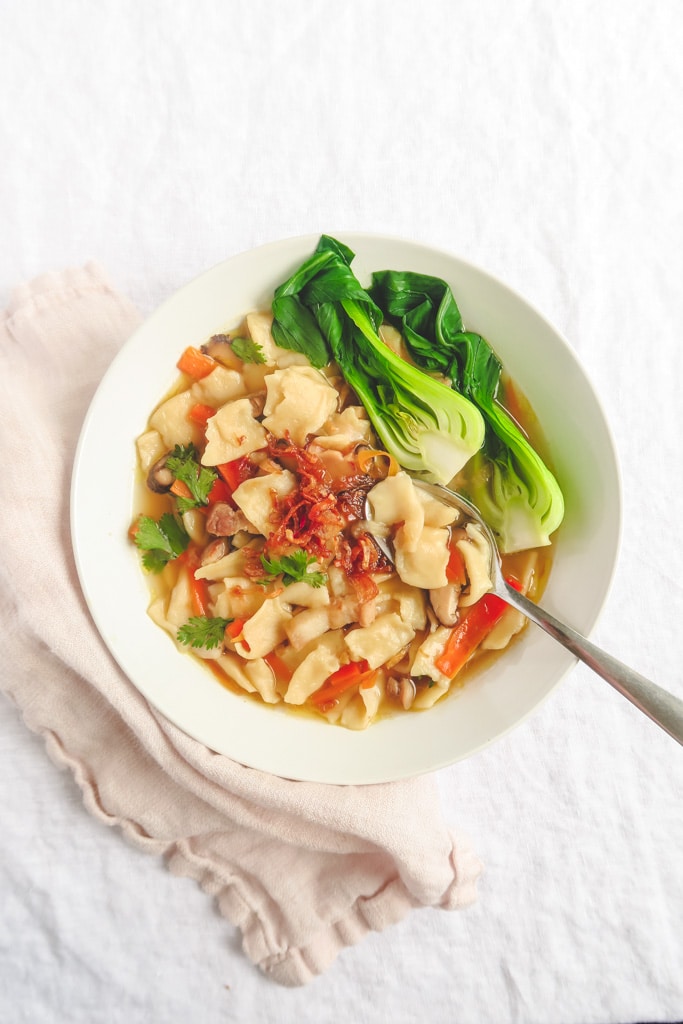 This Taiwanese hand torn noodle soup is not only comforting and flavorful, but also very easy and fun to make. It has become my family's recent favorite dish that even got the approval by my 3-year-old foodie daughter! Hope you all can give it a try and let me know how you like this dish.
If you like this recipe, make sure you try my
30 Minute Restaurant Style Chicken Ramen
Moms Taiwanese Beef Noodle Soup (with restaurant's secret tip)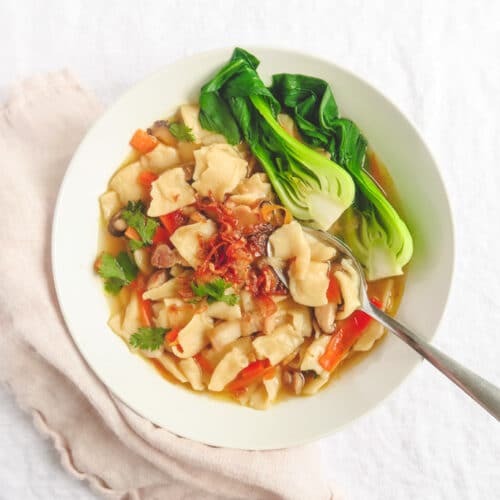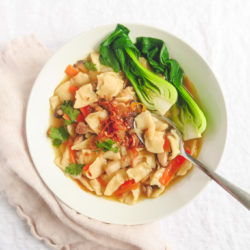 Taiwanese Hand Torn Noodle Soup
Ingredients
Dough
2

cups

all purpose flour

2

tablespoon

tapioca flour/starch

,

optional

¼

teaspoon

salt

¾

cup

water

vegetable oil
Soup
4-6

shiitake mushroom

,

pre-soaked for at least 1 hour

salt

2

tablespoon

dried shrimp

,

washed and finely chopped

5

oz

pork belly, cut into sticks

,

140 g

2

medium carrots

,

cut into batons or other shapes of your choice

3

tablespoon

soy sauce

1

tablespoon

rice cooking wine

,

optional

¼

teaspoon

sugar

6

cups

chicken stock/broth

baby bok choy

,

or veggies of your choice

½

teaspoon

white pepper powder

¼

cup

crispy fried shallot

2

teaspoon

sesame oil
Topping
chopped cilantro

thinly sliced scallion

crispy fried shallot

white pepper powder

chili sauce
Instructions
Make the dough

Add half of the flour, tapioca flour/starch, and salt into the water and mix together before adding the rest of the flour and mixing/kneading until a ball is formed. Coat with a thin layer of oil, cover and let it rest for 20 minutes.

Make the soup

Gently squeeze out the water in mushroom, trim of the stems and slice thinly. Toss with a pinch of salt and set aside.

Heat a dutch oven over medium heat and add pork belly, cooking until the fat has rendered.

Add mushroom and dried shrimp and saute for 1-2 minutes until it's aromatic.

Add carrots and sauce and saute for another 30 seconds.

Add soy sauce, rice cooking wine and sugar, and cook for about 10 seconds to allow the heat to bring out the aroma before adding chicken stock/broth

Cover and let it cook until it boils

Tear the noodle

Put the dough on a working surface, roll the dough out to be 1⁄4" thick (do it in two batches if the working surface is not big enough).

Cut the dough into about 1"~2" strips before tear them into small pieces.

Cook noodle

Add the noodles into the boiling soup and cook for 1-2 minutes or until the noodle floats.

Add bok choy and cook for 30 seconds.

Finally, add white pepper powder and sesame oil and salt to taste.

Top with toppings of your choice and enjoy!