The thin and bouncy rice noodles covered with a deep and rich umami flavor plus a hint of the sweetness from the creamy butternut squash make this dish so much more than meets the eye.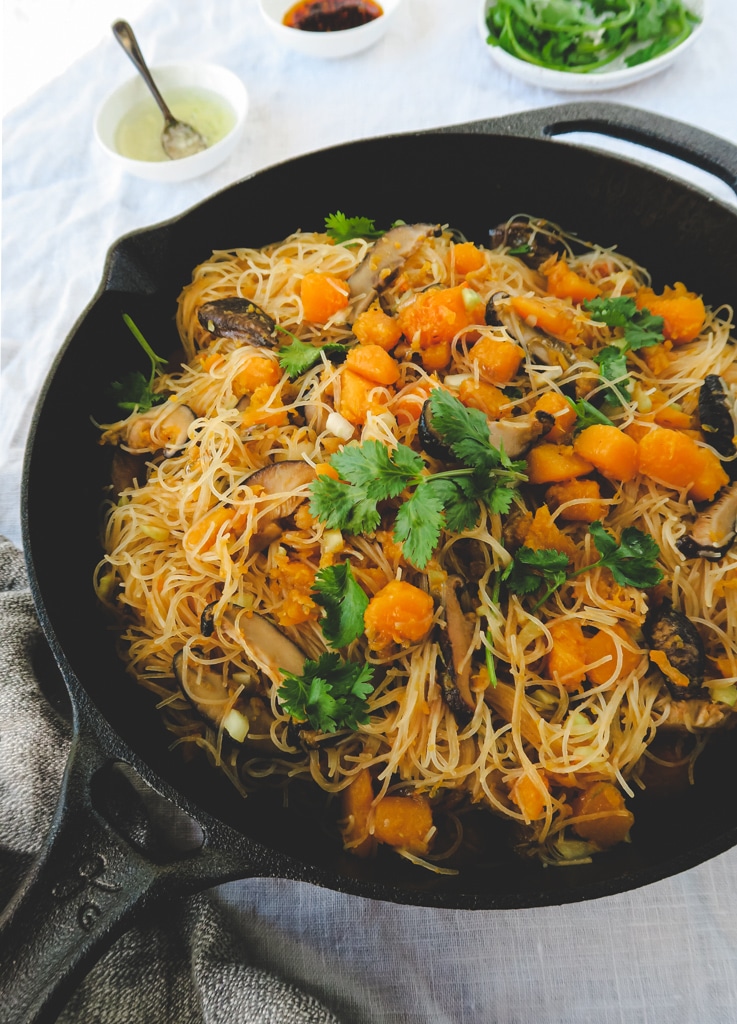 Today I'm very excited to introduce you all to another classic Taiwanese dish - stir fried rice vermicelli noodles (mei fun) with squash! 
This rice noodle dish is usually made with a kind of Chinese winter squash that's hard to find in the US, but I found that butternut squash works just as well, if not better. The process of making this dish is very simple and straight forward. Once you gather all the ingredients, you'll be enjoying this dish in no time!
How to prepare butternut squash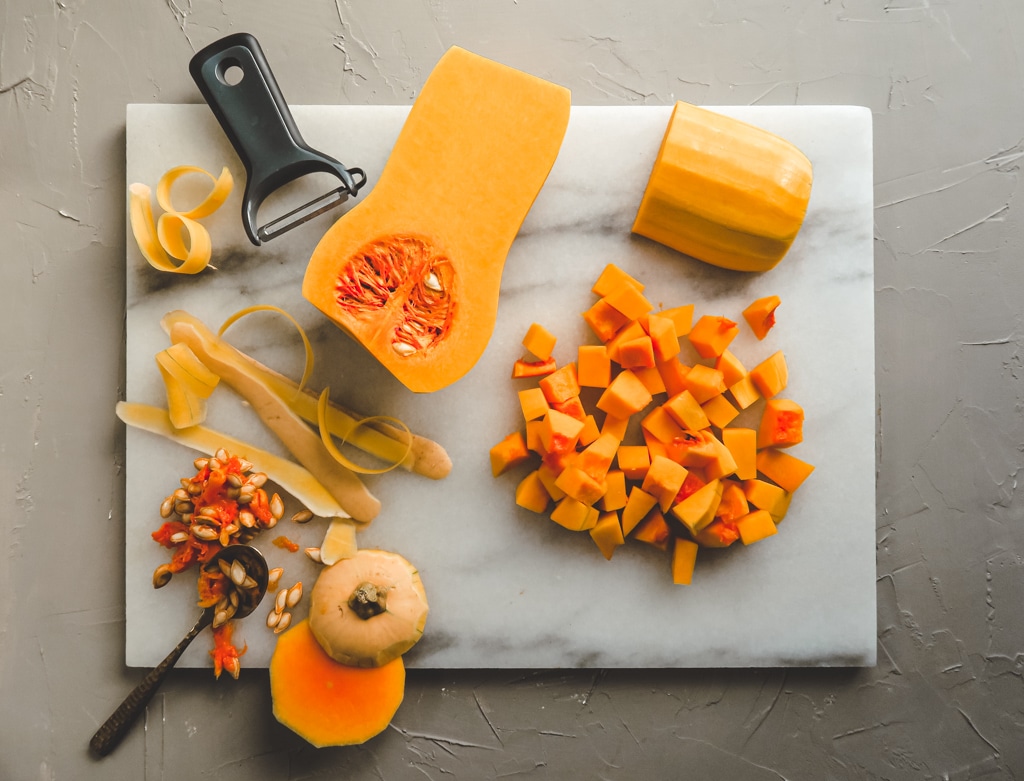 Typically when people in Taiwan make this dish, they use either julienned or shredded squash so that it can dissolve into the dish.  However, I personally prefer to taste some discernable chunks of squash for some textural contrast, so in this recipe I dice the squash instead.  Also, because of the shape of the squash, cutting into small cubes is a lot easier than julienning, and if you prefer to use precut butternut squash, all you need is to cut each cube a bit smaller.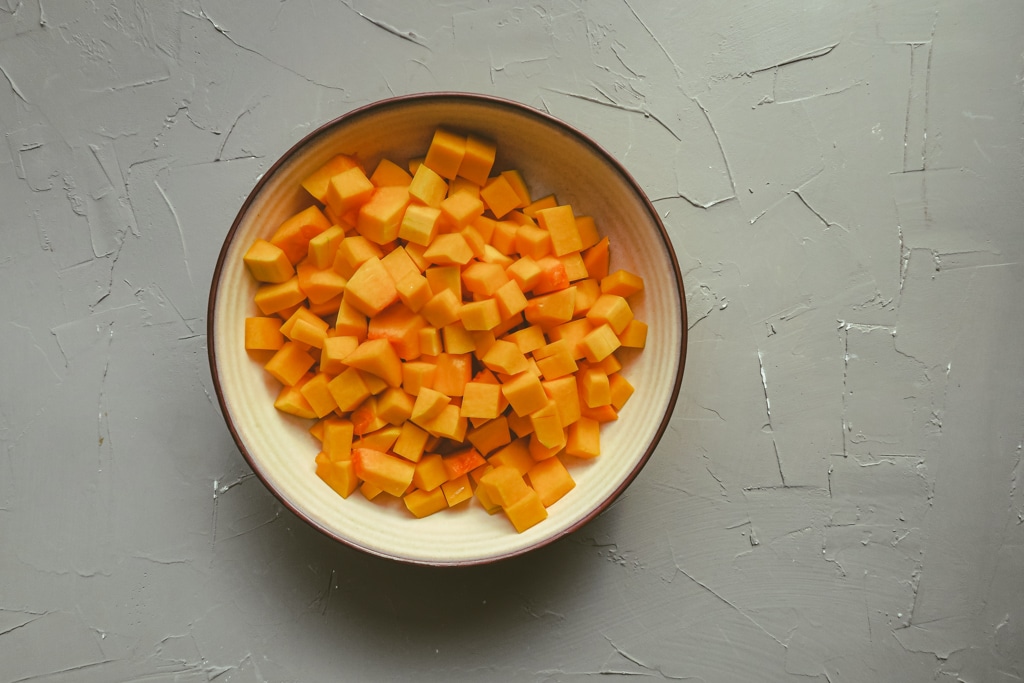 Here are the steps I take for preparing butternut squash:
Rinse the squash and peel with a Y shaped peeler.
Trim of the two ends and cut in half lengthwise.
Use a small spoon to dig out the seeds.
cut into small cubes.
How to pick vermicelli noodle?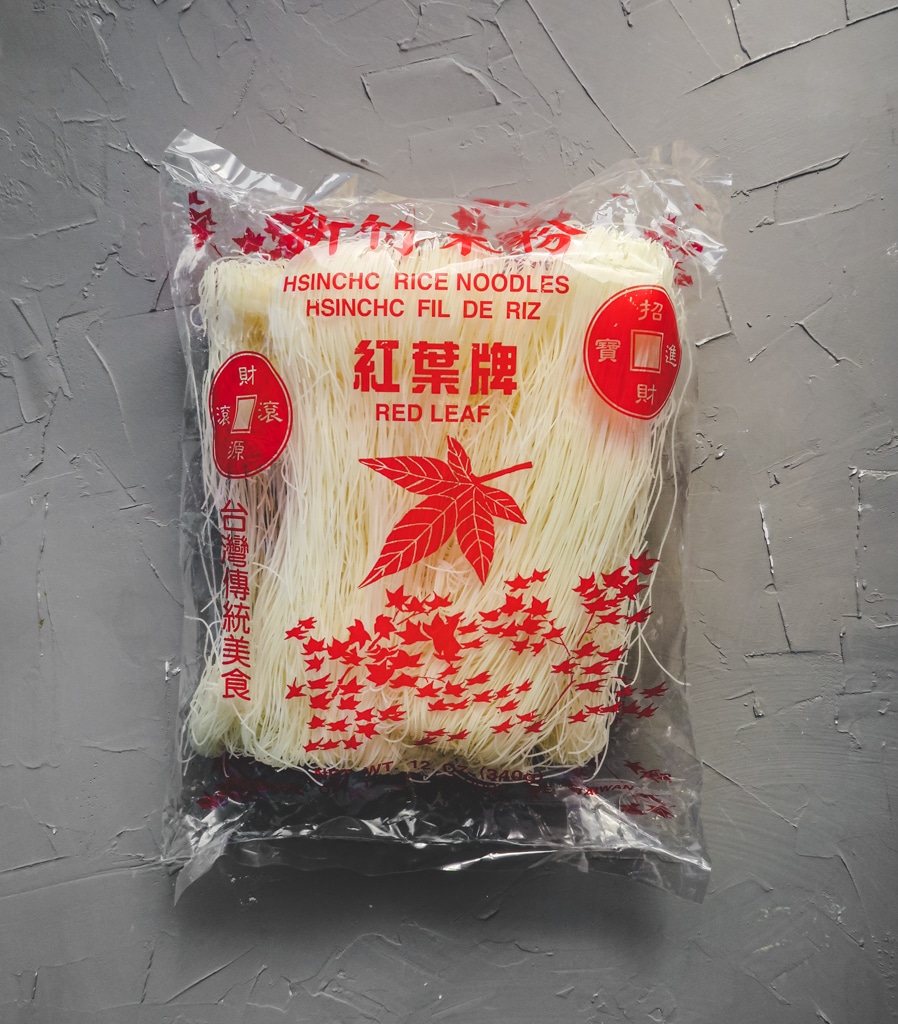 You can easily find the rice vermicelli noodle in your local Asian grocery store (or possibly even the Asian section of your local grocer), and you can really just pick up whatever brand from whatever country.  The thing you should pay attention to, however, is that the ingredients list should consist of rice and water, not with any other kinds of starch. 
How to prepare rice vermicelli noodles for stir frying?
there are two ways you can take:
soak the rice vermicelli noodles in cold water until they soften, or
boil the rice vermicelli noodles for 30 seconds, place the half cooked noodle in a bowl and cover.
I learned the second method from a Taiwanese chef and I recommend you all use this method as well, because I believe the noodle's texture will be better.  Another benefit of this method is that since the noodles are cooked already, they'll only need a quick toss in the pan to combine with all the other ingredients.
The aromatic ingredients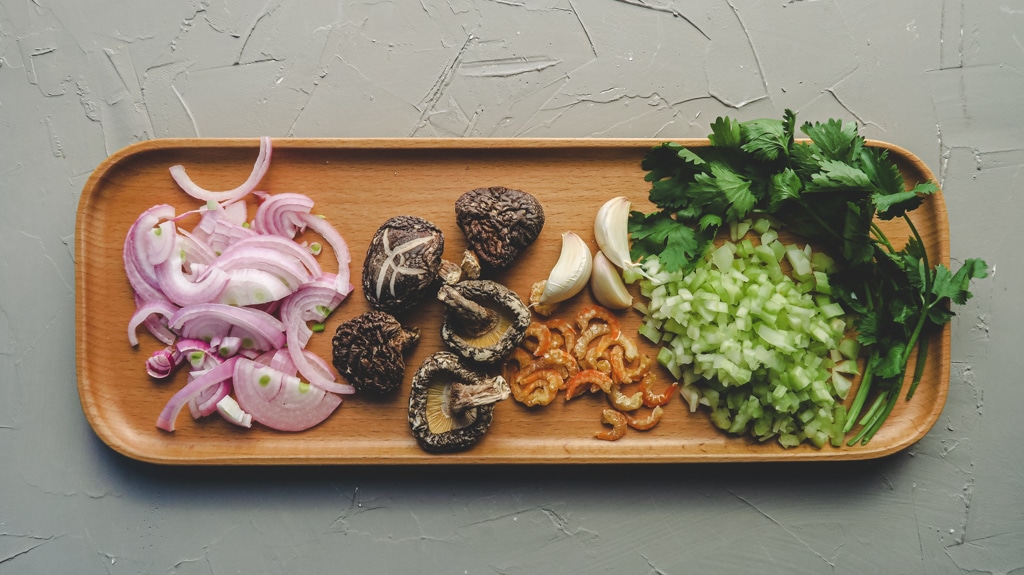 These aromatic ingredients are used in many traditional Taiwanese cooking.  You can see me using these elements in my Taiwanese Hand Torn Noodle Soup and Stir Fry Mung Bean (Glass) Noodles.
Customize the dish base on your preference
Other than the basic ingredients I used in this recipe, some other things that people usually add are cabbage, carrot, scrambled eggs, ground pork, etc. You can also be creative and try adding some other kinds of veggies or proteins based on your preference (or just whatever you find in your fridge!).
If you would like to make a vegan version, simply omit the dried shrimp and switch the chicken broth with vegetable broth.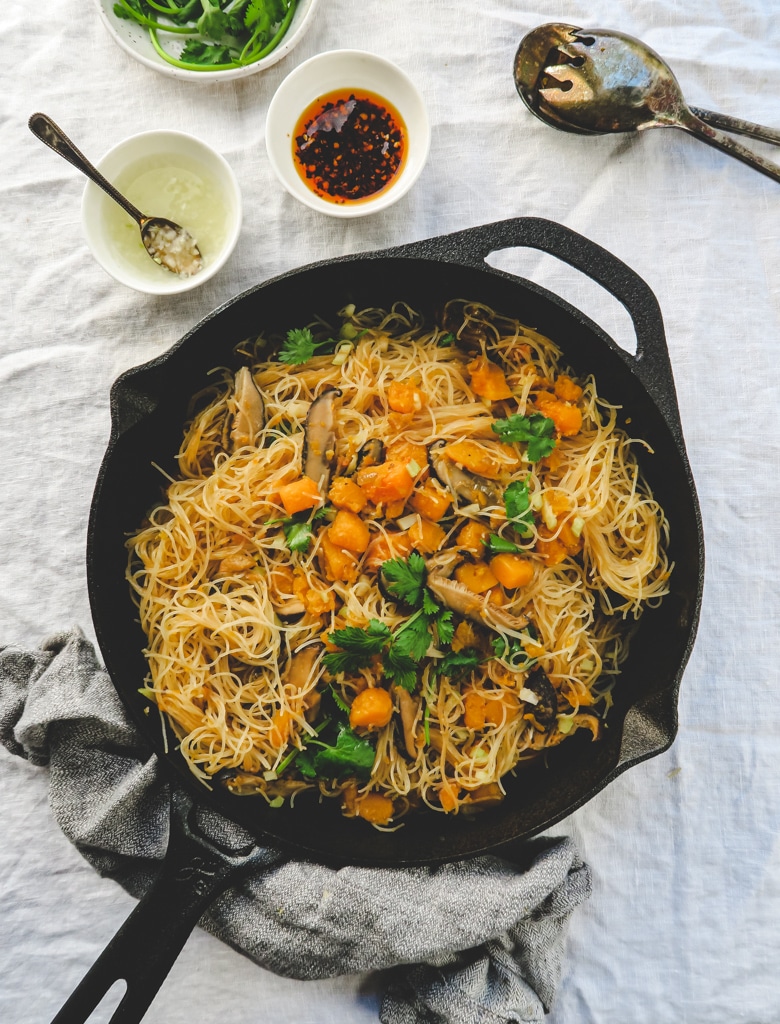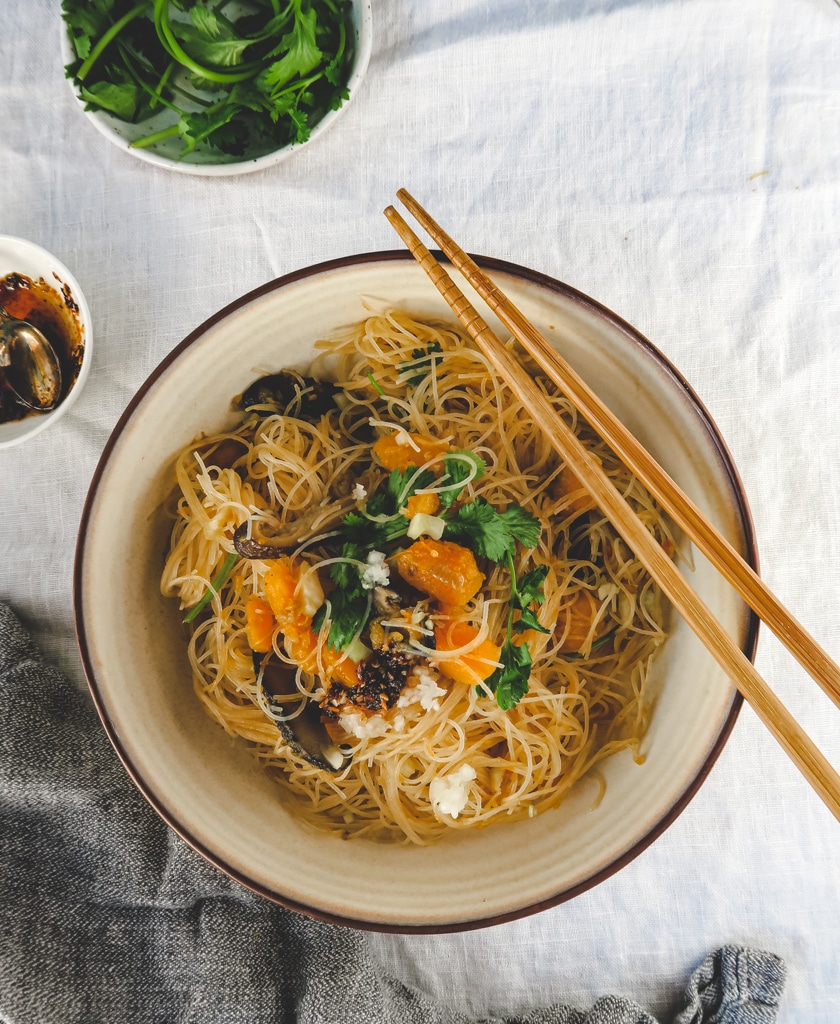 If you like this dish, don't forget to try
I would like to hear from you! If you make this recipe, please consider leaving a star rating and comment in the section further down the page. Stay in touch by following my Instagram and Pinterest!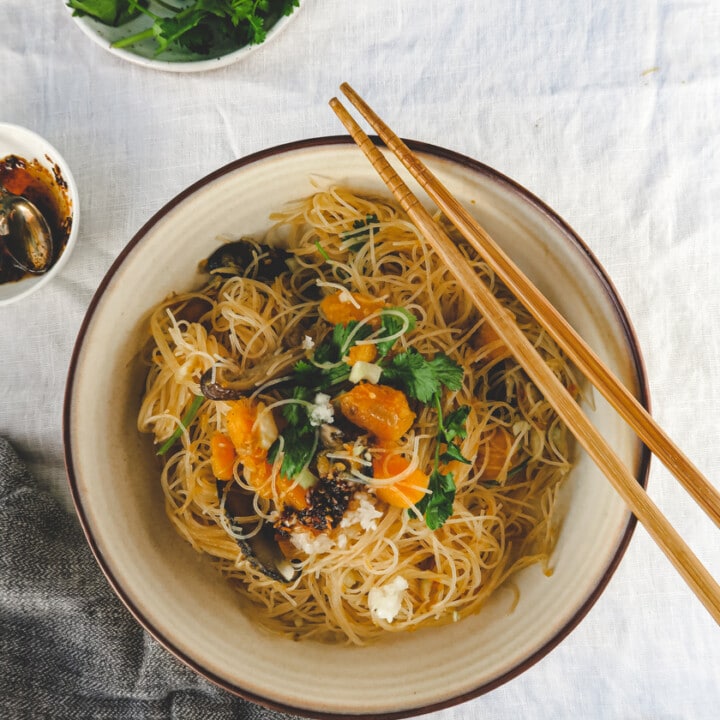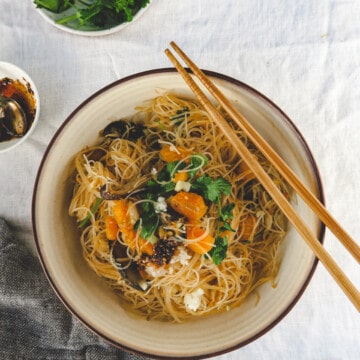 Butternut Squash Mei Fun (Taiwanese Style Chow Mei Fun)
Classic Taiwanese stir fry rice vermicelli noodles with butternut squash.
Ingredients
½

medium sized butternut squash

,

peeled and cut into ½ inch cubes, about 3 cups

6

oz

rice vermicelli noodle

,

try to get one made with just rice and water

1

teaspoon

sesame oil

3

clove

garlic

2

tbsp

cold water

5-6

dried shiitake mushroom

,

presoak in cold water two hours prior

3

tablespoon

vegetable oil

1

shallot

,

thinly sliced

1

tablespoon

dried shrimp

,

minced
Sauce & Seasoning
1

tablespoon

rice cooking wine

,

optional

3

tablespoon

soy sauce

1

tsp

oyster sauce

,

optional

½ teaspoon

sugar

¼

tsp

white pepper powder

1-2

cup

chicken broth

salt
other
1

stalk

celery

,

finely chopped

cilantro

,

chopped
Instructions
Prepare rice vermicelli noodle
Bring 3 qt water to a boil, when the water is boiling, add the dried rice vermicelli noodles and cook for about 30 seconds or until it's softened.

Place the noodles in a bowl, toss it with sesame oil then cover with a lid (or plate) and set aside.
Prepare garlic sauce
Press garlic through the garlic press or grate with microplane, place it in a small bowl, mix with water and set it aside.
Prepare shiitake mushroom
Gently squeeze out the water in the shaiitake mushroom before slicing. Toss the sliced mushroom with a pinch of salt and set it aside.
Cooking
Heat vegetable oil in a frying pan or wok over medium heat, while the oil is still cold, add shallot and stir a few times for it to combine with oil. Cook until it's aromatic (not brown), around 2 minutes.

Add shiitake mushroom and cook for another minute.

Add dried shrimp, stir and cook for another minute or until the shallot starts to turn brown.

Add butternut squash, stir and cook just until the surface softens, about 1-2 minutes.

Add rice cooking wine, soy sauce, oyster sauce, sugar, white pepper powder and one cup of chicken broth and mix well.

Reduce the heat to medium low, cover the pan with a lid and let it cook until the squash is softened and can be broken up easily with a spatula (about 5-7 minutes). Add more broth If the liquid dries up before the squash softens.

Mash half of the squash with the spatula.

Use a pair of tongs to toss and combine the noodles with everything else in the pan. You might need to add more water/broth (about ½-1 cup) to loosen the noodles, which will make the tossing easier. Try and see if it needs more salt.

Finally, stir in celery and top with cilantro before serving.

Drizzle a bit of garlic sauce before enjoying.